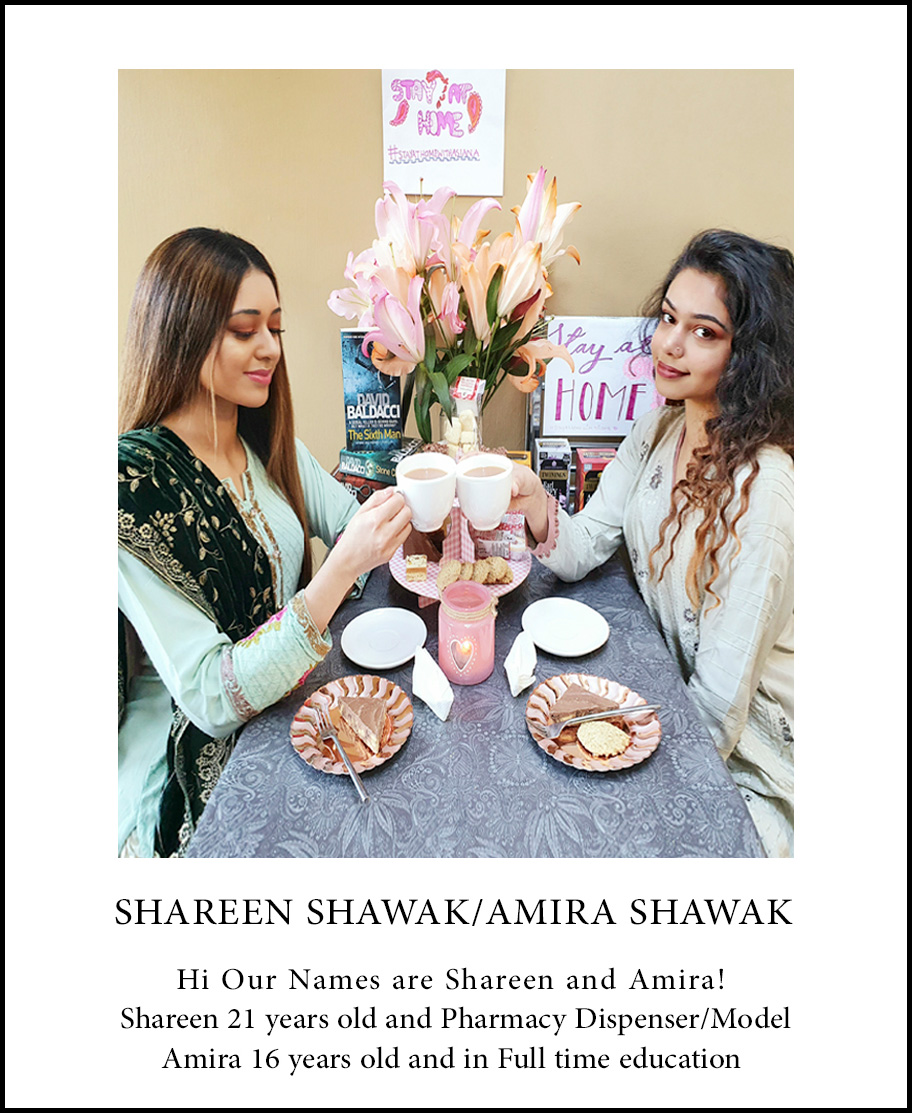 Shareen Shawak (left)
Amira Shawak (right)
Age: Shareen 21, Amira 16
Occupation: Shareen – Pharmacy Dispenser and model, Amira – Full time education
Two hobbies: Shareen – Reading books and Beauty, Amira – Photography and Make up
What's the inspiration behind your photo?
The inspiration behind our photo is that during this difficult time in lockdown it's the perfect chance to spend quality time with family.
We are using this valuable time to watch movies together, cook together and catch up! With our normally busy lives it's easy to neglect those closest to us however me and my sister Amira have been using this rare opportunity to do things we wouldn't normally have time to do, this included our version of high tea with home baked goods, and a nice cuppa which is our inspiration behind this photo.
Name something you're doing during the lockdown that you wouldn't usually do?
Something that we are doing during the lockdown is tapping into our creative side by building mini ornaments out of wood. We have had lots of fun painting them with great care and patience.
Random Questions Round:
Give us a makeup hack you swear by?
A makeup hack that I swear by which is different to the usual, it's mainly for make up artists who doll up models for shoots and real brides. I absolutely love it when highlighter is applied on the collar bone and shoulders it's so simple but changes and completes the whole look! I always ask for this especially when doing video trailers.
Tell us about one of your kitchen fails?
A kitchen fail…Amira is the baker of the family and there's a reason for that. I once tried to make chocolate brownies by myself and not only did I almost burn the house down but I'm pretty sure brownies aren't supposed to taste like charcoal… oops!
If you could only eat one food for the rest of your life, what would it be?
If I could only eat one food for the rest of my life…Amira would definitely have chicken burgers from Salah's every day for the rest of her life. She has been known to ask our older brother to grab her a burger at 11pm even if she's had dinner already.