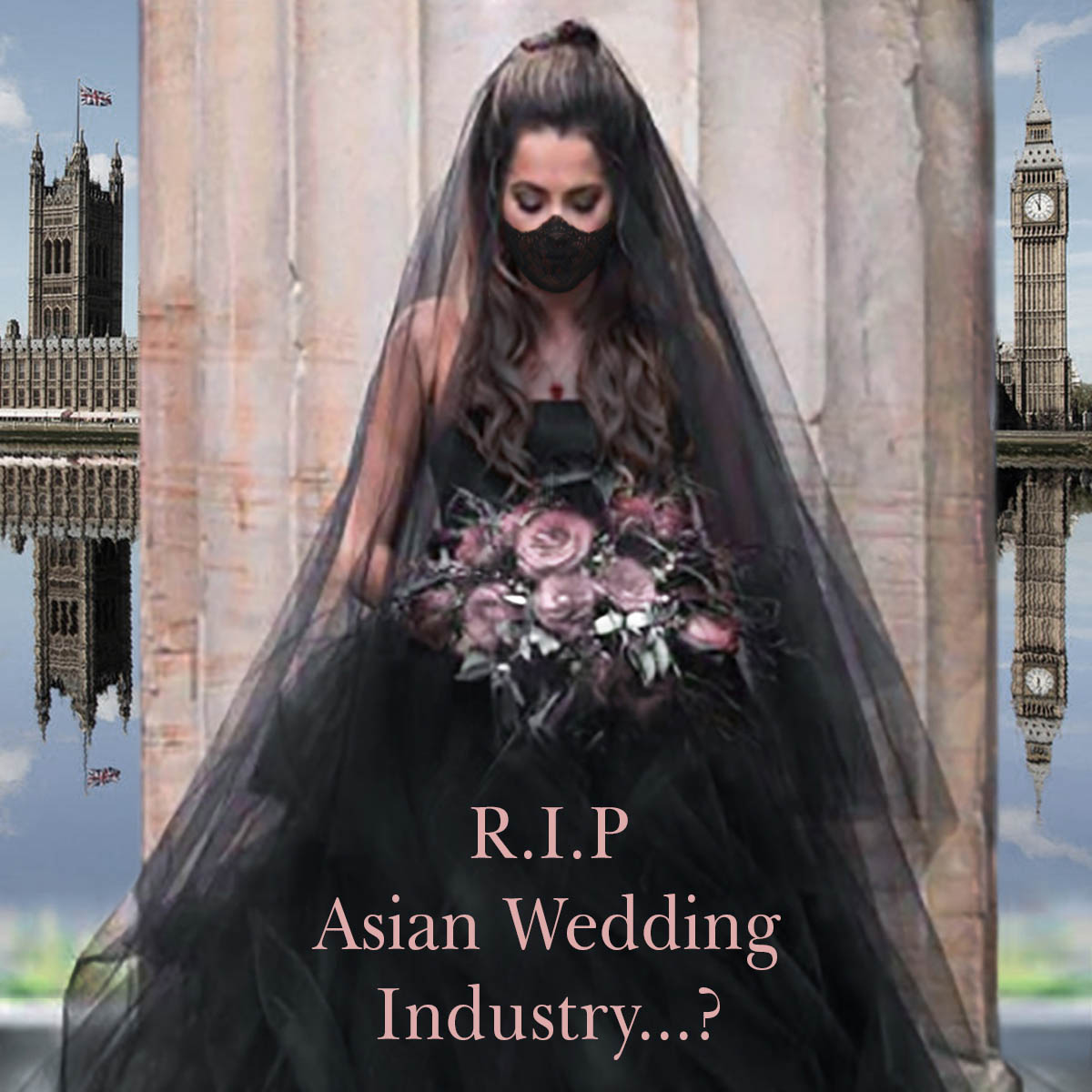 'Even Our Funeral Has Been Banned…'
The new Asian Wedding Association vows to fight on after 'protest performance' is blocked by lockdown laws
Organisers of a banned 'Wedding Funeral' at Parliament Square have vowed to carry on with their campaign after the Government's Covid-19 financial support packages excluded most of the UK's Asian Wedding Industry.
The unique protest performance, designed to highlight the plight of the wedding sector, complete with 200 performers, will now go ahead as soon as the restriction on public rallies is lifted, according to the Asian Wedding Association UK (AWAUK).
The Asian wedding sector forms a substantial part of the wider wedding industry, which is worth £14.7 billion to the UK economy and employs 400,000 people.

AWAUK was set up as a direct result of the COVID-19 pandemic, which has already seen more than 20,000 Asian weddings being cancelled, hundreds of businesses forced to close and thousands of workers forced into unemployment.

Unfortunately, from the onset, the Government's refusal to recognise the wedding industry in its definition of 'hospitality' has meant, Asian wedding companies have been excluded from grants and rates relief that have been given to other hospitality businesses. In May 2020, AWAUK members wrote directly to Chancellor Rishi Sunak to highlight the unfairness of the policy and demanded action.

Despite the letter being endorsed by over 40 MPs and the CBI, the organisation has yet to receive a response.
Instead, Business Secretary Alok Sharma subsequently argued that businesses in these sectors were not commercially viable and suggested that laid-off staff should 'retrain and find themselves better jobs'.
This contradicted their own definition of 'viable' when approving CBILS loans for many within the sector.

AWAUK's key demands and questions include:
• Will the Government finally admit that it was wrong to exclude the wedding sector from the Retail, Hospitality and Leisure Grants package?
• Will the Government backdate and provide equitable support to all wedding businesses that missed out on their fair share of support through a Wedding Revival Fund?
• Will the Government urgently work with the wedding sector to deliver a roadmap for the resumption and furthermore, establish a dedicated Hospitality Minister so that the sector has a voice in Parliament?
• Establish a government-backed wedding deposit protection scheme to enable couples to book weddings knowing that their deposits are safe and that contractual terms around postponement and cancellation are fair.
• Will the Government commit to socially distanced capacities for weddings, giving parity with other hospitality settings?
• Will the government pledge an increase in the number of guests permitted at weddings based upon the venue capacity and stringent controls in place supported by rapid testing?
Neal Khanna, owner of the Clay Oven and one of AWAUK's Founder Members, commented: "Whilst the most recent extension to the Furlough Scheme may help to save employment in the short-term, the absence of any support directly to the businesses means that these jobs cannot be sustained as businesses will fold due to zero revenue and ongoing direct costs.
"Employers will still be expected to meet NI and Pension contributions for furloughed employees.  More importantly, the emotional and psychological turmoil in terms of numerous postponements, cancelled weddings, potentially lost deposits is unfathomable."
Speaking about the postponed protest, Atul Lakhani, owner of Sanjay Foods and fellow AWAUK Founder Member added: "We are calling on everyone in the Asian wedding industry to stand with us to demand our fair share of government support. Our industry was the first to be shut down by Covid-19 and it will be the last to re-open. Ironically, even after we planned a massive protest event at Parliament Square, we were prevented from going ahead due to the new lockdown laws – so even our own funeral has been banned…'
The Asian Wedding Association UK is the first and only professional trade organisation representing the Asian wedding industry. AWAUK's Founder Members include: Five Rivers, Greenleaf, Itihaas, Laguna, Madhu's, Maharaja Catering, Mahirs, Preeti Catering, Ragasaan, Sanjay Foods, Sapna Caterers, Silver Fox, The Clay Oven and Ariana Group.

AWAUK Chief Executive Sammir Saroya said: "We want everyone working in the Asian wedding industry to join us – from caterers, photographers and DJ to florists, MUAs and more. AWAUK is a powerful, purposeful and professional organisation. We are committed to supporting all our members to survive the challenges from Covid-19 and rebuild our businesses back to full strength – and beyond."
• For AWAUK membership and other information, visit www.awauk.org