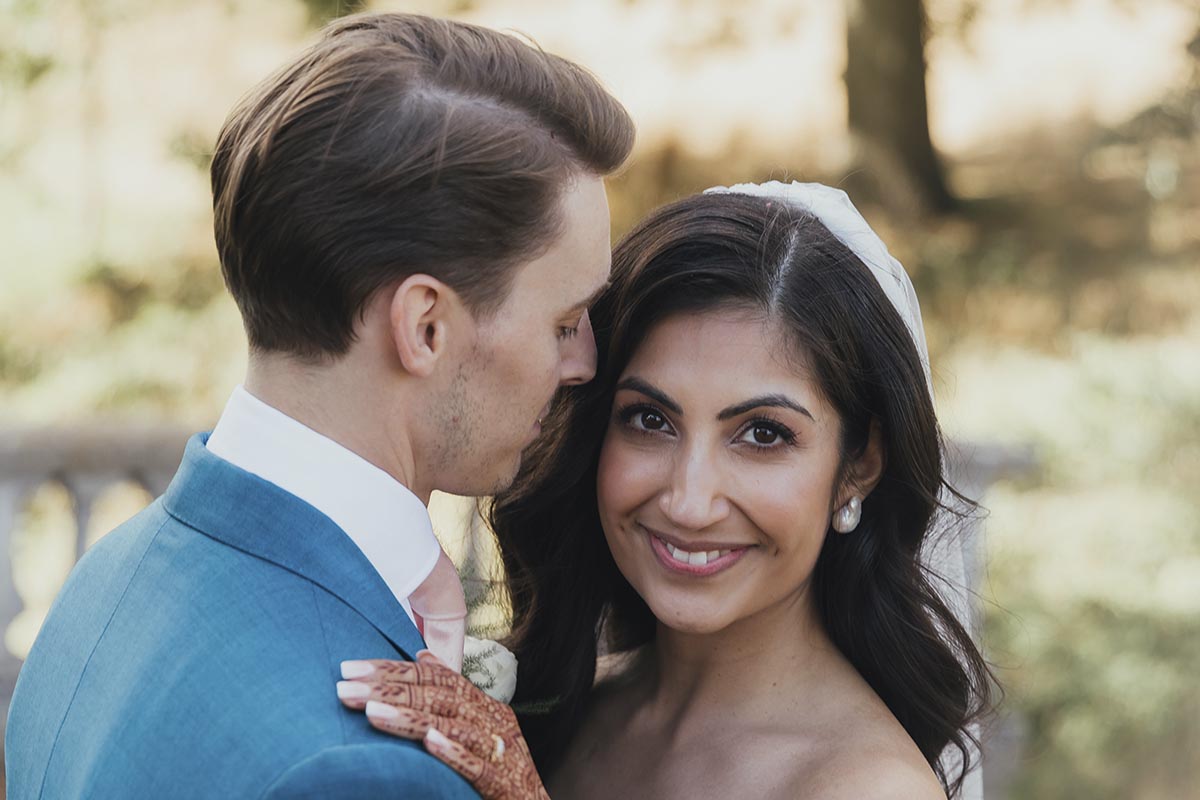 Childhood sweethearts Navreen and Josh celebrated 12 years of romance with the wedding of their dreams
WEDDING DETAILS
Bride: Navreen Singh
Groom: Josh Sarson
Date of Wedding: 20th August 2022
Venue: Braxted Park
Photography: Julia West
Josh and I met aged 17 and our friendship blossomed into romance when we were 19, so the proposal felt very natural. It was a chilly Saturday morning, one of those days where the indoors beckons. Josh went to make the coffee while I decided what to watch on Netflix and when he returned with steaming coffee in hand, instead of going to his side of the sofa, he got down on one knee! I cried in joy and said yes a thousand times!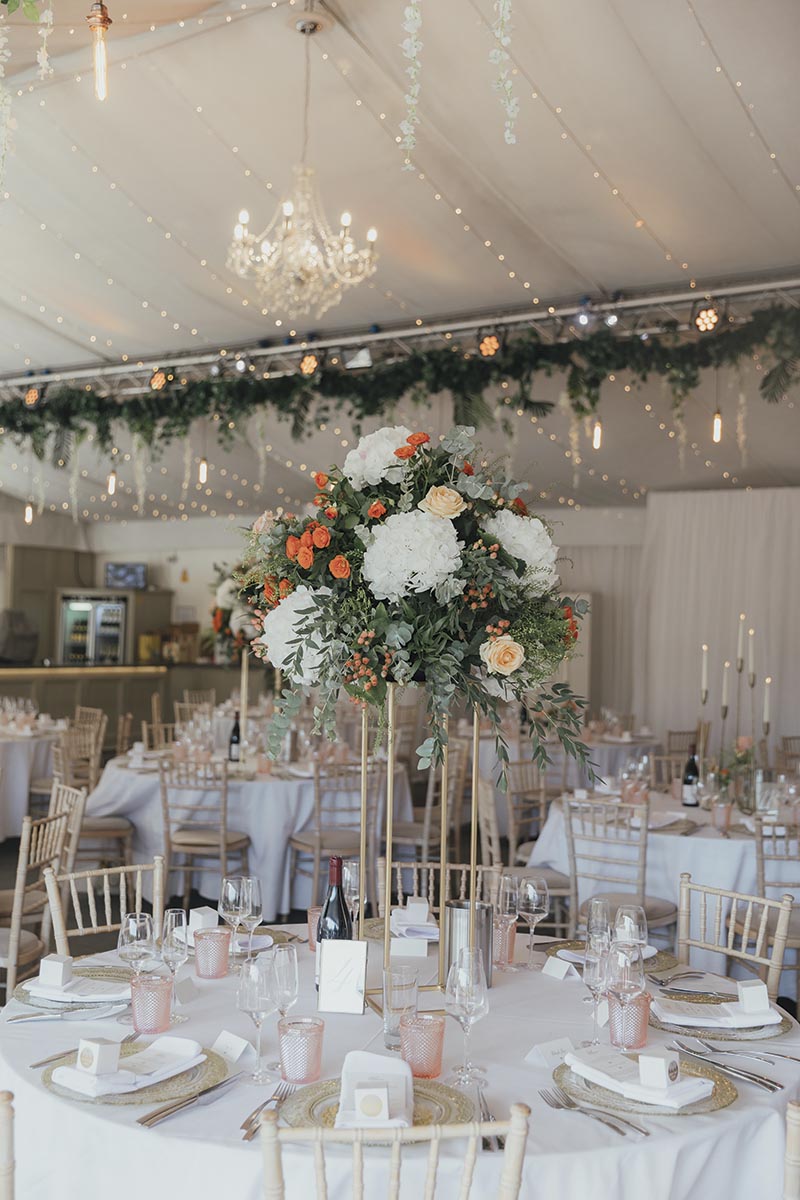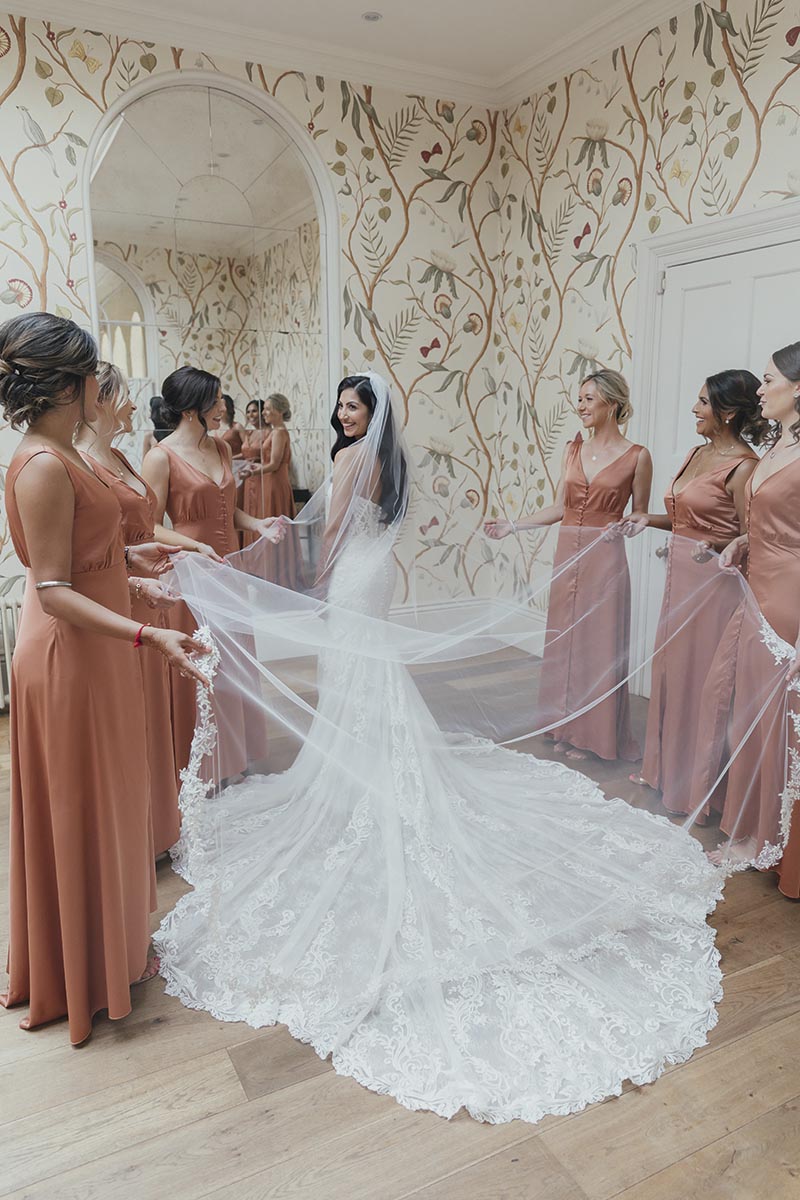 The Venue, Theme & Décor
We got married at Braxted Park, a beautiful countryside estate with a majestic drive and plush gardens. Our reception theme had a 'midnight garden' vibe. We had tall floral centrepieces with peach and coral flowers and a ceiling decorated with foliage and hanging wisteria. Our colour theme of gold and peachy tones was reflected in our table settings including ornate gold charger plates and frosted peach tumblers. Gold is a colour I associate with celebration and glamour, as well as the richness of my Indian culture. The venue is a short drive away from my childhood home. I can't help but feel there is something special in that, unbeknown to me, I had gone past the venue of my dreams almost every day from the age of seven.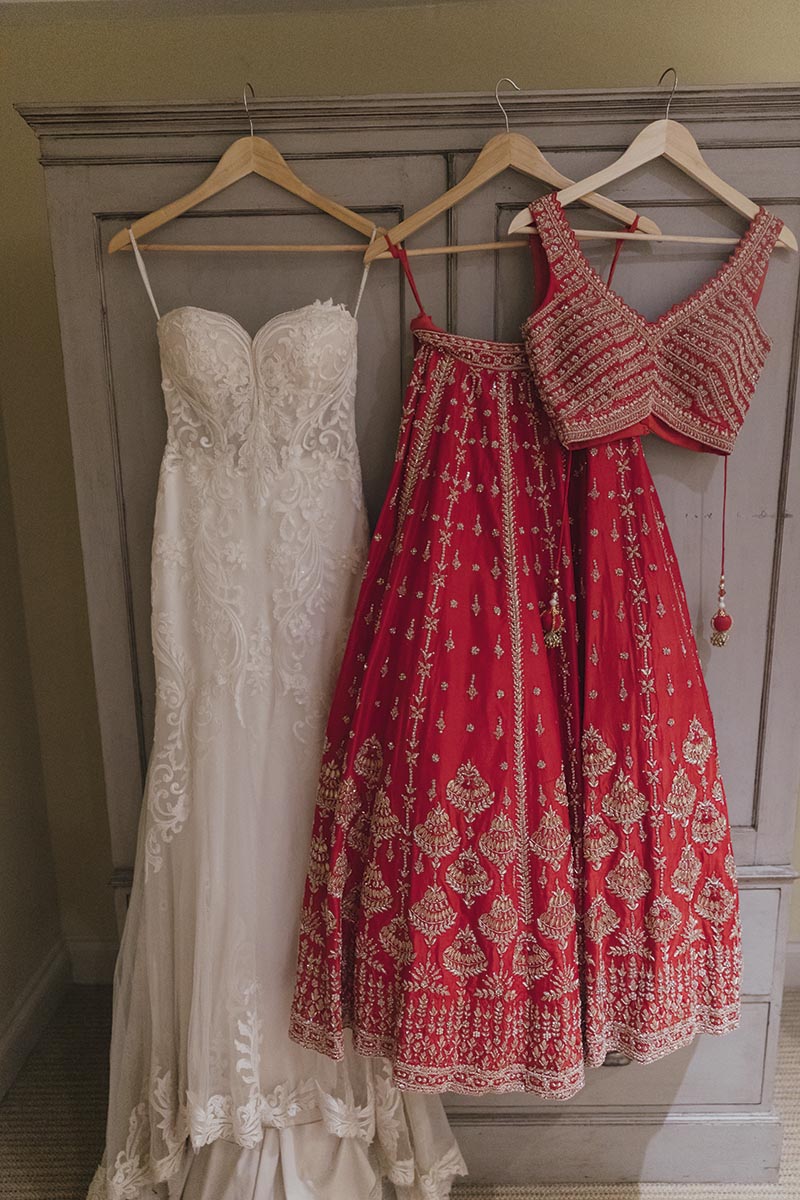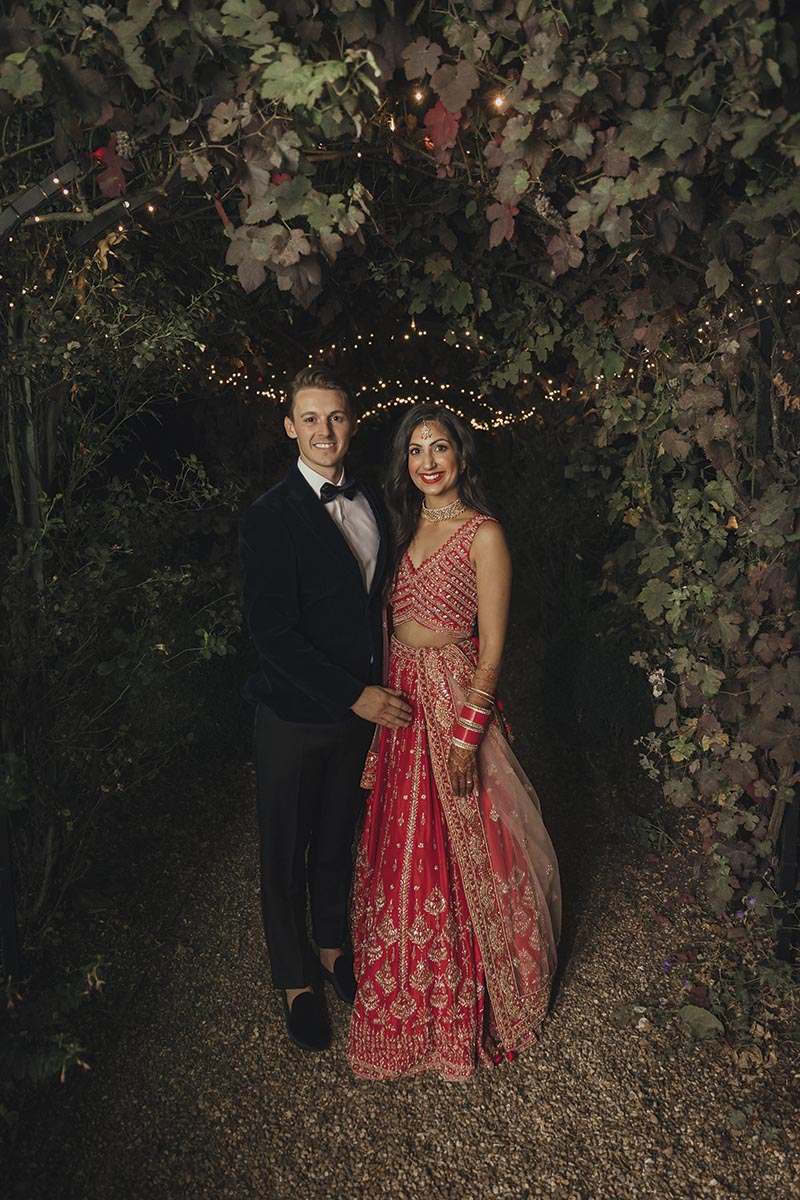 The Outfits
I live by the philosophy of 'Best of Both' in terms of my British and Indian heritage and so it was only right my outfits followed suit. I had five outfits across the wedding week. For our wedding day, I wore an ivory lace dress with a bespoke veil and for the evening, a bright red lengha from Monga's. It was the first one I tried and it was love at first sight; it made me feel like a beautiful Indian bride.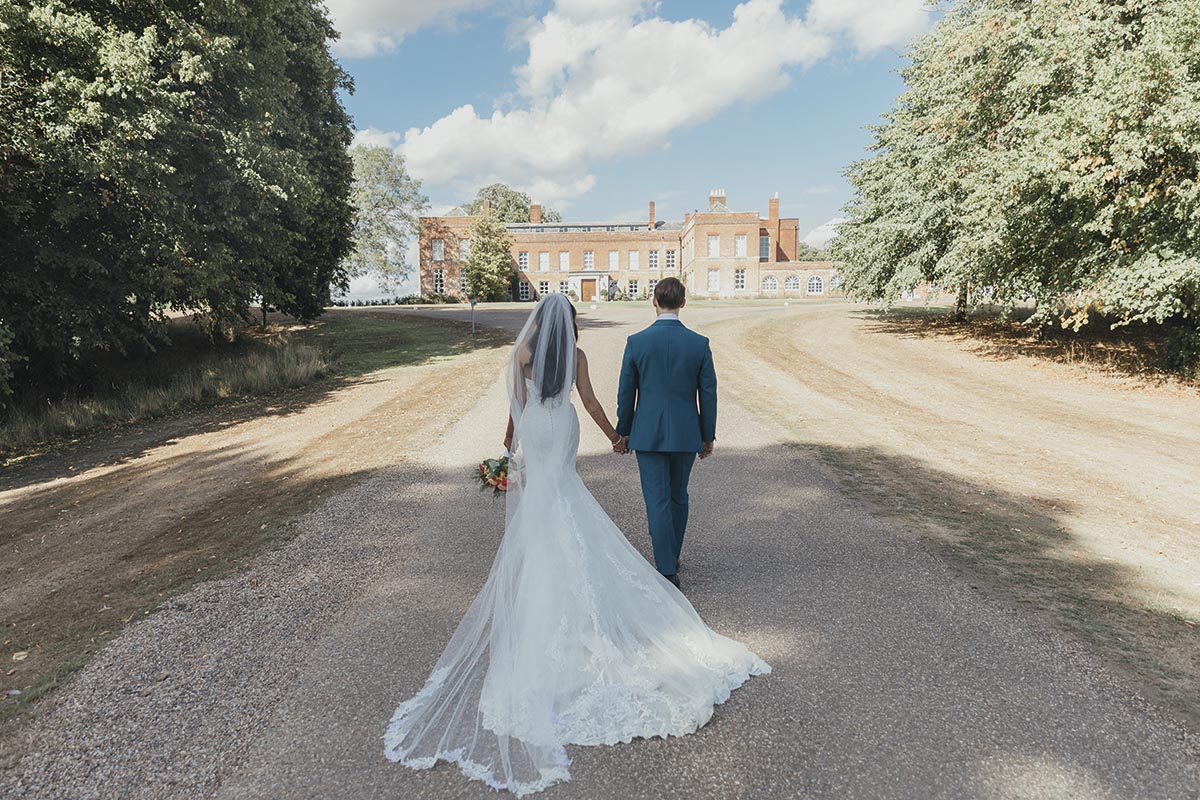 The Big Week
Some couples have a Big Day, we had a Big Week as the main wedding day was preceded by a festive week of traditional Punjabi events. The wedding day itself was inspired by a fusion of our cultures and us. We had a Western humanist ceremony, where our close friend Jesse married us, and the whole day was infused with elements from my Indian heritage. The theme of our wedding was country grandeur and glam.
Our ceremony started at 1.30pm in the Orangery, a gorgeous room with a unique Italian mural. Afterwards, we had a drinks and canapé reception in the intricate gardens of Braxted Park. The weather was glorious. At around 5pm our guests were called into our reception in the Pavilion and it was time for our big entrance accompanied by Dhol players. We had our speeches, mingled in between our courses and then Josh and I took some more couple shots during a stunning golden hour. Then we changed into our second outfits, ready for our First Dance. I danced most of the night and boy my feet only stopped hurting a week later.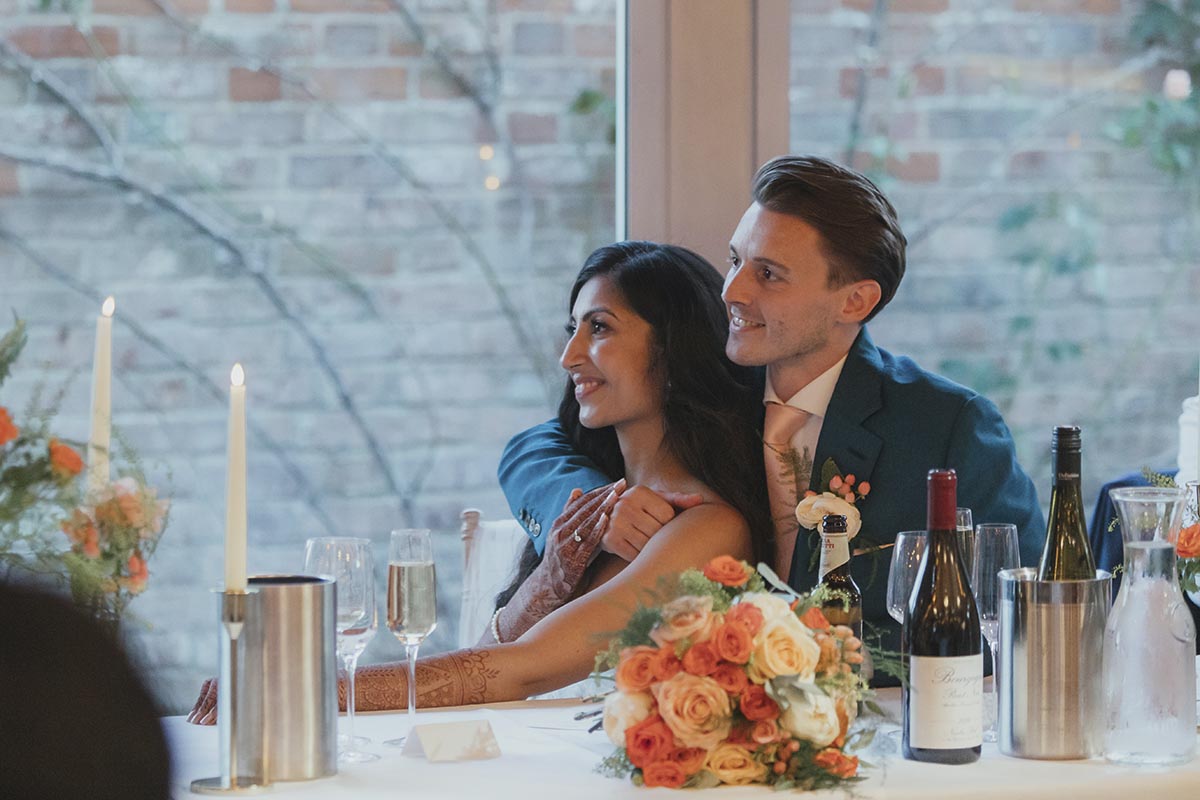 The Catering
Josh are I are both foodies, so this was an important part of the day for us. We created a bespoke menu where mouth-watering canapés were served during our drinks reception featuring a few of my favourites including lasooni prawns and smoked aubergine on bite-size prantha. Our wedding breakfast was a three-course affair. Each meal was individually plated and beautifully presented and most importantly, it was absolutely delicious.
The Memories
Something that will always stand out to me is how personal our day was, and how it encapsulated our love story. We are childhood sweethearts and as a result, have friends and family who have been with us throughout our 12-year journey. Our friend Jesse conducted our marriage ceremony, my school friend Danielle sang and played the guitar as I walked down the aisle, our matchmaker Aisha, who introduced us, was our Best Woman and Josh's best friend from primary school Mat was his Best Man. When I look back at the photos they reflect the love and joy we experienced on the best day of our lives. Our photographer Julia did an incredible job capturing the special moments and making us feel so comfortable in the process.