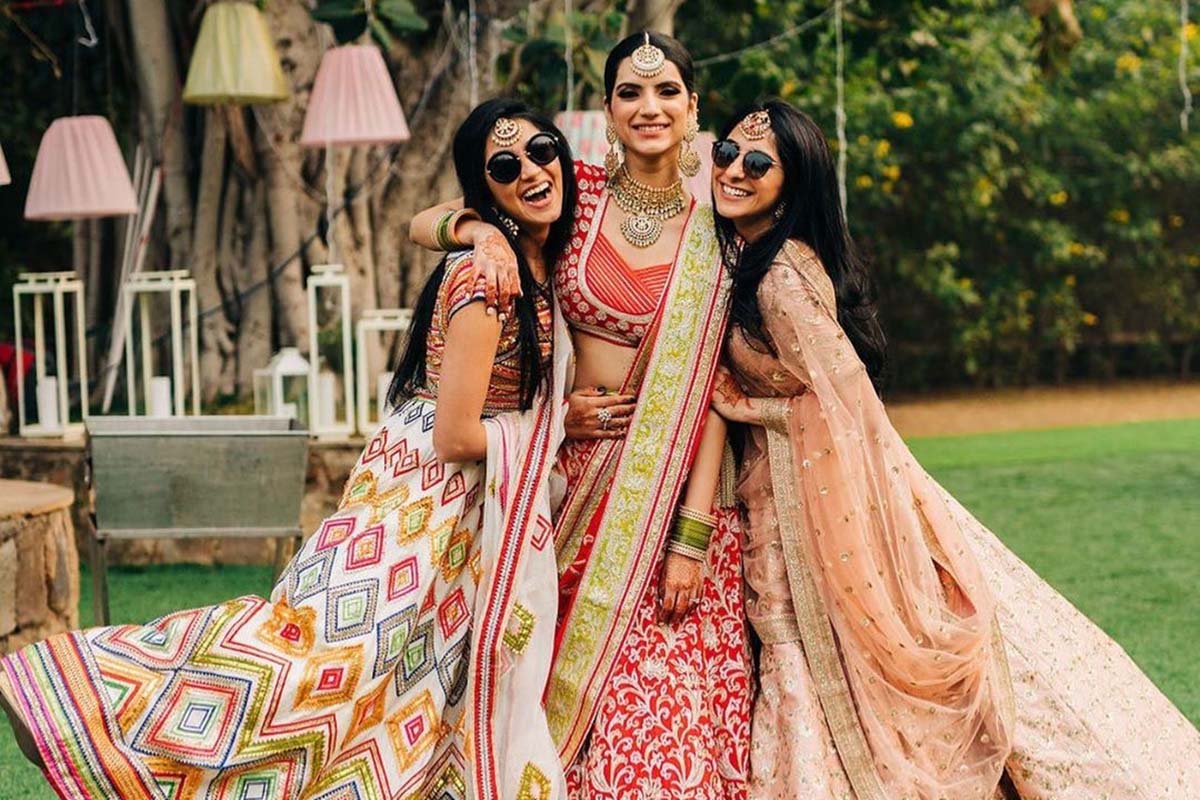 Stunning Bridesmaid Outfit Ideas
'Banno Ki Saheli' has to look good whilst handling the bridal chores of the day! Check out the latest bridesmaid fashion trends from real weddings!
Being a bridesmaid is taking care of the bride on her big day and looking good whilst doing it!
The modern bridesmaid is full of fun, laughter, and support on the emotional rollercoaster of wedding events, capturing a lifetime of memories! Not to mention – Insta-worthy squad goal pics!
Here are our favourite real-life bridesmaid squad goal outfits we adore!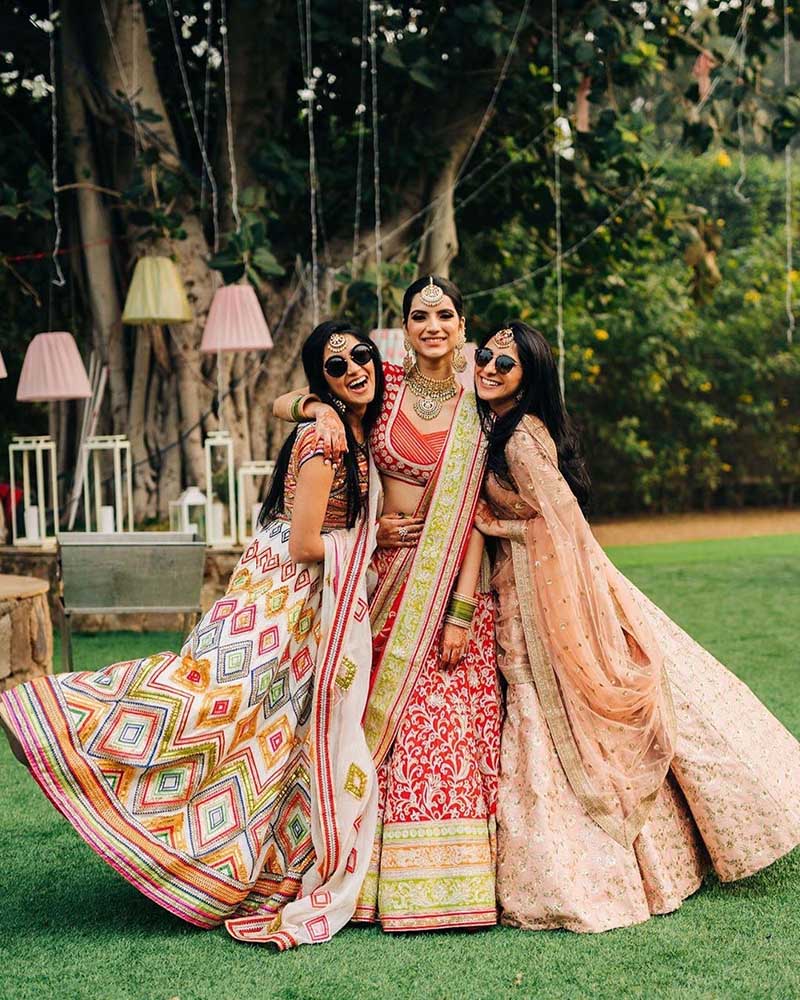 1. In Sunshine and Shade
Cascading lehengas and sunglasses to match, there's never 'too much' when it comes to bridesmaid outfits! The stunning modern bride is surrounded by her most loyal friends, dolled up in heavy lehengas for the big day!
Image courtesy: gautamkhullarphotography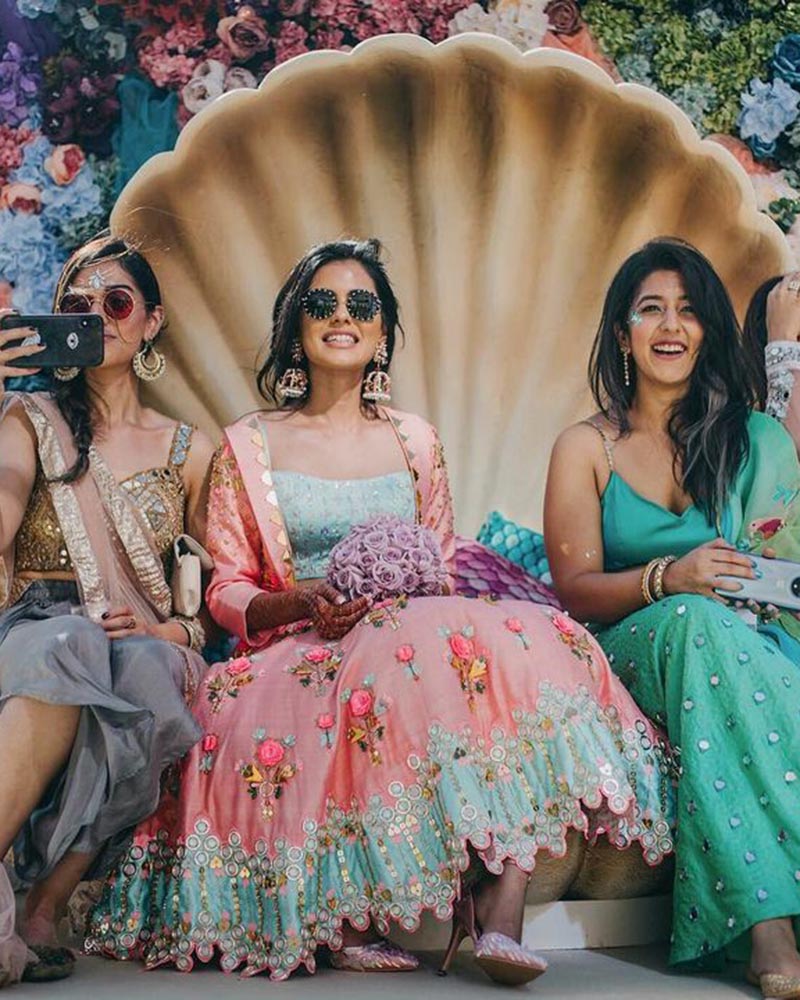 2. The Coral Squad
We love creative and unique décor ideas, and the 'under-the-water' coral-reef inspiration for the beautiful brides wedding captured our hearts! The theme was complemented with a picture-perfect bridesmaid squad!
Each bridesmaid wore a different lehenga and personally styled accessories, showing off different personalities, which made the images of the day look even more fun and original!
Image courtesy: @thehouseontheclouds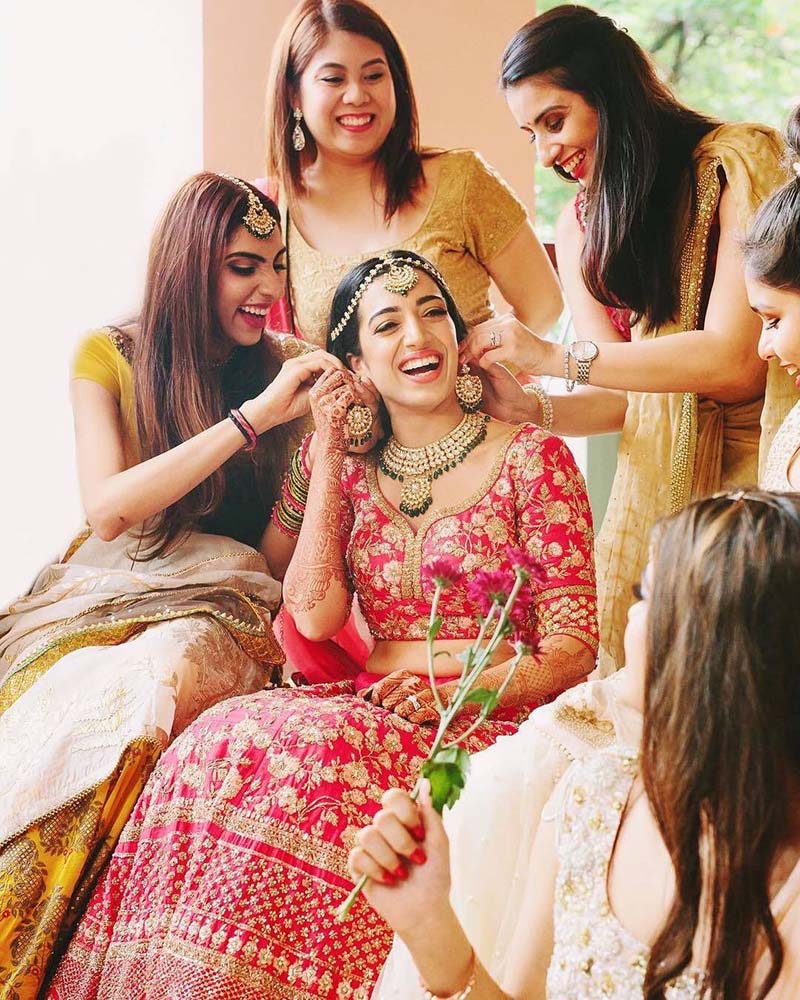 3. The Golden Bridesmaids
Dazzling matching golden outfits for each bridesmaid to complement the smiling bride looks beautiful in any picture!
Without having to worry too much about what to wear, the bridesmaid's squad has never looked better!
Image courtesy: @thehouseontheclouds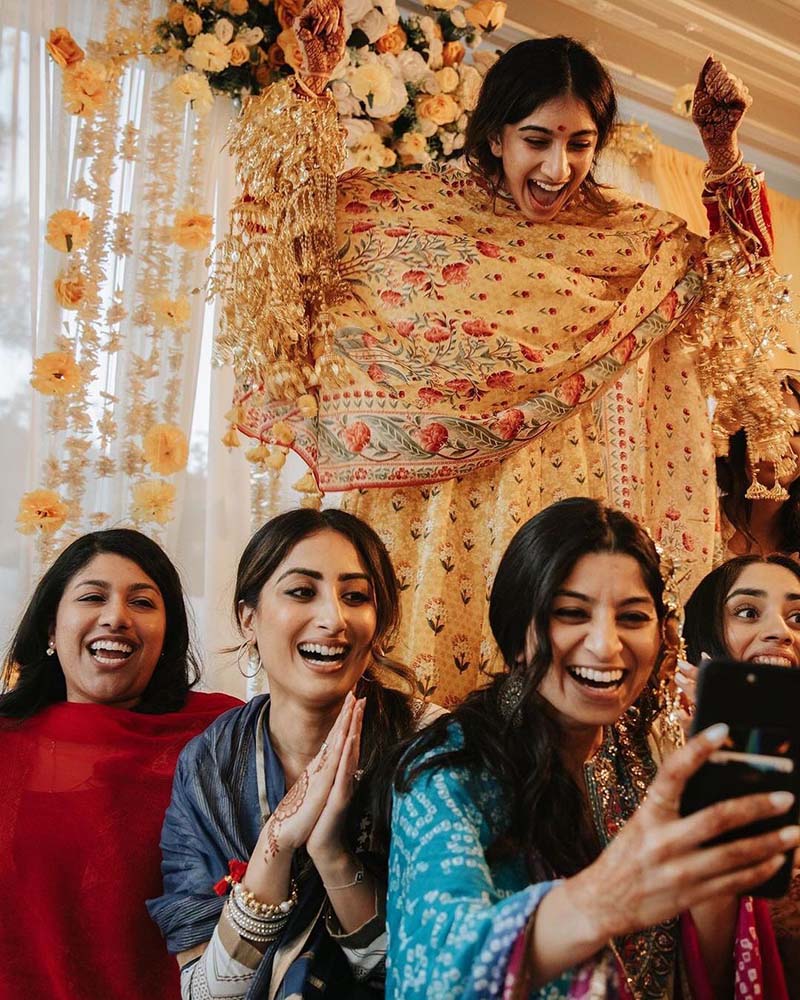 4. Simplistic Soulful Moments
There's nothing like love-filled rituals, hearty giggles and soulful moments surrounded by simplicity and fun!
Each bridesmaid wears a comfortable and simplistic look whilst feeling confident and fun! The best combination for functions like Haldi and Mehndi!
Image courtesy: @vinuthnagaridipuri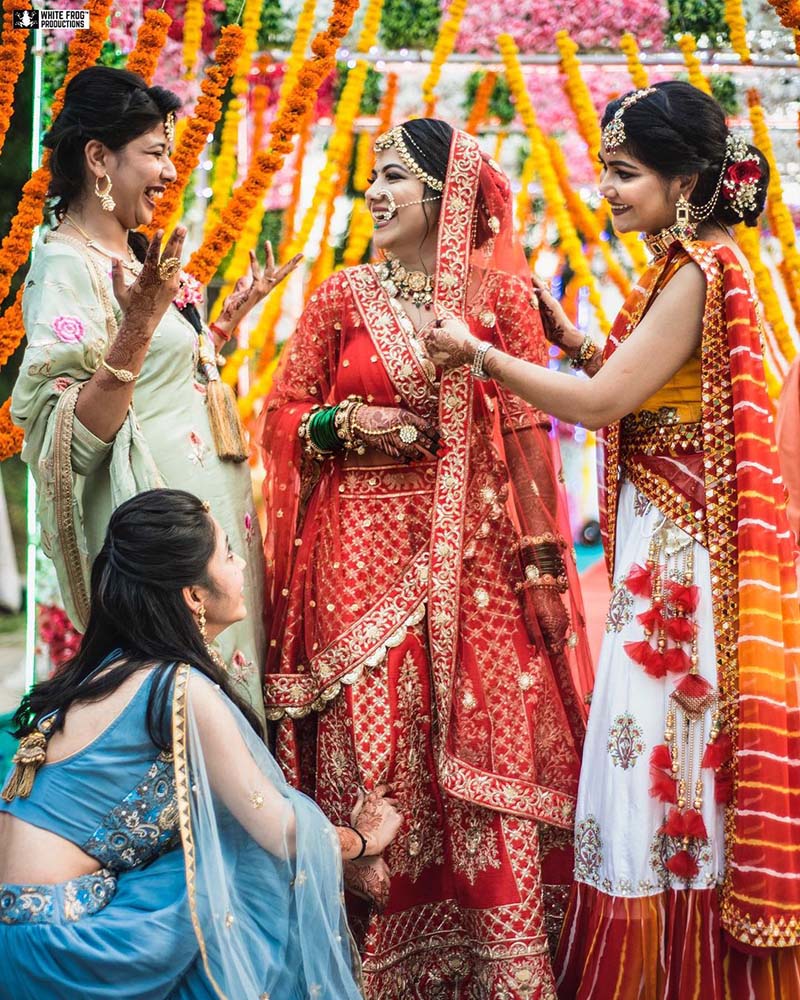 5. Colours of the Rainbow
Pastel green, ocean blue and a dash of orange – the colours of the bridesmaid light up the smile of the bride even more!
A day brimming with the colours of the rainbow captures the pure moment of joy and happiness!
Image courtesy: @whitefrogproductions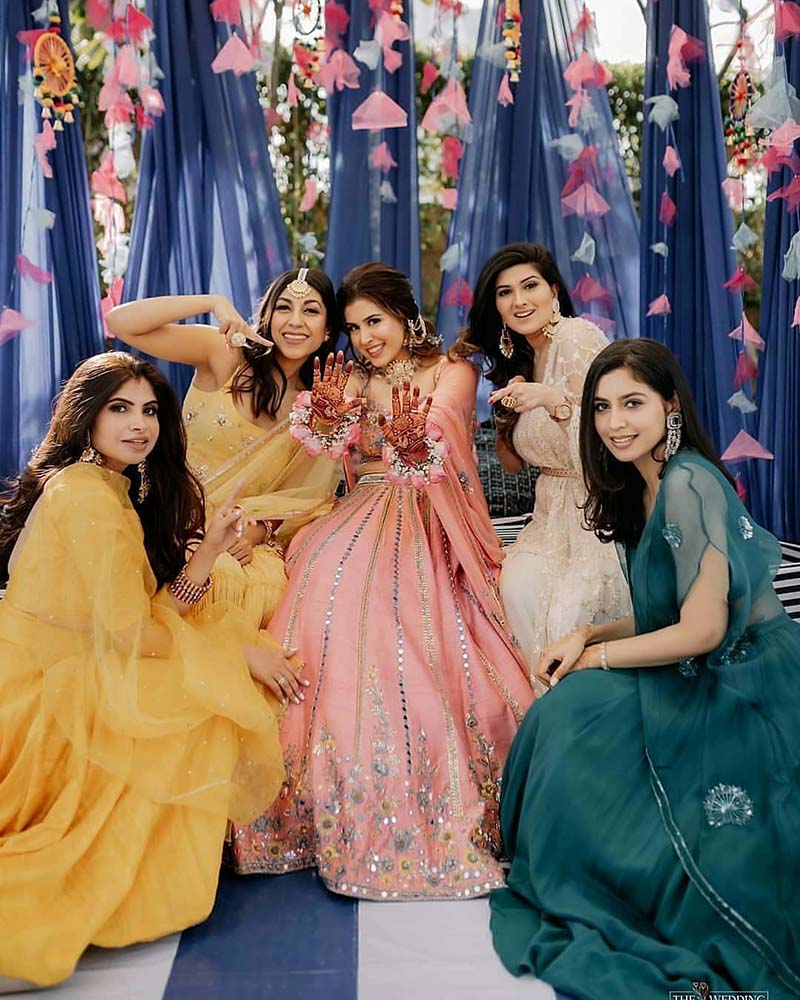 6. Pastel-Galore
Dancing away with her bridesmaids, our floral-pastel bride looks stunning with her matching bridesmaids! With shades of yellow, beige and blue complementing the brides' outfit perfectly, the bridesmaid has won squad goals perfectly!
Image courtesy: @the_wedding_files