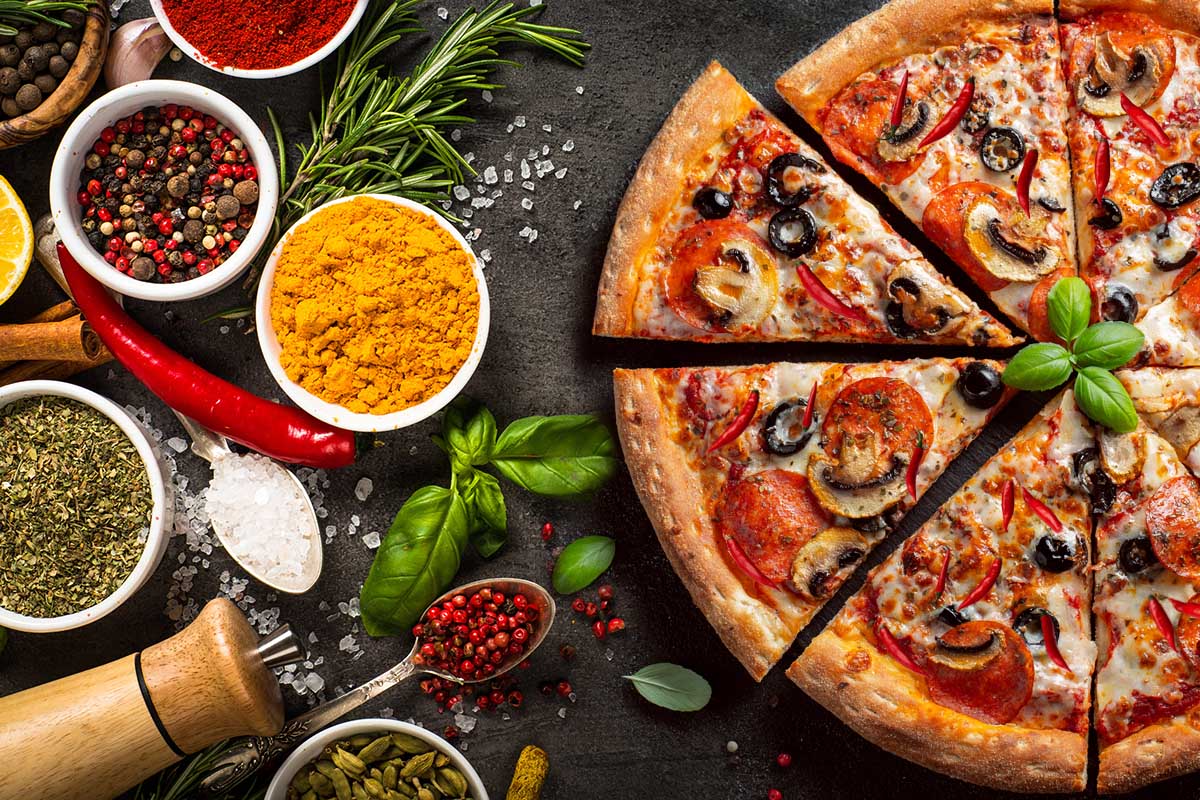 "Can I have extra chana masala with that?"

Pizza is the nation's number 1 lockdown food, but have you ever tried a Desi one?
What's been your 'go to' food during lockdown? Comfort food has been the preferred option for many households in the UK and when the home cooking gets too much, popping a pizza in the oven has proven to be the number 1 snack of choice.
Frozen pizza sales have gone through the roof during these past few months as families have stocked up on the tasty treat whilst spending time more time at home, according to new data from Chicago Town. While the majority of freezers in UK homes tend to hold at least one frozen pizza at any given time, since lockdown frozen pizza sales have increased by over 20%. The biggest increase has been vegan pizzas which have soared by over 73%. Their bestseller has been their BBQ jackfruit pizza, sales of which have reached £819k.
It's currently 'cuttal season' but rather than smothering jackfruit in BBQ sauce how about keeping it truer to its roots as a fruit, perhaps as a substitute for pineapple on a Desi Pizza? In fact, Desi Pizzas are a thing and if you've not yet tried one, you've clearly not been paying attention to the food trends of 2020. We've all witnessed relatives add chilli sauce to their Western cuisine but Indian pizzas take it a whole step further.
Zante's Pizza in San Francisco are regarded as "The Godfather of Indian Pizza" and specialise in creating South Asian flavours such as Paneer Masala pizza and Daal Makhani. The Chef's Speciality is "The Indian" with toppings tandoori chicken, spinach, lamb, fresh, ginger and garlic and some tikka masala sauce. We'll have ours extra hot!
The concept is the brainchild of Tony Multani who originally wanted to open an Indian restaurant but bought a pizza parlour instead. In the early days they sold both separately, but now the flavours have been fused and the joint is run by his two daughters. The name Zante's isn't either Indian or Italian, adding to the fusional feel, it's actually Greek! And they don't just serve their pizzas with the usual sauce – oh no, they come with tamarind and mint.
They're not the only pizza proprietors who've gone down the curry route. Some pizza places have even started serving pizza on naan bread (which gets our thumbs up!)
But is it too much to have a curry-flavoured pizza? Should the two be kept separate? Would you eat an Indian Pizza? Let us know what you think!