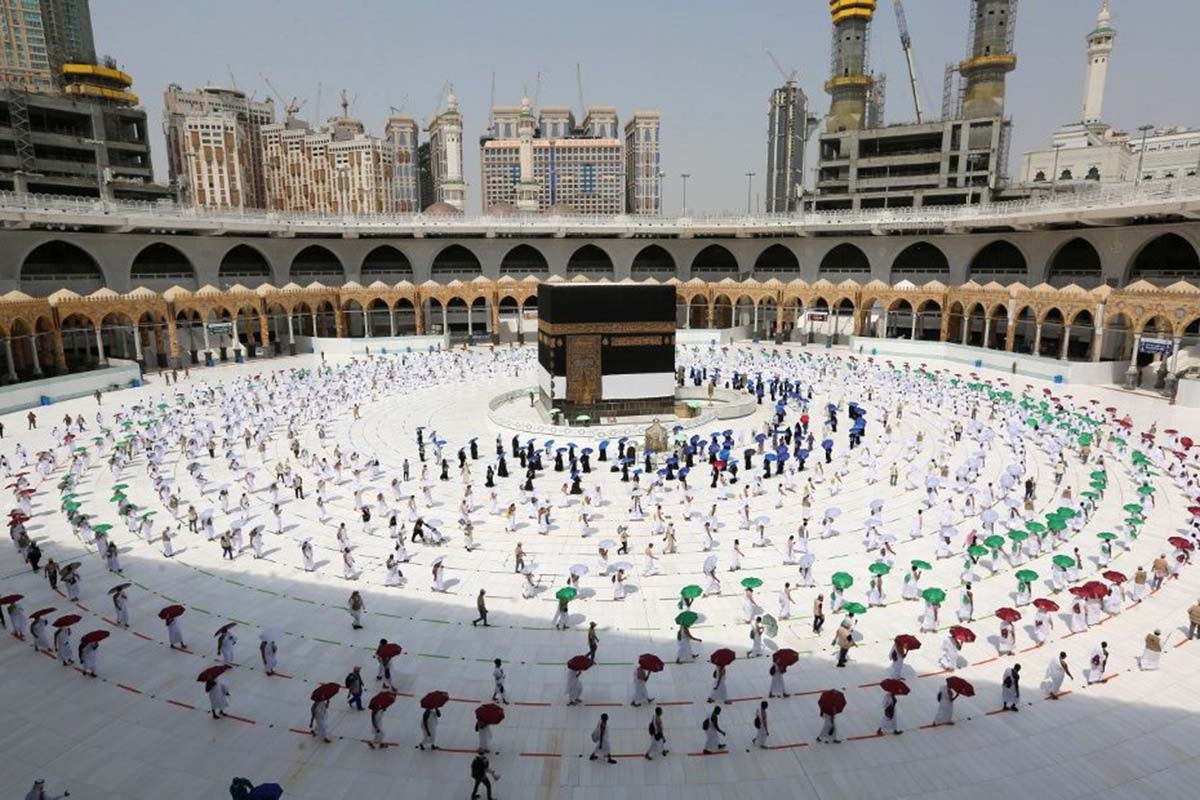 Hajj 2020 is restricted to 1000 pilgrims
How to celebrate Eid during a pandemic
It may feel different this year, but don't let that stop you celebrating
One Eid during a pandemic sounds like a once in a lifetime occurrence, but 2020 has proven that anything is possible by giving us two Eids in unusual circumstances.
This weekend Muslims around the globe are observing Eid-Ul-Adha. There's some reassurance that lockdown has eased in much of the UK since Eid-Ul-Fitr which took place right in the middle of us all being in quarantine, but not everywhere. Last night the UK government announced that members from separate households in Manchester, parts of Lancashire and West Yorkshire were no longer able to meet each other from midnight. This has affected Eid plans for many, and some are questioning the timing of it. Cultural commentator Maryyum Mehmood tweeted: "Given the high population of Muslims in these parts of the UK, it would have been wise to make this announcement sooner. So many families will have to make a last-minute change of plans. Some might be unaware at such short notice."
If you are lucky enough to be seeing family, please remember to follow the recommended precautions and continue to observe social distancing.
If you're not able to celebrate Eid with it's usual grandness with your friends and family this year, then fear not, here's Asiana's top tips for making sure you still have an enjoyable day:
Arrange a virtual feast
Just because you can't be with family it doesn't mean you can't eat together! Connect with your loved ones virtually on Zoom, Facetime or Skype and show each other your lunch spreads. Whether it's home cooking or a takeaway, make an effort with the presentation to impress the fam and make them feel like they're with you.
Pamper yourself
Ok so you might not have been able to go for a facial but nothing is stopping you from having some self-care time at home. If you're usually entertaining or are out and about, this year you'll have some extra hours to spend at home. So enjoy a soak in the bathtub, give yourself a hair conditioning treatment and facemask before donning your new Eid clothes. You might not be able to show off your outfit in IRL, but you can do it on The Gram.
Pray at home
If you usually go to the mosque on Eid but this year are unable to then arrange a prayer session at home. Whether you live with family, friends or alone, make the experience memorable by laying out your best namaz mats, lighting some incense, even putting up some decorations like an Eid Mubarak sign to make it feel even more special than usual daily prayers.
Occupy the children
If you live with younger siblings, an extended family that has children, or you have your own, Eid is the perfect excuse to feel like a child again yourself! Play some games with them, do some Eid crafting like making cards for the neighbours and of course, be sure to gift them their Eidi money. If you've got time on your hands, arrange a mini treasure hunt for them to find it.
Watch Hajj online
This year no foreign visitors are allowed to visit Saudi Arabia to perform the Hajj pilgrimage. Those who are allowed, limited to 1000 Muslims, have to already be resident in the country and must undergo strict checks before being permitted into the holy city of Mecca. They'll also have to wear face coverings.
However, Muslims all over the globe will still be able to feel part of the proceedings by watching it online with live streaming of the Kaba and Arafat, key parts of the pilgrimage.
If you're celebrating Eid, the team at Asiana would like to wish you Eid Mubarak. Let us know how you're celebrating.