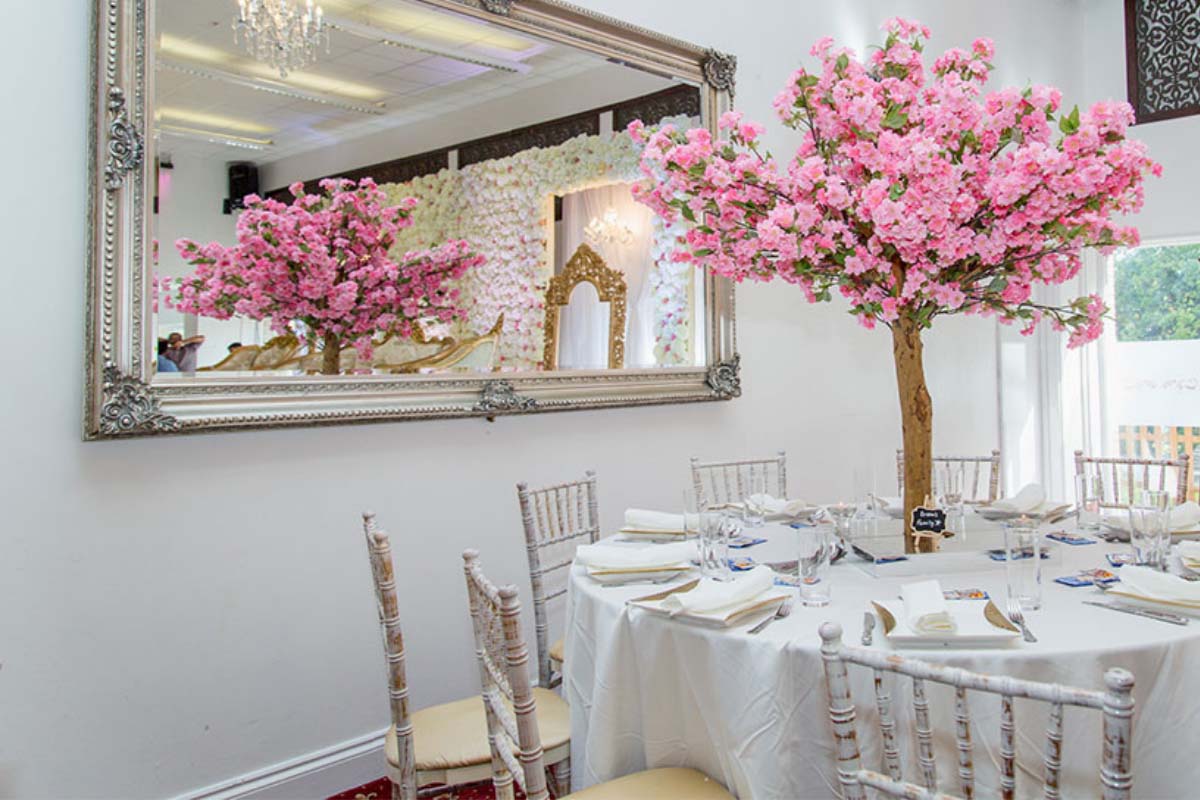 London's Most Exclusive Wedding Venue!
Set with stunning landscaped gardens, luxurious décor and accompanied by magnificent backdrops
All about Ariana Banqueting
Ariana Banqueting Hall is North London's most hidden treasure, located in the prestigious North London Business Park on Oakleigh Road South, the banqueting hall features abundant on-site private parking, great transport links, a fantastic venue for guests to enjoy, 1 am licenses and much more! 
The venue is one large building which is surrounded by open space and greenery. One side leads into our conservatory which follows into private gardens.  
The enchanting location can cater up to 800 of your nearest and dearest guests for an exquisite sit-down meal.  
Set in a large open plan banqueting hall on one-floor level, the space is bright, airy and a blank canvas is open for you to begin designing your special celebration. We have a large selection of in-house stages and décor to suit your individual taste. 
One of the great features of the Main Hall is that there is a lot of space that is exclusively yours for your big day. 
Whilst you can hire out private décor, catering and facilities, Ariana offers glamorous packages for all.  
Review: "Ariana Banqueting Hall was the great setting for our wedding this year. Fantastic food, great staff and great location. The car park is massive, all our guests loved it!" 
Ariana Décor
The Main Hall is your canvas to make what you want of it and Ariana offers a large selection of options to make it truly yours! From Mandaps, Wedding Stages, Centre Pieces, Chair Covers, Table Linen and Mood lighting there's plenty to choose from!
Ariana Facilities
'Venue Hire Only' includes: 
Chairs and Tables to seat up to 800 guests.

Use of kitchen

Use of Bar Area

Use of Private Gardens

Car parking for 350 cars

3 Security personal/attendants

3 Buildings Facilitators

Wireless Microphone plus PA System

State of the Art Mood Lighting
Hire times:
Afternoon event – 10.30 am to 5.00 pm
Evening event – 5.30 pm to 11.00 pm
Open 7 days a week!  
Hire Prices:
Hire prices can vary considerably depending on the time of year. But the earlier you book the more choice of dates you'll have. Ariana prices are very reasonable & competitive and aim to reflect the current market prices of other similar venues in London. 
That means the best prices within your budget are available!  
Ariana Catering:
Ariana offers the best catering service in town!  
At the Ariana Banqueting Hall, pride is taken in offering the highest standard of gastronomy. 
Freshly made and using the finest of ingredients, Ariana menus span from delicious starters like Seekh Kebab, Chicken Pakora and Paneer Tikka to Aloo Puri Chatt.  Along with mouth-watering mains and desserts! The impressive menu covers vegetarian, non-vegetarian, and a variety of traditional dishes!  
Ariana adapts their menus to suit your particular occasion and are always happy to meet with you to assess and plan your individual tastes utilising years of experience! 
Ariana Banqueting Hall
T: 0208 368 4716
www.arianabanqueting.co.uk