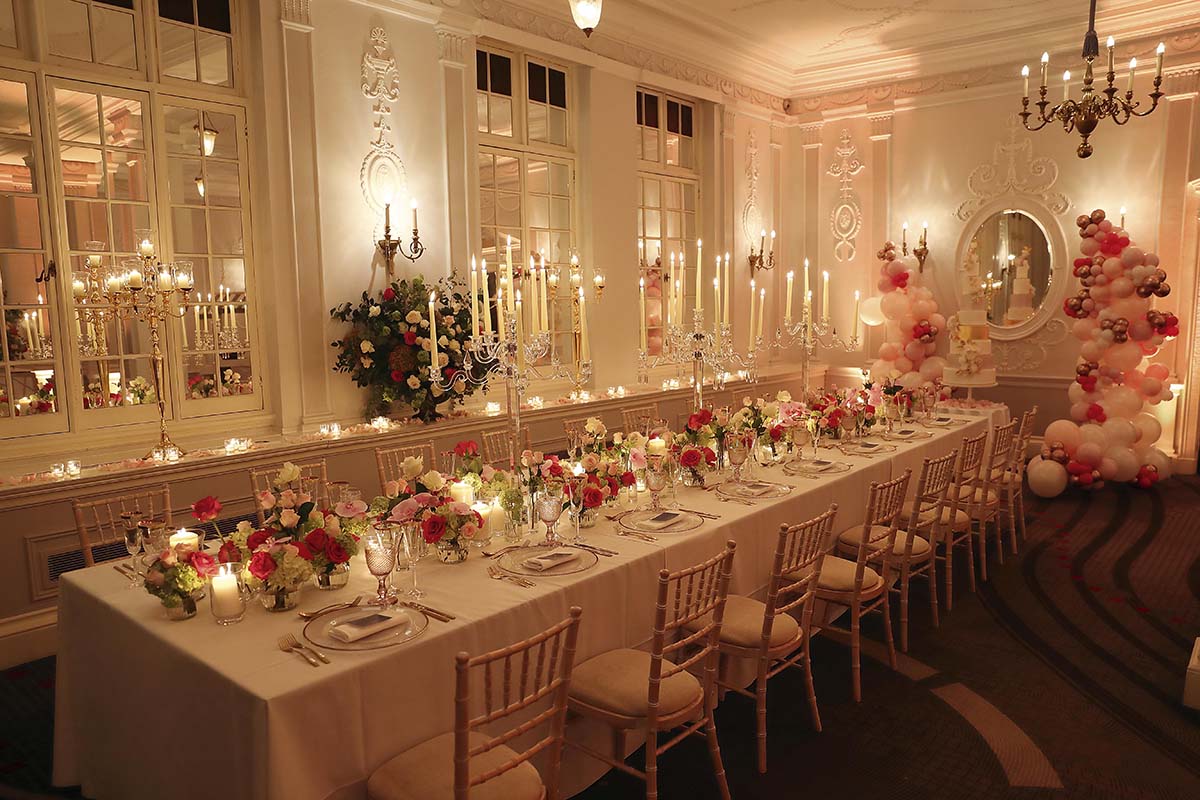 The Dilly Hotel, London
Located in the beating heart of London, there's no better place than The Dilly to begin your very own love story. Dating back to the Edwardian era, the hotel is an iconic part of London's history. With its grand façade and lavish interiors, it has long attracted the great and the good, and even royalty. Today it continues to be one of the capital's most picturesque hotels providing a luxurious and memorable backdrop to your wedding day.
To make planning easier, the hotel has designed four wedding packages to suit every budget. Head of Events Jess Akins and her team will support you from the moment you book, right up until, and during your Big Day. Depending on your guest numbers there is a choice of grand spaces to hold your wedding reception.
The Georgian Suite (180 capacity) is the largest function room, characterised by its high ceilings, ornate chandeliers and opulent décor. It's a Grade II listed event space, dating back to 1908, renowned for its mirrored interior and charming arched alcove, which is the perfect location for your entertainment or top table.
Or, for an intimate, romantic gathering book The Adam's Suite (capacity 50.) It transforms into a grand dining space and is highly recommended for a pre-wedding function where perhaps you are looking to host a family meal.
A truly magical place to begin your marriage is Terrace at The Dilly (160 seated.) Here you can get married under the stars in the original glass arched canopy of the terrace. The space is filled with natural light and has views over the central London skyline with vibrant Piccadilly below. The light and botanical nature of this space will give you the feeling of an outdoor wedding, with a connecting outdoor space perfect for drinks with a view.
Dining is one of the most important aspects of your event, showing your guests just how much you appreciate them. The chefs at The Dilly curate bespoke wedding menus featuring locally sourced ingredients such as seasonal vegetables and organic meats.  All dishes are delicately presented, adding to the splendour of your day. The team can also help you arrange the finer details such as booking a magician to entertain younger guests and can arrange for you to have First Dance lessons; one of the highlights of wedding preparations.
And with London's iconic landmarks right on your doorstep, such as Royal Green Park, Buckingham Palace and Piccadilly Circus, there are endless backdrops for some truly vibrant and fun portrait photographs.