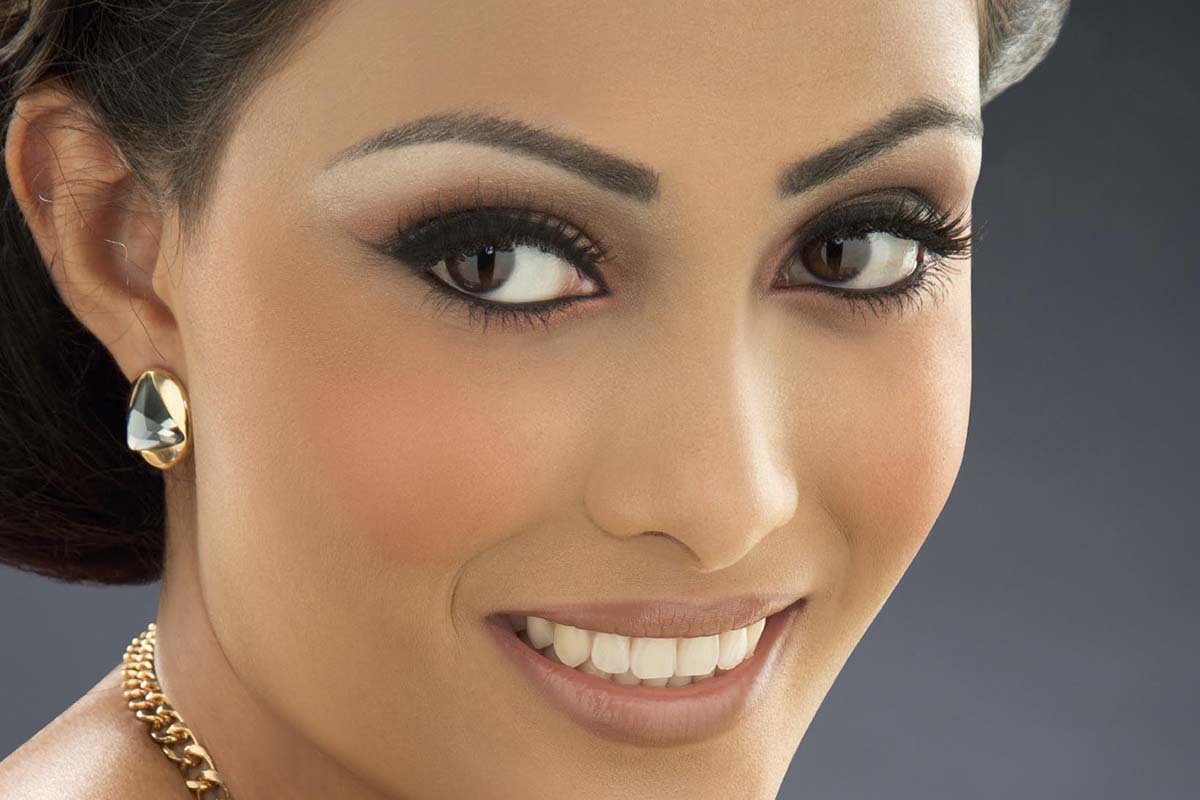 Fall In Love With Your Smile
Simple cosmetic procedures can make a big difference as Dentist Dr Kal Prajapat explains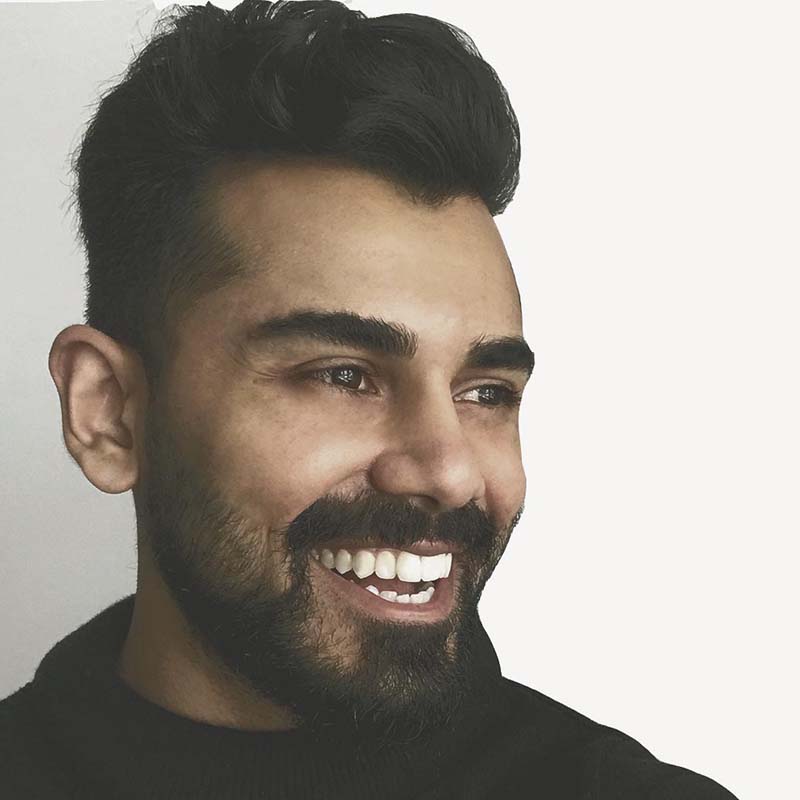 About Dr Kalpesh Prajapat
Dr Kal was awarded 'Best Young Dentist Midlands – Highly Commended' and was shortlisted as a finalist for Best Young Dentist UK for two years running at the 2019 and 2020 Dental awards. He is also a best-selling Amazon Author and the co-founder of www.iwanttobeadentist.com, an educational platform for future dentists.
It's well-known that when meeting someone new, one of the first things that we notice about them is their smile. In fact, the smile is also one of the most powerful traits determining attractiveness. So it's not surprising that so many brides and grooms-to-be seek cosmetic dental treatment ahead of their Big Day, to ensure they look their best when it matters most in front of all those cameras. That's where Dr Kal comes in. Kalpesh has an enormous passion for dental excellence and has a special interest in cosmetic dental treatments including composite bonding, Invisalign teeth straightening, ceramic veneers, teeth whitening and smile reconstruction with dental implants. In short all the procedures that could make a huge difference to improving you life your self confidence and your smile.
Dr Kal shares his top five healthy hygiene habits for brides and groom
1. Buy a pressure sensitive toothbrush
Using an electric toothbrush with a pressure sensitive function is a must. Electric toothbrushes help to remove more plaque bacteria than a regular toothbrush, the key cause of gum bleeding, bad breath and staining. A pressure alert sensor will help to prevent harm caused by over brushing. My personal favorite would be Oral B IO.
2. Use interdental cleaning aids
Did you know a toothbrush only cleans three of the five surfaces of your teeth? To clean all tooth surfaces an interdental aid must be used, ideally twice daily. A silky floss can help glide between tightly placed teeth but an interdental brush is ideal for back teeth and bigger gaps. The key is to get a tight fitting brush to clean between teeth.  My top tip is to add toothpaste on these bristles before you use them. My favourites are Oral B Pro-expert floss and Tepe Easypick.
3. Try a tongue cleaner
The tongue can be a large store of bacteria which can contribute to poor odour. Daily tongue cleansing is a good habit to maintain fresh breath and avoid a coated tongue.
4. Book your professional hygiene visit
Seeing a dental hygienist can make a huge impact to your oral health. Hygienists  are equipped with advanced tools to blast through deep staining and remove hard tartar build up helping to brighten and freshen your smile.
5. Be mindful of your diet
We all know red wine, tea and coffee can lead to staining. But did you know that 'no added sugar' drinks can also be harmful? due to their erosive potential it can cause the enamel to weaken. Using a straw can reduce harmful damage and reduce staining. Also drinking cooler fluids is better than warmer, for reducing damage by erosion.
Choosing your treatment
Dr Kal shares the most common treatments requested by couples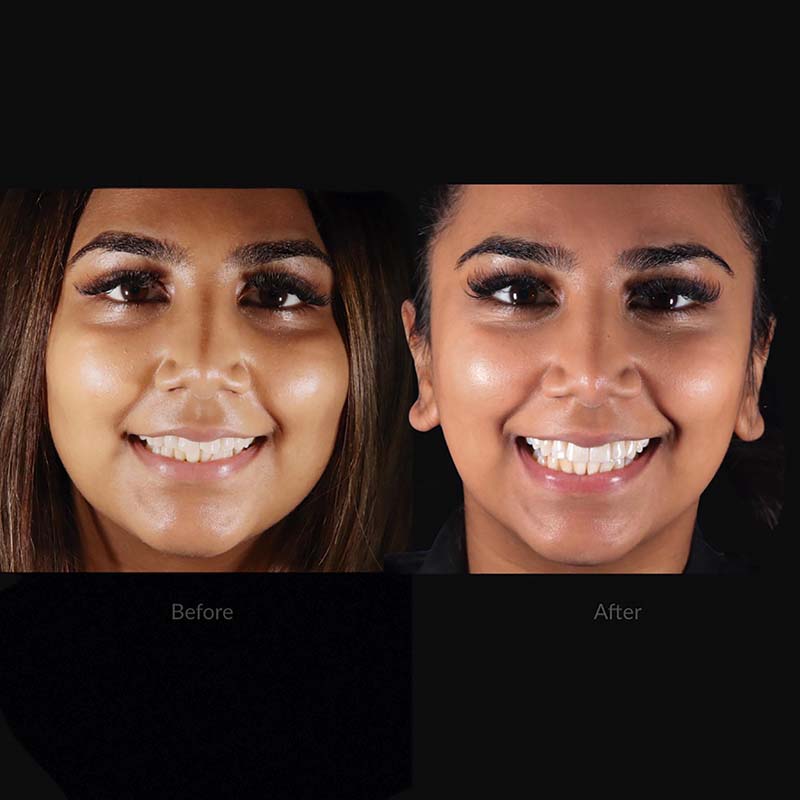 Invisalign teeth straightening
What to expect
Invisalign is a clear alternative to metal braces. It's the most advanced, near invisible aligner, designed for teeth straightening. Over 10 million people worldwide have benefitted from Invisalign and it can be used to treat overcrowding, spaced teeth, improve the bite position and many other dental issues.
When you'll see results
Invisalign uses a series of aligners to move teeth gradually into a straighter, desirable position.  Each aligner is typically worn for seven days and a series of aligners are given for you to use and change at home. Treatment can be as quick as 12 weeks.
Patient aftercare
You also don't need to have multiple visits to the dentist either. They use a digital scan box to monitor your teeth movement to ensure it's super accurate which reduces your need to attend the clinic. You only attend at the start and a couple of times throughout for monitoring.
Cost
Invisalign starts from £2500 or from £100 per month over 24 months.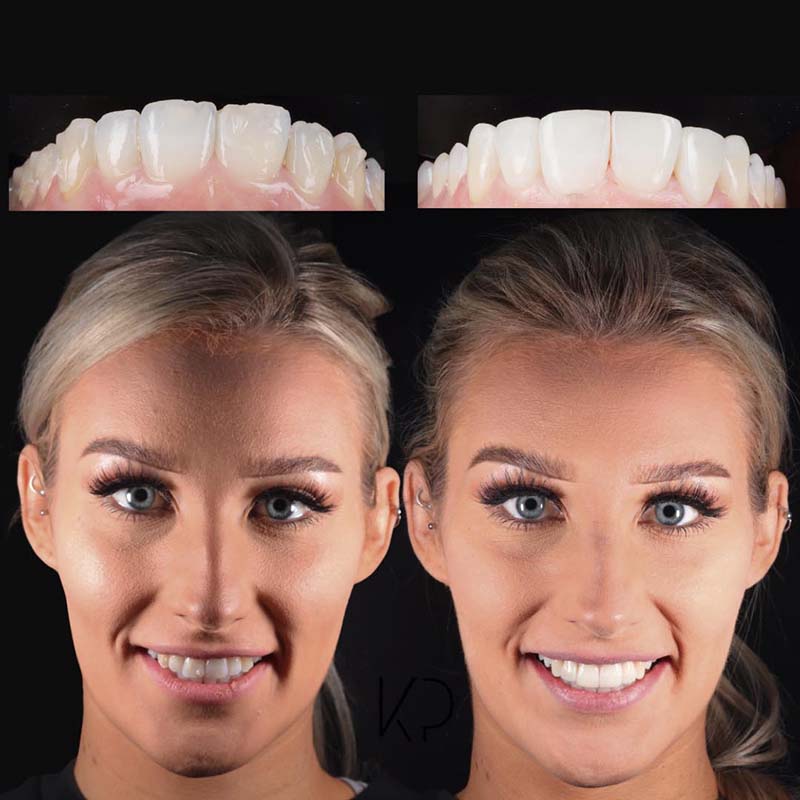 Composite bonding
What to expect
Composite bonding is where a tooth coloured material is sculpted onto the natural tooth to improve its cosmetic appearance. It is cost effective, minimally invasive and is used for correcting small changes in tooth shape, size, and symmetry. Common reasons for treatment include fractures, small imperfections, minor gaps, chips and uneven edges. Composite bonding is also commonly performed after invisalign to enhance the smile. There is no pain involved. In most cases a dental injection is not even needed. There is no harm to the natural tooth as the material is layered onto of natural tooth surface without drilling.
When you'll see results
Composite bonding is done in a single visit usually, and can take up to two to three hours only. This gives you an instant smile makeover with no harm or no injection. On average bonding lasts between three to five years, in this time the material will require maintenance.
Patient aftercare
Six to 12 monthly polishes are advised to maintain their shine and reduce stain build up. Excellent oral hygiene and diet control is advised to provide long lasting results.
Cost
Composite bonding start from £299 per tooth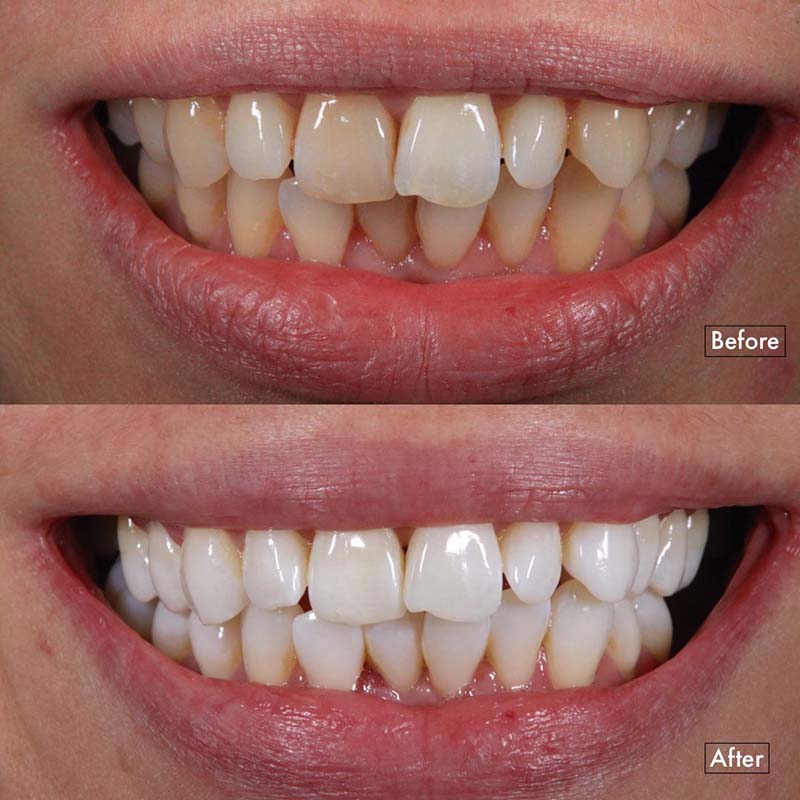 Professional teeth whitening
What to expect
Teeth whitening is an extremely simple yet highly effective minimally invasive method of brightening your smile. The most common form of tooth whitening involves a two-week home treatment kit. This kit includes whitening gels and custom-made tooth whitening trays. The trays are worn at night while you sleep and the gel works by breaking down the discolouration.
When you'll see results
Guaranteed whiter teeth can be expected with the treatment. Usually most patients will see a noticeable improvement within two weeks. Darker discolouration may take longer to whiten but 90% of patients will see a difference within the first two weeks.
Patient aftercare
Whitening results are largely dependent on lifestyle factors such as diet, oral hygiene and smoking. Most patients will be satisfied with their result for up to four years. Long lasting white smiles can be maintained by topping up whitening once every three-six months.
Cost
Whitening fees begin from £350
To book an appointment with Dr Kal visit
www.drkal.co.uk or Whatsapp +447835798611
Clinic locations: Birmingham (Sheldon Dental Centre, 26 Sheaf Lane, B25 3HD)
and Stafford (Abbey House Dental, 13 Lichfield Street, St158NA)