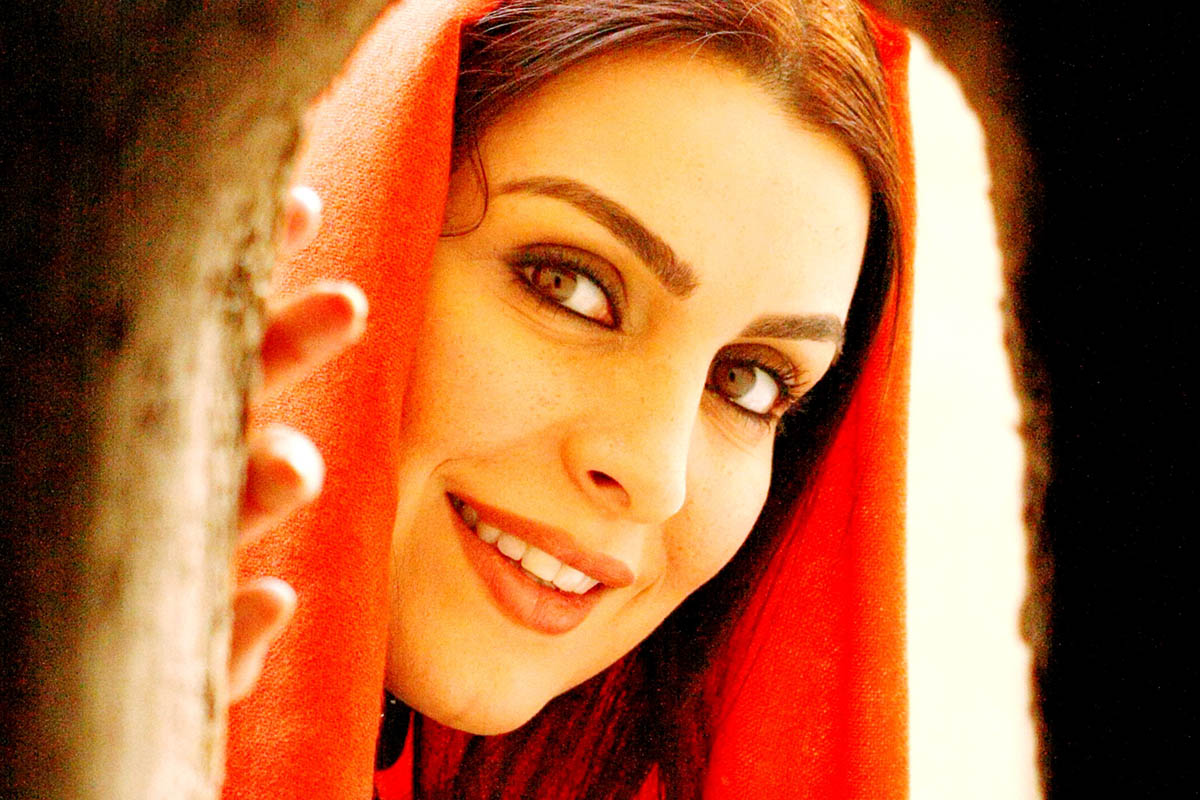 Asiana looks back at the life of 'Cherry', the model and MUA who became the face of Asian beauty in the '90s
"In life you know of a lot of people but there are very few that truly touch you. Cherry was one of them."
To millions of fans in Iran Mahchehreh Khalili-Zadeh is a household name, regarded as one of the countries finest actresses, but in the UK she will fondly be remembered as The Face: the model that every MUA wanted to work with, who helped shaped the early days of the Asian beauty industry. The former model and MUA, turned international actress, affectionately known as 'Cherry' passed away aged just 44 on Friday.
Since then tributes have been pouring in to remember this phenomenal, beautiful woman who touched everyone who met her. For Asiana she is particularly special, for she was one of the first models to work with us at Asian Woman and Asian Bride, our original titles that proceeded Asiana and Asiana Wedding Magazines.
Editor of Asian Woman and Asian Bride Sam Saeed who now runs The Asian Face of Miss England contest, fondly recalls what an inspiration Cherry was. "I'll never forget her ambition and talent. When I first met Cherry she had just qualified as an architect from Oxford University but that didn't stop her from following her dreams. She had a natural beauty and could stop traffic with her captivating looks. I invited her to model for the magazine and that's what catapulted her into the glamorous world of fashion and beauty."
For MUA Naveeda, Cherry changed her life. Naveeda was so drawn to her beauty and warmth that she cast her to appear in her first magazine campaign in a Bridal Profile in the late 90s. In a tribute post on her Instagram over the weekend, Naveeda wrote: "My heart is breaking. I have lost an amazing friend and the world has lost a truly beautiful soul."
"The world has lost a truly beautiful soul."
Speaking to AsianaTV, Naveeda shared some emotional memories: "Cherry is the model that kick-started my career. In fact when I posted that very first portrait shot I did with her on Instagram a couple of days ago, I was so humbled as one of the comments I received was from one of my former brides who said that she booked me for her wedding, 17 years ago after seeing that photo."
As a model Cherry worked with all the leading Asian brands. Mel from Kyles Collection fondly remembers working with her for several of their jewellery campaigns: "We will always remember Cherry as such a nice person, full of manners and a real pleasure to work with. After she left the UK to pursue acting she continued to keep in touch with Nisha and I. We appreciated the effort she made and feel honoured to have known her and worked with her."
But how did an Iranian woman find such pleasure working in the South Asian fashion and beauty industry? Her sister Goldie (Golchehr) explains: "When we were growing up abroad Cherry loved watching Indian movies. She adored everything about Indian culture, from the music and films to the outfits. I even remember her entering a beauty pageant and wearing a lengha!"
"She had this real zest for life that is so rare to find."
Cherry wasn't just a beauty model she also had a real talent and passion for the industry and became the first Beauty Editor of Asian Woman magazine. Sam recalls that there was no one better for the job: "Although she was Iranian she really understood and loved Asian beauty and she got involved with our shoots behind-the-scenes. She had this real zest for life that is so rare to find."
Her modelling led Cherry to becoming one of the first Hostesses for Madhu's and she became a name that the whole company is grateful for, as she also introduced them to her sister Goldie who has now worked for the luxury catering and wedding event planners for over 23 years. She told AsianaTV: "Because of Cherry my own career kicked off. I was her model for when she became an MUA under the brand CKZ. At the time she was still Hostessing for Madhu's. But one day she couldn't go and they had a large event for Indian Airways so I stepped in for her and never looked back! She gave me the career break I needed and now the Madhu's team has become my second family. I should add, as well as getting me into modelling she also persuaded our dad to star in a campaign for an Asian client once too!"
Under CKZ, Cherry created her own MUA aesthetic that both Asian and Iranian brides adored and though she was always busy with bookings Naveeda recalls that it improved their friendship. She said: "There was never any rivalry. We were friends working in the same industry. Then one day she told me that the opportunity had come up for her to move to Iran and try acting. I'd never seen her so happy."
This was the start of a new life for Cherry who built on her experiences as a model and entrepreneur to conquer acting. Inspired by her grandmother, Iranian actress Parvin Solemani, she had been taking acting classes in London alongside her beauty work. She made her debut in Iraj Qaderi's drama Black Eyes in 2000 and went on to become one of the countries leading actresses over 15 years, starring in popular television shows such as  Mokhtarnameh, In The Eye of the Wind and The Pahlavi Hat. Her movies include Wishbone in 2017.
"Cherry was so thoughtful and always brought me gifts."
Despite her superstardom in Iran, Cherry never forget her modelling roots in the UK and whenever she was visiting she made sure to meet up with her industry friends including Naveeda and Sam. At the Asiana Wedding Weekend at Twickenham Stadium in 2018, she made a surprise appearance. Naveeda recalls. "I was on my stand speaking to a prospective bride and I got this tap on my shoulder. We both screamed with joy to see each other." Due to Cherry living between Tehran and the UK, Naveeda only saw her every couple of years but whenever they met it was special.
Naveeda enthuses: "Cherry was so thoughtful and always brought me gifts every time she came to see me. Just two weeks ago she texted me to say she'd had a dream about the two of us going to dinner at Madhu's. It really made me smile. While Cherry was in hospital just a few days ago, she told her sister Goldie that when she comes out she was looking forward to spending a day with me and I am so humbled by that. In life you know of a lot of people but there are very few that truly touch you. Cherry was one of them, it really didn't seem like the right time for her to go."
'Cherry' Mahchehreh Khalili-Zadeh had pancreatic cancer at the time of her passing away and is survived by her six-year-old son and husband Ebrahim Ashrafi. Her funeral takes place today, 11th August in London and a memorial will take place in North London this Thursday. The whole team at Asiana would like to send their deepest condolences to Cherry's family.
Article: Momtaz Begum-Hossain