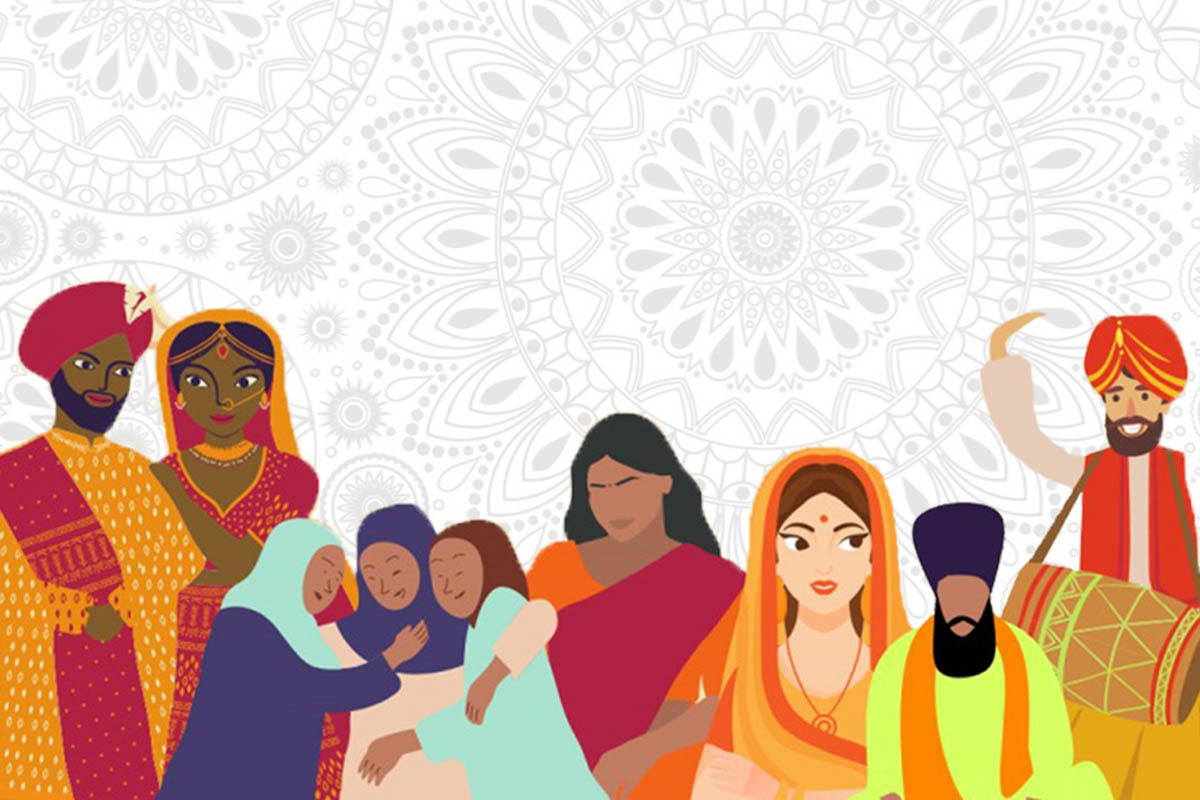 Like never before – South Asian Heritage Month!
This year's South Asian Heritage calendar is filled with over 100 thrilling events from creative workshops for song-writing, sporting debates and LGBTQ+ specific events you can get involved with!
South Asian Heritage Month is back from 18th July to 17th August to reclaim the history and identity of British South Asians.
The official South Asian Heritage Month calendar 2021 has been released today with over 100 planned events you can take part in!
Curated in partnership with individuals, groups and organisations, the calendar covers a diverse range of topics encompassing this year's five themes: Identity, Sports, History, Health & Wellbeing, Creative Arts!
What is South Asian Heritage Month?
South Asian influences can be found everywhere in Britain, from our food and clothes to our music and even our words.
Co-founder Jasvir Singh OBE explains, "South Asian Heritage Month matters because we need to have ownership of our own narratives, our own stories, and our own lived experiences.
Our aim is to promote British South Asian heritage and history, through arts, culture and education, with the ultimate goal of helping people to understand the diversity of present-day Britain better. There are so many exciting events, and we're looking forward to what should be a month to remember'.
The streets of our towns and cities are rich with the colours, sights and sounds of proud South Asian identity. Its culture permeates all parts of British life and adds to the diversity of the nation.
Calendar
Events marking the 50th anniversary of Bangladesh's independence, including looking at how Brick Lane became the centre of British Bangladeshi identity (Sun 18th Jul, 7.30pm)
Literature based events each day curated by #SouthAsianWriters, ranging from interviews with award-winning writer Nikesh Shukla (Sun 8th Aug, 7pm) and TV presenter Anita Rani (Wed 4th Aug, 6pm) through to creative workshops for songwriting (Sun 1st Aug, 3pm), a writing course for women of colour (Sun 8th Aug, 4pm) and an open mic night (Sun 25th Jul, 6pm)
UK Punjab Heritage Association's bookclub, with Varinder Kalra recalling when the renowned singer Nusrat Fateh Ali Khan came to Slough (Mon 2nd Aug at 5pm), and Andrew Whitehead looking at the extraordinary life of Freda Bedi (Mon 9th Aug, 5pm)
LGBTQ+ specific events, including a discussion organised by the Ozanne Foundation with Naz & Matt Foundation looking at conversion therapy in the South Asian communities (Wed 28th Jul, 6pm), Open Minds Student Spaces (Thu 22nd and Thu 29th July, 6pm), and the UK premiere of the groundbreaking film Sab Rab De Bande followed by a panel discussion on LGBTQ+ Sikhs (Sun 1st Aug, 4.15pm)
Discussions and debates regarding the sporting world, addressing issues such as the visible absence of South Asian women in sport (Fri 23rd Jul, 6pm) and of South Asian men in football (Sat 7th Aug, 6pm). There are also events being organised by the England and Wales Cricket Board (Fri 30th Jul, 5pm) and the Football Association (Thu 5th Aug, 5pm)
Health and wellbeing events, such as the experience of South Asians during the pandemic (Sun 8th Aug, 7pm), debunking myths about the menopause (Wed 4th Aug, 7.30pm), weekly Chai and Chat events on health issues (Fri, 10am) and many more!
Find out more at South Asian Heritage Month