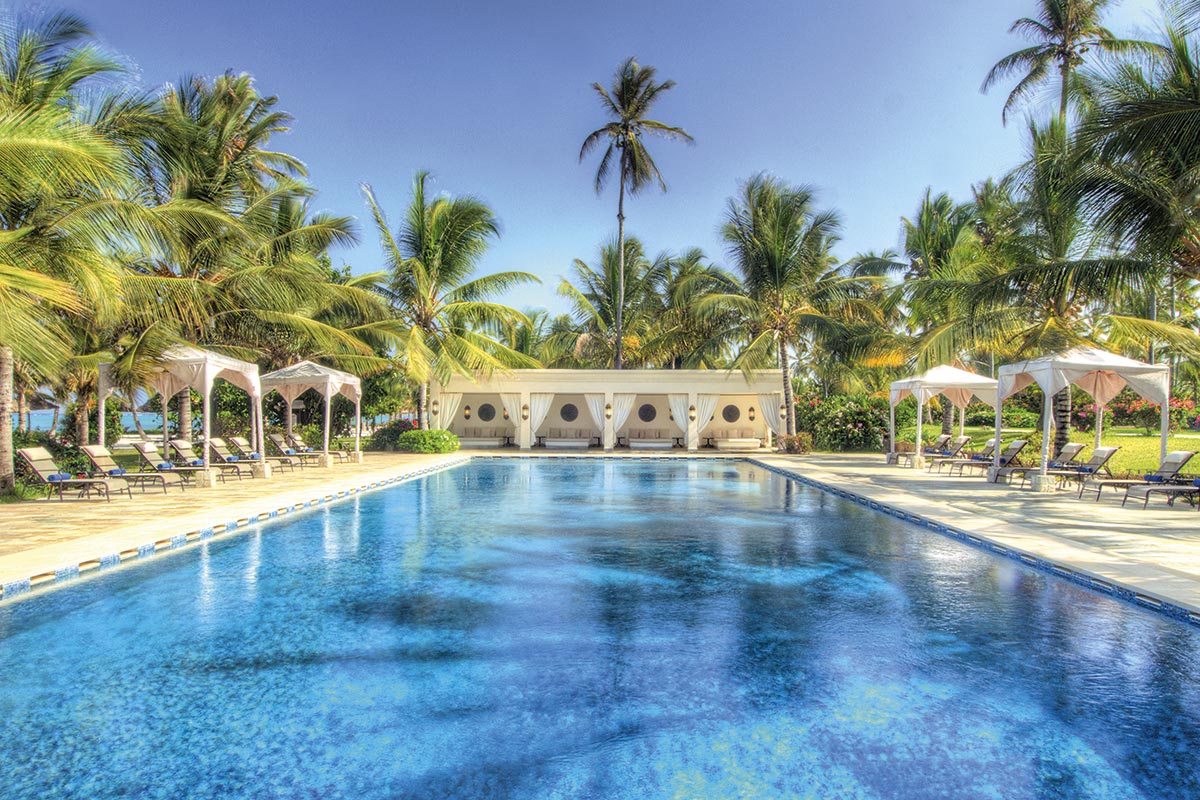 A treasure trove of culture, history, powder white beaches, azure blue seas, delectable cuisine and wondrous hospitality, Fariha Sabir-Bajwa discovers the mystical land of Zanzibar, whilst residing at the indulgently luxe five star property, Baraza Resort and Spa
A collection of exotic islands, the Zanzibar archipelago is part of Tanzania, surrounded by the beautiful Indian Ocean, making its location historically significant. This explains why the confluence of cultures including Swahili, Arabic and Indian is vivid everywhere you go here. You can visualise the spice traders many eons ago, reaching its shores as a crossroads to other lands.
A fine example of the merged cultural influences is Baraza Resort and Spa, echoing the grandeur of the Omani Sultanate era, yet staying true to its Swahili heritage. Hidden away alongside the beaches of Bwejuu and Paje is where you discover Baraza.
You will instantly be swept away by the vast open verandas, featuring a theme of calming ivories accompanied by contrasting golds. The walls and arches are etched with Omani-reminiscent ornate wooden carvings and palatial brass antiquities. This opulence as a backdrop against the dancing palms and blanket of stars, easily recalls a magical scene from Arabian Nights – I couldn't resist giving one of the charming lamps a sneaky polish, with the hope of conjuring up my own genie.
With only 30 villas, Baraza is a honeymoon haven for intimacy and privacy. Each villa is an impressive space, yet maintains a comforting feeling of cosy. The majestic theme of ivory and gold continues throughout, along with the beautiful carvings, regal archways, swathes of plush fabrics and adornments.
Given the height of decadence, celebrities of course flock to Baraza – we spotted Brian May from Queen, an uncanny coincidence, since Zanzibar was the birthplace of Freddie Mercury himself.
Dining at Zanzibar also reflects its diverse history, as well as its local treasury of flavours, due to the array of sumptuous spices that are grown on the island itself, featuring a tantalising melting pot of Arabic, Swahili, Indian and Persian cuisines.
For the ultimate retreat of relaxation, the Frangipani Spa is an absolute must. The décor itself will transport you to another realm, whilst the treatments on offer will make you feel anew.
Our ocean view villa gave direct access to the pristine white sandy beach below, so a walk along the unspoiled coastline was a blissful daily highlight. There's no wonder why this stunning spot was chosen by the family who founded Baraza, along with their impressive portfolio of properties known as the Zanzibar Collection including Breezes Beach Club & Spa, The Palms and Zawadi. What's most admirable about this East African family is their commitment towards Zanzibaris as they have personally trained and educated their team in hospitality, which is so important at a time when Zanzibar is on an exciting and well deserved journey of becoming a world-class tourist destination.
• Prices at Baraza Resort & Spa start from € (Euros) 4600 for 7 nights based on two people per villa, on an all-inclusive basis. Watersports, excursions & transfers not included. To book:
info@thezanzibarcollection.com
+254720929273
www.thezanzibarcollection.com