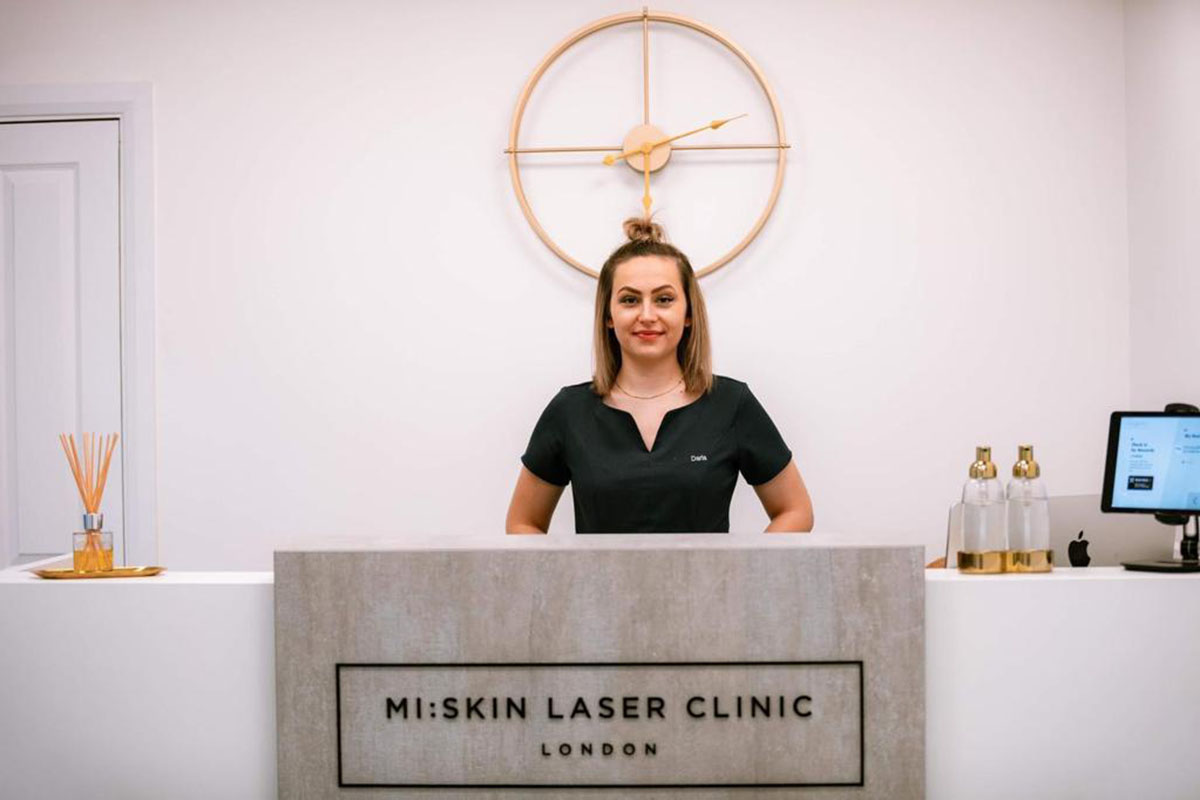 Inviting Luxury To Aylesbury
Mi:Skin laser drummed up a pristine professional reputation since opening in August 2020, redefining luxury aesthetic and laser treatment in Aylesbury
Since August 2020, Mi:Skin Laser clinic has been on speed dial to some of Aylesbury's highest flyers, bringing London standards to Aylesbury. With their flagship clinic based on Fairford Leys, Mi:Skin quickly became a laser and cosmetic frontrunner, drumming up a pristine professional reputation and an impressive roster of clients. The clinic was thriving so much that it gained the attention of famous Youtuber Mariyah Khan, who left an outstanding review.
Offering an expansive range of aesthetic and laser treatments, Mi:Skin are renowned for their cosmetic precision, expertise and minimally invasive techniques. From top of the laser skin rejuvenation, anti-ageing to laser hair removal treatments, Mi:Skin experts offer the A-list experience from consultation to aftercare.
Mi:Skin also stocks pioneering skincare specialist products, offering solutions to everything from colour correction, hydration and rejuvenation.
Carefully formulating the perfect regime for even the most stubborn and unusual skin complaints, Mi:Skin boasts golden standard technology, only found in a small number of clinics worldwide, including a high spec skin mapping system.
With exceedingly skilled doctors on hand at every turn, Mi:Skin aims to enhance natural beauty, helping you attain the look you've been dreaming of. In the safest (and softest) of hands, Mi:Skin offers a variety of treatments.
The founder of Mi:Skin ensured, "Our mission is to achieve results through our service. We educate our clients throughout the process, inform them of the technology we use and its purpose illustrating viable evidence of the changes made to their skin."
Visia Skin Analysis System
A skin mapping machine, the Visia technology is at the heart of Mi: Skin's journey and care.
Offered to all clients, regardless of their treatment, Visia can identify issues  underneath the surface of the skin, amongst the following:
Hyper-pigmentation
Skin spots
Oily skin
Breakout prone skin
Skin pigmentation
Inflammation
Wrinkles
The Visia consultancy allows an improved experience for aesthetic and skincare consultations, preparing and identifying skin problems even top dermatologists could not have foreseen.
The bespoke service then helps illustrate each skincare journey. Clients are shown before and after images to determine how well treatments have worked, leaving every client with successful transformations and keeping them informed about their skin.
Laser skin rejuvenation
A range of laser skin rejuvenation treatments is available to revitalize ageing skin. The Gentle Max Pro, effective laser treatment at Mi:Skin, helps stimulate collagen production, leaving skin glowing, refreshed and looking young. Mi:Skin specializes in using flexible lasers to address several concerns during a single course of treatment.
Chemical peels
Specializing in a gentle boost to help skin look fresh and revived, MI:Skin offer the best of bespoke services to cater to each client's needs. The impressive I IMAGE chemical peel technology provides fascinating results with minimal peeling targeted at specific skin concerns. Using FDA approved technology, Mi:Skin deliver:
A gentle peel targeted to individual needs
Effective, noticeable results
Improvement of skin tone & texture
Reduced fine lines, wrinkles & areas of pigmentation
Can be used with the I ENHANCE range for longer-lasting results
The I-Peel Range
The I-Peel range covers several treatments for different skin types. The range includes skin lifts for acne, lightening, wrinkles and to rebalance and restore skin. Each I Peel lift has been specifically curated to each client's treatment and skin type to ensure the highest results are reached.
Laser hair removal
Mi:Skin offers a long-lasting and comfortable treatment to get rid of unwanted facial or body hair. The clinic specializes in using the Gentle Max Pro laser, which is suitable for all skincare types and shows visible results in fewer sessions. With exceptional service and the utmost care, each client is guaranteed the best course of treatment personally designed for them.
Redefining luxury aesthetic and laser treatment, Mi:Skin is an unmissable gem.
Mi:Skin Laser Clinic Aylesbury
Tel: 01296796464
Info: info@miskinlaserclinic.com
Website: Laser Aesthetics Treatments Aylesbury Buckinghamshire | Mi:Skin Laser (miskinlaserclinic.com)
"My experience at the clinic yesterday was amazing and equal to none. I am extremely pleased with services I received and above all how it was administered in a very friendly, clean, relaxed with professional environment.
Glad I followed my instincts from a selection of word of mouth."
"I was seen on time for my appointment, all the staff were friendly and very efficient. From the reception staff through to Viola, who was completing the treatment. I was given all the time that was needed for asking questions and the procedure itself. Everything was explained clearly to me so that I knew what was happening and what follow up care was needed."