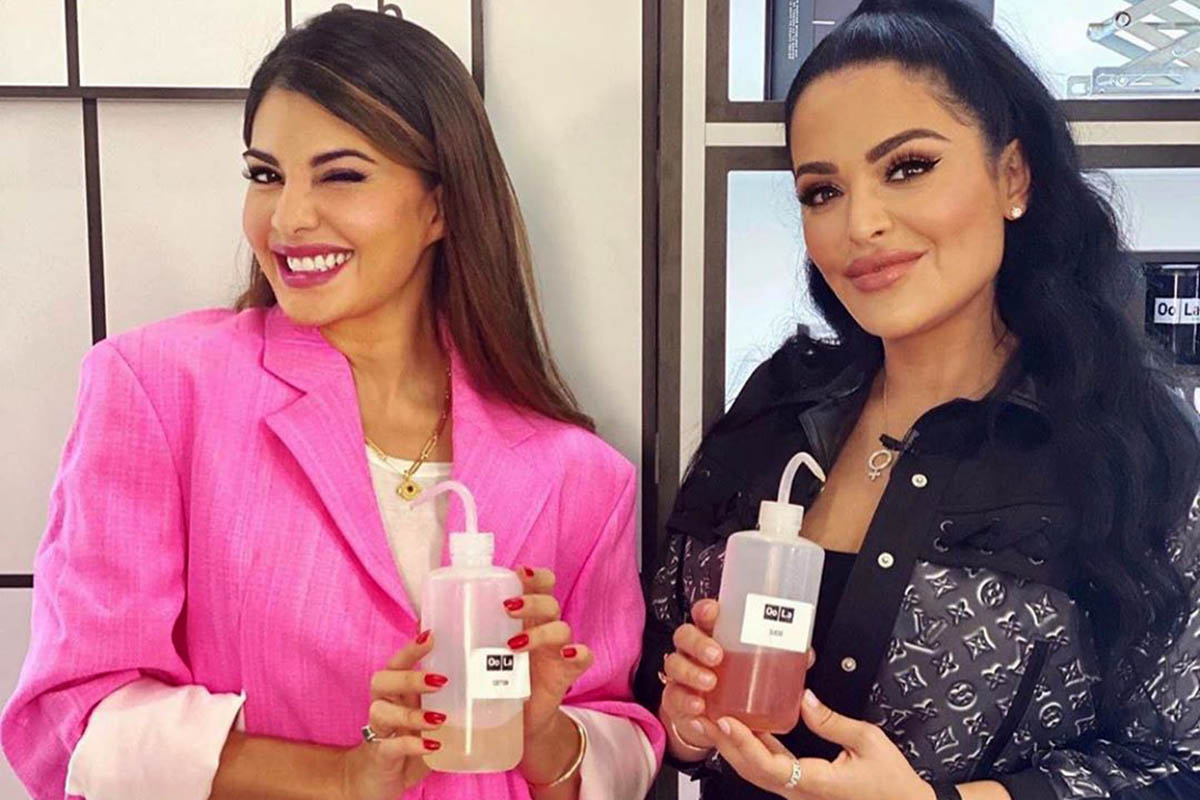 What happens when you mix a Bollywood star and a beauty mogul? Perfume making, Netflix and an exciting film release on the way…
A dream team duo of Jacqueline Fernandez and Mona Kattan may sound too good to be true, but your dreams have been answered. Challenging each other to a perfume challenge whilst revealing all the gossip we have the scoop on what's to come with the global stars.
Mona Kattan, Co-Founder & Global President of Huda Beauty and scent brand Kayali recently posted a fun perfume making video challenge with Bollywood Queen Jacqueline Fernandez. The full video went up on Mona's YouTube captioned 'A few weeks ago the beautiful @Jacquelinef143 and I visited the Oola lab (@Oola.lab) in Dubai and crafted our own fragrances! I personally challenged myself to recreate our amazing @kayali Déjà Vu White Flower 57 and Jacqueline created her own unbelievable juice!! Playing with scents and catching up was like my dream hang out! I was so impressed with her perfume skills! Hope you enjoy the video!!'
During the challenge the dream duo discussed all things perfume, films and entertainment. Asking Jacqueline what her dream role would be, the former Miss Sri Lanka confirmed that she's bagged her dream role and will be playing a 'Mogul princess next year,' explaining how exciting it is to research, and get into character from such a beautiful period of time. With nothing else yet confirmed on the project we can't wait to see what the B-Town babe playing royalty.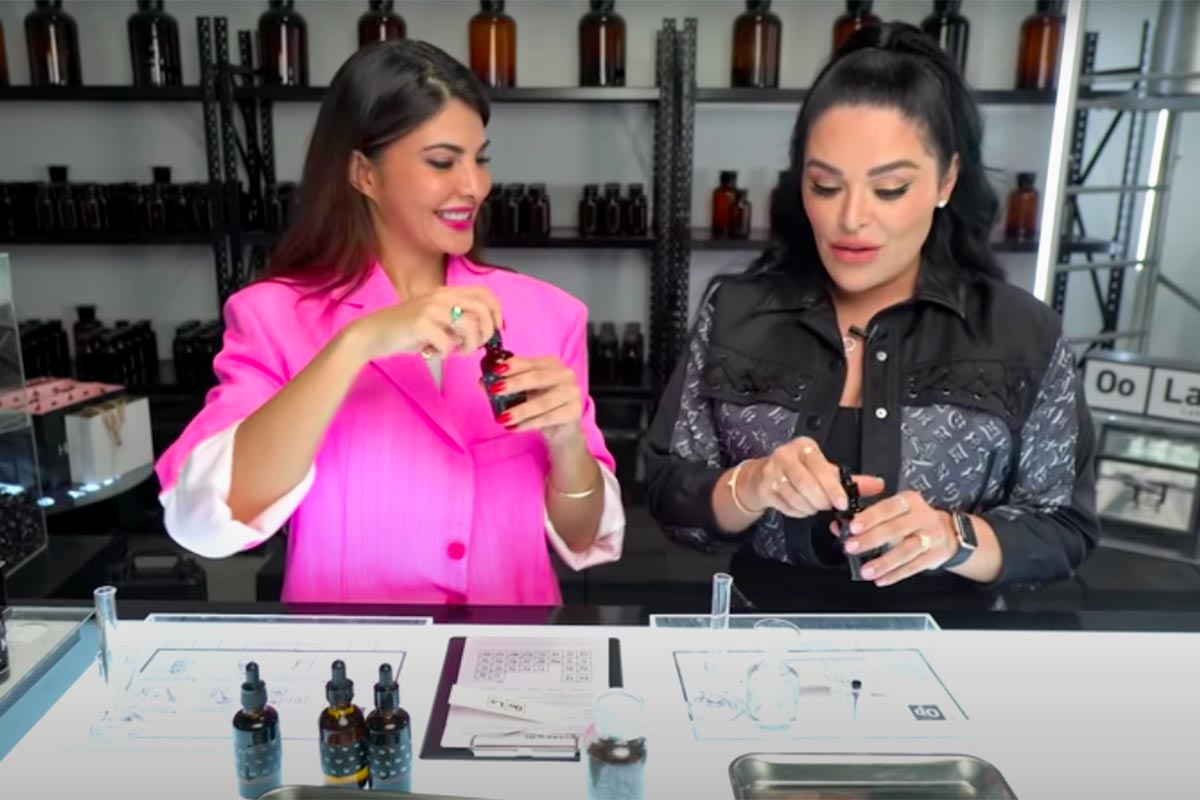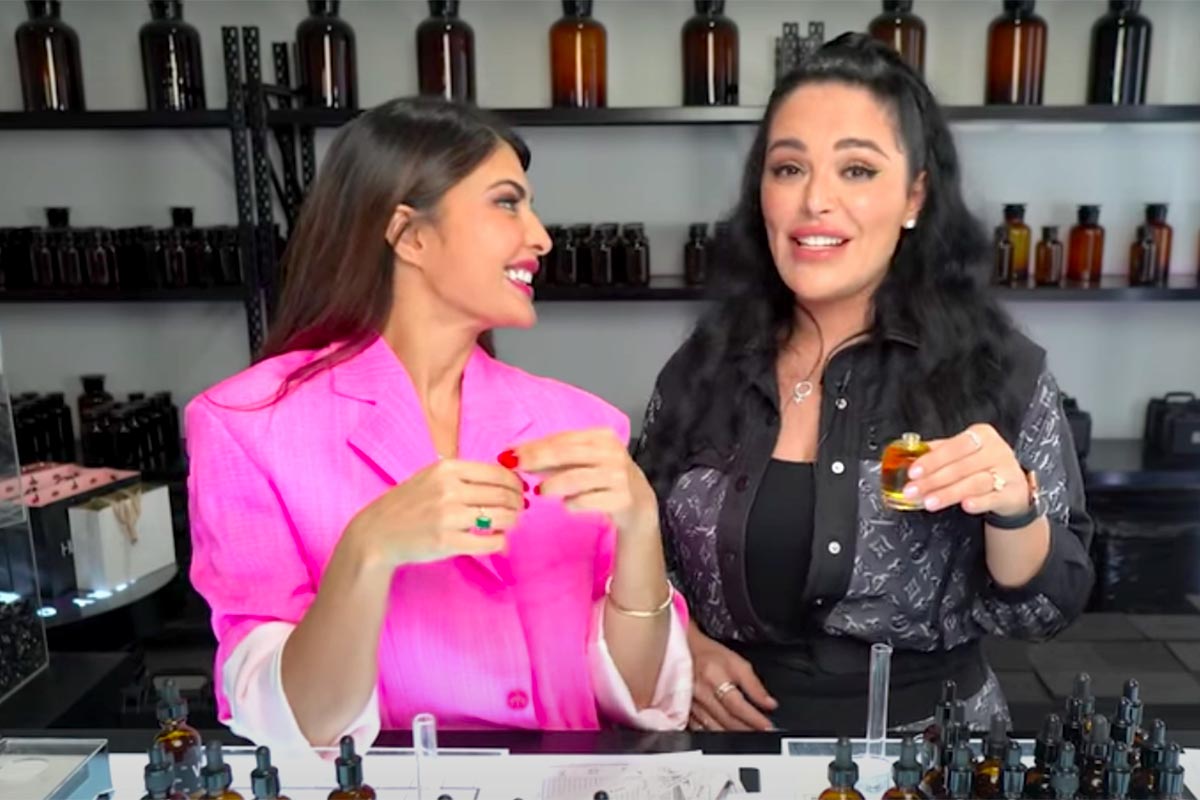 Discussing her love for Netflix, Jacqueline admitted that she's practically finished watching everything on Netflix and Amazon, making use of her spare time over quarantine. Claiming it helps with her career keeping an eye on what's out there, gaining inspiration, and keeping up with the times – we'll have to keep this in mind during our next Netflix binge.
When it came to perfume testing, Jacqueline was quick to confirm her favourite scent is vanilla, alongside notes of white flower, violet, musk, which she added to her concoction. Do we sense a potential perfume collaboration on the way?
Dressed in a candyfloss pink suit and a Jacquemus bag, Jacqueline posted the experience on her Instagram captioned, 'Can't wait for this one!! Something super fun coming up! Always so great catching up with you @monakattan and thank you @oola.lab for the amazing experience!! @kayali'. Mona supported back commenting, 'Get ready world!!! #Dutchess!'
Throwing it back to January 2019 when Huda Beauty announced their first ever product collaboration with Jacqueline Fernandez as the inspiration behind a set of falsies named the 'Jacqueline Lash' our bets are on a Kayali collaboration to drop soon. Whatever happens, the Housefull 2 actress sure has a lot to come our way. From Mogul princesses to (vanilla scented) perfumes, we can't wait to get our paws on a bottle.