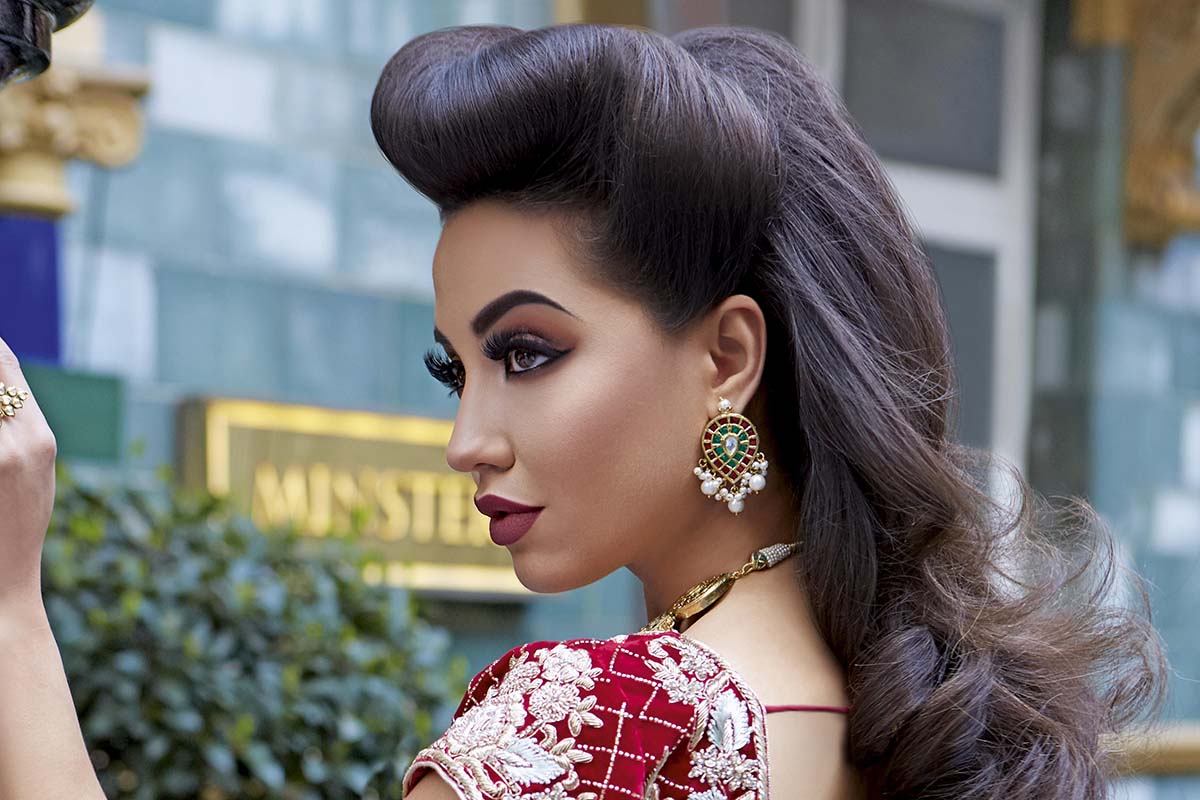 Own the limelight with luxurious locks by celebrity hairstylist Dar
There is only one Dar. A legend in the industry, with over 30 years of experience of beautifying celebrities, royalty and real women, he is the 'go to' hair designer when you want to feel like a million dollars. The A'list experience begins the moment you walk through the door of his glamorous salon based inside the prestigious
five star Taj 51 Buckingham Gate which feels like a palace. With a flower wall backdrop and the choice of having your hair styled either in a spacious, communal area or inside your own private VIP room, pampering takes priority. Dar elaborates: 'Whether you have a special event, are hosting a dinner party, going on a date night or are getting married, if your hair looks perfect, you'll ooze confidence and sexiness and that's what I gift to all my clients; the feeling that they are the most beautiful woman in the world."
Dar's clientele includes Bollywood superstars Kajol and Jacqueline Fernandez, Hollywood actress Goldie Hawn, Miss England Bhasha Mukerjee, HRH Sultanah Kalsom, Queen of Pahang, Malaysia, Naughty Boy and Prime Minister of Pakistan Imran Khan. You too can experience the reason they go to him when they have a special occasion, when you book him for your bridal hair; a luxurious experience whether you pop in for a blow dry or book a complete bridal transformation.
What they're saying about Dar
Check out Google reviews to see the consistent high-ratings Dar gets from all his clients like this one from January 2022:
"5 stars aren't enough! Absolutely loving my new haircut by Dar. I've always been nervous about going to salons due to bad experiences so subsequently, I didn't get my haircut for a few years. When I first spoke to Dar before my visit, he was very personable and talked me through his style and techniques. From the moment I walked in the salon, he was charming and very attentive. I felt so relaxed. Throughout my appointment he taught me how to look after my hair at home; from achieving gorgeous, lasting styles, to which products to use to help and protect my hair. Dar is more than a hairdresser/stylist, he is an innovative artist and a true professional who has incredible passion for his profession and cares about his clients"
Salon Talk with Dar
The Celebrity Hair Stylist answers your questions
I'm growing my hair for my wedding day, what can I do to help it look healthy?
Firstly, congratulations! This is a very exciting time for you and I'm pleased to hear you're already thinking about your hair. This is something I recommend to all my clients, your hair needs to be treated with regular TLC to maintain its condition. My suggestion is to find a reliable hairdresser at a local salon. Let them know that you're getting married. They will start taking care of your hair by introducing good conditioning treatments, ensuring it is well moisturised in the lead up to your Big Day so that when it arrives, you're ready to be under the spotlight.
I've got three functions and I don't know if I need to book a hair stylist for all three days or whether the style will hold?
I advise booking a hairdresser for all three days. Having your hair done is part of your bridal pampering so don't miss this step. We work so hard in our daily lives but your wedding should be about comfort, excitement and the happiness of this once in a lifetime occasion so don't scrimp by only booking one day. It's important that you're fully rested and get your sleep during your wedding and you can only do that if you're comfortable and not worrying about caring for your hair – leave that to a professional. Each morning when you're with your hairstylist it's a chance to slow down and catch your breath so enjoy this opportunity.
I want to treat my mother to a pampering salon experience but she's never been to hairdressers before so I'm not sure how to persuade her, what do you suggest?
What a wonderful thing to do for your mother. I have one suggestion. Bring her to the Dar Blo Bar & Spa at the beautiful Taj 51 Buckingham Gate. She'll be treated like an A'list celebrity, I'll personally see to it myself! I've also styled many women including Kajol and Goldie Hawn but I take just as much time and effort on every client ensuring they all feel a million dollars. Why not take her out to lunch at the Taj and bring her to the salon as an additional surprise.
Dar's top tips for enjoying your wedding day
Styling 100s of brides over the years means Dar has a wealth of experience in understanding the needs of brides. Here he shares some of the advice he gives his clients:

Get a copy of Asiana: As soon as they say yes I tell all brides to get Asiana Wedding Magazine, it's their A-Z guide on planning their Big Day.
Have a confidant: This is your shoulder to lean on. It could be a relative or best friend. From choosing your dress, jewellery, venue and even underwear, they will hold your hand until the last minute and it's a great relief to bounce your ideas with somebody you trust and have known for a while.
Have a separate MUA and hair stylist: If someone specialises in make-up and they do dressing hair on the side is that the best you deserve?  It takes years to become a hairdresser they have training and experience to give you the best experience so if you can afford both, book both.
Enjoy the day: Don't look back on your photos and regret that you were worrying about the catering rather than enjoying the moment. On the day forget about everything else, leave that to the experienced team and enjoy soaking up the happiest, most romantic, most beautiful day of your life.
Book your appointment with Dar:
Hair By Dar Salon, Taj 51 Buckingham Gate, London SW1E 6AF
www.hairbydar.com