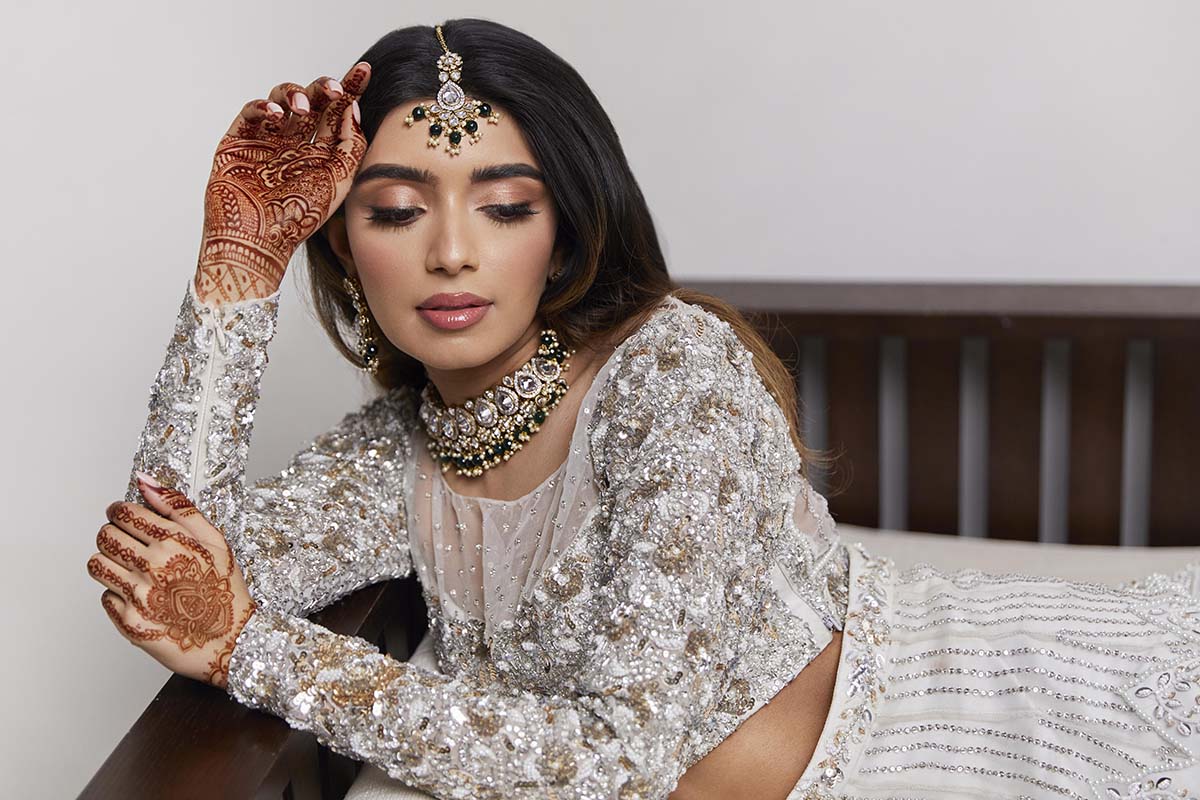 Don't know where to begin with mehndi designs and finding the right artist? House of Henna is on hand with expert tips, trends and know-how…
Even beyond your Big Day, during those memorable weeks following your wedding, your hennaed hands will be admired by all and symbolise your new bride status. Since the henna isn't going to fade away that easily, you need to entrust someone with the role of beautifying your hands safely and ensure that you are actually going to love the finished designs. Cue House of Henna, a collective of experienced and talented henna artists based in London…
Feel like a bride
Most of the wedding prep is done and you're just about winding down in the lead-up to your Big Day. Whether you have your henna applied at home or at your full-on Mehndi party, it's only when you're sat down, surrounded by loved ones watching the henna art conjured up on your body, that you start getting the bridal feels. Alma of House of Henna understands this sentiment as she enthuses, 'We understand that henna for brides is an integral part of the wedding rituals. Whilst the bride-to-be has her henna applied to her hands and feet a few days before her wedding, she can enjoy the moment and relax. Traditionally, this is a tranquil time for the bride and a fun time for her friends to join in with the celebrations at the henna party before the Big Day.'
Henna is an aphrodisiac
Whilst it is traditional and symbolic for the bride to have her henna done, it is also fun to involve your family and friends to get their hands adorned too. What makes House of Henna so refreshingly unique, current and on-trend, is that they not only provide mobile services, but also have a rather hip pop-up experience in a range of locations, currently in trendy Shoreditch. It's not all about the traditions, it's also about the art. Alma explains more, 'We are unique in the henna industry, as not only do we provide our services at your own private and corporate parties, but you can also have your henna done in the comfort of our beautiful pop-up henna salons, which pop up in vibrant parts of London. We create a variety of temporary body art for people from all kinds of backgrounds. Even brides who want to enjoy the salon experience and get away from the chaos of wedding prep, relax and tell us all about their big day whilst having their henna done. For some, this ritual and the henna itself is considered to bring good luck, joy and beautification. Apparently, henna has aphrodisiac properties too!'
Safe and natural
Anything going on your skin, particularly something that is going to last a while, should be safe and natural. Fortunately, the artists at House of Henna use only the best type of henna there is. Alma shares more, 'House of Henna specialises in creating beautiful body art using henna and a fruit based dye called Jagua ink, which produces a beautiful and safe black stain, akin to a permanent tattoo. We only use fresh henna which is chemical free and pay attention to every detail of your wedding attire to ensure the henna compliments your chosen look for your special day. Our team of henna artists are highly skilled with every one of their skills deriving from years of having done beautiful bridal henna. Nothing is more intricate and beautiful than the henna which adorns the arms and legs of a bride.'
It's all about the colour
There is many an old folklore claiming that the deeper the colour of your henna, the more your husband will love you. So don't be surprised if an aunty jee examines your hands on your wedding day and comments on the colour and gives you a cheeky wink! Alma tells all,  'To achieve an optimal stunning colour, once our artist completes your gorgeous bridal henna, we will spritz it with a lemon and sugar sealant and wrap it up in breathable tape to ensure you have a beautiful deep henna stain when it matters the most, on your wedding day.'
Get with the trends
• Brides are wanting to go all out and show off motifs from leafy vines and florals, mandalas and lace patterns all along the same arm.
• The trick is to ensure each motif connects beautifully with the next, leaving little space.
• As body art specialists, if you wish to be truly unique, we can create so much more than the usual requests for birds and elephants and why stop at hands and feet? Consider displaying beautiful bridal henna art on your back or shoulders.
• For the minimalistic bride, an elegant mandala or the continued trend of the lacy glove-like style finished with delicate geometric patterns along the fingers may be more her choice.
• The half and half becoming one gorgeous motif when the bride's hands are placed together will still be on trend.
• There is a continued rise in popularity of the bold and beautiful Gulf bridal henna designs.
• Grooms are also getting more and more in on the act, we expect to see more this year.
• Whilst trends are great, the classic elegance of domes, names of loved ones intricately placed in between curvy paisleys, portraits of the bride and groom and the spiritually significant Lotus flower will always be firm favourites and on the list of many of your henna requests.
Book House of Henna:
www.houseofhennalondon.com
info@houseofhennalondon.com
07852 125825
020 7739 9428