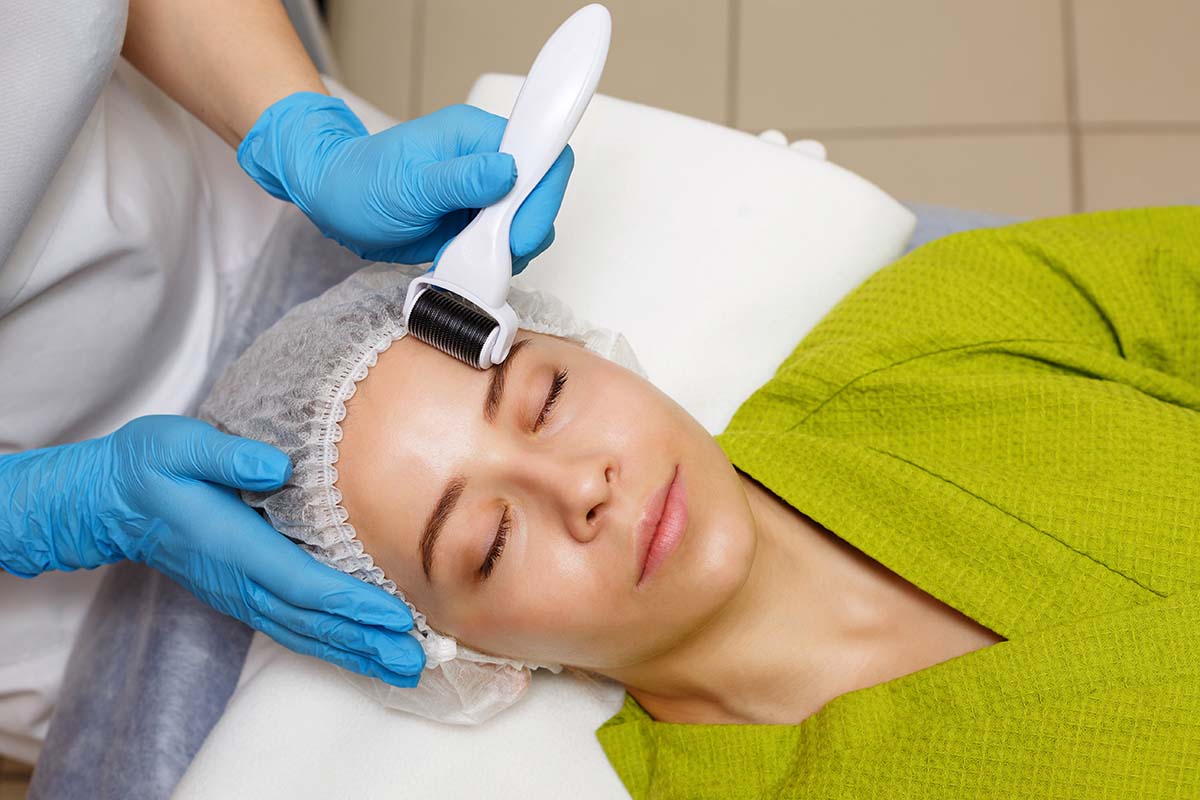 The Queen Of Modest Glamour
Give your bridal glow a little helping hand with Maria's unique Derma Roller by MV Beauty, designed to give you plumper, smoother skin without any downtime
For that Meghan Markle glow and flawless complexion, you need a regular beauty routine. But a little helping hand can go a long way too, which is where Derma Roller treatments come in.
Maria's unique Derma Roller with Collagen Induction Therapy will leave your skin looking tighter, appear a whole lot smoother and give it a little more elasticity.
What is the Derma Roller Treatment?
Otherwise known as MCA Dry Needling, Derma Roller is essentially a medical sterile needle roller that is covered in tiny needles. The treatment consists of rolling this across the skin to create hundreds of tiny microscopic pinpricks. When wounded, even lightly, the skin responds by producing more skin cells, boosting collagen and elastin.
As we age, collagen and elastin declines, which is what leads to fine lines and wrinkles. After a Derma Roller treatment your skin will appear smoother, plumper and more youthful.
And, because the pinpricks are so small, there's no downtime, so you can carry on preparing for your big day without having to worry about when your skin will heal.
What are the top benefits of a Derma Roller treatment?
A series of Derma Roller treatments will give your skin a look of having had a natural face lift. With rejuvenated skin cells and increased collagen, your skin will look healthier and more youthful. And it's especially great if you have any pesky scars or wrinkles that you'd like smoothed out before the big day.
Who will benefit from Derma Roller treatments?
While smoothing out fine lines, wrinkles and scars are some of the key things you can expect from a Derma Roller treatment, it also helps to improve sun damaged skin, pigmentation and uneven skin tone. And for those of you who suffer from dark circles and puffy eyes, this one's for you too.
In addition Derma Roller Treatments can also be used on the scalp to stimulate hair follicles, giving thinning hair a boost too.
How many treatments will you need?
Depending on how deep your scars and/or wrinkles are will determine the number of treatments you will need. You will be individually assessed before treatment begins, to determine the number of treatments recommended for your skin. As an example, someone with only fine lines and wrinkles may need only 2 sessions, whereas medium wrinkles and deeper scars may need 3-4 sessions. If you have pitted scarring, then 4-6 sessions would most likely be recommended.
Once treatment is complete, the skin will continue to produce collagen and elastin over the next 12 months, meaning skin will continue to look rejuvenated.
"I'm proud to have worked with many A list celebrities, business professionals and working mums. With every client I treat I'm continually amazed by the results that I achieve. Don't suffer in silence; some of my clients were previously told there was no solution available for their condition and there was nothing more that anyone could do but with my experience and passion I managed to successfully treat hundreds of clients both male and female with severe hair loss, scarring, acne, pigmentation, wrinkles, stretch marks, cellulite, sun damage and wrinkles and ageing skin."
About MV Beauty/Maria
With over 25 years in the beauty profession, Maria also has a wealth of experience not only with the Derma Roller treatment, but with permanent makeup, paramedical procedures and scars too.
Her non-invasive treatments have caught the eye of a number of top celebrities, in particular her signature collagen facial treatment. Other popular treatments include Organic Aromatherapy Waxing – which gives a silky smooth finish and has the major advantage of helping with a slower regrowth period with softer finer hair, and the Brazilian & Hollywood Hot Wax Treatment – a less painful technique for stubborn hair and harder-to-wax areas.
MV Bespoke Beauty
www.mvbespokebeauty.com