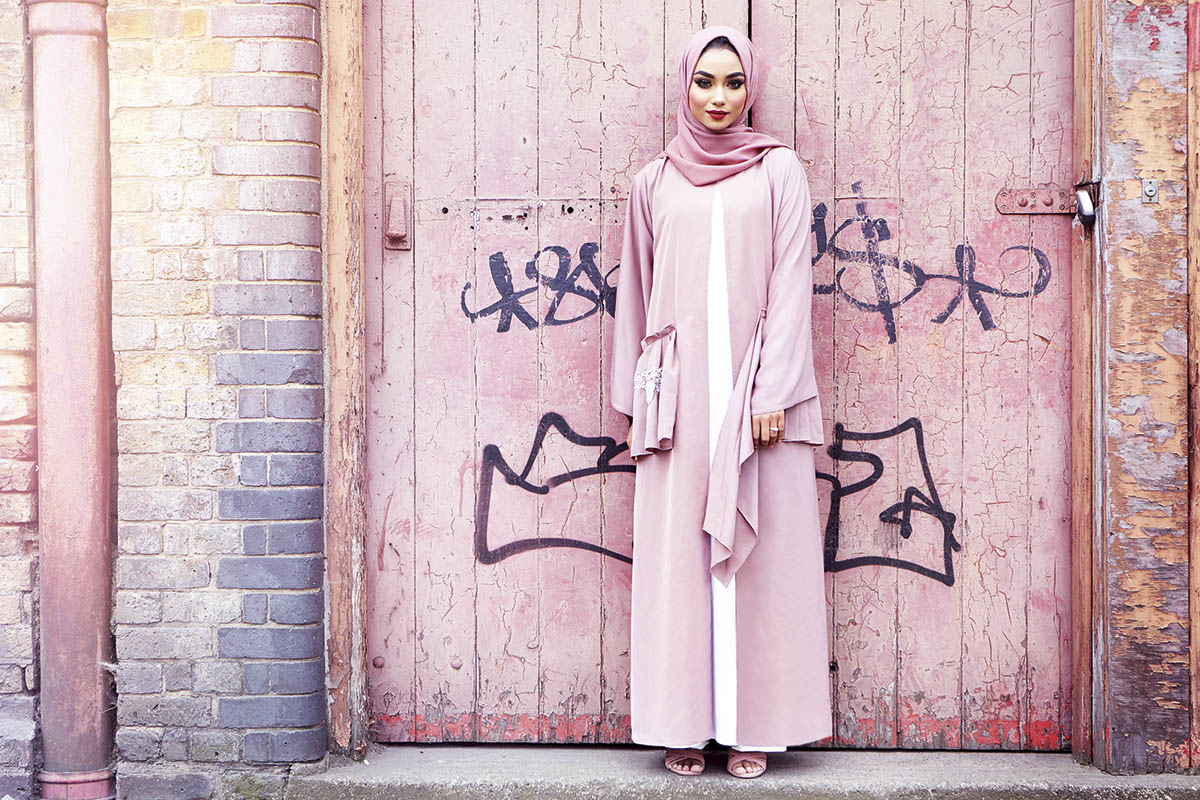 The Queen Of Modest Glamour
Sabina Hannan chats about her growing popularity as an influencer, her nikkah mishaps and plans for wedding ceremony number two
Hair & Make-up: Nafisa Sultan
Outfits: AbayaButh
Photography: Alexandre Pichon
Eight years ago, a 14-year-old Sabina would be found messing around with makeup she'd bought from the Pound Shop and playing bridal dress up on the weekends. Fast forward five years and she was posting her first YouTube video. Fast forward to today and you'll meet the glamorous internet sensation who's recently tied the knot.
Sweet, humble and down-to-earth, Sabina's glamorous internet career all began by chance after accidentally switching her Instagram profile to public without realising. Her glamorous photos, bold makeup looks and stylish modest outfits soon led to thousands of followers looking to her for advice. But it was when requests for tutorials started coming in that Sabina decided to post her first YouTube video. "I was so nervous, my first video was a hijab tutorial and I was too scared to post it, but luckily my friends were with me, telling me to just do it! Now I really love to inspire others and the messages I get from my followers just make my day. Every time I read the messages I feel so much more motivated".
And those same friends are still there supporting her today. "Every time I go somewhere with my friends they tell me to get my camera out and start vlogging," she laughs. And since meeting her now-husband, Sabina's support group has grown even stronger. "He's always there behind the scenes, taking pictures and trying to edit for me or offer business tips" she told us. "He's very supportive".
"It was very emotional. As I was walking in I was so nervous and trying not to cry."
Back in October last year the pair had their Nikkah ceremony in a small estate near Chigwell, Essex, surrounded by friends, family and countryside. And whilst the day turned out to be full of perfect memories, the lead up wasn't without its problems. Sabina had originally wanted to go for a grey and pink theme, but that plan quickly changed when her outfit arrived looking not quite how she'd imagined. An urgent dash to a bridal shop two days before her wedding meant that Sabina was instead dressed in a beautiful sparkly blush pink number, that was fully in-keeping with her glamorous red carpet style. "I was obviously not meant to wear that grey sari that I'd originally planned on wearing, but I loved the outfit in the end. I wanted pastel, light colours rather than the traditional red and gold".
And while one mishap would be enough to send any bride into a spin, that wasn't the only thing to go wrong. One week before the Nikkah, Sabina's ring was stolen and the cake toppled over on the day. But with all the bad luck taken care of before the ceremony, Sabina was still able to enjoy the day. "It was very emotional. As I was walking in I was so nervous and trying not to cry. I was holding back the tears so much everyone thought I was just being moody" she said.
With all the mishaps that ceremony number one brought, hopefully the next wedding will go a lot smoother. Taking place this summer, Sabina's opting for a traditional look this time around. "Even though there are so many options out there, you still want to see yourself in that traditional red outfit" she said. And when it comes to the decor, we'll be waiting to see what theme she finally settles on; all white, or an enchanted forest vibe. And so from that 14-year-old girl playing bridal dress-up on the weekends, to the woman who has gained tremendous popularity with hundreds of thousands of followers across Instagram and YouTube, it's clear Sabina has come a long way. And the key to her success? Just being herself. "Never change yourself" she said, "people start seeing through that, they know when you're being honest and when you're not".
"I really love to inspire others and the messages I get from my followers just make my day."
Sabina's Every Day Style
The Make-up
On a normal day I'll usually go for base, foundation, contour, highlight and maybe lashes if I feel like it, and sometimes mascara. I don't like wearing mascara everyday as I actually find it easier to put lashes on rather than mascara.
I'm quite glam, so it's usually either a simple glam look or a bolder glam look, depending on my mood. My go-to look is a brown smokey eye. You can't go wrong with it, it just goes with everything.
The Outfits
If I'm going for a glam look then I love the dress vibe, like a red carpet look for example. Sometimes though, I like to just wear tracksuits and get out the door.
I don't really have any fashion icons who's style I look at, I just put outfits together depending on what I think will go and wear it. Sometimes if I need a bit of inspiration then I'll go on Google and type in something like "blue jeans/black top" and see what comes up that looks nice.
Top piece of styling advice?
Wear whatever you like. It's up to you, and you should wear whatever you want to wear. As long as it's what you're comfortable in, then it will look great.
Quickfire Questions
Favourite beauty product?
Liquid lipsticks – I can't go anywhere without something on my lips. I absolutely love the Anastasia Beverly Hills formulas and colour pots.
Top make-up tip?
If you want your highlighter to pop, put abit of MAC PREP + PRIME FIX+ on your brush or on your face then go ahead with highlighter.
Top skincare tip?
Invest in a good skincare routine. My nighttime routine consists of lots of different products.
Must have fashion accessory?
Always a handbag! Everytime, with any look, give me a handbag.
Desi or Western clothes?
I have to say desi! I love my saris. Now that I'm getting married, I can wear all my saris and my accessories.
Sabina's Verdict
I've had such a great day, it's definitely been an experience. The shoot was much easier than I thought it would be. The team were amazing, they did a cracking job and really made me feel at ease.
The make-up artist did an amazing job and I think the end look was really great – even if I do say so myself (laughs).
I loved all of the outfits, especially the white one, which was very summery. I always wear abayas so for me it was natural and I felt very comfortable and very modest. Definitely my style.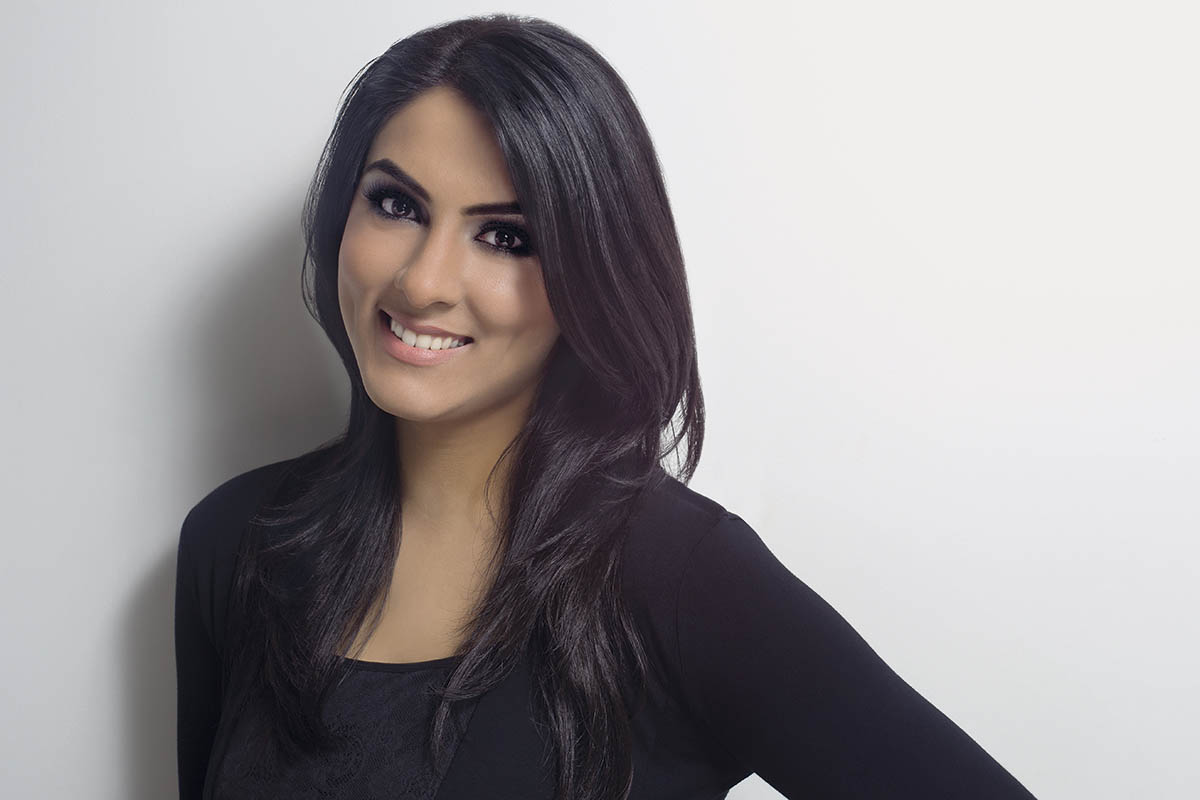 Make-up by Nafisa Sultan
For a high profile fashion shoot, only the best will do. So we asked makeup guru Nafisa Sultan to be our official MUA for the Sabina Project. Nafisa's out-of-the-box approach to hair & makeup has lead to a wide and varied portfolio of gorgeous work – and stunning real brides. As a top Beauty Influencer and Educator, her experience and expertise made her the natural choice.
For the shoot, Nafisa kept the looks in keeping with Sabina's glamorous style, opting for bold, winged eyes paired with a combination of lip colours. From neutral nudes to popping reds that accentuated Sabina's natural beauty. In addition to being a true artist in her field, Nafisa also has a reputation for being a people's person, not only with her brides, but with the numerous make-up artists who attend her courses, where each session is tailor-made to match the student's needs. Her one-to-one training package is particularly popular with those who are already practising their trade. It is often used to enhance or update the student's skill sets by teaching the latest industry techniques and trends.
www.nafisasultan.co.uk
Outfits from AbayaButh
AbayaButh is a leading online store for modest Islamic fashion – providing beautifully detailed abayas, hijabs and a range of dresses for women. For the photoshoot, they showcased a combination of open abayas in neutral blush pink tones and classic black ensembles, each with touches of gorgeous embroidery.
The modest fashion brand believes that tradition and culture should go hand in hand, and through their range of outfits, are striving to change perceptions and expectations about how women look and feel. With first-class, personal customer service at the core of everything they do, AbayaButh's mission is to become the leading modest fashion brand for women.
www.abayabuth.com