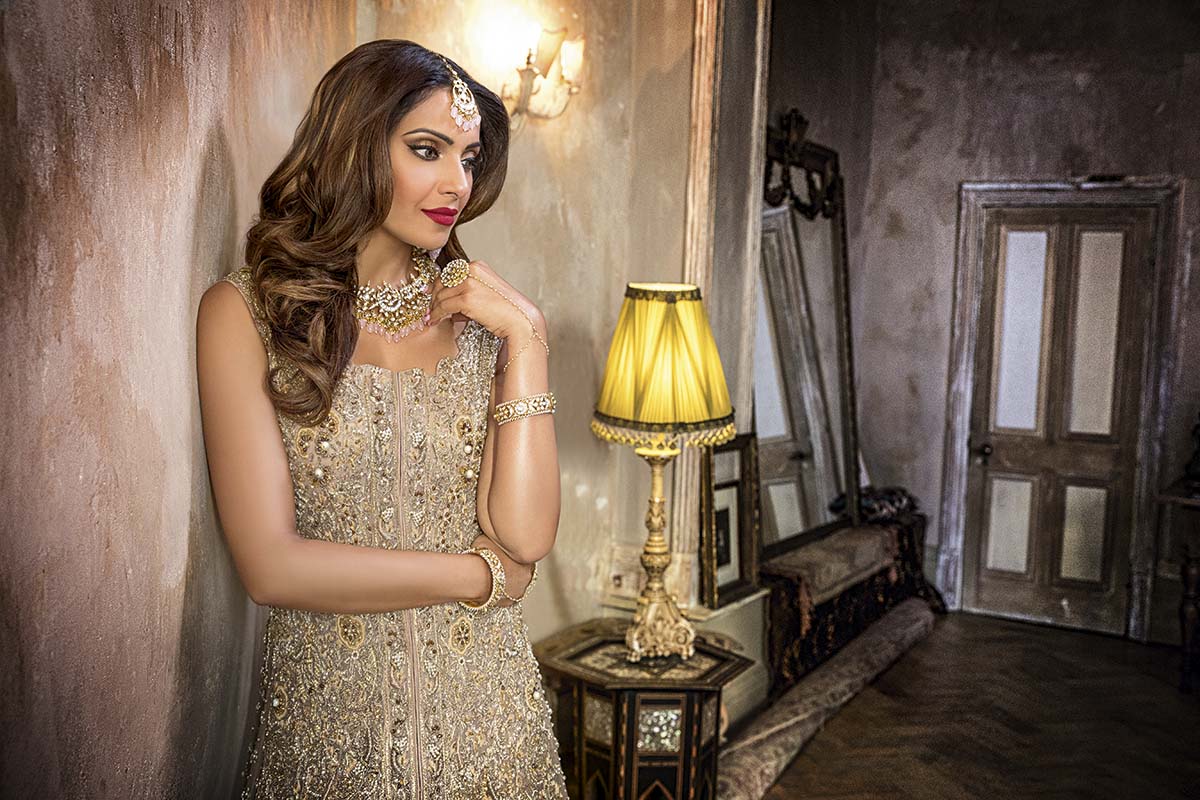 The Life And Loves Of A Bollywood Bombshell
We celebrate the career of one of India's most progressive actresses Bipasha Basu
Hair & Make-Up: Joggy Kang
Outfits: Tehxeeb London
Jewellery: Nargis Collections
Words: Momtaz Begum-Hossain
Bipasha Basu burst into Bollywood in the early 2000s carving out her own niche as the sultry sex symbol that every producer wanted to cast. But while her 'Bengali Bombshell' reputation preceded her, no one quite predicted how meteoric her rise to fame would be. She is proof that challenging convention is a gamble that pays off, and she continues to break boundaries when it comes to her career and personal life.
While most Indian actresses opt to get married and either retire or go straight back to work for fear of being forgotten by the industry, Bipasha embraced her new found married status as Bipasha Basu Singh Grover in 2016 and took a year out to enjoy a honeymoon that saw her travel the world with her husband actor Karan Singh Grover, a decision that shocked many. But she's in no rush to please others. If there's one thing that Bipasha stands for that we can all take inspiration from it's that she's the ultimate poster girl for self-love. She always puts her needs first and unashamedly stays true to herself.
Having recently turned 40, 2019 marks a new era for the much-loved actress. More confident and self-assured than ever, she has placed health, happiness and honesty before fame: the true mark of success.
Bipasha:
The Mould Breaker
Tales of how Bollywood actresses break into the industry have long been a source of fascination. While film fraternity families continue to dominate the movie world, every now and then a newcomer breaks through and shakes things up. Bipasha Basu is one of these women. Her journey to superstardom begun when she was growing up in Kolkata and Delhi when she adapted to the demands of urban life, equipping her with the confidence of being a city girl. It was this confidence combined with self-assuredness that landed Bips, as she's affectionately known as, her first modelling contract as a teenager, which marked the start of a long and successful career as both a model and actress.
Yet Bipasha never embodied the characteristics that most actresses relied on – for a start she looked different. Her darker complexion immediately made her stand out and she was one of the first break-through actresses to show the industry that their attitude around colourism in the filmmaking world was outdated and needed to change.
Holding onto her ethos for working hard to accomplish her dreams spurred her into a moviemaking career, which started in 2001 where she starred opposite Akshay Kumar in Ajnabee. Though she played a negative character, her talents were recognised by Filmfare Magazine who nominated her for a Best Actress Award which opened up doors most actresses will never get the chance to pass through.
It wasn't until the groundbreaking erotic thriller Jism however, that she truly stepped into the limelight, proving herself to be a versatile and modern actress, willing to take risks in the vein of golden age star Zeenat Aman who challenged female stereotypes through the 1970s and 80s with her choice of unpredictable roles for women. In the same vain, Bipasha has broken the rules with her choice of roles transforming from screen siren into being the face of the Indian horror film industry.
Bipasha has also used her platform as an ambassador for sensuality to promote healthy living. Her enthusiasm for fitness has led her to creating several exercise videos that show her vigorously working out to maintain the iconic slim figure she's known for.
Being in the limelight, her personal style is always under scrutiny and she's proved herself to be an influential fashionista who never fails to embody class and sophistication in everything she wears. Recently she teamed up with fellow film friends Malaika Arora and Sussanne Khan to become Style Editors for Indian fashion brand The Label Life allowing her fans to own a wardrobe that's been personally curated by her.
She also promotes environmental issues that are close to her heart, using her platform as a role model for the greater good, so it's no wonder that her lifestyle teamed with her talents has ensured she'll always be remembered as one of Bollywood's greatest sweethearts of the noughties and beyond.
Bipasha: The Fantasy
From 'Bombshell' to 'sex symbol' Bipasha has never shied away from the labels given to her by the media and her fans. Instead she's embraced them by owning them as positives. Her siren status has led her to take on roles that others simply wouldn't feel brave enough to do that include intimate scenes; none of which have harmed her career. She's taken any criticisms in her stride, refusing to be typecast. Her iconic roles have included getting steamy with her male co-star in Footpath and countless item numbers including 'Ho Gayi Tun' from Players and 'Dil De Diya' from Phir Hera Pheri.
As a model she's worked with brands including Reebok and Gilli Diamonds and she's well versed as a catwalk model having walked the ramp for designers such as Rocky Star and Shantanu-Nikhil at Lakmé Fashion Week.
More recently she's starred in advertising campaigns alongside her husband including a major collaboration to promote safe sex, where the pair star in a raunchy advert promoting the use of condoms. The couple has certainly become a symbol for passion in India.
Though some critics perceive Bipasha's open attitude towards sexuality too Western, she's not been tempted to jump ship and try Hollywood. Instead she's always stayed connected to her Indian Bengali heritage, pushing the boundaries as far as they'll go, portraying strong, feisty female characters that excite both her male and female fans. 
Bipasha: The Role Model
With every new arrival of an actress on the scene, it doesn't take long before she's typecast into the roles she could play. Bipasha is one of the rare few who hasn't adhered to expectation. Though she epitomises the Bollywood vamp with her voluptuous curly hair, alluring eyes and confidently uses her body to assert her presence, Bipasha has challenged the norm by finding her own personal niche as the leading lady of the Indian horror movie genre. A far cry from the masala blockbusters most actresses dream of starring in Bips knows how to play to her strengths, to do something different and be someone different, which is why she commands so much respect. She's starred in more Indian horror movies than any other mainstream actress playing gritty parts that defy expectations and she has fun doing them.
Bipasha: The Romantic
Falling in love is important to Bipasha and she's generously shared her movie star privileges with the men in her life. In the early days of her career she dated Dino Morea and helped him land leading roles, encouraging filmmakers to give him opportunities. Despite them separating in 2002, the two have remained friends. He even attended her wedding to Karan, a true testament to her genuine caring and giving nature.
The most high-profile of her relationships was with fellow A'lister John Abraham transforming them into a fitness power couple who dominated the headlines thanks to their perfect pairing and perfect bodies for almost a decade, until their shock break-up in 2011.
But Bipasha was never one to simply be drawn to star power and its superficiality. She has remained consistently more successful in her career than all her partners, and dating newcomers has never concerned her either. Like all women she's experienced the many ups and downs of relationships but she got her fairytale ending when she met Karan Singh Grover on the sets of horror film Alone.
Their physical chemistry was sizzling from the moment they appeared on the screen; Bipasha's svelte body and Karan's finely chiseled muscles weren't just aesthetically pleasurable to the viewer, true romance blossomed between the co-stars who tied the knot within a year of making the film.
Since then they've cemented their place as one of the most loved up power couples in Bollywood. Their social media feeds are brimming with cute PDAs from getting sweaty at the gym together, to enjoying cozy getaways, family parties and endless couple shots.
Sharing a similar sense of humour is clearly a part of their attraction and they're never afraid to have a giggle with each other and share lighthearted banter in public, an aspect Asiana witnessed when we interviewed the pair at the IIFA Awards in Madrid where they entertained us by serenading each other on the green carpet.
The lovebirds opted for a traditional Bengali wedding in Mumbai attended by close friends and family where they took pride in spreading their 'monkey love'; the affectionate term they use to describe their relationship – one that's fun, cheeky and loving. 
Their commitment to publically sharing their appreciation for each other has clearly rubbed off on other filmi couples who now feel more comfortable to share their candid moments too such as Ranbir Kapoor and Alia Bhatt and recent newly weds Deepika Padukone and Ranvir Singh. While they both have film and TV shows in the pipeline Bipasha and Karan have also joined forces  to star in thriller Aadat Diaries that the pair filmed in London and is set for release later this year, a wonderful way to celebrate their third anniversary as husband and wife this April. 
Bipasha's Biography
Bachna Ae Haseeno
Smoldering onto the screen as the raunchy neighbour turned megastar Shriya, Bip's plays one of the love interests of Raj (Ranbir Kapoor) in this fun, classic love story of one man's many mistakes in love and his determination to go back and fix them. An iconic role for Bipasha, she plays the ultimate 'diva', a woman who after being stood up on her wedding day, transforms into a demanding and dominating master, to whom Raj becomes her slave.
Dhoom 2
Bipasha's ultra-toned body was a major talking point in action flick Dhoom 2 playing the ultimate eye-candy, standing her ground against the film's other leading lady Aiswarya Rai Bachchan. She takes on the double role of special officer Shonali and her twin sister Monali, a Brazilian beauty whose sweet romance with Uday Chopra provides light relief in the fast-paced flick.
Race
Defining the thriller genre in Bollywood, the Race franchise is characterised by edge of the seat twists, turns and tricks so you're left never quite sure what will happen next. Bip's role playing the slick and sexy Sonia is one that saw her romancing male co-stars Saif Ali Khan and Akshaye Khanna, seducing and manipulating them by using her beauty to captivate them to get what she wants.
Jism
It was in erotic thriller Jism where Bipasha plays opposite her ex John Abraham that cemented her career as Bollywood's sexiest A'lister. This dark, noir style drama sees the pair break movie boundaries with its scenes of passion and lust which sees Bipasha play the role of the iconic Bollywood vamp with a captivating ease.
Omkara
An Indian remake of Shakespeare tragedy Othello, Bipasha's usual glamour was stripped back in this film to play Billo, a rustic village belle who is both naïve yet naughty, harnessing a sultry, seductive side that eventually gets her into trouble.
Corporate
Proving herself to be a versatile actress, Corporate was a new kind of role for Bipasha playing a chic, power-suit dressing business executive who takes on the challenge of navigating a world that's dominated by men in which she flourished.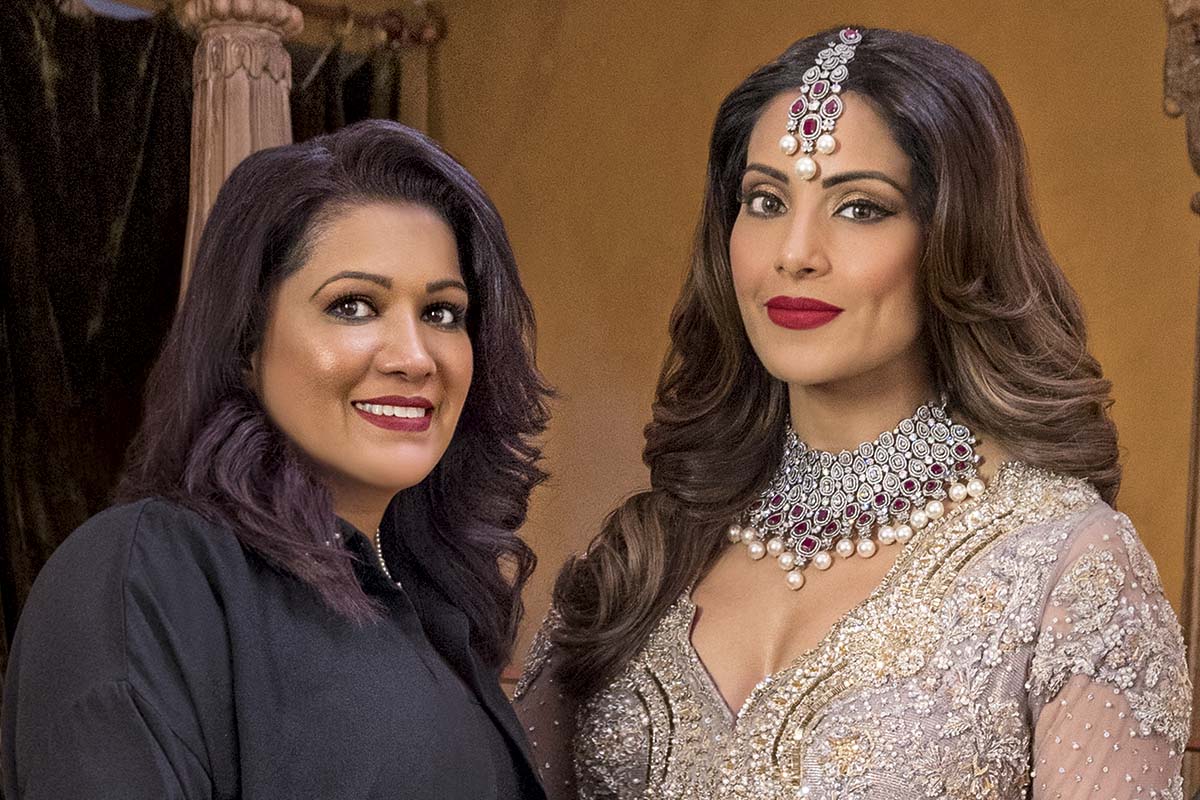 Joggy Kang
Celebrity Hair & Make-Up Artist
Bipasha radiated happiness the moment she walked onto set – all those smiles and laughter have clearly helped her maintain naturally glowing skin. She is every MUA's dream I can honestly say I've never come across any actress with such naturally flawless skin and healthy hair. I simply enhanced her model's high cheekbones and applied a classic red lip which compliments her beautiful skin tone.
www. jkangbeautyacademy.net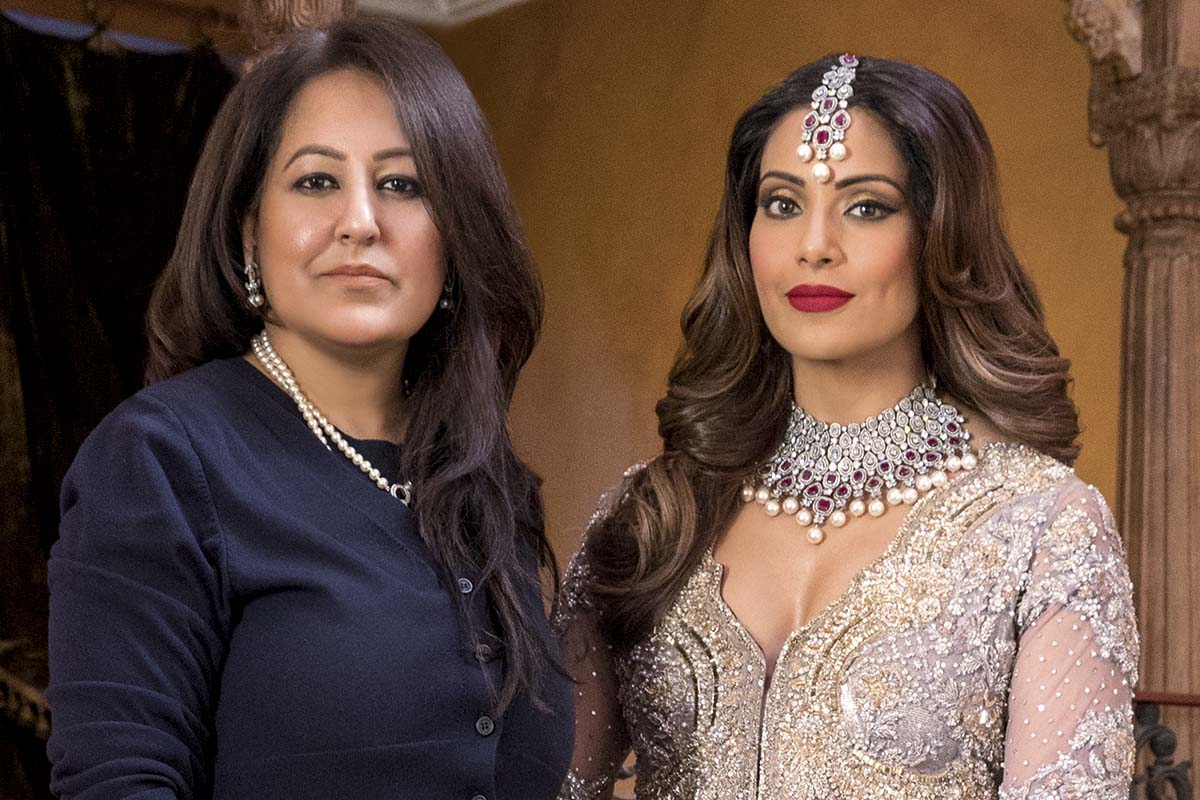 Tehxeeb London
Fashion Boutique
Dressing Bipasha for this shoot was a chance to celebrate her elegance and sophistication, now she's reached a milestone in womanhood, having recently turned 40. We picked out some of our grandest bridalwear which fit her like a glove. Modest, yet majestic, she embodied our passion for heritage clothing that's rich in craftsmanship and luxury fabrics. Each look suited her to perfection.
www.tehxeeblondon.co.uk