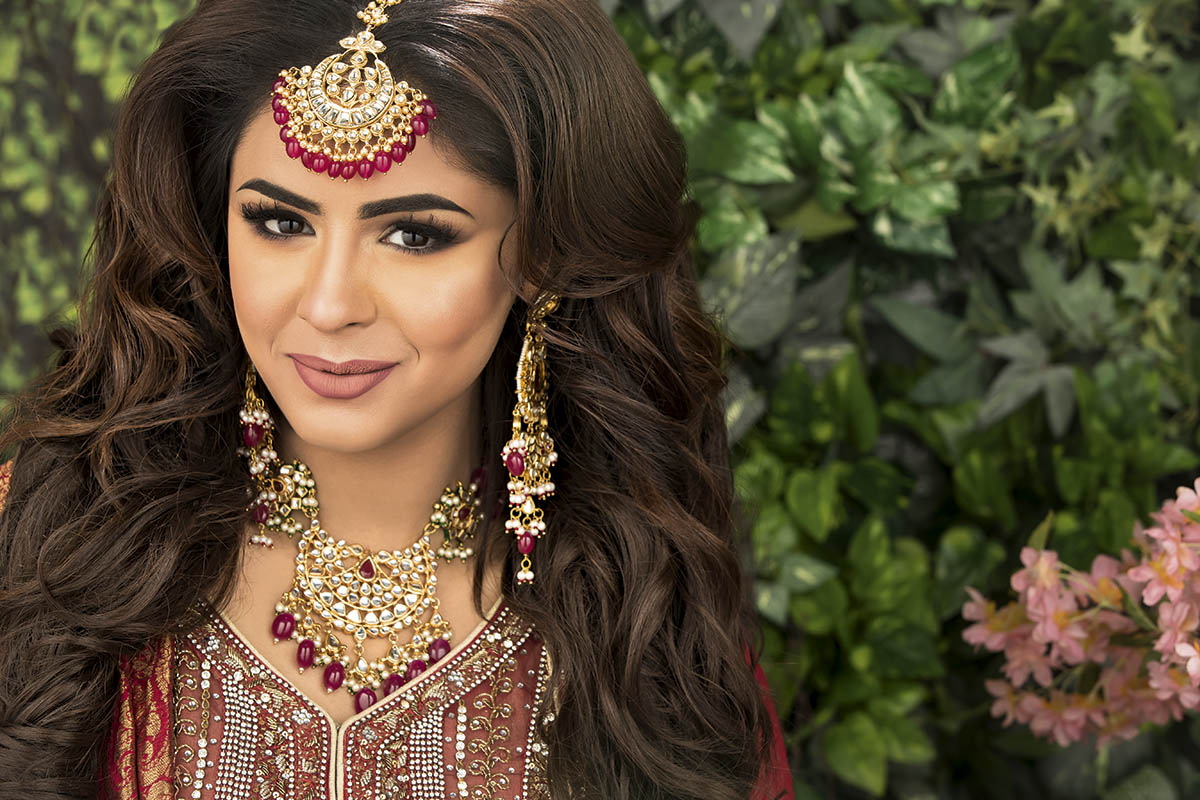 Her witty observations of desi life have made her a YouTube sensation, but there's more to Brown Girl Problems 1 than her sense of humour…
Hair & Makeup: Anisha Siddique
Outfits: Tehxeeb London
Props: Kenza Creations
Photography: Alexandre Pichon
Interview: Momtaz Begum-Hossain
Chuckle Vision
If you could choose the qualities you want in a BFF then Brown Girl Problems 1 aka 25-year-old Rucksar Naaz encompasses them all. The YouTube sensation is an ordinary, girl next door who has an extraordinary talent for comedy. On the set of her first ever magazine photoshoot at Asiana HQ she brings constant chuckles to the proceedings, breaking out into Bollywood dance moves at every opportunity and is already well versed in posing, 'just making sure I nail the shot for my Shaadi.com profile' she beams gleefully. Her energy never wanes, even though she's been up since 3am and her skin which Hair and Make-Up Artist Anisha Siddique comments is 'the most flawless she's seen without make-up', gives us even more reason to be in awe of this beaming beacon of positivity. 
Genuine and smart, Rucksar is one of the rare social media stars who is using her platform as an Influencer to bring about positive change. You won't find a feed filled with selfies and sponsored ads; instead you'll get a taste of her talents. The Brown Girl Problems 1 YouTube channel is a collection of rib-ticklingly funny observations about everyday life as a South Asian, that capture their eccentricities with spot-on accuracy. And it's all thanks to her mobile phone.
Rucksar explains: 'It started with Snapchat in 2014 when I was in my first year at university. Friends and family told me my snaps were really funny and I should start a YouTube channel but I never took it seriously. It wasn't the done thing for a girl from my community.'
The youngest of five siblings, brought up in Sheffield, Yorkshire, Rucksar's family are from Azad Kashmir, a territory administered by Pakistan which has its own language. These roots are celebrated in her videos, which despite her initial resistance, finally came about in 2015. She says:  'I wanted to give making videos a go so my first point of call was talking to my two sisters then tackling my parents. They didn't really understand it but they said 'if you're happy, we're happy' and that was that. Once they gave me their approval I got cracking.'
To this day Rucksar continues to do everything herself. She writes, films, stars in and edits her videos – she even plays the male characters by donning a moustache. The videos are characterised by their relatable content, something Rucksar works hard to achieve. She says: 'Lily Singh is a massive inspiration to me. She is a genius. There is a lot of brown content around so it can be hard to stay original but I don't think I'll ever run out of ideas. I take a scenario and then I think how would it be if Asians were involved? I'm also inspired by people I meet, my mum and every single one of the aunties – I'm taking them all down!'
But it's not just stitches she'll put you in, when it comes to laughter, Rucksar is a dab hand at the medical type too. After getting her Masters in Nursing, she began working as a professional adult nurse, specialising in patients who need long term palliative care. It was a career choice that found her after she witnessed first hand the differences nurses make. She reveals: 'When my grandma was unwell I stayed with her overnight in hospital. I saw how hard nurses work and I realised that's what I want to do. It can be very full on though, I feel like have three jobs as I still have to cook and clean too!'
Princess of Pothwari
At home she admits she's desi through and through and mostly wears Asian clothes. She enthuses: 'They make me feel elegant, feminine and beautiful.' Rucksar's culture is hugely important in her videos where you'll find her speaking the Azad Kashmiri language of Pothwari, a type of Urdu. Rucksar reveals: 'A lot of younger people think it's uncool to speak their home language but I champion speaking in your mother tongue. My viewers wonder what language I'm speaking. Very few people speak Pothwari but people are learning about it now. I love it when grandmas tell me they watch my videos as it reminds them of the olden days when they would hear Pothwari. I have a soft spot for the elderly which is why I enjoy nursing so when I get a compliment from an elderly person it means a lot to me.'
Similarly young fans are also captivated by her appeal, looking up to her as a role model, and she's fully aware of her responsibility towards them. 'I want to use my position for good. I think that a lot of moral values have been diluted over the years so I spread messages that I think are important like respecting your parents and more recently making a video about suicide and depression.'
The video follows a girl with a mole on her face who is bullied due to her facial birthmark. She considers taking her own life but is saved by faith and later finds solace in her career. The reaction was rewarding. Rucksar says: 'It was always my goal to explore deep issues through comedy because people are more accepting of things when they are having a chuckle but I also want to make a difference to their lives which is why I make serious content too. At first I was worried I thought people would react by telling me to stick to being witty but I've been contacted by so many young people who tell me how happy they are that I did something that makes them feel more confident. That's why I make the videos. I'm from a community that is still quite behind in the way women are independent. I was the first to go to a reputable university, get a Masters and is now doing something with her life. I want to show girls that they can break stereotypes. I hope that by looking at my videos they see a normal girl achieve success and if I can do it they can too. I've never wanted fame or money, fame interferes with my day job as a nurse and I'm not the kind of blogger that does sponsored brand content, I'd rather do a good deed.'
Rucksar's passion and enthusiasm is infectious and just like she has the ability to have you rolling on the floor laughing, her sincere and honest moral content will move you. At one point during the video she says if she had 1% of the talent her idol Lily Singh has she'd be happy, but the truth is she is talented, gifted and unique in her own right. Using social media as a force for good is just the beginnings of her impact as a positive role model for Asian women all over the globe.
Funny Girl Facts
There's no denying that when a BGP1 new post notification pops up on your feed you can't wait for your next chuckle. We asked Rucksar to tell us more about some of her favourite videos she's made:
Growing up a Brown Girl v Brown Boy
So many people told me they could relate to this video and not just Asians. It's not about sexism, it's our culture and so many girls resonated with it.
Brown Birthdays
Every girl reaches an age when they are technically expired. I made this video after I'd just turned 23, I was really excited but my mum just remarked I should have been married by now!
A day in the life of a brown mum
This was my first serious video that I made for Mother's Day, It reiterated the home truths of how we unintentionally neglect our parents, that we're so busy on social media we forget they are getting old. Serious videos are my favourite to make because exploring issues is my passion.
Types of bargainers
This one is inspired by the aunties in my area. I've seen every single one of these scenarios when I go shopping with my mum. I'm also a bargain hunter and haggler, it's one of those skills you inherit when you're Asian.
When brown girls travel alone
One of my favourite videos because it highlights how funny Asian mums are, they just don't know how hilarious their over dramatic nature is. Stories like this don't even come from me, it's not original, these are things I see happen every day. In the video the mum is behaving as though her daughter is going abroad checking she has her bags and has eaten when she's only going to Tesco across the road.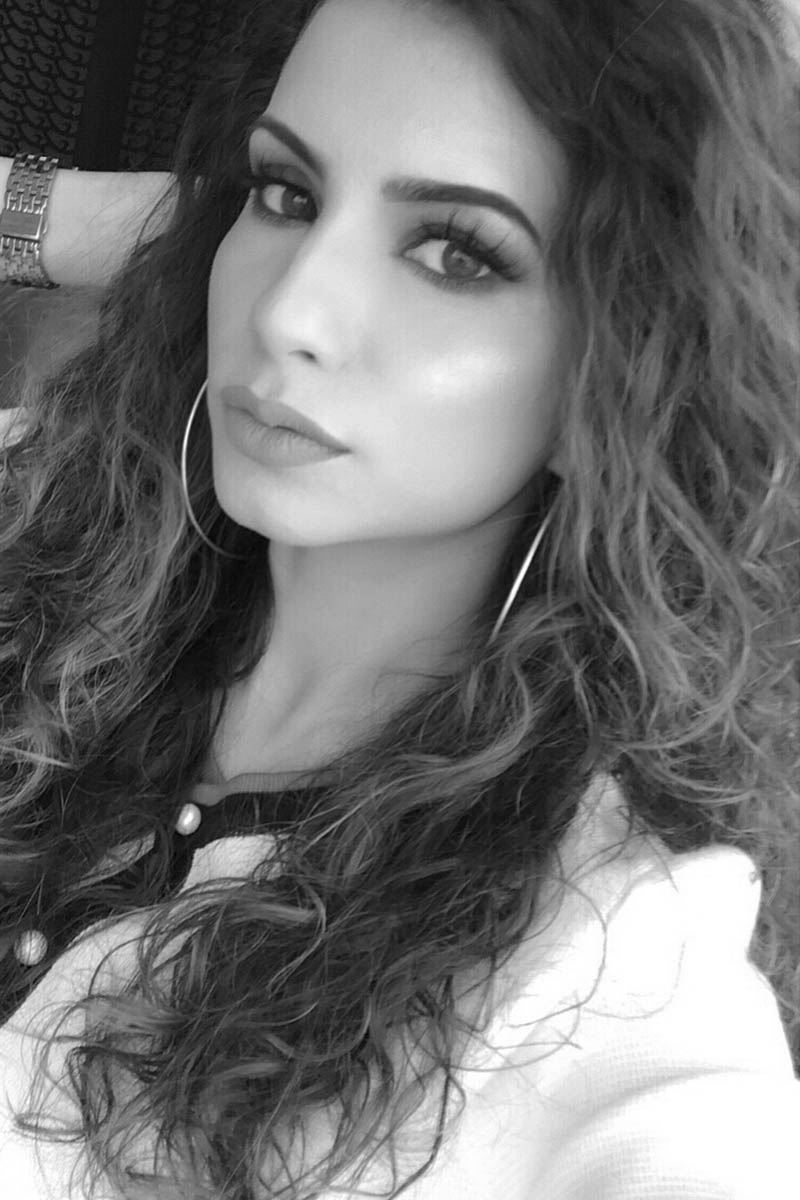 Anisha Siddique
Hair & Make-Up Artist
I really enjoyed working with Rucksar. She's so fun I couldn't stop giggling on the set. Her fans are used to seeing her in every day looks for her videos when she plays a young girl but we've also seen her dressed up as a dowdy mum and even a teenage boy so transforming her into a glamorous bride was a completely new thing for her but she pulled it off with perfection. Although she is funny she also has grace and poise. I decided to create a very regal Pakistani look as it celebrates a part of her heritage she hasn't had a chance to try before. I did two main looks, the first was very much a traditional theme for the red bridals with hair up, gentle contouring and deep smoky eyes. This was balanced out with a softer, pretty look where I softened the make-up and styled her hair out. The results were unbelievable I hope her fans love the makeover.'
Anisha Siddique
@anishasiddique