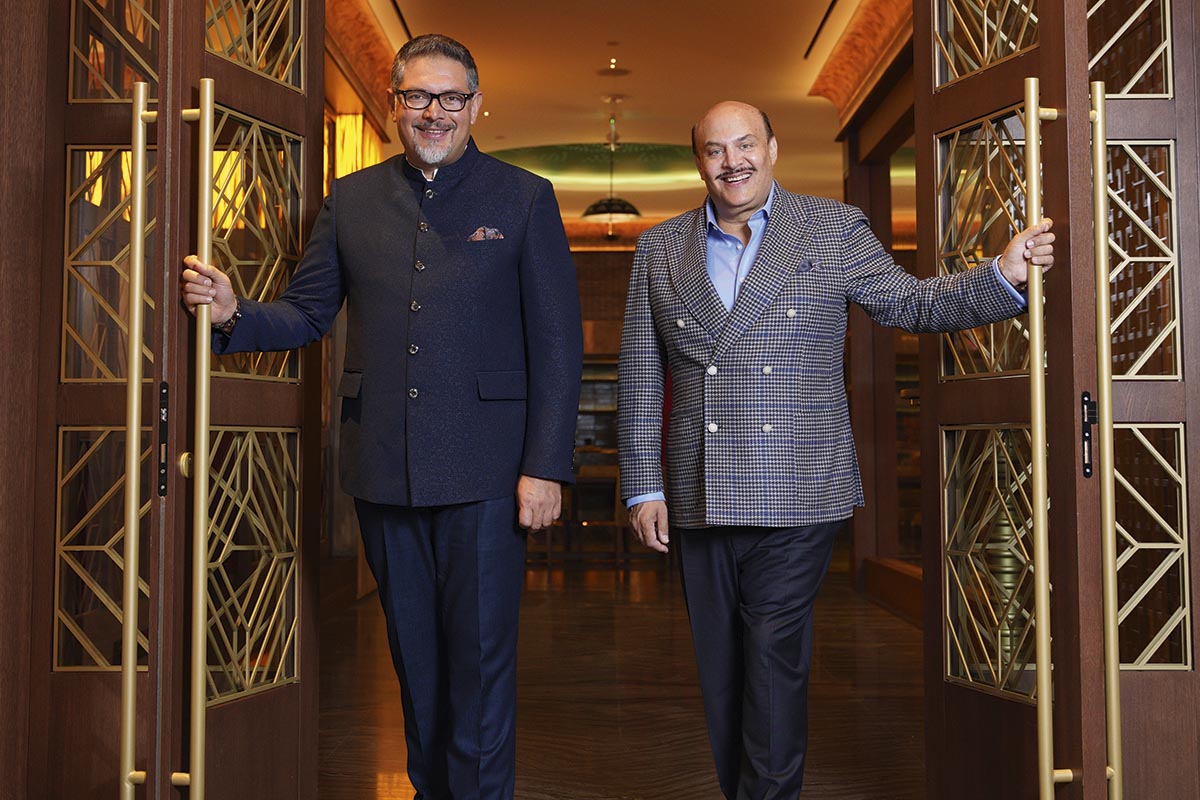 Chairman of Madhu's Sanjay Anand MBE with General Manager of Swissôtel The Bosphorus, Ugur Talayhan
Introducing… Madhu's Istanbul
The first international restaurant from the UK's leading Indian food pioneers
The Indian catering industry in the UK wouldn't be what it is without Madhu's. For over 30 years Chairman Sanjay Anand MBE, along with his son Director of Madhu's Arjun and their team have set the standard for wedding catering. Their restaurant portfolio includes their legendary Madhu's in Southall, providing fine dining services at The Grove in Hertfordshire, Madhu's of Mayfair and collaborations with department stores like Harvey Nichols and Harrods. Their reputation has long preceded them and now it's taken them to new shores as they establish their first Indian dining experience at the most luxurious hotel in Istanbul, Turkey; Swissôtel The Bosphorus. Asiana Wedding Magazine travelled to Istanbul to find out more about their exciting new culinary adventure…
Expanding a legacy
A tale of food, passion and spices!
You never know what's around the corner. When the world went into lockdown during the coronavirus pandemic and weddings were put on hold, Sanjay and Arjun finally has a moment to pause, but time off wasn't their style. So, when they received a call from the General Manager of Swissôtel The Bosphorus, Ugur Talayhan who they had previously worked with for their Sheraton Skyline Heathrow venture, there was no time like the present to visit an old friend. It turned out to be no ordinary trip. Ugur invited the entrepreneurs to open a Madhu's restaurant within the grounds of the most luxurious hotel in the city. Unbeknown to them when they boarded that flight from London, their business was about to change forever as they began planning what has now become their international flagship restaurant.
Madhu's Istanbul isn't just a restaurant it's a five-star luxury dining experience where everything from the décor to the drinks, music, fragrance and staff uniforms have been carefully curated to transport visitors to an extraordinary space where the food and hospitality are in a league of their own.
Planning the décor and finding and training a new team for their new restaurant were major considerations, but the biggest challenge of expanding Madhu's abroad has been finding a solution for the all-important spices. Though Istanbul is known for its thriving spice markets, the level and exact flavours of spice found in the region didn't match up to the specific tastes that are synonymous with Madhu's.
Sanjay explains: "Arjun and I visited Istanbul on five occasions in search of spices but what we found was that the flavour strength was only 50% of what we use. So we had to make a decision, do we adapt our flavours or do we bring them from home, of course, we opted for the latter as we will never compromise on flavour!" All the spices for Madhu's Istanbul are sent over from the UK and like at all their restaurants, are hand-ground to maintain the best and freshest flavour, including their signature garam masala which is a special house blend of 42 spices, exclusive to Madhu's. This is a true testament to the commitment the brand has to authenticity and serving only the very best.
Inside Madhu's Istanbul
Discover the grand, brand-new restaurant
Within a day of arriving in Istanbul on their initial fact-finding mission to see if it would be feasible to open a restaurant abroad, Sanjay and Arjun arranged meetings with architects so they could get an overview of what they could keep and what facilities they would need to put in themselves. Back home they drew up their plans and sent them to the team at Swissôtel The Bosphorus. Six months later work began on a 2.5 million euro refurbishment and the once derelict yet beautiful space was transformed into a smart and sophisticated dining experience thanks to a leading architect who had previously designed restaurant projects for Nobu.
The restaurant seats 250 covers and for couples who hold their wedding events at Swissôtel The Bosphorus (see page 180 to find out more about getting married at the hotel,) there is an option of booking a group meal here. There's also an outdoor terrace that holds 100 guests and leads onto the picture-perfect Sultan Palace Gardens.
Madhu's Istanbul is open six days a week (closed Mondays) and serves between 5pm and 2am with a separate bar menu that runs from 11am to 2am. There's also an attached Cognac Lounge and for smokers special storage for your cigars.
For now, Madhu's will focus on serving up the finest Indian cuisine in Istanbul, but in the future, they hope to expand into catering so that couples marrying at the Swissôtel The Bosphorus can finally have the Indian feast they want. Arjun reveals: "Until now the city hasn't had the Indian food offering that many people want for their weddings and events. Last year there was a wedding here where 13 chefs were flown in from India just so the couple could eat traditional food. In time we will take on this responsibility ensuring couples never face this problem again, but for now we're settling into our new home, enjoying meeting our new regular patrons and expanding our reputation on a global scale that we never imagined could be possible.
A Taste of Madhu's Istanbul
How the team are transforming eating out in the Turkish city
What makes Madhu's presence in Istanbul so important is that there are only limited places to enjoy Indian food in the city. Madhu's Istanbul is the only restaurant to offer authentic Indian fine dining, bringing a new offering to discerning diners, many of whom are trying desi food for the first time. Sanjay explains: "It's taken us by surprise that so many people are unfamiliar with our customs so what we're offering them is groundbreaking, not just the flavours and dishes – but the whole experience of how we eat. For example in Turkey, they are familiar with lamb chops as a main meal but they have never had it as a starter, cooked how we do it and it's been rewarding introducing them to our customs. But it's not just locals we're attracting. The Swissôtel The Bosphorus is home to some of the biggest conferences in the city and delegates visiting from abroad to attend events are finding solace and comfort in joining us for dinner and genuinely enjoying their meals."
International visitors to Istanbul can now feel relieved that they have somewhere to go to that they know they can trust. Arjun explains: "It's rare to have Indian weddings held in Istanbul and similarly it's not a popular choice with travellers from India because they don't feel as though they'll be able to find food they'll like. And though Turkish food is amongst the most delicious cuisines in the world sometimes when you're away only home flavours will do and if you're not guaranteed good food, it can stop you from visiting somewhere. Since opening, we've had a steady stream of Indian diners who all confess to us how happy they are to finally have some authentic cuisine!"
You'll find dishes on the menu at Madhu's Istanbul that you won't find anywhere else. Arjun explains: "Each of our restaurants is a guaranteed gastronomic experience. We like to take inspiration from our surroundings and this inspires the décor and the menu, so of course, we've introduced a Turkish twist at Madhu's Istanbul. Bespoke dishes include kadak calamari which is calamari tossed in fragrant cumin and chilli.
Devising these new dishes has been an exciting challenge for Madhu's Head Chef Amandeep Singh who is responsible for training the staff for Madhu's Istanbul which includes three chefs from India, working alongside the local Turkish sous chefs. The Indian chefs were hand-picked by Sanjay and the hotel's Director of Food and Beverages who travelled to India together to interview chefs. Sanjay says: "Authenticity and exceptionally high standards are central to Madhu's philosophy but we could only deliver this by having the right team and we had to travel to find them. This is the very first time in our history spanning over four decades that we have shared our family recipes and placed this knowledge in the hands of someone else, but if we are to expand and grow we had to share our secrets and it's a pleasure to know our food and brand are now going global."