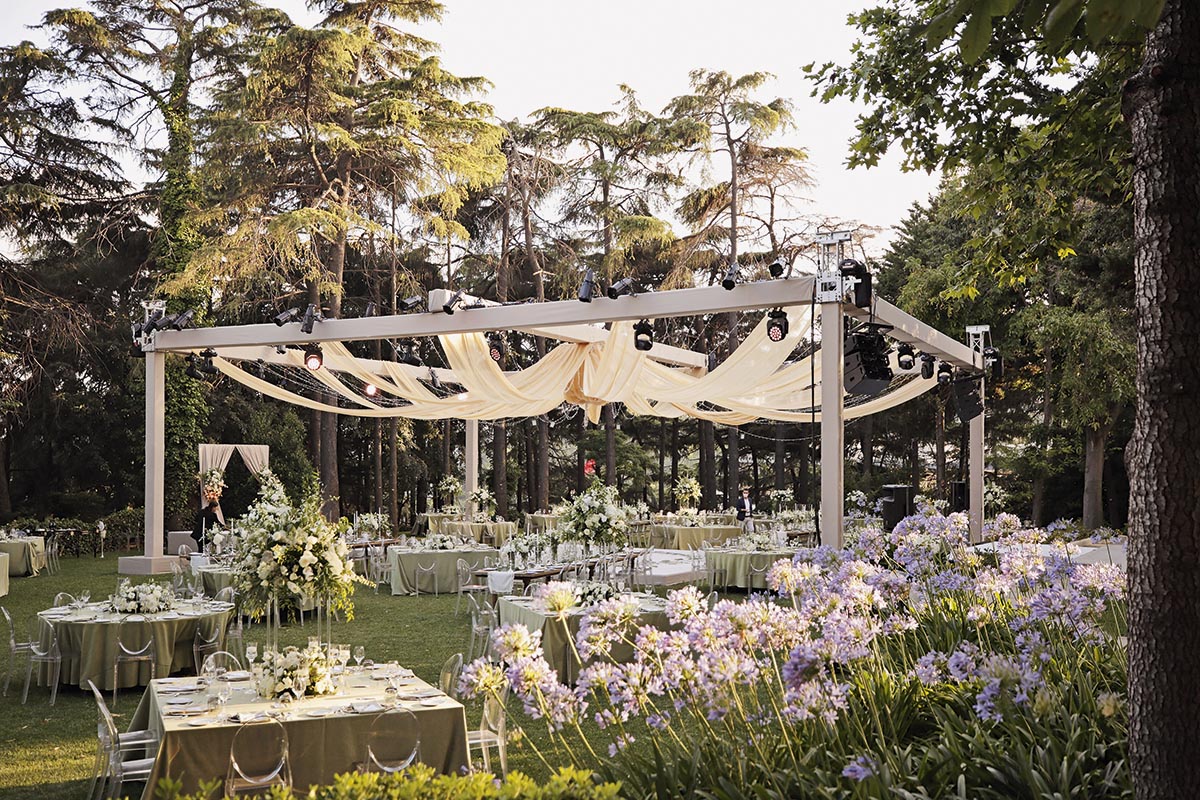 Swissôtel The Bosphorus, Istanbul
Travelling abroad for your nuptials has never been easier
Wedding venues around the world are now more experienced than ever in delivering dream days with all the traditions and details you'd expect; but there's one hotel that's caught our eye for going above and beyond when it comes to wedding planning and execution: the five-star Swissôtel The Bosphorus in Istanbul.
Located on the picturesque banks of The Bosphorus, it's nestled in a 63-acre private resort amidst gardens and hilly forests, making it a fairytale location with the added charm and culture of Turkish hospitality at its finest.
Tying the knot in Turkey
Every couple desires flexibility to have their wedding their way and this is something the team excels at. They deliver an experience that goes far beyond expectation and it starts with the location of your ceremony.
Couples can either wed inside or outside; both options are equally as stunning. For outdoor summer weddings, hold your ceremony in Sultan Park which can be dressed and decorated to match your theme. For reception drinks and other wedding functions, a popular spot is the Swiss Living Terrace. Here, your guests can enjoy poolside activities against Istanbul's striking city skyline.
For a more formal indoor setting perhaps for an evening reception meal, book the exquisite Fuji Ballroom and Asuka Hall, which both cater for larger capacities – in fact, the hotel can cater for functions for up to 1000 guests so don't be shy with your guest list numbers, though intimate celebrations are also welcome. In addition to the ballroom and hall which is popular for henna nights, there is a number of smaller function rooms that can also be hired if required.
Getting Big Day ready
The wedding packages at Swissôtel The Bosphorus aren't you're typical options, every aspect takes the couple into consideration; book here and you can expect to feel like royalty throughout your stay. You'll have access to two rooms for you and your families to get ready in. The hotel also has a spa, hairdresser and beauty salon and as a bride, you'll receive discounts so you can rest assured you're getting a good deal while having your make-up done by professionals. Another generous offering from the hotel is that your wedding cake is a gift from them and you can expect to receive the finest, picture-perfect tiered sponge to match your theme.
Destination celebration
One of the pleasures of having a wedding abroad is that friends and family are able to enjoy their own holiday and everyone that is invited to a wedding in Istanbul will want a chance to enjoy the city while they're here. The hotel is an excellent base to explore Istanbul before and after the wedding and you could also arrange day trip activities to keep them busy. There are 566 spacious rooms and 63 luxury suites ranging from studios to three-bedroom suites so families with children can feel reassured they have the facilities they need.
A feast fit for royalty
As part of your wedding package the very best catering in the city is provided and every guest will enjoy five-courses: a starter, hot appetizer, main course, dessert and wedding cake. And with the newly opened Madhu's restaurant Madhu's Istanbul on site there's also the option of booking additional meals there for pre and post wedding functions.
The wedding team at Swissôtel The Bosphorus are on hand throughout the planning stages and you're invited to visit for a tasting with the chef and to discuss all the arrangements ahead of the day. Then leave the rest to them – all you need to do is look forward to spending your wedding in one of the most luxurious hotels in the world.
Swissôtel The Bosphorus, Istanbul
Vişnezade, Acısu Sokaği No:19, Beşiktaş, İstanbul, 34357, Turkey
e: event.Istanbul@swissotel.com
www.swissotelthebosphorus.com