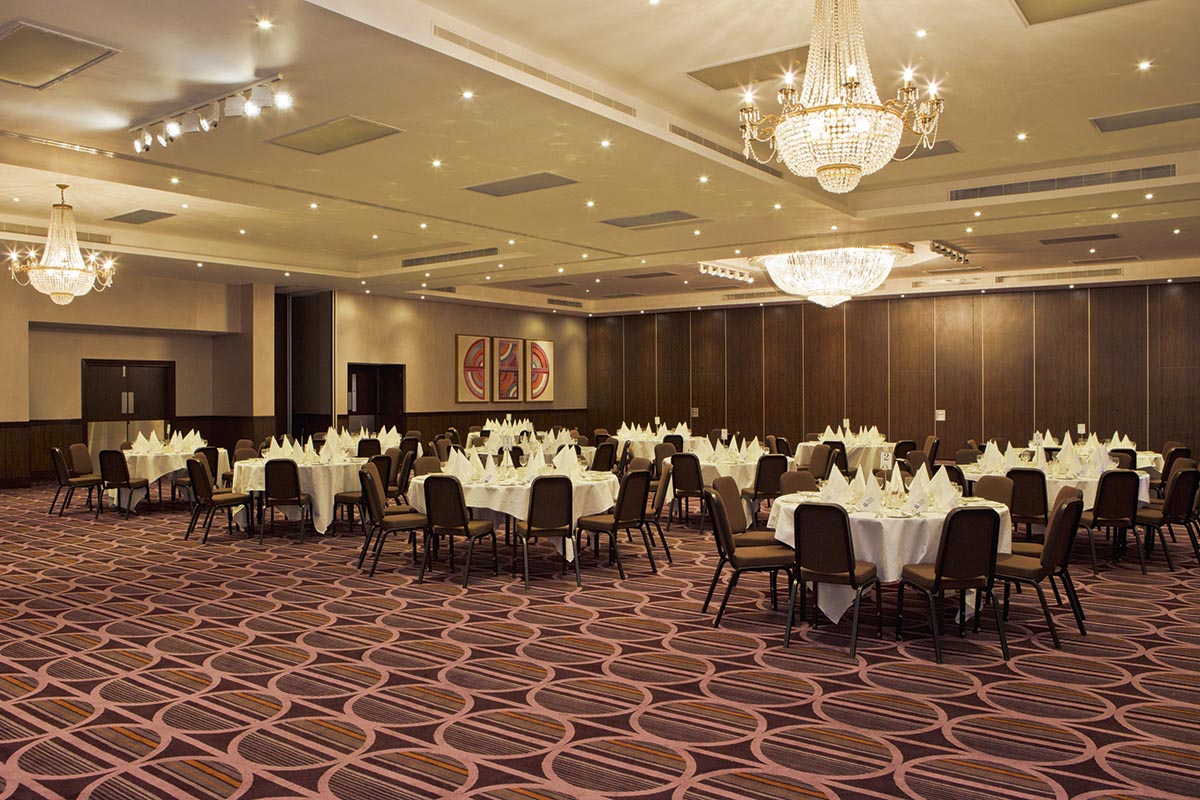 Luxury & flexibility in the heart of Central London
Getting married in the greatest city in the world is a dream for many couples. London has history, charm and character but it's hard to find a venue that has car parking and blank canvas spaces; something The Royal National Hotel is proud to offer.
The experience
A unique and lively hotel in the heart of Russell Square, the Royal National Hotel is one of the largest of the Imperial London Hotels Group and offers several event spaces, all of which are licensed to hold weddings. There are 1630 modern, spacious bedrooms and suites, ensuring your guests have somewhere to stay that's comfortable and easy for them on the wedding day since they won't have to travel far .
There are also two restaurants, a pub with a garden, Bloom's cafe which is a shisha bar and coffee shop on-site, making it a destination hotel where your guest's needs are fully looked after.
Wedding packages include the event space, catering, your wedding ceremony plus overnight accommodation for your guests. And though it's a public hotel, guests can arrive via a courtyard which can be dressed with décor to create a personalised welcome.
The event spaces
There are an impressive 10 stylish suites (four more opening in 2023) that are fully flexible and can be adapted according to the size of your wedding, with a capacity of up to 700 guests, though a more comfortable number of 550 is recommended as it allows guests to have dinner and a dancefloor in the Galleon Suite. Rooms can be divided and there are smaller theatre-style rooms for 40-60 guests and a grand Windsor room that can hold 400 guests for a standing reception.
All of these rooms have grand chandeliers but are also blank canvas spaces. The Royal National provides a fantastic backdrop to creating your dream just the way you want it with theming and props. Whether you'd like to create a traditional colourful Indian setting with a mandap or a winter wonderland with mood lighting, the opportunities are endless, exclusive hire is also available. The hotel provides audio/visual in-house and the team can create backdrops, video screens, music, lights and audio.
The Big Day
The team will look after every aspect of your day including delicious catering; with seasonal menus, canapés and light refreshments to sustain your guests during the day. Or if you prefer to bring in your preferred caterer, the hotel has a separate banqueting kitchen that can be hired with dry hire for external catering providers. Access is from 7am to 1am, though you can apply for a late license to extend your festivities. The Royal National Hotel is conveniently poised for discovering all the iconic sights and attractions that London has to offer too. Some couples enjoy taking their portraits against local landmarks while guests are treated to a private sightseeing bus tour which is especially appreciated by guests who are travelling from abroad.
Venue checklist:
Accessible for public transport: Yes
Onsite parking: Yes
Catering: Internal or external catering welcome
Spaces: Flexible, blank canvas
Capacity: Up to 700
Accommodation: Onsite
A/V: Provided in-house
Support: In-house planners
Royal National Hotel,
38-51 Bedford Way, London WC1H 0DG
T: 0207 637 2488
www.imperialhotels.co.uk