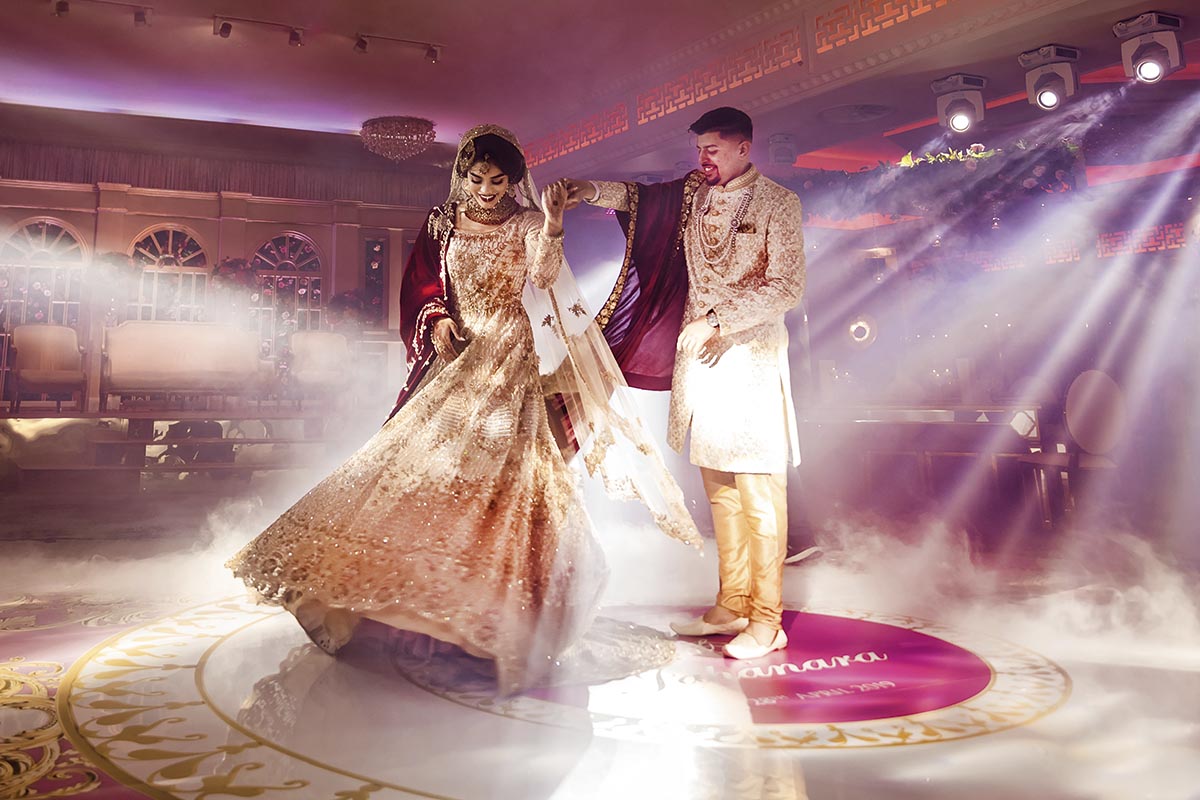 Grand Sapphire Hotel & Banqueting Suites
If you're looking for majestic, luxurious banqueting facilities, this South London icon ticks all the boxes and so much more…
Elegance and charm are at the centre of Grand Sapphire, a modern wedding venue in Croydon, South London. With its choice of five-star event spaces, hotel facilities and delicious in-house catering, your wedding celebrations will be effortless to plan – yet memorable for all. While most banqueting suites are blank canvas spaces, here you have the option of keeping the opulent interiors as they are; or enhancing them with your own decorative touches. Whatever you choose to do, your guests will be in awe of their surroundings which are spacious, sophisticated and most importantly accessible, with plenty of parking spaces. 
THE EXPERIENCE
The charm begins from the moment you enter. Grand Sapphire's white façade has a palatial feel and makes a beautiful backdrop for photos. The venue can lay out a red carpet to add an A'list touch to the proceedings before guests head inside the elegant foyers with luxury décor.
Here, guests can be welcome and directed to your private function space, or you can make use of the sumptuous surroundings and kick-start the party with a drinks reception.
While guests tuck into canapés, for the bride who typically joins the festivities later, Grand Sapphire provides a beautiful bridal suite where you can relax and get ready before making your grand entrance.
THE EVENT SPACES
The main function area is the Grand Ballroom and there are an additional three luxury suites; all of which offer the same high standards of interior décor come and full A/V and lighting facilities. Every space can be used for dancing and entertainment; the most fun part of the day.
The Grand Ballroom
For a wow factor wedding reception for up to 1000 guests, Grand Sapphire's signature suite is the most luxurious. It looks spectacular when it's set up banqueting style. A popular choice is to dress the room with candles which adds a magical glow throughout, and complements the dazzling chandeliers and mood lighting. Combined with floral arrangements and décor, it creates a majestic setting.
The Sapphire Suite
Adjacent to The Grand Ballroom, this idyllic suite is characterised by its LED lighting features and comfortably seats 500 diners for a sit-down meal.
The Emirates Suite
Also adjacent to The Grand Ballroom, this suite can be interconnected to increase the Ballroom's capacity. It also has its own foyer entrance and is suited to smaller functions of 350 guests.
The Rhubarb Suite
With its chic and lavish interiors, this space is light, airy and intimate, holding up to 144 guests. It's perfect for intimate ceremonies and with its floral walls has a fairytale quality.
FOOD, GLORIOUS FOOD!
The catering options are what sets Grand Sapphire apart from other banqueting venues as there's so much choice and you can feel rest-assured that you'll be served a feast that's fit for royalty. Choosing your menu is the hardest part. The venue works with leading chefs with global experience so whether you're after Pakistani, South Indian, Bangladeshi, Lebanese or Gujarati catering, dining is a part of the day guests will really enjoy as they'll be served beautifully presented dishes with authentic flavours.
MORE THAN A WEDDING VENUE…
Having arranged hundreds of weddings over the years, the team here are well-connected in the industry and know exactly who to call on for floral arrangements, fabric backdrops, table centres and your wedding cake and can even arrange children's entertainment. It's not just weddings that are held here; Grand Sapphire is also popular for conferences and charity galas and they've organised all kinds of set-ups with additional activities including themed casinos – so don't be afraid to live out all your wedding dreams, anything is possible here!
Then, when the evening comes to a close, guests can retire to Grand Sapphire's hotel rooms. The honeymoon suite is a luxurious boudoir designed to feel like an Indian palace and is a perfect place to rest before jet-setting off on your honeymoon from Gatwick Airport – just a short drive away.
Venue checklist:
Accessible for public transport: Yes
Onsite parking: Yes
Catering: In-house options
Spaces: Flexible, blank canvas
Capacity: 144 to 1000
Accommodation: Onsite
A/V: Provided in-house
Support: In-house planners
Grand Sapphire Hotel & Banqueting Suites,
45 Imperial Way, Croydon CR0 4RR
T: 0208 686 2905
www.grandsapphire.co.uk