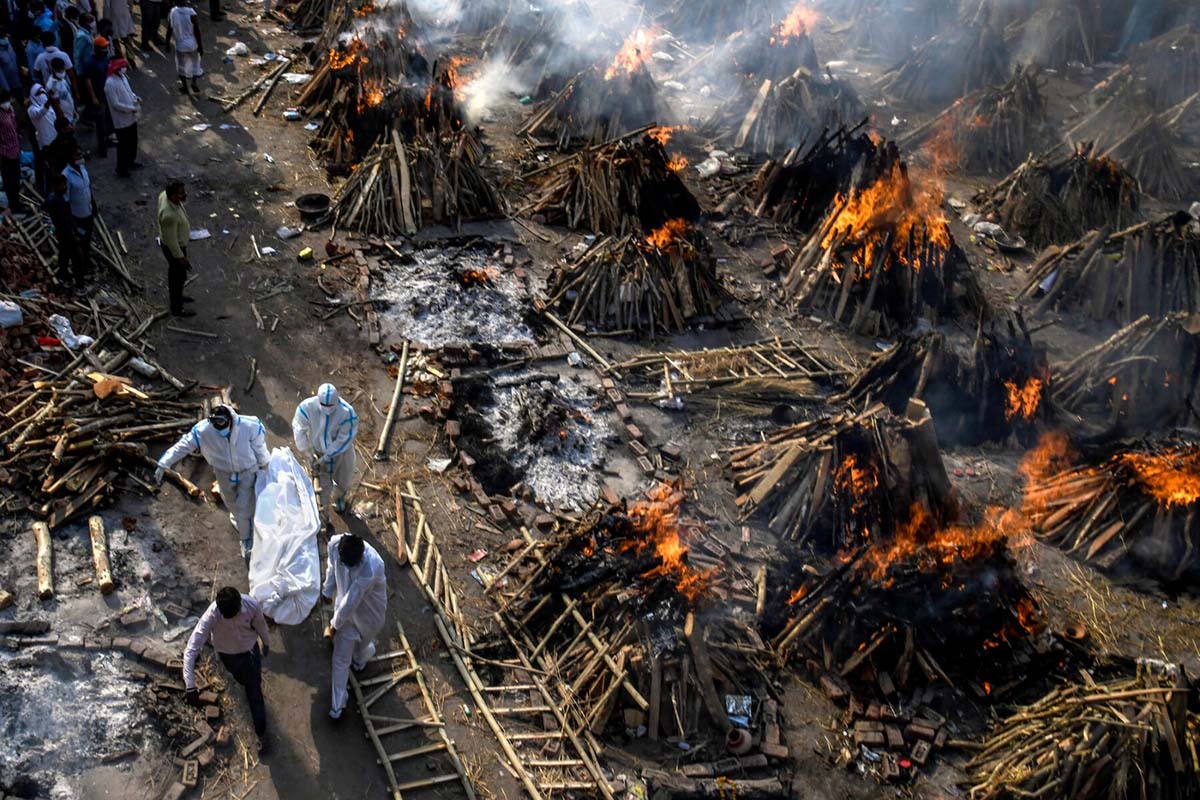 Covid-19 India: A Tribute To Healthcare Professionals
With COVID cases and deaths rapidly rising, India's healthcare professionals are faced with "hell-like" conditions. With an embarrassing lack of support from Indian government, they look to civilian support for help and prayers.
On the banks of a makeshift crematorium on the Hinden River, 13-year-old schoolboy Rudra Sonthalia lights his father's funeral pyre in protective clothing. Miles away, a young girl clutches her recently dead mothers' body, screaming, "This hospital is useless!" in the middle of a frantic hospital lobby. Elsewhere, amongst ventilators and ICU beds, nurse Viveki Kapoor ignores her exhausted body's plea for rest or food, focusing only on saving her Covid patients' lives.
Twenty-four million Covid cases and over 3,000 related deaths in 24 hours are too great a number to describe the heart-wrenching sorrow, grief, and despair of the people in India. With a surge of the new Covid strand known as the B.1.617 variant, cases are more likely to impact the function of the lungs, resulting in the crucial need for oxygen, which is in gross lack. Hospital beds, vaccinations and even crematorium spaces are running out, and people are dying in the streets, washing up in the River Ganges and looking to the elusive black market for medical support. With the highest record of daily deaths globally since the start of the pandemic, India has been bought to its knees.
The medical staff in India are on the brink of survival. Doctors and nurses have taken to Twitter to appeal for help for patients who do not have access to beds, injections, and oxygen.
A consultant physician and researcher in Mumbai spoke to The Financial Times, describing an average shift in Covid-19 ICU's.
"April was truly the cruellest month. Ward rounds are now scenes from Dante's "Inferno". This pandemic has cruelly exposed our weakest links — badly equipped and understaffed public hospitals and chronic shortages of beds. That coupled with leadership that lacked vision and foresight may just change the map of India forever."
Surajit Nundy, founder/CEO of Raxa Health (private hospital), spoke out on the brutal reality of India's Covid situation.
"People are driving up to the hospital in ambulances from faraway states, with loved ones in the back of personal cars, only to be turned away because there is no oxygen, and there are no beds. Some of them are dying outside as they arrive, or as they get to the wards, or while they are waiting for a bed."
A toll on medical healthcare professionals
On the impact of India's medical professionals, he continued, "The toll this is taking on healthcare professionals is evident. We hear of a young doctor assigned to another hospital's ICU who kills himself from the stress and pressure. Healthcare personnel are getting sick from the virus, both physically and mentally. There isn't much hope. India had 40,000 ventilators for its 1.3 billion population at the start of the pandemic and one doctor per 1500 people."
The Indian Medical Association (IMA) national registry registered 747 doctor Covid-19 related deaths, and the Trained Nurses Association of India has reported 90 nurse deaths. After being silent on the nation's crisis for months, Indian Prime Minister Narendra Modi has allowed medical doctors and nurses to join Covid-19 ICU's without taking exams, which include around 3,000 students studying medical degrees. The decision came after cardiac surgeon Dr Devi Shetty warned the nations next big challenge would be the shortage of doctors and nurses for patients.
He added, "It can be extremely hot in May, and even the fittest people find it difficult to work in Covid ICUs for 4/5 hours. Doctors who have been working since the first wave of the pandemic, are mentally fatigued, suffering burnouts and many amongst them are getting infected."
In shocking statistics, Dr Shetty explained there is a demand for 80,000 ICU beds, and India only has 70,000 – 90,000 with most occupied alongside only 40,000 ventilators available for 1.3 billion of the population. Harrowing stories of the BJP party taking away an oxygen tank from the hospital to perform a photo-op for publicity whilst 20 people died, alongside beds and oxygen being stockpiled and reserved for 'VIP' patients have left healthcare professionals in outrage.
Personal accounts
With many doctors and nurses working more than 18-hour shifts on end, witnessing the daily deaths of Covid patients as young as 15, the lack of oxygen and equipment have strained medical professionals to breaking point.
Nurse Viveki Kapoor stated, "I always used to take pride in being an Indian, but it breaks my heart to see what's happening in the country, and I blame our leaders for it. All they care about is winning elections", referring to political parties including the BJP holding mass election rallies and encouraging millions of voters to attend polling stations during the crisis.
Nurse Viveki Kapoor, who supervises a Covid-19 intensive care unit, recounts how patients would often get angry when they were left alone for a long time but quickly recognised how hard the nurses worked. When the nurses would tend to them, the patients would often speak to them softly, pleading them to drink water or stop and eat something.
Civilian help
Even though the Indian government has finally decided to act, doctors, nurses, and civilians have been working tirelessly since the start of the second wave. To prevent Covid-19 sufferers from being priced out by the black market, Manjinder Singh Sirsa told ITV news how his team had set up a temporary hospital at a Gurdwara, housing up to 200 beds. International aid throughout the second wave includes support from countries amongst the USA, Britain, France, Brazil, Nepal and Pakistan, who have supplied medical equipment.
Scientists predict death rates are suspected to rise in May, with a surge of the new strand being more deadly and easily transmissible than the last.
Show your support
Donate to help distribute oxygen cylinders
Donate to help relief efforts
Donate to India medical staff
Helpful links
Other ways of helping
Share, post and spread awareness on your social media
Check-in on Indian friends or family