Infusing Tradition With A Modern Haldi Fun-fiesta!
We love a good Haldi ceremony full of fun, masti and laughter! Here are our top real-life Haldi ceremony events!
Haldi photos are the best ones in your wedding album. The ritual is full of happy emotions.
Essentially a ceremony that involves putting Haldi/Turmeric paste on the dulha & dulhan, it's a custom held to ward off evil while adding that extra glow to the skin.
What starts as a simple event eventually turns into a lively fiesta with each one trying to apply this paste everywhere! (Sometimes, pouring it all over too!)
We've put together our favourite Haldi images, which capture the beauty and down to earth masti of the day, and let you know the tips and tricks of planning a beautiful Haldi!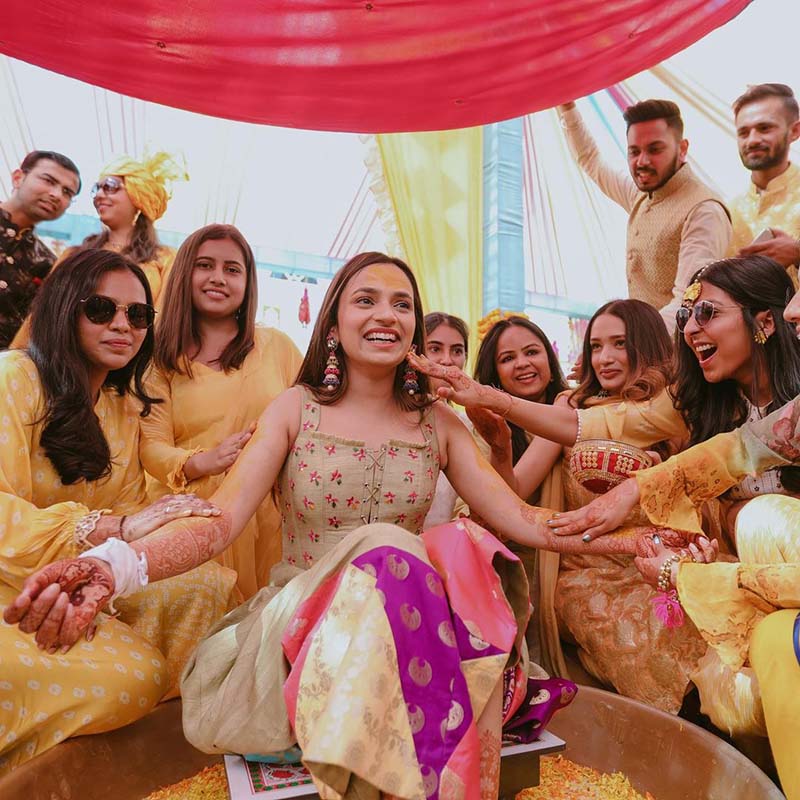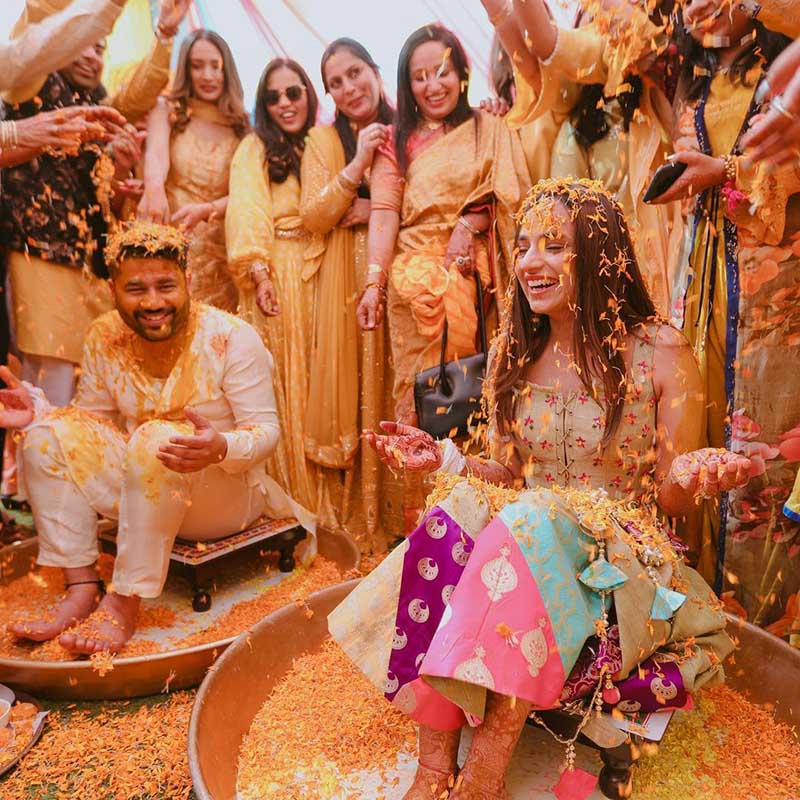 Stylish, minimal, and full of madness
Full of fun and absolute madness @deepikasdeepclicks beautifully captured the glowing bride @harshadabansal and groom @rohit4144 on their Haldi ceremony surrounded by friends and family!
Opting for minimal makeup, a flower corset and a colourful, yet simple Lehenga, the brides' smile was the focal point of her outfit! Matching with the groom, the pair looked adorable!
We loved how the couple used a traditional yellow to style their guests, with yellow flowers for the picture-perfect flower-shower, and minimal décor to truly capture the intimacy of the event!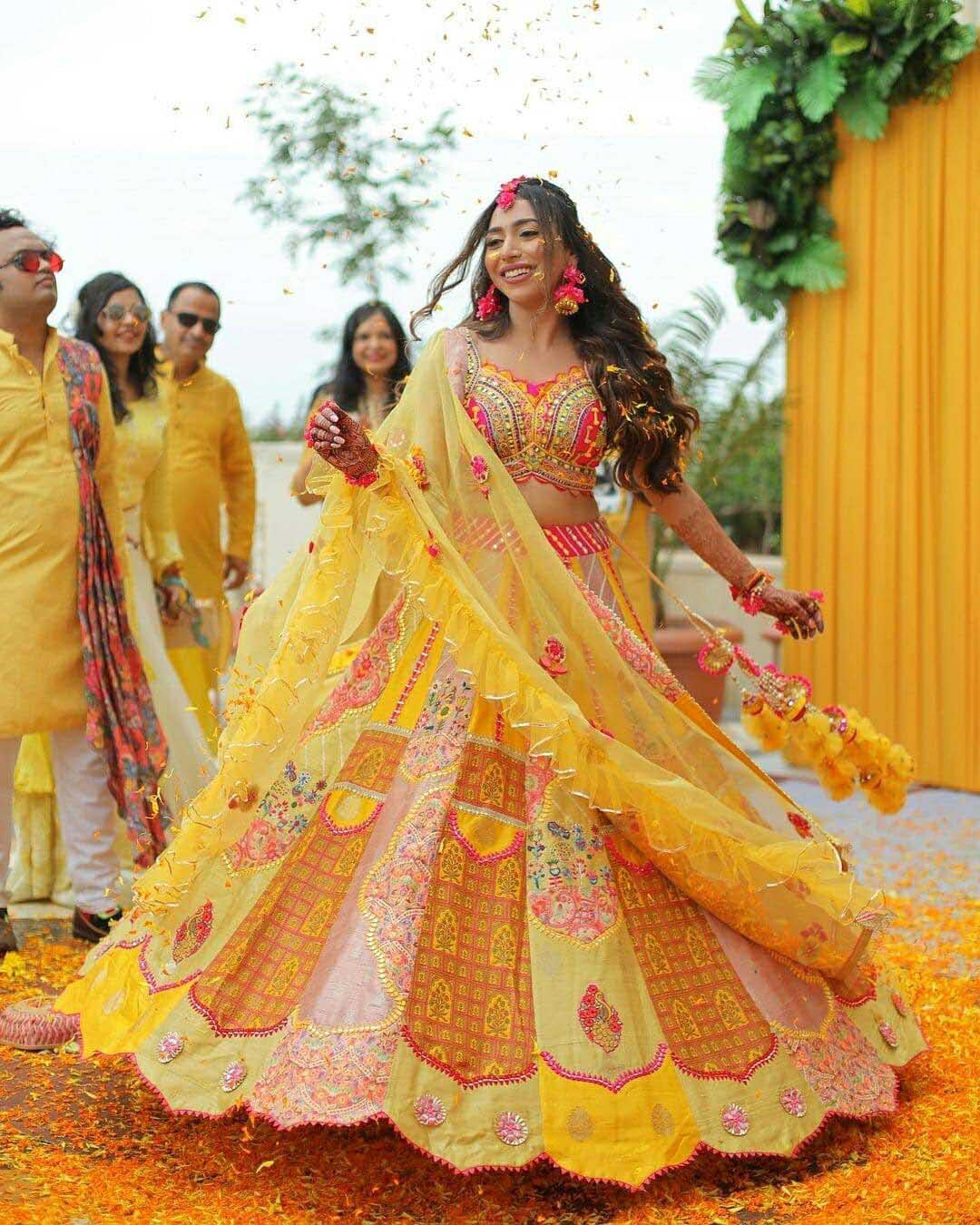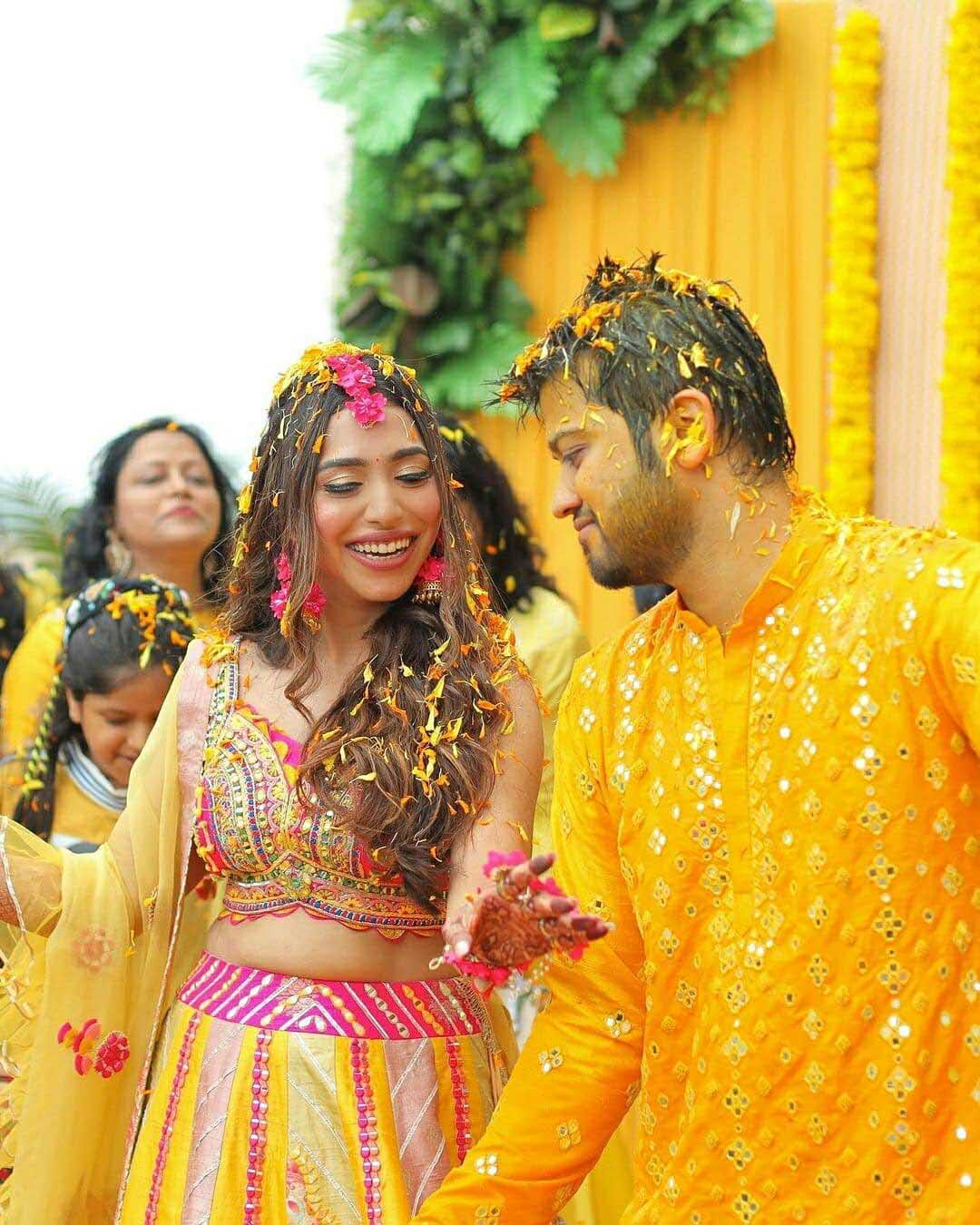 Traditional with a touch of pink
The gorgeous bride @viyushi_agarwal opted for a beautiful patchwork lehenga for her Haldi ceremony! With touches of pink and green carefully infused with the traditional yellow colours, the lehenga was truly one of a kind. We loved the matching pink flower earrings, headpiece, and bangles by @pruneindia.
The look was perfected with a minimal soft-glam pink makeup look by @dollyuup_bys. With simple, yet elegant décor from yellow gajar backdrops to yellow petals covering the floors, the entire ceremony was picture perfect and groom @kenith_shah couldn't happier!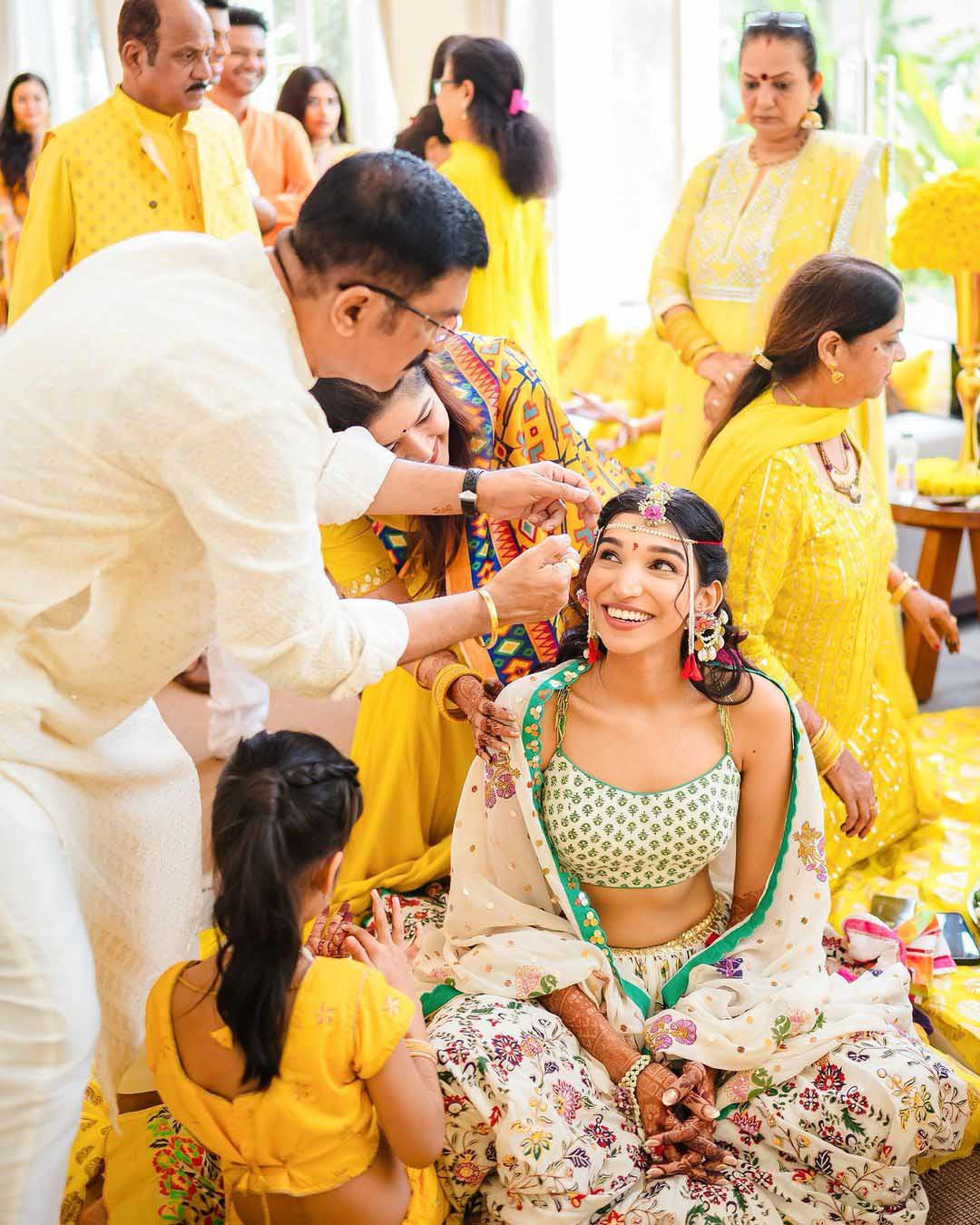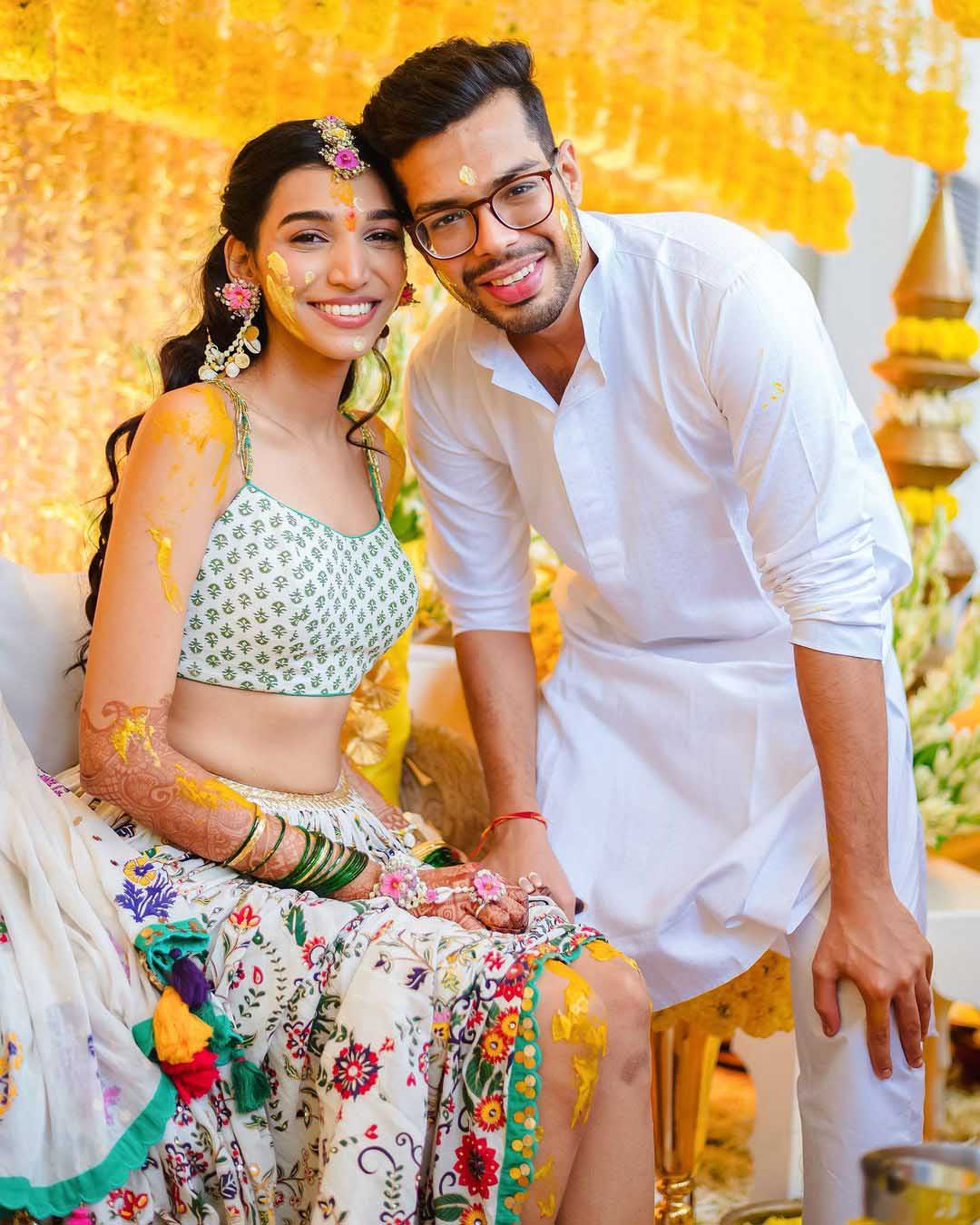 Haldi the Malhari Way
Famous beauty influencer @juhigodambe tied the knot with her childhood sweetheart with a fairy-tale wedding and bringing royalty to life on their festive Haldi ceremony!
Choosing to honour Maharashtrian roots, the couple opted for a golden hue of aromatic flowers, traditional tali's and iconic yellow contrasts.
Capturing precious moments of joy and sadness of leaving home, Judi decided to adorn the Maharashtrian Munavalya for her Haldi ceremony, contrasting perfectly with her white flower-painted lehenga and floral jewellery.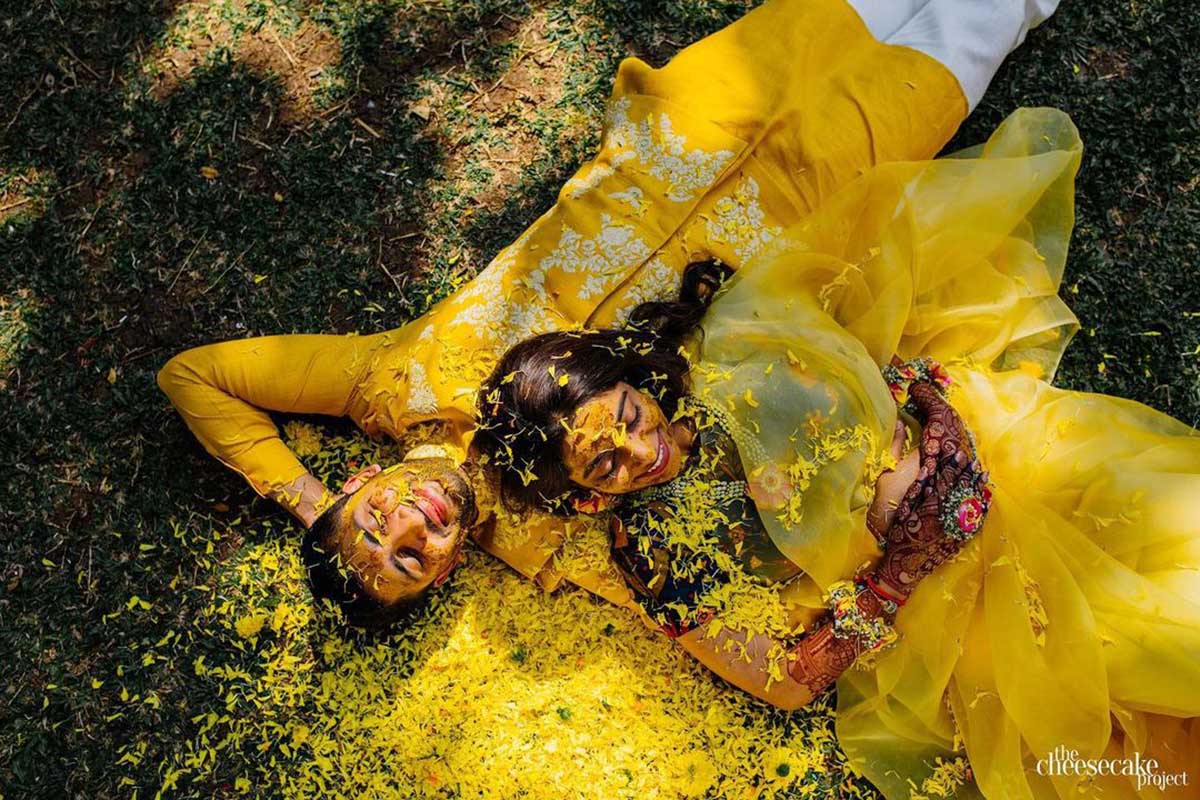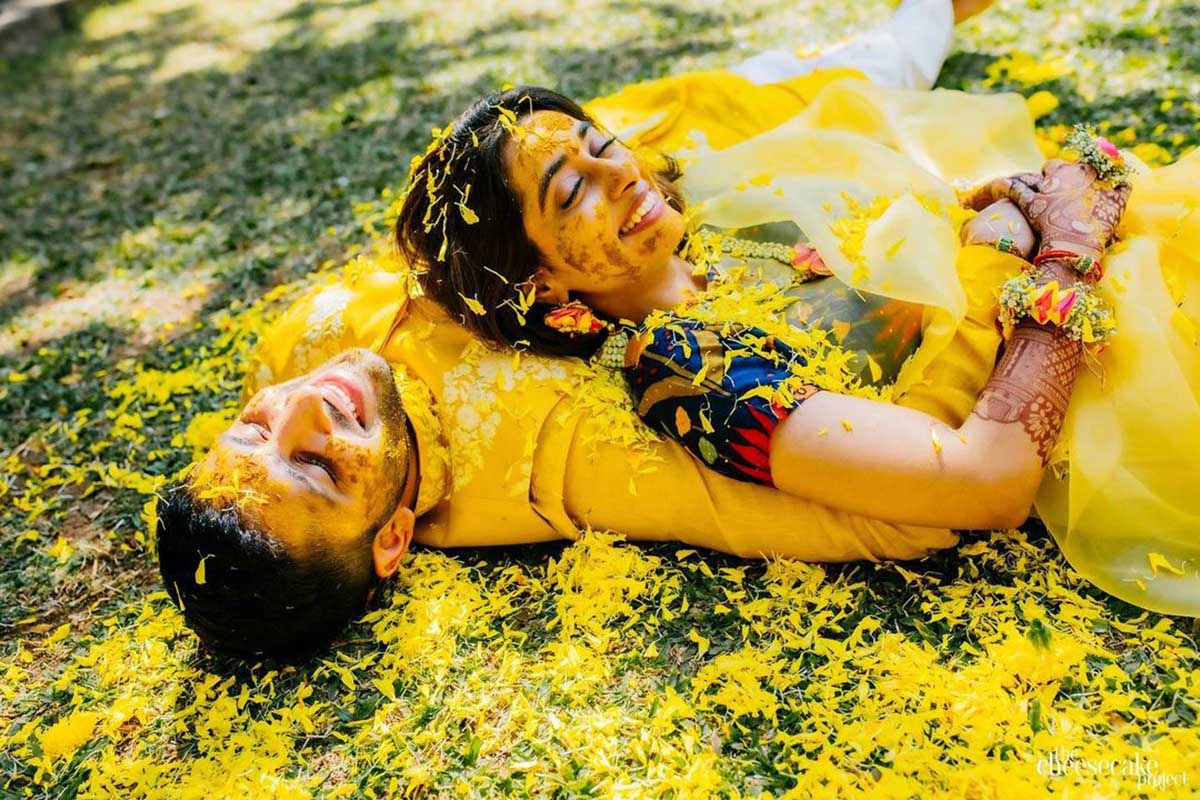 Simplicity and Smiles
@thecheesecakeproject captured couple Sukriti and Jainik with love and laughter on their special day! The couple opted for simplicity, in yellow matching outfits and a vivid yellow flower shower!
We loved the bride's deep-blue blouse, embroidered with colourful flower designs, coupled with yellow and pink floral and bangles, and a simple hairdo.
With Haldi and wide smiles on their faces, the images perfectly capture the warmth and love of the day.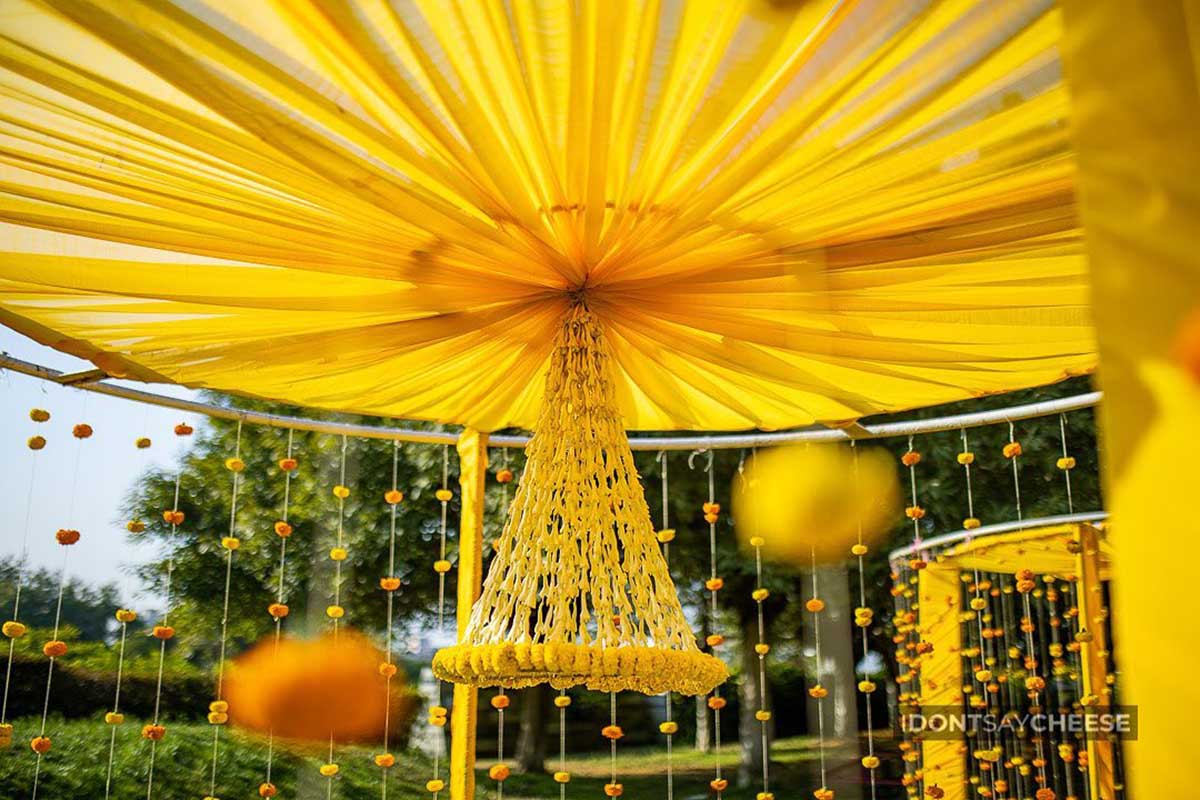 Sunshining Décor
Breathing life into a Haldi ceremony comes easy to @genieeventsindia.
Designing Haldi décor filled to the brim with floral trellis, flowy drapes, and a burst of yellow truly brings a burst of sunshine to the festivities of the day!
For more real-life wedding inspiration check out Asiana TV!