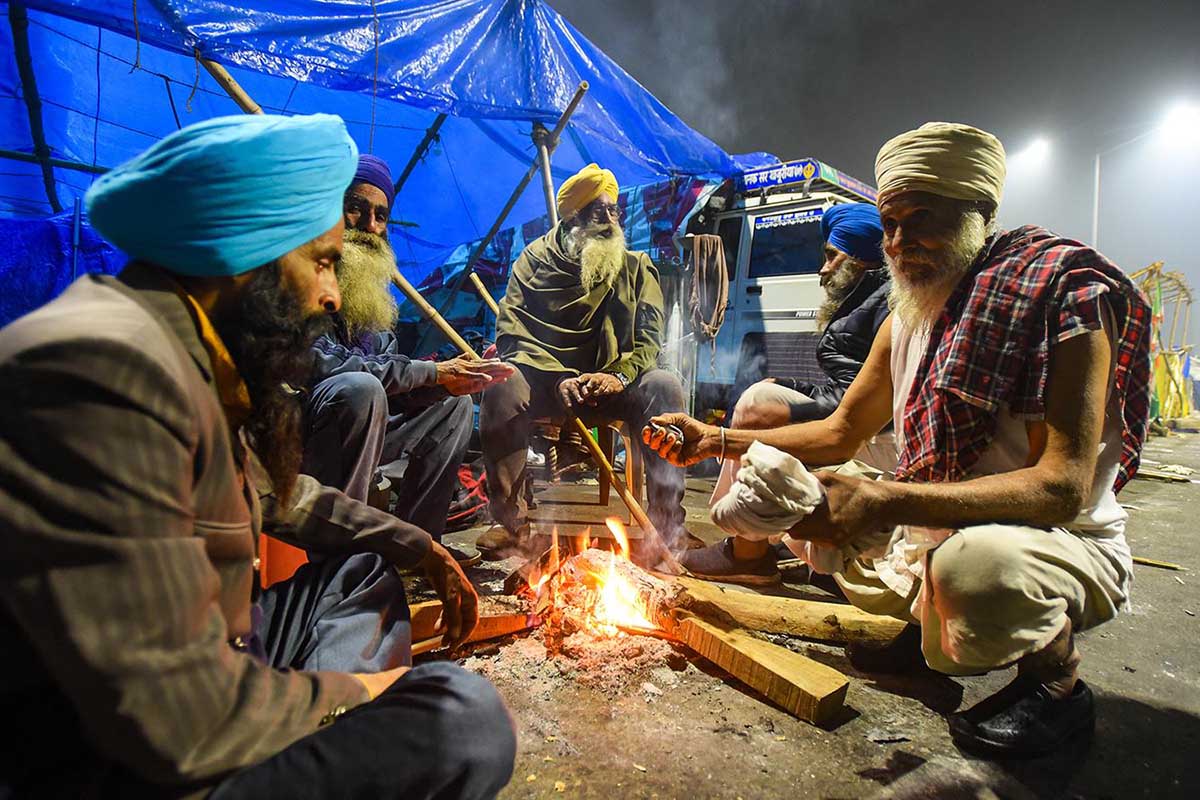 The World Hasn't Forgotten: Indian Farmers Protest
Indian Farmers continue 6-month peaceful sit-in protest amidst dangerous surge of cases from the new Covid-19 variant and 40 billion rupees worth of wheat crops are still being harvested to feed India
Indian farmers marched to Delhi in November last year to protest agricultural bills passed by Prime Minister Narendra Modi. The farmers, determined to see fair and just laws to support and protect 118 million farmers of India, have since battled police brutality, farmer-suicides, killer winter nights and are faced with the biggest health threat yet: the menacing new variant of Covid-19.
After being barricaded by the police outside New Delhi, the farmers have been demonstrating peaceful sit-ins on the streets of Delhi's borders since the 13th December. In white tents and thatched cottages, they sing traditional songs, prepare food for the mini settlements at the whisk of dawn and work with unions to achieve their goals. They say they will not return or settle terms with the Indian government until their rights are met.
Why are farmers protesting the new bills?
Passed in 2019, the three new controversial bills have been promoted to "improve farm incomes, attract investments, technology and increase productivity" by the pro-reform economists. The farmers disagreed, claiming the bills were a "death warrant" and "unfair and exploitative."
Farming in India is a market riddled with sinkholes and uncertainty. Indian farmers have dealt with years of poor rainfall, low crop prices, dwindling access to formal credit and high indebtedness. Even though more than half of India's population are farmers only a sixth of the country's GDP comes from agriculture. This means farmers living 'well' with the current legislations are barely surviving in what has been termed the "worse agrarian crisis" in decades. As a result, more than 10,000 farmer suicides were reported in 2019.
With over-worked scorched hands and exhausted backs, the farmers of India are tired of living in an abused system. Alongside their appeal to protest the new bills, they have established a list of their own requests. Their terms, amongst others, include a repeal of the farm laws, assurance conventional procurement system will remain, cutting diesel prices for agriculture use by 50% and withdrawal of all cases against and release of farmer leaders. These terms will ensure generations of farmers are adequately protected and supported.
The new legislation would loosen rules around sale, pricing and storage and allow farmers to trade with private buyers directly. But the Indian farmers are reluctant to work with a climate that leaves them vulnerable to private buyers and removes the little control they have.
A food and trade policy analyst, Devinder Sharma, stated, "The anger over injustice to farmers was brewing. Now it's getting channelised through this protest against the new laws," continuing "Leaving farmers to the tyranny of the markets would be akin to putting the sheep before the wolf. There are leakages in the current system, and it needs to be reformed, but replacing one failed model with another is not the solution."
Making sure India is fed
Despite the challenges faced, the farmers stayed true to their work ethic. In November 2020, the farmers had successfully planted wheat crops worth 40 billion rupees, ensuring India is fed.
The farmers ferried to and from villages to harvest this years' wheat crops and are on track to gather 109 million tonnes this year alone. The leader explained how a constant number of supporters stayed the same, despite departures as volunteers prepared teams to ensure every time a farmer group leaves to harvest, a similar size group joins the protest.
"The government perhaps believed that the agitation would fizzle out as farmers left for harvesting, but they have come up with a smart strategy," stated Devinder Sharma.
Previous protests
Throughout 2020 and 2021, India faced multiple strikes supporting the farmers, with 250 million workers refusing to work in support. During the Republic day march, protestors and the police forces clashed, resulting in one supporter death. The protest at the Red Fort where supporters planted their flag on a flagpole resulted in 300 police officers being injured along with hundreds of farmers. Concern circulated from the farmers as they were afraid the violence of the protest would take away the credibility of the peaceful demonstrations.
The overall death toll from variations of deaths, including protest deaths, pneumonia, heart attacks has been mourned at 248, amongst 46 farmer suicides.
Farmer Shiromani Gurudwara Parbandhak Committee chief Bibi Jagir Kaur committed suicide on December 14th, leaving behind a suicide note stating, "Bullets fired from the guns kill only those whom they strike. The bullet of injustice, however, kills many with a single stroke. It is humiliating to suffer injustice."
Amongst the brave followers, women and children have also come out to support the protest. The first women from her village, Swaranjeet, explained, "We are here for our children. We want to protect their rights. We will only leave after these laws are abolished. We do not fear anything."
Another farmer referred to the Indian government as, "The ruler is also a guardian, the caretaker of his people. If he doesn't feel bad seeing his own countrymen out on the street like this, then he is not fit to rule."
Without justice, the borders of Delhi will remain borders of the united.
Covid-19 fears
The rise of Covid cases has plunged dramatically to around 236,48,453 cases and 257,524 deaths. The growing concern of new deaths is now being linked to the 'black fungus' caused by mucor moulds found in soil, plants and manure.
At least 40,000 protesting farmers live in cramped open spaces, with a high risk of the new variant of covid-19 and an even higher risk of 'black tiger' mosquitos, now plaguing India and parts of England. The Agriculture & Farmers Welfare Minister Narendra Singh Tomar asked supporters to "call off the campaign" to "prevent outbreaks." The food-growers of India find it impossible to call off the campaign. Instead, they take necessary precautions. Supported by unions, NGOs and volunteers, the camps are supplied masks, sanitisers, and spraying disinfectant. Protest leader Amreek Singh confirmed protests could last "as long as necessary", hinting to the government this was not a war they were determined to back away from
Support Farmers of India
Donation links  
Petition links
More
Find out more information about the Indian Farmer protests
Keep up to date about current news
Share and re-post Indian Farmers posts
Keep talking about the injustice