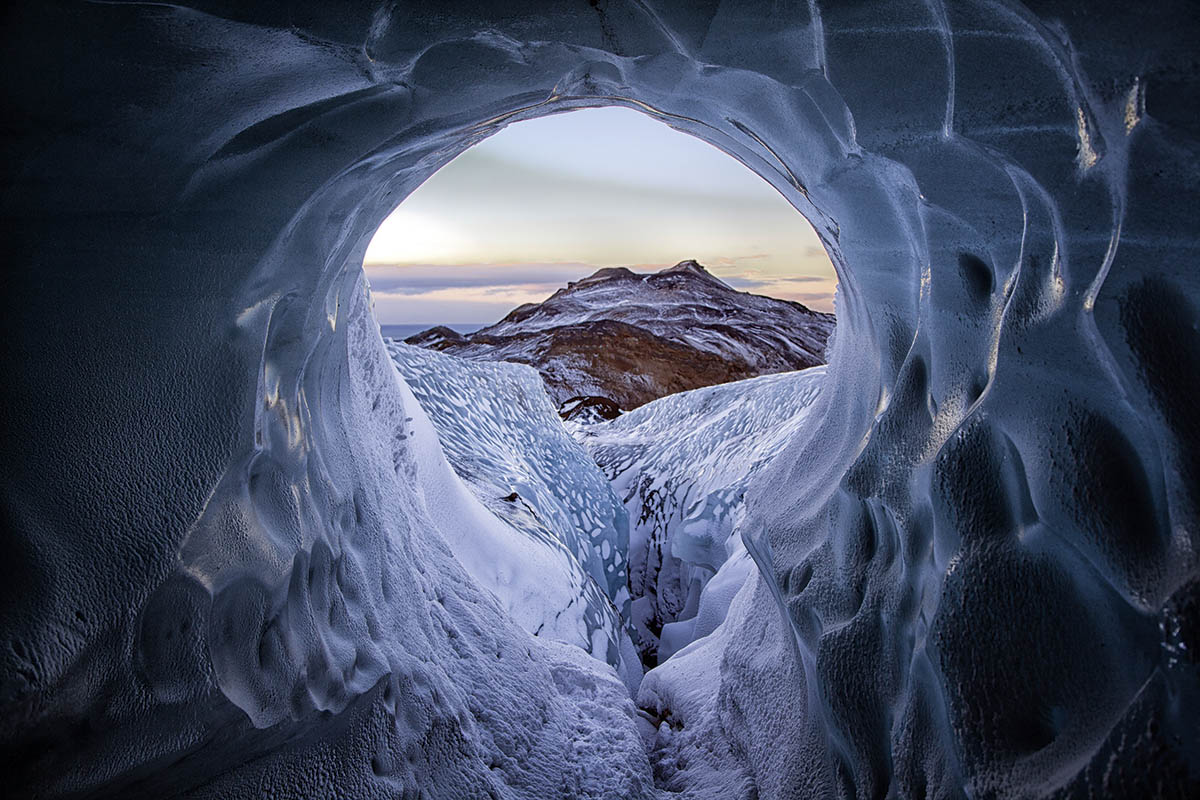 Momtaz Begum-Hossain trades in her sunhat for snow boots and falls under the natural spell of Iceland
I didn't watch a movie on my phone the entire time I was in Iceland. Or read a book, flick through a magazine or check my Instagram likes. The reason? I couldn't take my eyes off the view. Iceland is an all-encompassing natural paradise, mind-blowing from every angle. Whether you're driving across lava fields that look like the craters of the moon, are glacial trekking in search of frozen caves, walking across black sand beaches or simply watching pink sunset skies from the back of a 4×4, the sights here are unlike anywhere else in the world; so you won't want to miss a moment. This is what makes Iceland such a romantic place.
Out of nowhere the unexpected can happen, like the epic point you first spot the night sky turn green as the Northern Lights dance above your head, or you're driving a snowmobile over miles of snow and you suddenly click that you are in the middle of nowhere. Iceland offers a true 'escape' that is made for sharing with the love of your life. And it's not just about the snow – natural features characterise the island. In Southern Iceland, in particular, you're never far from the towering views of a volcano or the trickling sound of vast waterfalls, and come spring and summer when the snow subsides, the landscape is awash with wildflowers. You can be as active as you like, spending your days horse-riding, hiking or dog-sledging, or simply enjoy the warmth of the natural thermals spas.
Where to stay: Hotel Ranga
Embracing Icelandic charm throughout, Hotel Ranga offers a luxurious stay where you feel as though you're part of the family. Much of this is down to the owner Fridrik who can always be found chatting to guests and making them feel at home. For honeymooners there is a choice of internationally themed suites to stay in, inspired by the seven continents of the world. You'll be greeted by a spacious room with a personal whirlpool bathtub. Outside there are geothermal hot tubs in the hotel's lake view garden; the perfect spot in which to toast a glass of champagne and feed each other chocolate-covered strawberries – yes, even in sub-zero temperatures!
The hotel is styled on a traditional Icelandic log cabin with smart wooden features throughout. In keeping with the authentic feel the restaurant serves up beautifully presented authentic Nordic cuisine. As well as fresh fish served with vegetables you may find yourself tucking into local delicacies reindeer, smoked puffin and even rotten shark.
Just over an hour's drive from the capital Reykjavik, located in Southern Iceland, it's in a prime location to visit all of Iceland's key sights. If you are considering getting married in Iceland then the Wedding Planning team here will arrange everything for you, from finding the perfect spot to take your vows to arranging your wedding feast complete with all the trimmings and of course book rooms for all your guests. 
The hotel's most impressive offering is their guarantee that if the Northern Lights are visible, you will see them. Rather than sending you out on a freezing cold tour searching for something that may not even be there, on the nights when they are visible all guests can receive a call in their rooms so they don't miss a thing. You can then head to reception throw on a snowsuit so you don't get cold and watch the aurora borealis unfold in fall glory before your eyes.
And the cosmic spectacles don't stop there. On clear nights head to the hotel's Astronomical Observatory for a stargazing session with the hotel's in-house astrologer. If you're lucky you may spy Saturn's rings, the surface of Mars or perhaps even get a visit from Venus; Iceland is definitely the kind of place the goddess of love would choose to hang out it in.
Getting married in Iceland
It may not be the obvious choice, but donít overlook the uniqueness that Iceland has to offer for weddings as well as honeymoons. Of the endless aspects that make Iceland so unique, one of them is that you can get married anywhere. From the foot of a volcano, on top of a waterfall, in a lush green garden, on a snowy glacier or inside a secret cave, your wedding planner can arrange it with ease. Giving your guests a completely unexpected experience, whatever season you choose, your nuptials will never be forgotten.
Fire & Ice
Your honeymoon checklist
• Embark on a Super-Jeep tour where sightseeing takes on a whole new meaning
• Visit the awe-inspiring waterfalls Skógarfoss and Seljalandsfoss and pose for selfies
• Re-enact the romantic embraces of Shah Rukh Khan and Kajol in Dilwale as they dance on the black sand beaches of Reynisfjara
• Dine inside a private cave with your own log fire and personal chef
• Indulge in the natural geothermal waters and hot springs