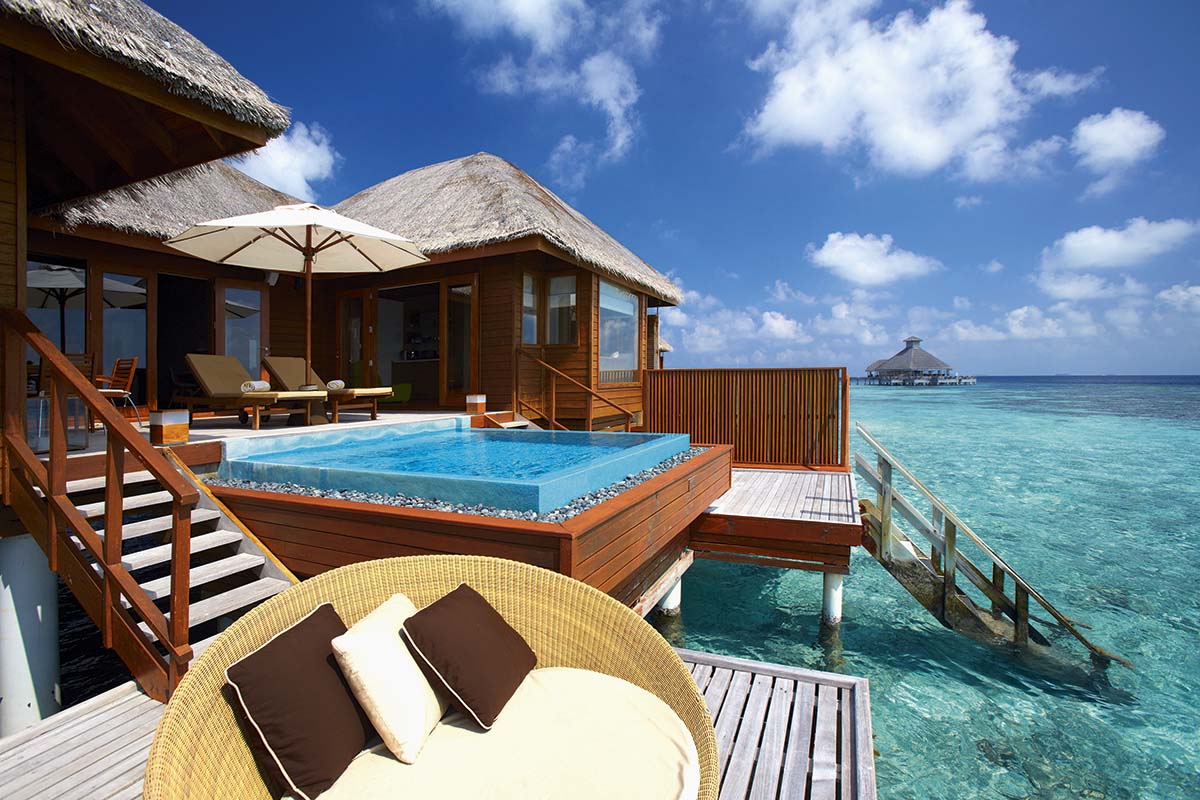 Fariha Sabir-Bajwa revels in the lap of luxury, uncovering why Maldives really is paradise on earth and a honeymoon haven
Huvafen Fushi
Dream Island. My husband Amer and I soon discovered how this exotic piece of heaven doesn't just live up to its name, it goes way beyond. Upon our arrival on its sparkling white sandy shores, we were greeted by our personal butler, or Thakaru in the native tongue of Dhivehi, named Nazeeh. The VIP treatment began with Nazeeh giving us a mobile phone with his number on speed dial, at our service to cater to our every (reasonable!) whim. Conveniently located on North Male Atoll in Maldives, this exclusive over 21's only resort is a mere 30 minute speedboat journey away from the airport.
As we followed the island's idyllic tree-lined, sandy pathway, we reached an intimate beach, dotted with a swaying palm or two, which is also the spot where Stingray friends loyally convene every evening to be lovingly fed.
The wooden decked platform led us to our retreat and nothing quite prepared us for the sheer luxury that awaited. As we entered our water villa, we were blown away by the immense size of our bungalow, complete with the swankiest mini bar I've ever seen. But what surpassed everything and left us absolutely awe-struck were the captivating views all around of the gleaming Azure expanse of the Indian Ocean.
Despite the traditional thatched roof, the decadent wooden panels and calming tones oozed contemporary style, finished with every comfort and mod-con imaginable, as well as thoughtful attention to detail, including remote-controlled lighting and blinds. Choosing any of the 40 villas won't disappoint, whether you go for a beach or ocean facing one. If you're looking for an unforgettable experience, you can spend the night on a traditional Dhoni – a 65 ft wooden boat, complete with your own crew, a king size bed and even a wine cellar. Since our villa was so private and secluded, you easily feel like the only two people on the island – a sentiment rarely known, but one you could easily get used to. There's no wonder why it's a favourite with celebs.
Food aficionados can expect world class dining, whilst sat with your feet sinking in the sand and overlooking those breathtaking views that you can't get enough of. Feast on delicious international cuisine at Celsius, indulge in Italian delights at Forno, savour Japanese delicacies at Feeling Koi, followed by some tipple at Umbar. You can dine privately at the superb wine cellar Vinum, whilst sampling vintage wine, or you can even watch your dinner being cooked in front of you in the privacy of your villa. The most romantic evening for us was a candlelit dinner on the beach, surrounded by adorned lanterns and relaxing tunes in the background, whilst savouring tantalizing flavours and delectable dishes made especially for us. The warm and laid back vibe of the team at Huvafen Fushi is a testament to Maldivian hospitality, along with attentive care and thought, where your privacy and needs are paramount.
Seek sanctuary and rejuvenation at Huvafen Spa with sought after treatments, including exclusive facials, massages and pampering galore. We were transported into another realm at Pearl, which is Maldives' only underwater spa. Imagine having a sumptuous breakfast whilst being surrounded by an otherworldly, magical underwater kingdom of marine life, ebbing and flowing all around, followed by a romantic spa treatment for two.
Nestle into a hammock gently swinging between two picture-perfect palms, whilst reading a book or sipping on a refreshing mocktail. Walk into the gigantic infinity pool, until you reach the point of illusion where you feel like you're tiptoeing along the horizon. Even the gym and yoga sessions come with a view here if you can't keep yourself away. When the allure of the crystal clear waters overcomes you, Huvafen Float will assist you. Explore the infinite ocean whilst snorkelling and diving alongside the gentle sea folk, including mantas, stingrays and colourful fish.
Easily winning the title of one of the most lavish islands in Maldives, Huvafen Fushi really is a hedonist's fantasy. Every moment spent on this island is a sensory revelation, from the ethereal nature and sheer indulgence, to the finest foods, invigorating pampering and experiences. Huvafen Fushi really is a special kind of paradise and escape from reality.
Naturally waking up to the gleam of the sun reflected on the surrounding pristine waters. Soaking in the tropical sun whilst relaxing on the loungers sitting atop of our three tiered decking, before cooling down in our freshwater plunge pool. Lured into the ocean by just a short staircase to marine heaven. Hours spent gazing down into the floor window of the water villa lounge, shark and fish spotting. Savouring unparalleled views of the sea, whilst unwinding amidst the bubbles in the huge Jacuzzi and listening to mellow notes on the impressive sound system. Stargazing with the loved one, accompanied only with the light of the moon, before being lulled into a slumber by the surreal, gentle waves. These enchanting memories will resonate with us, until we return to this bliss.
Accommodation starts from US$1100++ per room per night, based on two adults sharing a Beach Bungalow with Pool including breakfast. For further information and reservations visit www.huvafenfushi.com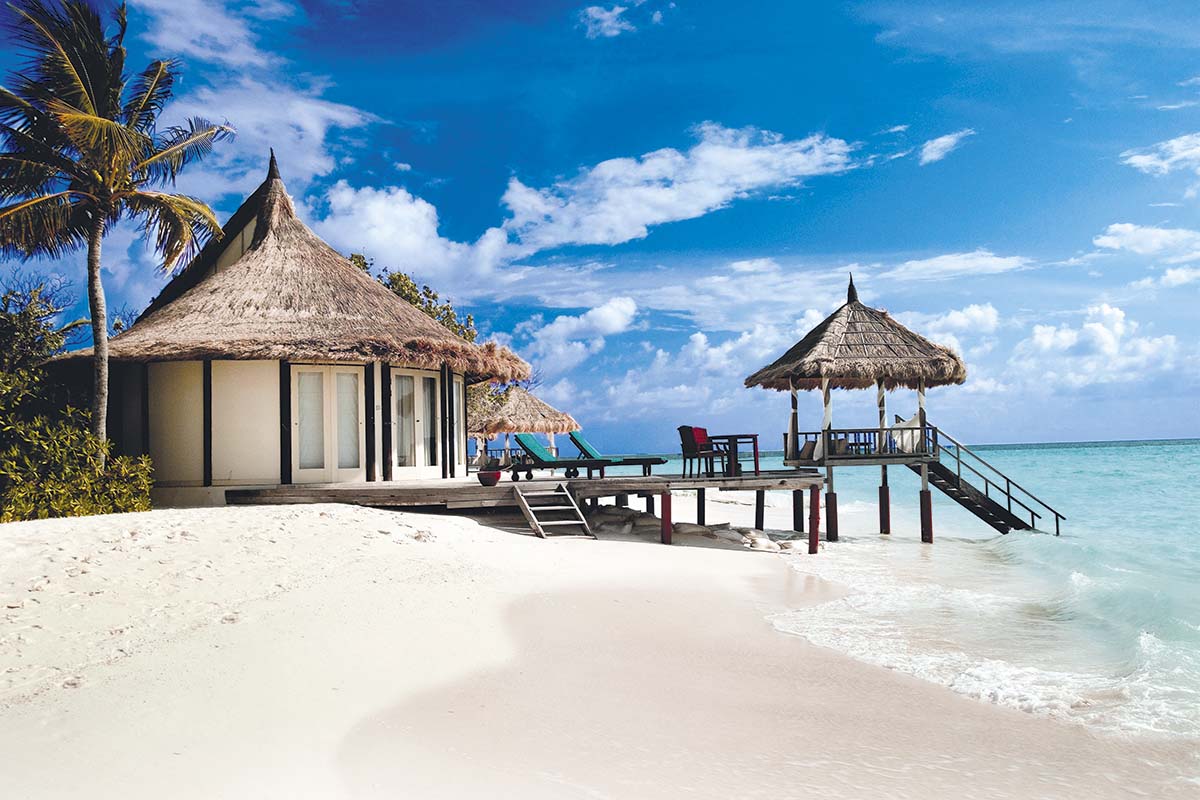 Banyan Tree
Vabbinfaru
The sea breeze blowing through your hair. A tropical sun-kissed glow on your skin. White grains of sand between your toes, washed away by the warm crystal clear ocean waters. This is the quintessential Maldivian dream you hear about and it's only once you set foot on one of the 1,192 islands that make up the Maldives, that you realize its pristine beauty. Our journey began from the small airport to Banyan Tree Vabbinfaru in the North Male Atoll by a short and exhilarating speedboat ride.
As we approached the jetty, we were greeted by the resounding beats of the traditional Maldivian drums Bodu Beru played by the locals, which made a befitting welcome melody, against the backdrop of the sparkling carpet of sands, overshadowed by a myriad of idyllic swaying palms and lush greenery, contrasting against the azure sky.
Our oceanview villa was beautifully quaint, charming and authentic, whilst maintaining luxury comforts, with a traditional thatched roof, a fairytale four-poster bed, complete with airy drapes and whimsically rounded walls to complement the French doors, framing the picturesque panoramic views of the perfect turquoise Indian Ocean and sandy beach. The bathroom design was interesting, where there was no outer door or window, opening out to our private garden. Embrace the emancipating feeling of washing amidst the tropical outdoors, whilst spotting a colourful exotic bird or two. This is what makes this resort so distinguished, as you feel at one with the peaceful nature.
Aside from the tropical sunshine, there was an inviting warmth in the air at this beautiful five-star resort, whilst service was always impeccable and personal. Dining here was delectable, with a range of scrumptious world and local cuisine. We were treated to a magical and indulgent dinner on the beach, beneath an audience of twinkling stars. We also enjoyed the enthralling experience of night fishing and delightfully, our catch of the evening was cooked for us by the chef, resulting in a feast of Maldivian fish curry, leaving our tastebuds longing for more.
Renowned for its world-class spa treatments, the Banyan Tree's signature Tropical Rainmist experience is a must. Get the royal treatment featuring a series of relaxing baths, a rejuvenating scrub, followed by being lavishly lathered in lustrous honey and milk.
Nature is lovingly glorified and preserved by the Banyan Tree, most notably the legions of marine life, whilst new coral is actively planted in the surrounding waters. Explore the secrets of the ocean, whilst snorkelling or diving in the magnanimously vast natural aquarium for yourself.
A memory that encapsulates the peace and tranquillity, is watching the illustrious sunset, the gentle lapping of the waves against our wooden dhoni boat, whilst sipping on fresh juice and munching on canapés. The serenity and seclusion allowed us to feel like we were the only ones on the island. There were so many glorious spots for intimate moments, like the outdoor bamboo pipe shower, having a dip in the private pool or lounging in the outdoor Jacuzzi at night, with the sky only lit up by the moonshine. The blanket of stars visible on this island was incredible, so imagine my wonder and awe when I witnessed a shooting star for the first time in my life. Magic. Moments of unrivalled peace and contentment like these are what made us feel like we were in another dimension – an absolute honeymoon haven.
For more information, please visit www.banyantree.com