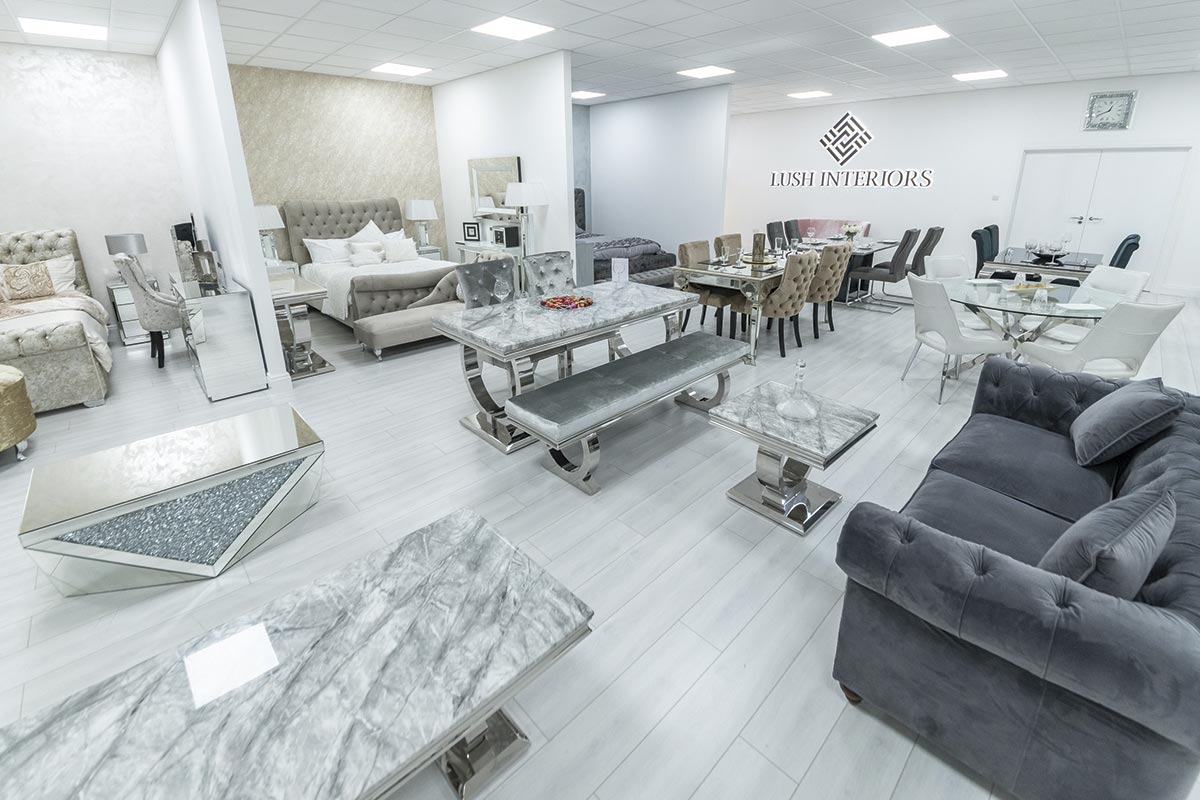 Adam Yusuf, Senior Interior Stylist at Lush Interiors gives his top tips for how to turn your home into a love nest for newlyweds
Moving in together is the most exciting part of your new life as a married couple.  Whether you're getting a new pad, are moving into one of each other's existing homes, will be living with extended family or are already sharing accommodation but seeking fresh ideas now that you've tied the knot, there's a lot of joy to be had when you sit down and decide on the interior décor of your home. This isn't a decision that should taken by one of you; but a task you need to share to ensure you're both happy living in a space that reflects each of your preferences.
London based furniture and interiors brand Lush Interiors regularly come to the rescue of newly weds seeking stylish pieces to help them put their own stamp on their living space and they know just what's needed. Senior Interior Stylist Adam Yusuf explains: "We've curated a collection of home furnishings that reflect what we like to call 'The Lush Life.' After a long day at work most of us just want to go home and relax but you can't do that in a space that's cluttered or mismatching, it will become a headache and an unnecessary stress. That's why we focus on luxury, opulence and comfort. We've selected high quality furniture pieces made from premium materials that compliment our distinct signature style which is clean, chic and contemporary. You'll find lots of white, silver and mirror work and the occasional fun item such as pink or mint chair but overall we want to ensure your home has the wow-factor while being practical and livable."
Not sure where to get started? Adam shares his advice for how you can transform an ordinary space into a romantic love nest.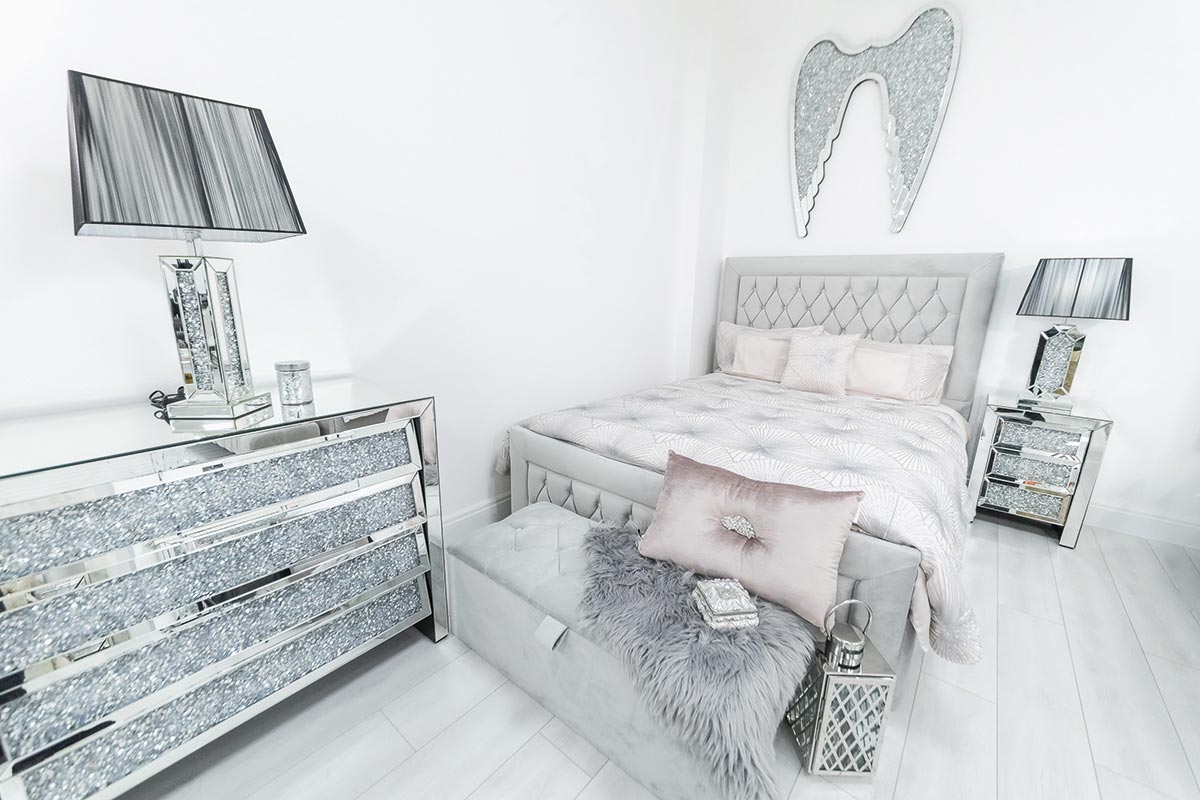 Boudoir bedroom
A decluttered bedroom is the only way you'll get a restful night's sleep and keep the romance alive. After all, no one wants to trip on a shoe or book before they go to bed or get in an argument about mess; it will kill the mood. That's why we recommend keeping your bedroom minimal yet magical and the best way to do this is to view it as your boudoir; a space that's special and one you can escape to when you need some space to yourself.
Great ways to do this are to introduce texture. Once you've chosen your dream bed (we have a full range of beds, frames and headboards to choose from) you then need to decide on soft furnishings and here's where the luxury element comes in. Airy quilts, fluffy blanket, cushions and soft rugs create a pampering space. And if you are worried about mess, choose from one of our ottomans, these are furniture pieces that double up as storage units; simply lift the lid and stash away any unsightly belongings.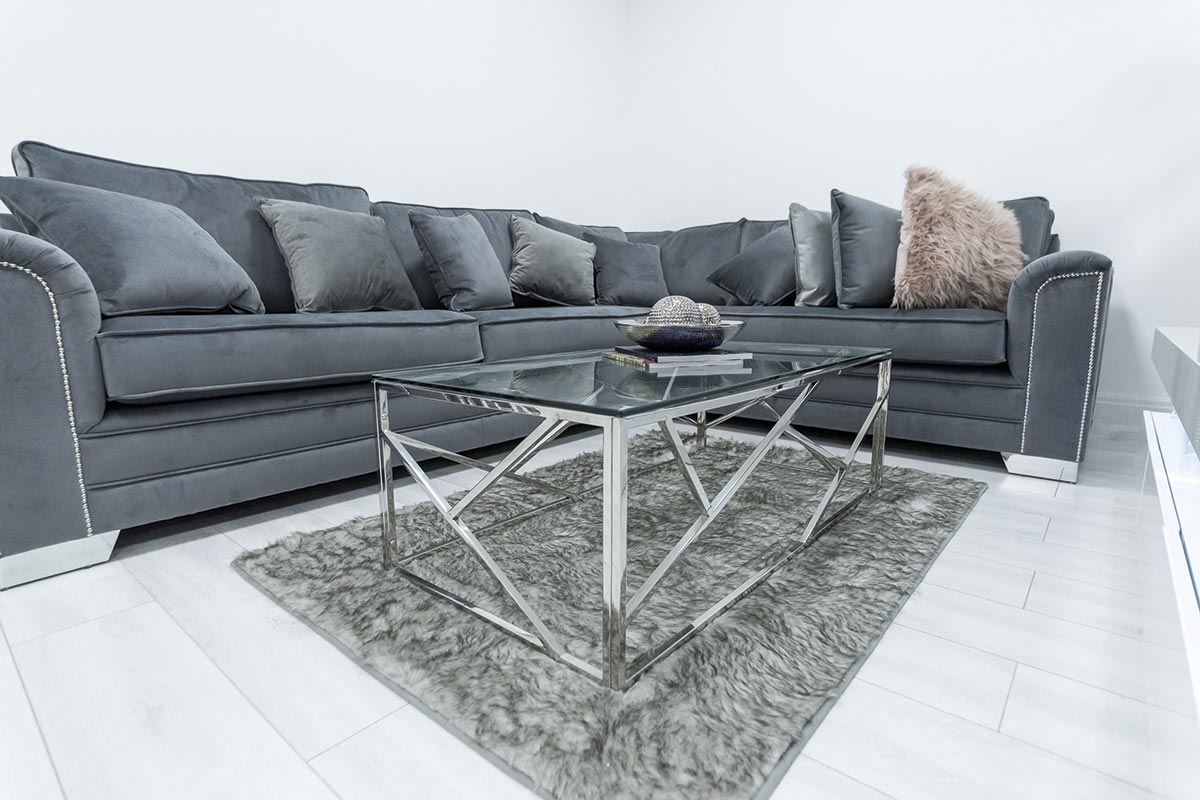 Spaces for entertaining
When it comes to inviting guests over, though you may serve a meal in your kitchen or dining space, the rest of the time will usually be spent in a living room so make sure that yours is guest ready. 
Space is important so leave enough of it around sofas for visitors to stretch their legs and feel at home. A drinks trolley in the corner of a room is an essential for anyone who enjoys entertaining and we sell a range of trolleys to suit your needs whether that's storing supplies for cocktails or mocktails. It also means you can continue the conversation by serving drinks in the same room as your guests rather than having to go next door to a kitchen and leaving them alone.
Choosing the right coffee table is equally as important. They come in all shapes and sizes depending on what will fit in your room – don't forget to keep your bridal photo album on it when you're entertaining as it will no doubt start a wonderful topic of conversation, re-living memories from your wedding day.
Designer touches
It's not just the prominent furniture that matters. Make an impact with the details in each room. This can include decorative ornaments and items that look good but also ones that have a practical such as a jewellery box, lamp or mirror. Head over to Lush Interiors online shop for inspiration.
• Visit the Lush Interiors showroom
Open Mon-Fri 10am-6pm and weekends 10am-4pm
Vitesse House, 6 Estate Way, London, E10 7JW
www.lushinteriors.co