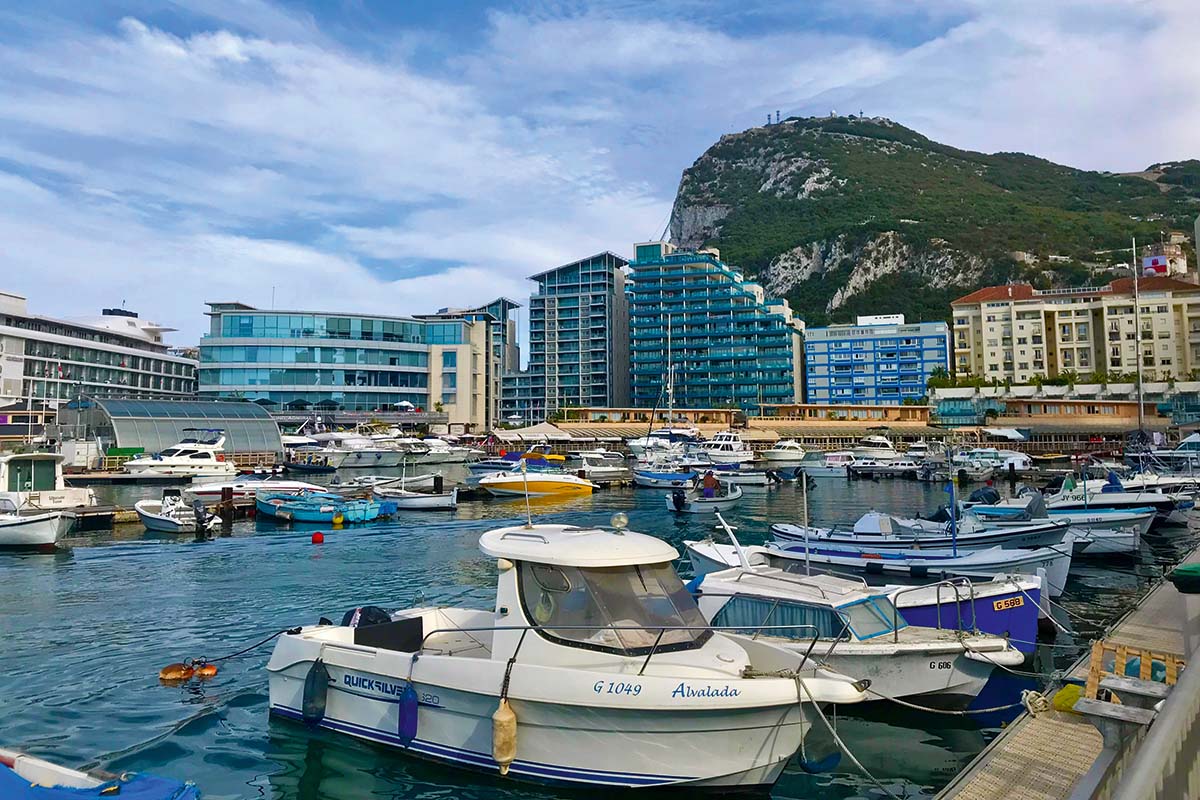 For a luxury island-style wedding with five-star appeal, you don't need to travel far. Asiana's Features Editor Momtaz Begum-Hossain discovers that Gibraltar is a dream destination for couples seeking something truly special…
Getting married is the most memorable moment of your life so choosing the right location for your Big Day is crucial. If you're seeking a unique and picturesque destination outside of the UK, but with all the reliable home comforts, like delectable cuisine and easy communication, Gibraltar is the perfect place.
Nestled at the southern tip of Spain, this small British Overseas Territory offers stunning views of the Mediterranean Sea, the iconic Rock of Gibraltar along with five-star accommodation and luxury wedding venues. The ease of the legal requirements here makes it one of the most accessible places to hold a wedding abroad. You don't need to worry about any of the logistics either: leave the planning to the pros.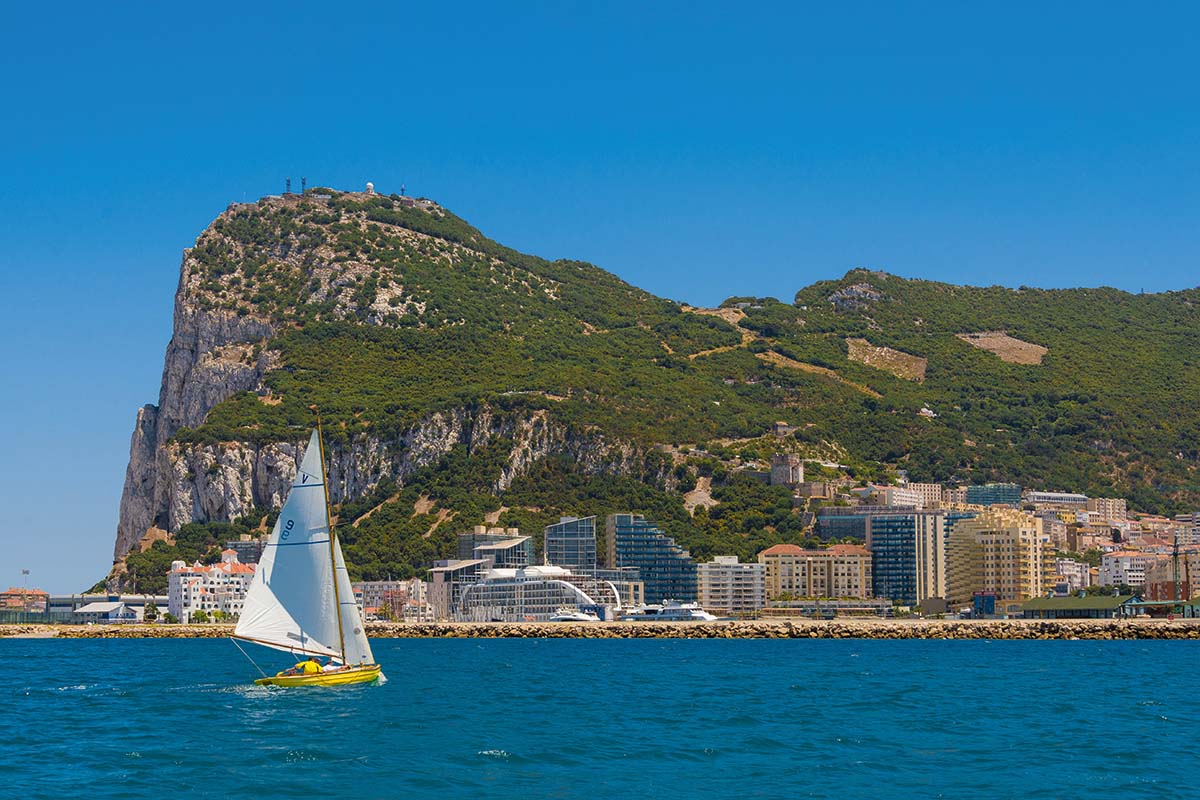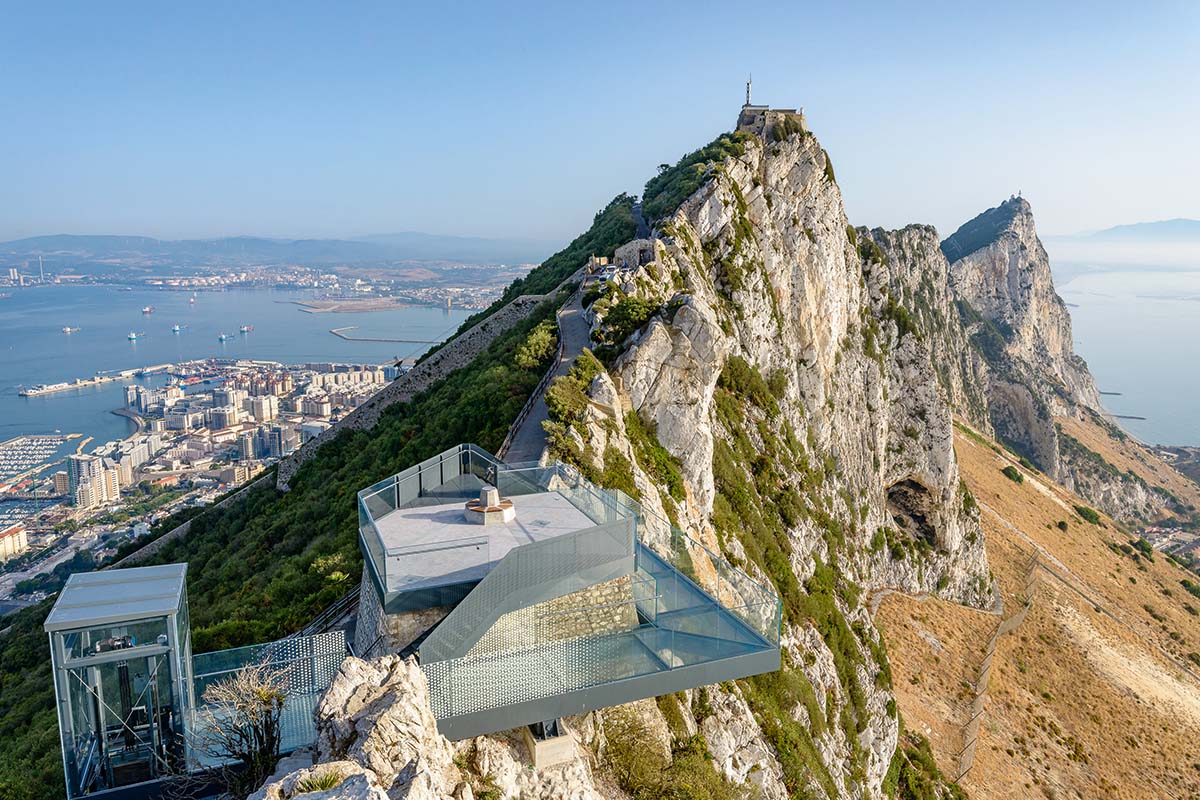 Meet the Experts: Bride Gibraltar 
Kay Sharma, Destination Wedding Director at Bride Gibraltar is an expert in the traditions and requirements of Asian weddings so whether you're seeking a Hindu, Sikh or Islamic ceremony her team will ensure all the arrangements are in place. Kay explains: "Bride Gibraltar is a one-stop service offering logistics like flights, accommodation, transfers, legalities and paperwork through to the finer details like flowers, photography, hair and make-up, catering, wedding cake, venue hire, entertainment, guest packages, excursions, your honeymoon and even return trips to celebrate anniversaries. We also arrange proposals – it's not uncommon for a bride to 'Say Yes' and return a few months later with her friends and family for the Big Day."
Your vision is your own but Kay and her team will bring it to life. She recalls: "The most memorable wedding we've organised was for a couple who'd been together 17 years. They flew 30 of their closest friends and family to Gibraltar on a private aircraft. They stayed a week and had six lavish events in six separate venues with six wedding cakes."
Gibraltar is a destination where the wedding season lasts all year, so whether you prefer a traditional summer wedding, or from October to March when the weather is at it's most comfortable, you can rely on Bride Gibraltar to support you. Speaking to Kay it's easy to see why Gibraltar is becoming such a hot spot for British couples: "Gibraltar or 'Gib' as locals call it, is a 2.5-hour hop from the UK, walking distance to Spain and a short boat ride to Morocco, making it an excellent geographical location. The fact it's English-speaking, uses the pound sterling and has no VAT making the pound go further, along with minimal red tape for foreigners, makes it the right choice for couples looking for a destination wedding without any headaches – just happiness! Your wedding in Gibraltar will also be 50% cheaper than in the UK."
Discover more about Gibraltar
www.visitgibraltar.gi
WHERE TO WED IN GIBRALTAR

Kay Sharma, Destination Wedding Director at Bride Gibraltar shares the five best locations to tie the knot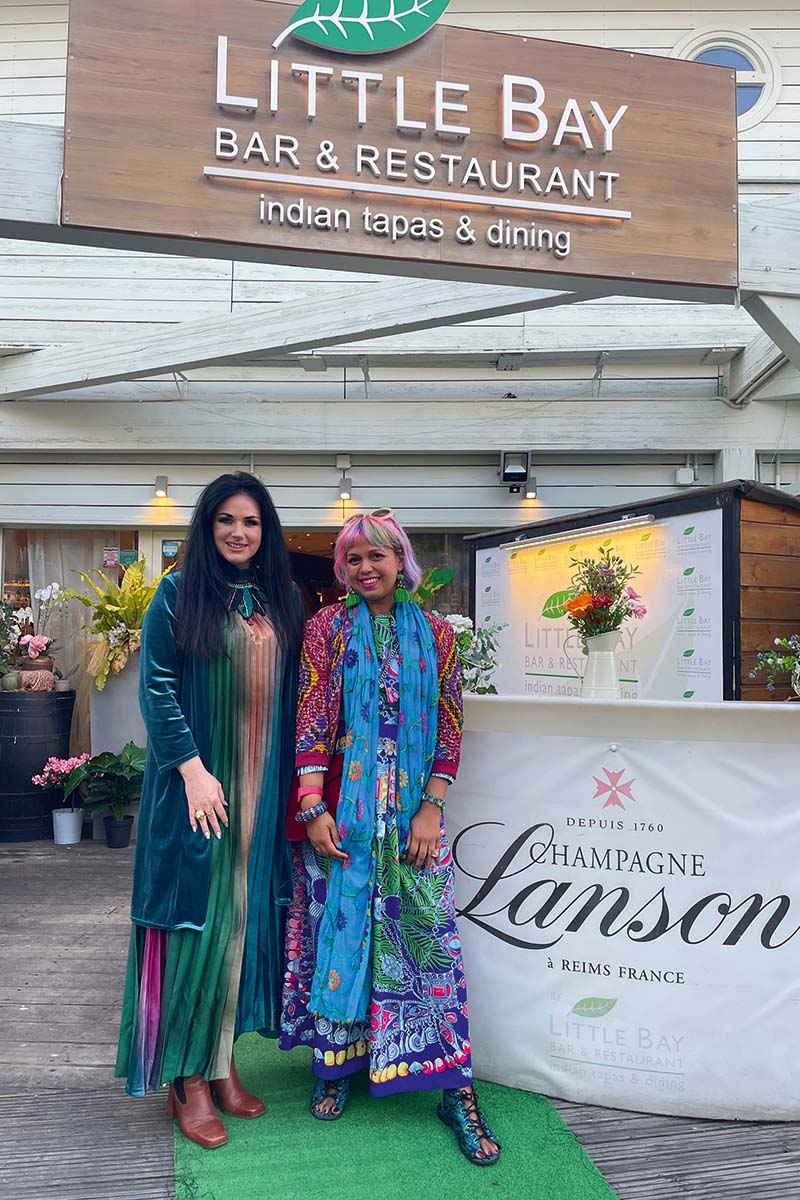 Kelly Whelan from Little Bay Restaurant with Features Editor Momtaz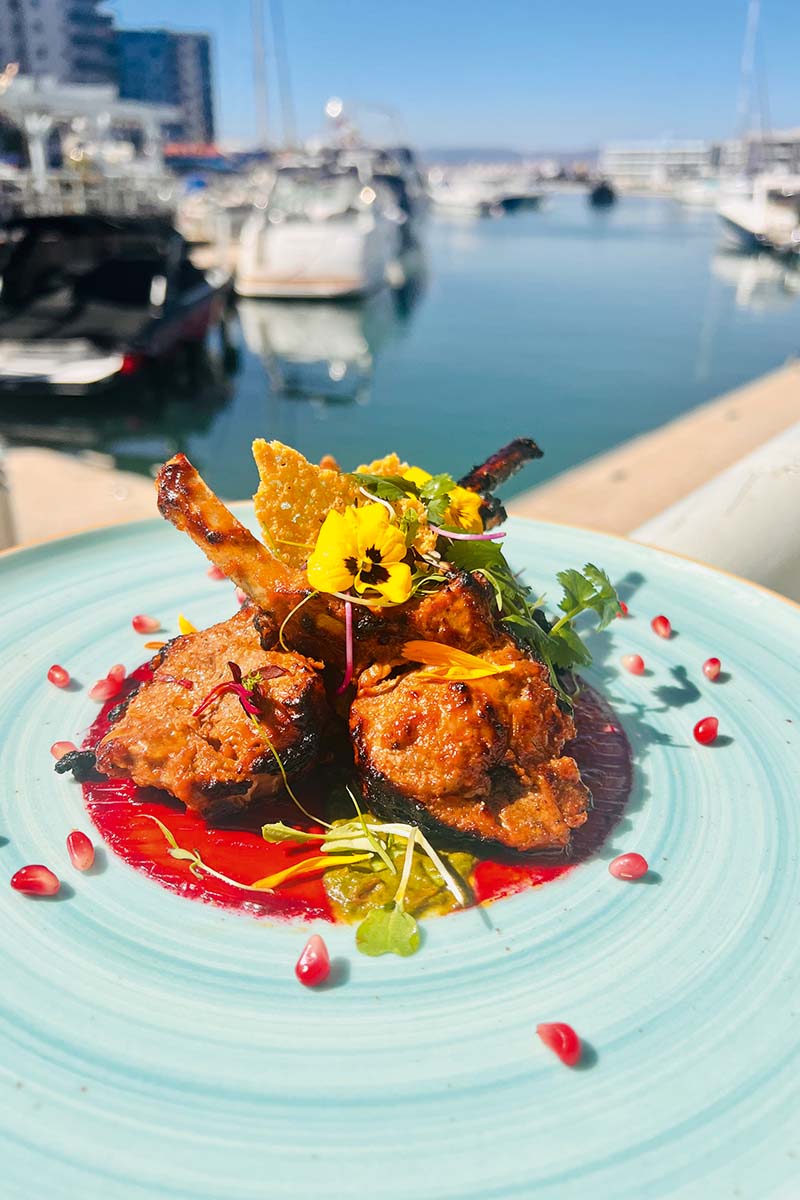 BEST FOR RECEPTION: Little Bay Bar & Indian Restaurant
Located in Ocean Village by the Marina, guests will be spoilt with a sit-down meal at Little Bay. The cuisine is sublime and Little Bay is the current holder of the Best Restaurant award by the World Culinary Awards making it a popular choice for all visitors to Gibraltar. Expect delicious canapés and cocktails and a fresh, fragrant feast. Signature dishes include crab masala and lobster curry and all dietary requirements are catered for.
www.littlebay.gi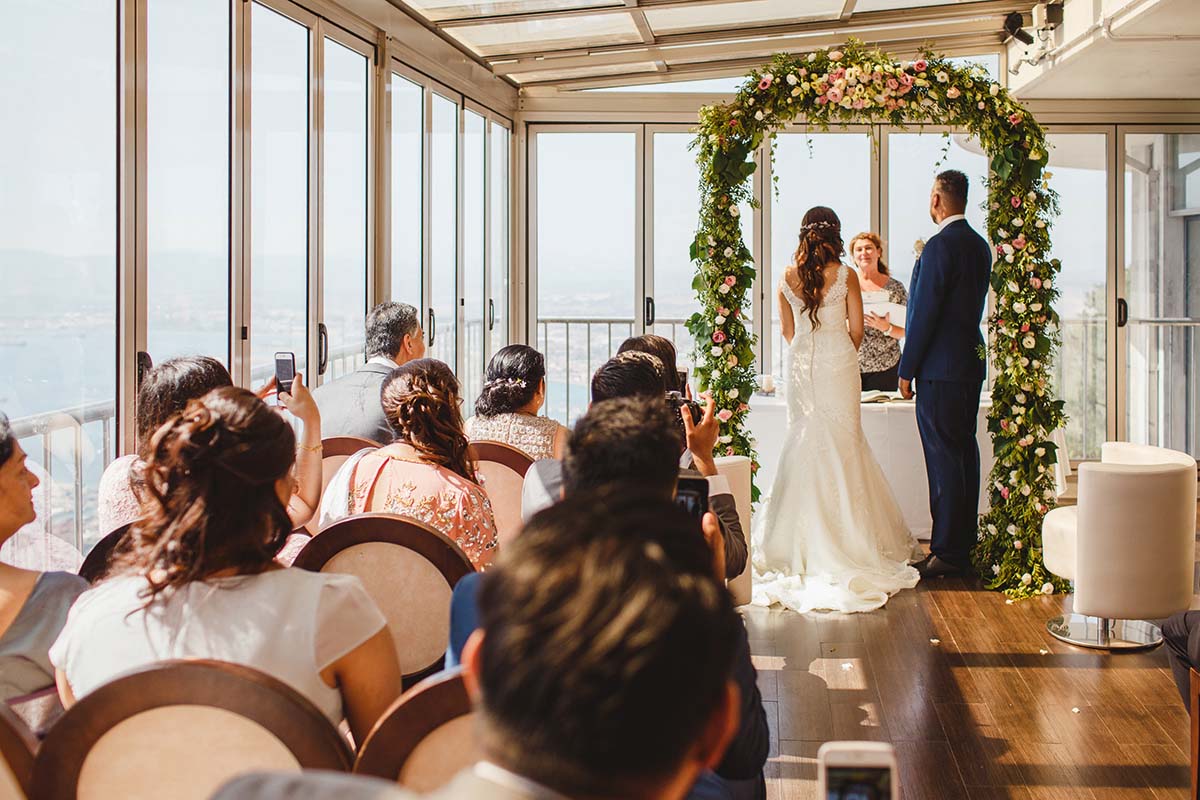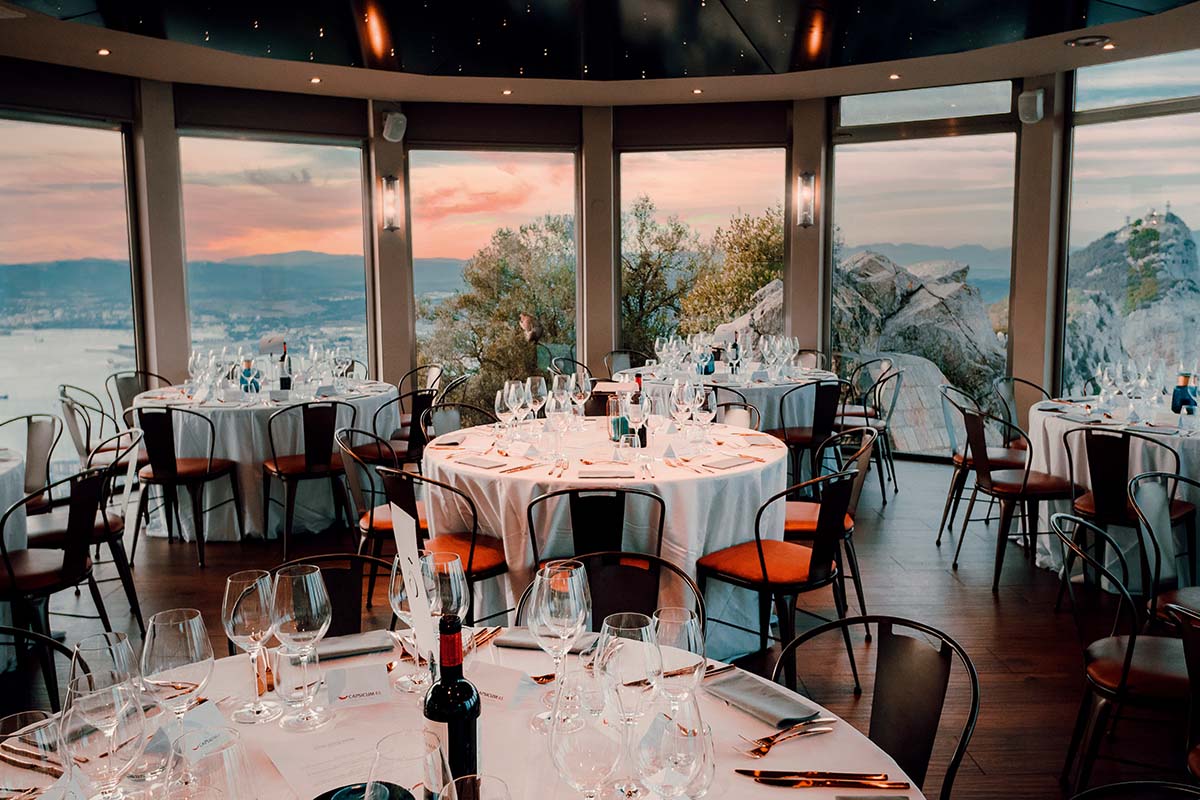 BEST FOR VIEWS: The Mons Calpe Suite
Located at the top of Gibraltar's famous cable car, this exceptional bar, restaurant and events space offers 360-degree, scenic views across Gibraltar, Spain and Africa. Guests can reach it by travelling in a cable car ride up to the venue where they'll also witness the resident Barbary Apes – Gibraltar is one of the only places in Europe where you can see these wild animals. They're known to photobomb your photos making for a truly unique wedding album!
www.monscalpesuite.com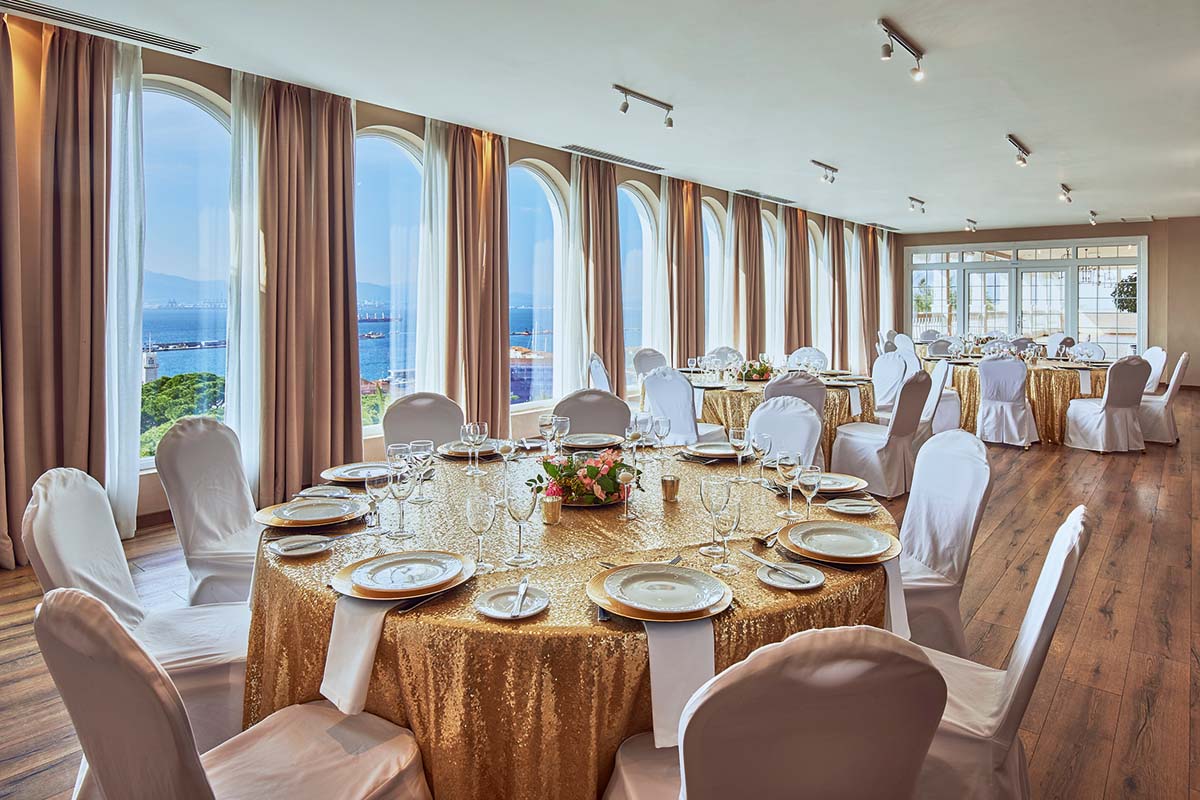 BEST FOR HOTEL WEDDINGS: The Rock Hotel
The only hotel on The Rock of Gibraltar this is an iconic location and a highly sought-after wedding venue. You have the choice of holding your nuptials in the smart and spacious Victory Terrace with adjoining Sunset Terrace or take your event outside and hire their grand, Moroccan-inspired marquee tent, called The Khaima.
www.rockhotelgibraltar.com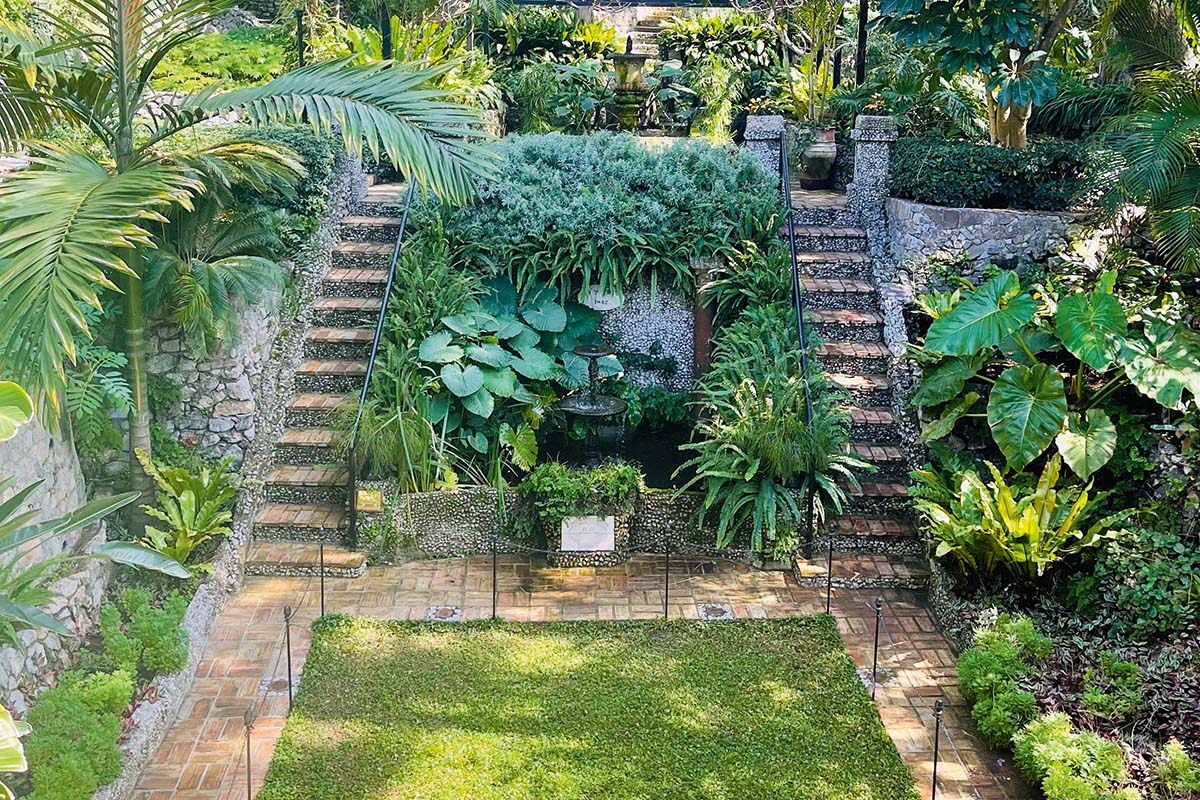 BEST FOR OUTDOOR CEREMONY: The Alameda Gardens
Gibís stunning botanical gardens are filled with vibrant, colourful flowers and plants all year round. There are two special spots within the grounds that are picture-perfect for weddings. The first is The Dells a secret Italian garden that features a fountain, a pond and a wooden lattice bridge. Itís one of the prettiest and most romantic ceremony venues in Europe.
The second space is the Open Air Theatre, a secluded spot where you can enjoy a spectacular private ceremony. The space has a natural runway often used for fashion shows but makes a dreamy wedding aisle. Catering can be brought in from Little Bay.
www.gardens.gi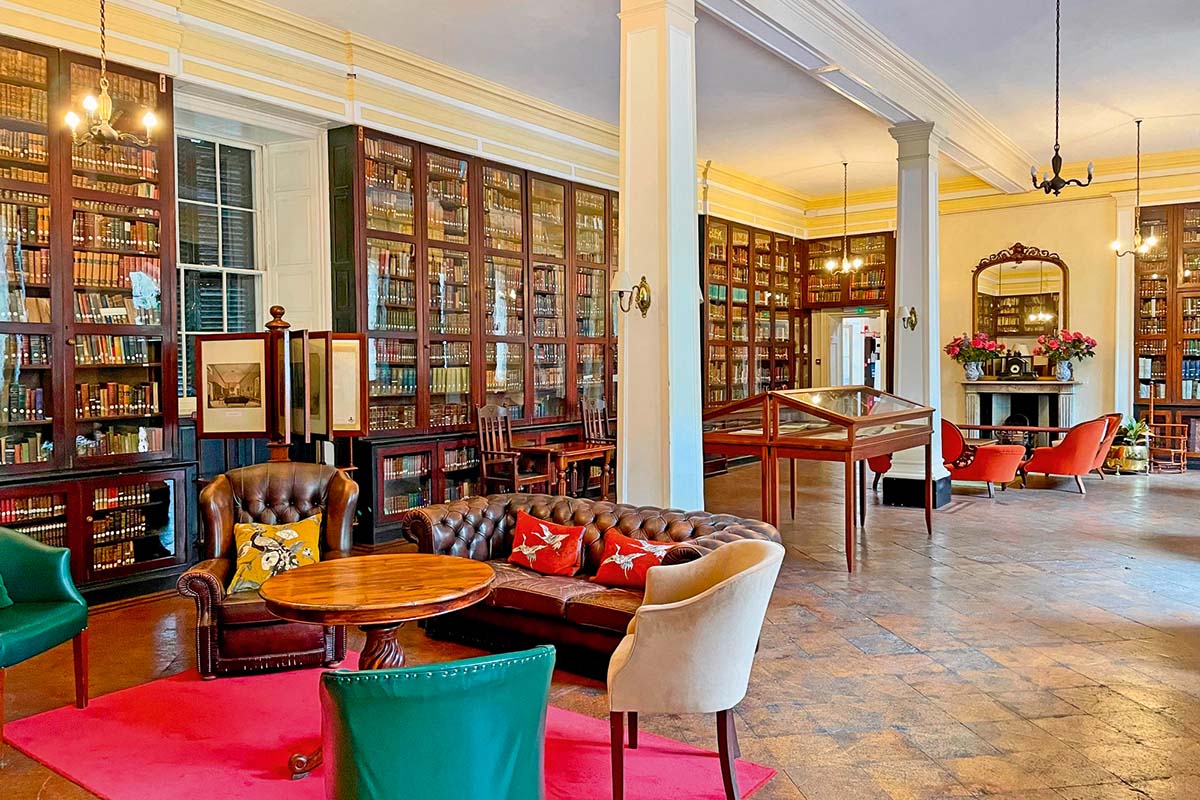 BEST FOR INTIMATE CEREMONY: The Gibraltar Garrison Library
Featuring grand reading rooms and a quaint garden, history seeps into every aspect of this extraordinary reference library and private events space thatís based in the Old Town. Thereís a choice of rooms set against the backdrop of books, periodicals and antique furniture.
www.ggl.gi
Bride Gibraltar
To speak to Kay and her team contact her by email, or give her a call.
info@bridegibraltar.co.uk
t: 020 8518 9103
www.bridegibraltar.co.uk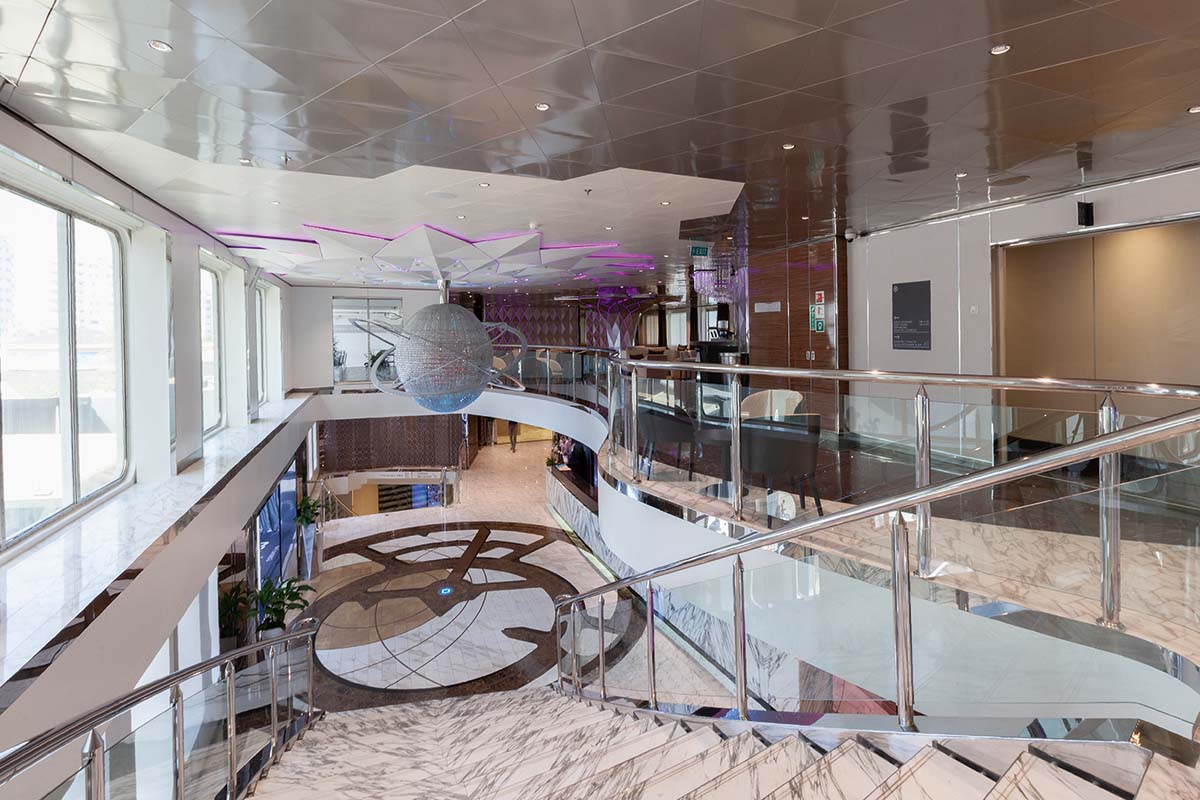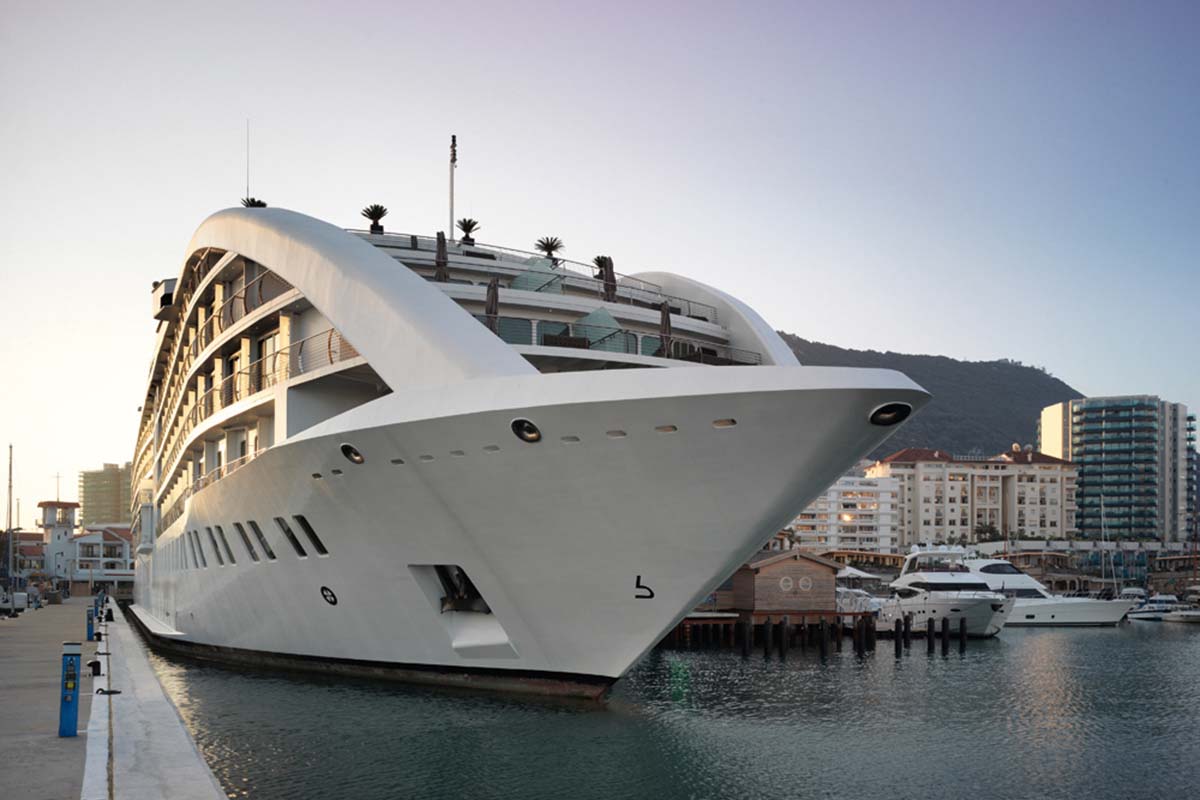 Where to stay: Sunborn Gibraltar
A vacation experience with the wow factor, this luxurious five-star yacht hotel offers a glamorous and romantic place to stay before, during, and after your wedding. Elegant spacious suites come with balconies that face either the sea or the Rock of Gibraltar, while the rooms have comfortable beds, shower and bath facilities.
The floating hotel has a spa, outdoor pool and multiple dining options including decadent afternoon teas and cocktails. Breakfast can be served on your balcony or tuck into a buffet and savour fresh ingredients and delicious smoothies. The Sunborn Gibraltar is located in the desirable Marina quarter brimming with bars and restaurants and you can enjoy picturesque views from the upper deck on the 7th floor which offers guests a relaxing, quiet, lounge area, perfect for relaxing and enjoying the sunshine together.
Best of all, staying in a yacht hotel is a fun way to celebrate a milestone event in your life. The Sunborn also has flexible wedding venue spaces and private dining options. Gibraltar is only a 45-minute boat ride away from Morocco and you'll notice North African flavours appearing in the dishes served up in the bistro-style restaurant.
www.sunborngibraltar.com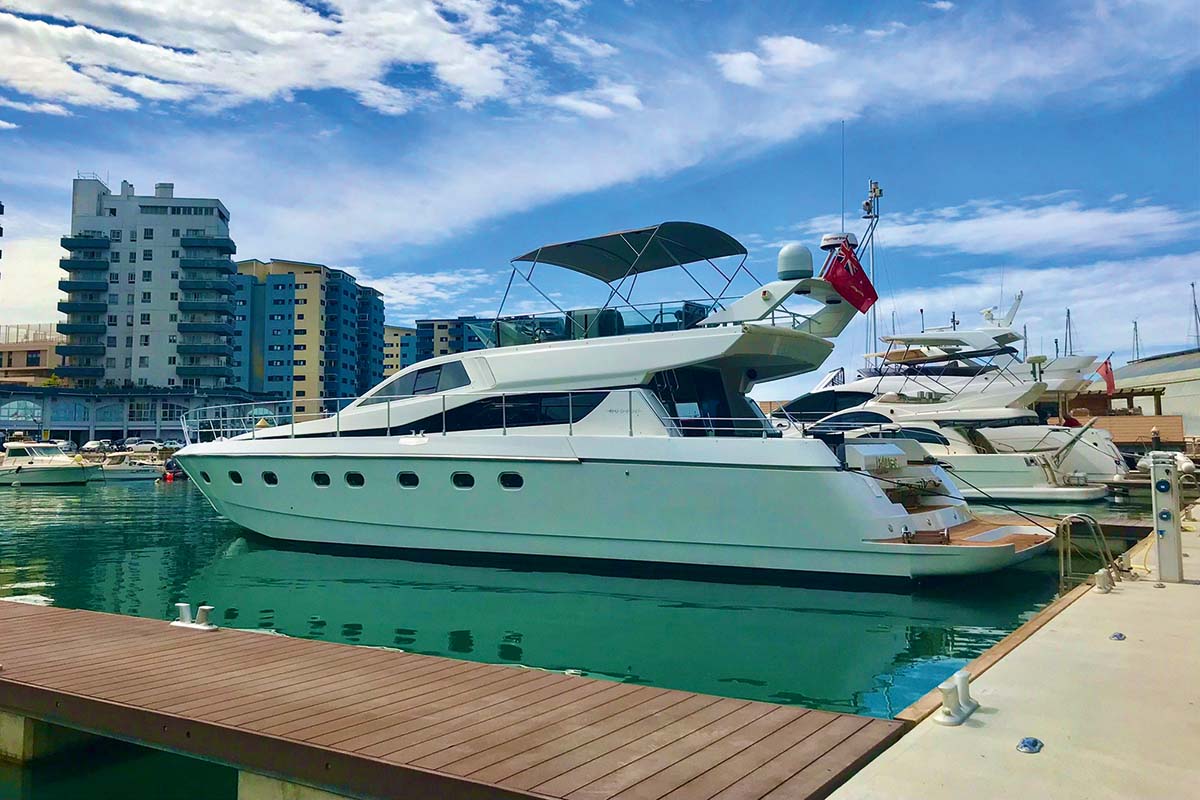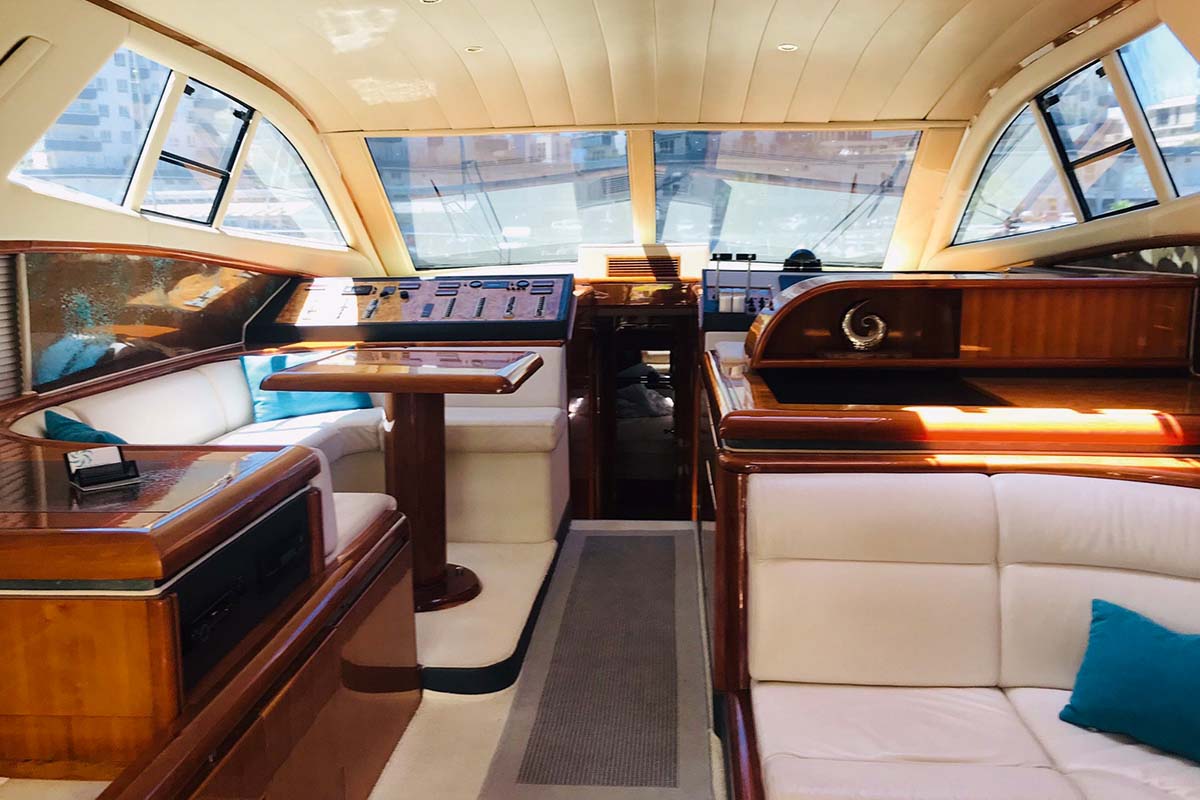 Things to do in Gibraltar
Enjoying what a destination has to offer is a key reason for marrying abroad. Ensure you and your guests experience the best of Gib hospitality, activities and landscapes. Every guest should feel like they've had a chance to see and enjoy the location, not just your Big Day. Bride Gibraltar can help you create an itinerary for guests and plan honeymoon experiences.
Charter a private sailing on The Muse
Indulge in the highlife aboard a luxury yacht. Choose from a private sunset cruise, sail to neighbouring Morocco for lunch or spend a night on The Muse.
Lovingly run by a husband and wife team, there is romance in every element of your experience – they've thought of every detail and that's what makes your trip aboard so special. As well as bedrooms, there is indoor and outdoor seating, a kitchen and sun loungers – but don't nap for too long, you don't want to miss the dolphins that frequent the waters. The team can also arrange for cocktail and mocktail-making classes where you'll learn from professional mixologists then sip on your own creations while soaking up the views.
www.gibraltarboatcharter.com
Other activities to include in your Gib itinerary:
• Visit the colourful buildings and tuck into a seafood feast at Catalan Bay
• See the lighthouse at Europa Point, a popular spot for strolling and photoshoots
• Witness Ape's Den in action and see Gib's famous residents
• Marvel at the history of the Great Siege Tunnels
• Take in the views over The Skywalk which gives you 360 views of three countries and two continents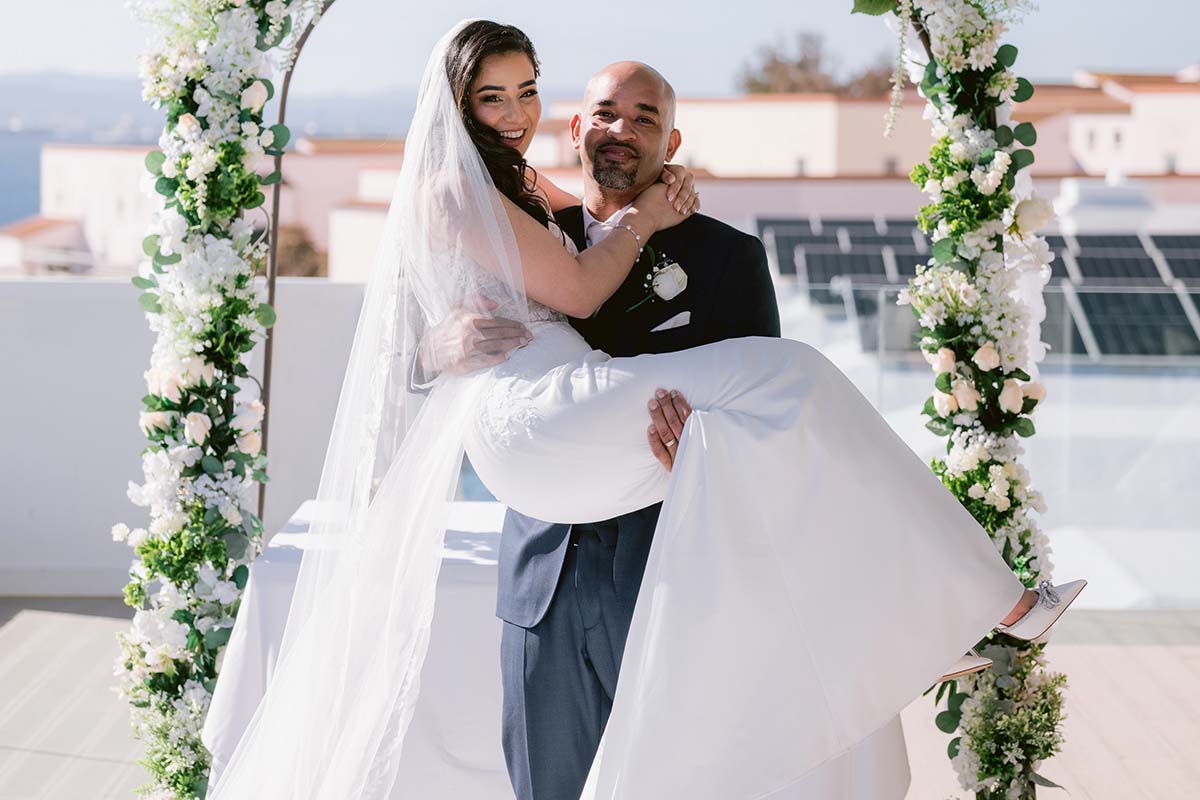 REAL WEDDING IN GIBRALTAR

Asiana reader Rashi and her husband AJ tied the knot in March 2023. Rashi shares why they chose Gibraltar for their dream destination wedding
In love with Gibraltar
I had visited Gibraltar previously with my mum and masi for a long weekend. It felt like the UK but with better weather and a holiday feel. We enjoyed international cuisines and sea views without the typical European price tag. When we walked around, we found that each street corner had its own charm and we couldn't hold back from photo ops even if it was just a brick wall!
Making the most of the destination
I wanted our guests to get the most out of their trip by showing them key areas of Gibraltar throughout the wedding. The cable car to the top of the rock was a hit and the monkeys made for some great stories. My friends saw plenty of dolphins on their boat ride too.
We all stayed at the Sunborn Gibraltar yacht hotel. The location was perfect and the views out to the docks gave the rooms an island feel. Our suite was spacious and perfect for setting up hair and make-up in the living room and having breakfast on the balcony.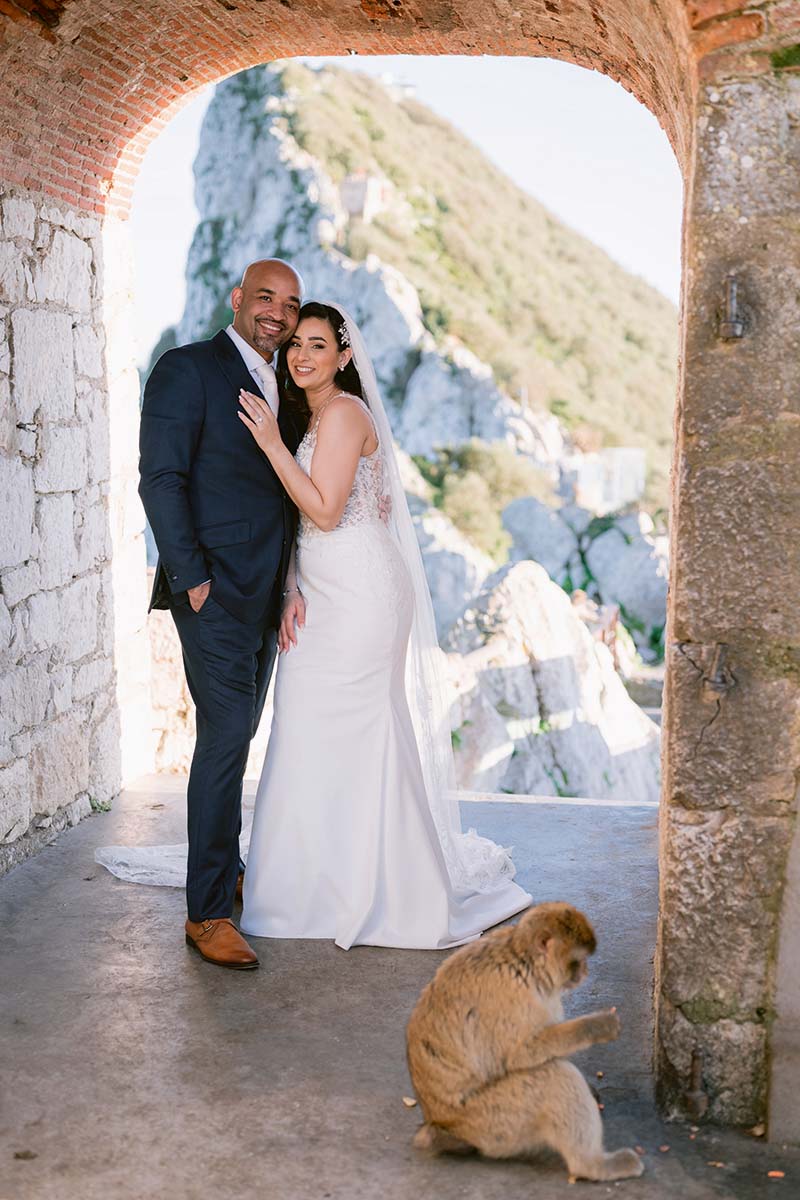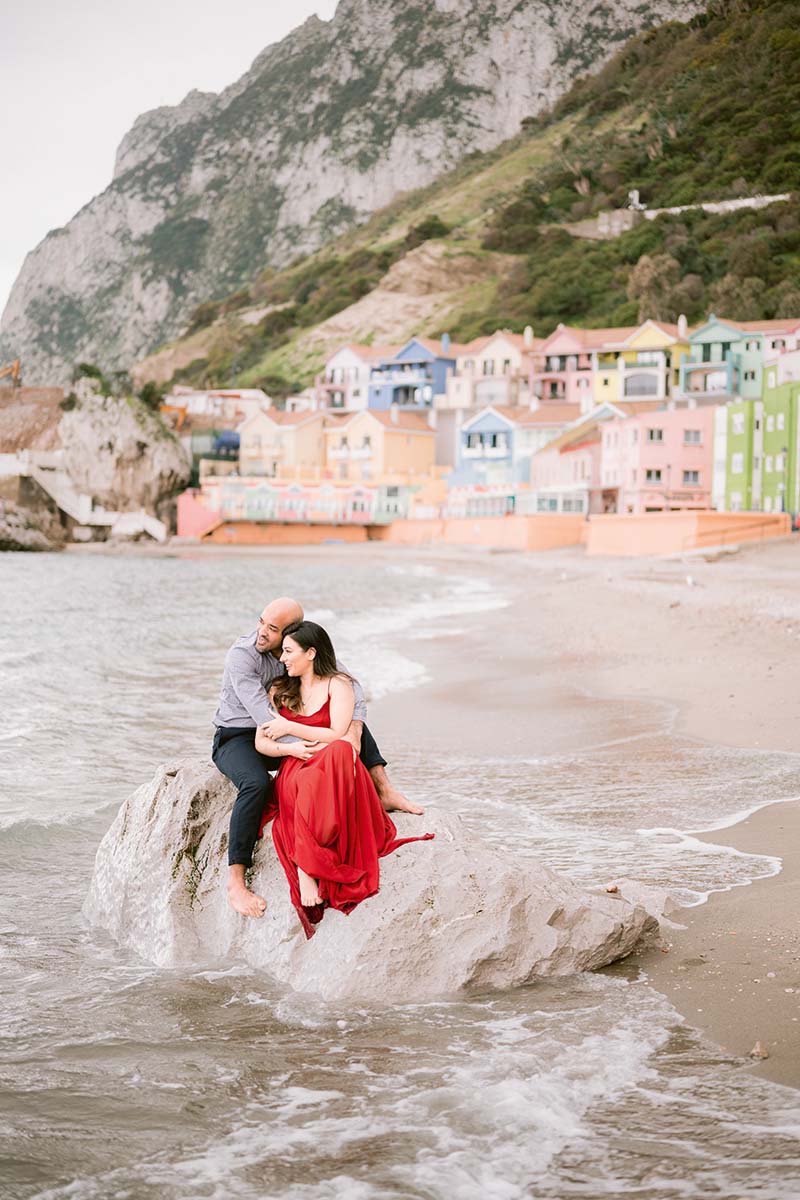 Highlights of the Big Day
Our ceremony was held at Bistro Point. It was close to the lighthouse which was ideal for our couple's photoshoot and perfect for our small party of 30, full of charm and didn't need much dressing.
The sunset overlooking three countries out at sea was a hidden gem of a location recommended by our photographer. Getting up there wasn't easy in a fitted wedding dress but my husband helped me up; and after getting all our pictures in, we finally had a chance to have some "us time". It felt like a nirvana moment sitting as husband and wife taking it all in. With golden hour setting in, we could finally take a breath and say we actually did it.
Another highlight was that our best man was able to seize the moment the day before and propose to his fiancé which was beautiful. 
What made our wedding in Gibraltar even more perfect was that we were able to walk across the border to Spain and jump into a coach, where we continued our travels. Seville was only two and a half hour's away where we had our minimoon with friends and cousins. It was the perfect end to a trip that has given us memories we'll treasure forever.
Couple shots by Bloomfield Photography