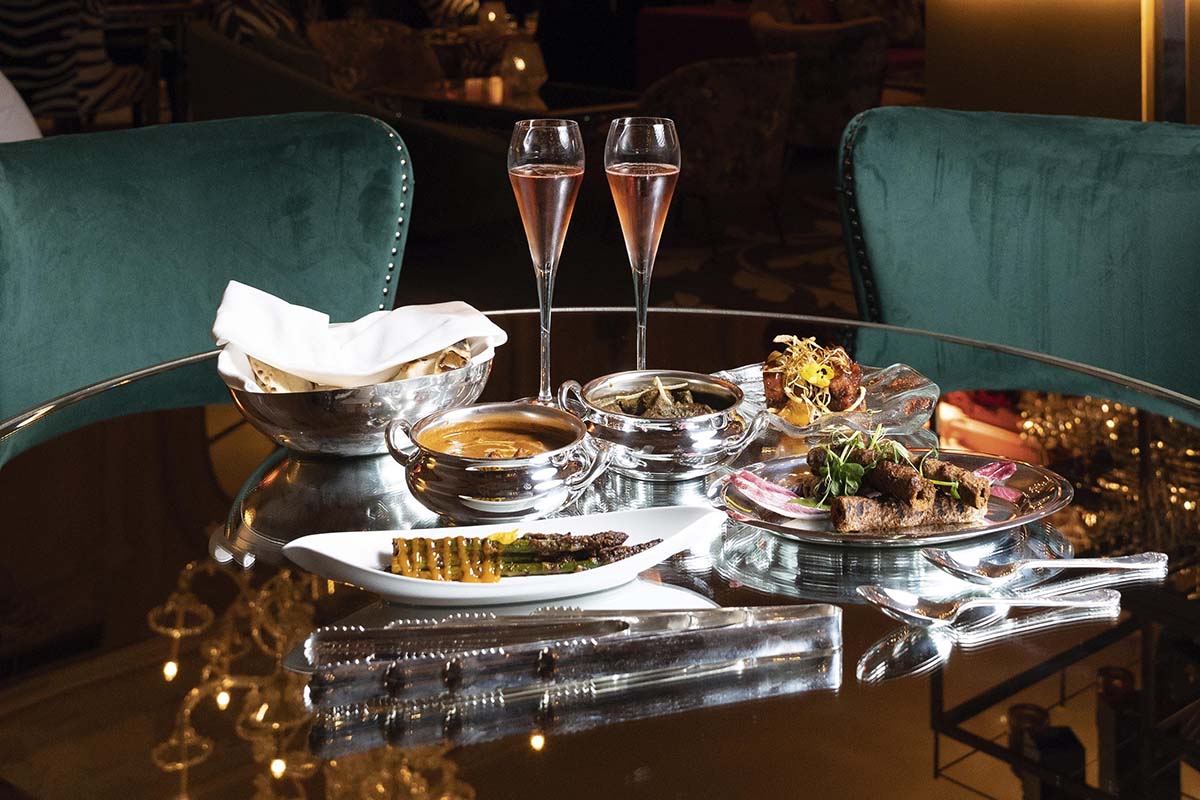 The unstoppable rise of Madhu's
You know the name, but do you know the legacy? Madhu's have long been a household name in Indian cuisine and regarded as one of the most respected brands in the restaurant and catering industries. Serving delectable Punjabi delicacies with a Kenyan twist for over 40 years, their Southall restaurant is an institution while their wedding catering service is second to none. But the story doesn't stop there. Today, the dynamic business continues its pioneering rise, proving nothing can stop their success  – not even a global pandemic.
For while the UK was in lockdown and threatening the future of thousands of businesses across the nation, Chairman Sanjay Anand MBE and his son Arjun, Director of Madhu's, took the opportunity to diversify their business.
While the wedding industry was put on hold, together they oversaw the creation of five new restaurants to complement their existing portfolio;  their iconic Southall eaterie and their highly-respected restaurant inside the Sheraton Skyline Hotel at Heathrow. In the space of two years, they have proven that when it comes to food; experience and excellence can completely change the course of your future. As Sanjay explains: "On one hand, it's been an extremely heart-breaking couple of years for the whole Madhu's family. We lost the 300-400 catering staff who have trained and been with us for years, as without weddings there were no catering bookings. But I couldn't sit at home and simply wait for this time to pass. Food is my family business, I inherited the genes from my elders and I have passed them to my son Arjun. We had to continue the legacy we've been building for over 40 years and that's what gave us the motivation and determination to expand into restaurants, something we've simply never had the time to do before."
Cooking from the heart
The initial plan was to do try pop-ups. Madhu's were then invited by department store Harvey Nichols and hotel The Grove to trial opening Madhu's restaurants for six months. They dedicated this time to doing what they do best; taking authentic Indian cuisine, adding their signature high-level customer service and cooking gastronomical magic, delivering the best dining experiences imaginable, which proved to be the secret of their success. Arjun enthuses: "After six months, both venues wanted us to stay and it was such an honour. Our Harvey Nichol's branch in Knightsbridge is a collaboration with Gourmet Associates Ltd and it's been wonderful bringing our unique homestyle cuisine to a world-famous institution."
And now that weddings have returned, the Madhu's team are thrilled to be back ensuring that couples can have their dream wedding with their Madhu's at the helm of their reception feast. Sanjay explains: "All our weddings were put on hold but I am pleased to say that 90% of weddings that were booked before the pandemic have now taken place and we're continuing to deliver that last 10% while accommodating new bookings. None of us could have imagined the challenges that lay ahead but I'm proud of my whole team at Madhu's we have got through the biggest curve ball life has dealt and we've come out stronger and more successful than ever."
Madhu's of Mayfair at The Dilly Hotel
Bringing Indian Fine Dining to the heart of Piccadilly, the capital's most iconic location for any establishment is where you'll discover the ultimate Madhu's experience. Their five-star restaurant which opened in the summer of 2021 is located inside the grade II listed The Dilly Service and offers evening meals inside the hotel's grand Oak Room. It's a full silver-plated service within a beautiful setting. Intimate and luxurious, there is attention to detail in every single aspect as Arjun explains: "We've gone the extra mile to create a lifestyle experience. As well as dining on delectable dishes, you'll feel like you've entered a private haven and that's thanks to the carefully considered atmosphere."
The background music is a special playlist created exclusively for the hotel by a Buddha Lounge DJ in Marrakech, the finest oud fills the air with a calming fragrance while lights are low, immersing diners in a full sensory experience.
The very essence of fine dining
Menu highlights at the restaurant include dishes cooked on the Robata Grill. Similar to an Indian tandoor, this style of haute cuisine comes from Japan and involves cooking the food over hot coals, giving a tantalising barbecue flavour. At Madhu's of Mayfair a variety of dishes have been curated especially for the grill whatever your dietary preferences including seafood, meat, vegetarian, and vegan options.
Matching the exquisite gastronomy is a comprehensive wine list that your sommelier will take you through ensuring the flavours of your food are complemented to perfection. There's also a wide cocktail and mocktail list and you can even raise a toast with fresh juice inside a green coconut shell. This is destination dining at its very finest and it's a must-visit for special occasions whether you have a birthday, pre-wedding function, or simply want to find somewhere special for a romantic evening.
Tuck in!
Signature dishes you'll find on the Madhu's of Mayfair menu
Appetisers: Chilli and garlic prawns • Chicken samosas • Palak patta chaat
Mains From the Tandoor/Robata Grill • Jeera scallops • New Zealand lamb chops • Paneer tikka
Plus a choice of biryanis, pilau and breads
Madhu's of Mayfair
The Dilly Hotel, 21 Piccadilly, Mayfair, London W1J OBH
Madhu's Brasserie
While Madhu's of Mayfair is designed for evening dining, Madhu's Brasserie is the perfect pit-stop for lunch whether you're out shopping, are on a lunch break, or meeting a friend. A more laid back, casual dining experience, their Brasseries are a collaboration with Gourmet Associates Ltd and are proving to be very popular. The first branch opened at Harvey Nichols department store in Knightsbridge and you'll find it on their fifth-floor dining experience. Comprising a fusion of signature recipes passed down through generations as well as contemporary dishes with Punjabi and Kenyan inspiration it's a carefully curated menu, to satisfy all tastes.
Nourishment on the go
There are also a few additions to the menu that you won't find anywhere else such as delicious savoury Madhu's2Go naan wraps. Fillings include chilli cheese paneer, chicken tikka masala, seekh kebab and their very first foray into a signature vegan offering which features a medley of vegetables spiced with chilli and fenugreek, tossed with peppers, wrapped in a soft roomali roti. The wraps are ideal for a quick lunch bite and you can even order online and pick up in-store.
If you're after a more leisurely dining experience you can either turn up or make a reservation and enjoy a vegan vegetarian or non-veg thali where you'll savour all the Madhu's favourite like samosas, dhal, rice and naan served with signature mains including chicken tikka, aloo gobi mutter, and saag paneer.
The second branch of Madhu's Brasserie is set to open Spring 2022 in Richmond.
Harvey Nichols, Fifth Floor, 109-125 Knightsbridge, Belgravia, London, SW1X 7RJ
www.madhusbrasserie.com
Turkish Delights
Madhu's first international venture is set to open in 2022 in Istanbul
Following the success of the fine dining experience at Madhu's of Mayfair, the Madhu's team are opening their first international restaurant in 2022. Madhu's Istanbul will be one of the only Indian fine dining restaurants in the city and is set to revolutionise the dining scene for tourists and locals.
Taking their experience abroad is one of the most exciting challenges Sanjay, Arjun and the team have faced as Sanjay explains: "We are currently training our chefs in Turkey by teaching them our authentic Madhu's recipes and just as importantly are spending time finding the right suppliers who are local and will guarantee the quality of ingredients you can expect from Madhu's."
A taste of Turkey
You'll find dishes on the menu at Madhu's Istanbul that you won't find anywhere else. Arjun explains: "Each of our restaurants is a guaranteed gastronomic experience but you'll also find that the décor and ambience differs. Every restaurant we open takes its inspiration from the surroundings and this inspires the décor and the menu. There will be a Turkish twist at Madhu's Istanbul which we can't wait for diners to experience."
Madhu's Istanbul is set to open in 2022 and will be located at
Swissotel The Bosphorus. A five- star luxury hotel right in the centre of Istanbul on the European banks of the Bosphorus. It's nestled within 65 acres of historical gardens with world-class shopping and vibrant nightlife nearby, making it one of the most desirable spots in the city.
Sanjay concludes: "I never would have imagined we would take Madhu's global but covid gave us new opportunities. However, these aren't projects that have come about because we are entrepreneurs. We have over 30 years of experience which has helped grow a global reputation. I'm extremely excited about this expansion, Madhu's has become a brand that is beyond my wildest dreams and I am so thankful to our team, our clients, customers and brand partners for all their continued support for making this all possible."
A feast to remember
Experience the magic of Madhu's catering
Madhu's have revolutionised Asian wedding catering in the UK and it's thanks to Sanjay that so many of the aspects we take for granted are the result of his expertise. It was Sanjay that invented the karahi stand making it easier for the whole industry to serve wedding feasts in a novel way. He also pioneered the Royal Thali, the most luxurious thali experience in the country. So it's no wonder they are the approved and recommended caterers for some of the most prestigious wedding venues in the UK.
This includes the most elite venues in London such as The Savoy, The Landmark London, Royal Lancaster, Fairmont Windsor, and many other hotels by Hilton, JM Marriot, Sofitel and even The Natural History Museum, considered one of the most exclusive places in the capital to tie the knot.
The ultimate dream team
Having Madhu's cater for your wedding isn't something you mull over, it's what people with the highest of expectations drool over. A reputation that sees curry connoisseurs and food lovers dream of booking them for their Big Day.
And it's not just the food you can leave in their hands. Madhu's in-house wedding experts can manage your entire event and because they know all of their venues inside out they can advise on how best to use a space, your schedule of the day and recommend the best suppliers to book.
A food tasting session at a Madhu's restaurant is an experience in itself; apart from sampling a vast range of culinary delicacies, you'll begin to realise just how seriously they take food. As well as all the regional Indian and South Asian specialties that couples often ask for, their chefs can also cook up global flavours including Chinese, French, Lebanese, Thai, Mexican, and even sushi, so if you have a number of functions you can treat your guests to different cuisines.
Madhu's only taken on a limited number of weddings a year to ensure each one receives the very highest level of service. The journey starts with a consultation about your vision and it's then their passion and privilege to execute a wedding that is beyond your wildest dreams where the catering is talked about for years to come.