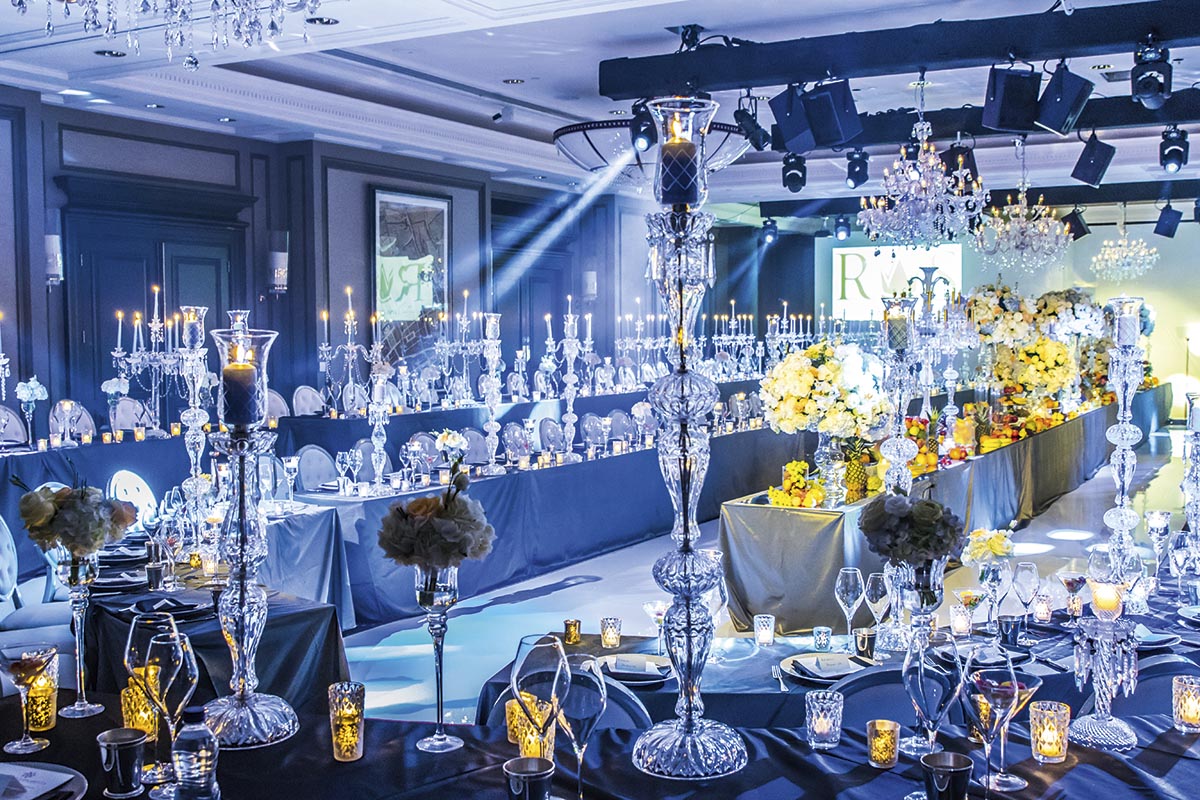 The secret to a perfect wedding lies in the planning so let the experts at Chakra Events plan yours
Every couple has ideas for their dream day; from a picturesque venue to a carefully curated menu that features their favourite dishes and a fun party atmosphere; but they can't do it alone. That's where Chakra Events come in. Passion, creativity, and elegance are the key ingredients behind this award-winning catering and events company. The team have been delivering dream wedding experiences since 2011, in the UK and abroad, taking care of all the finer details.
Though their exquisite food and catering are what originally built their reputation, the event planning side of Chakra is delivered with an equal level of five-star service. Arjun Varma, CEO of The Chakra Group explains: "Our team is passionate about creating the wedding celebration of your dreams. They can create elaborate mandaps, Bollywood theming, bespoke set designs, chill-out zones and even pyrotechnics to complete the entertainment as well as taking care of lighting, AV and sound; and this can be done anywhere in the world."
The Great British wedding venue
Chakra Events have long-standing relationships with some of the most luxurious hotels in the UK. They're accredited in London venues including The Rosewood Hotel, The Mandarin Oriental Hotel, The MontCalm and Brown's Hotel as well as beautiful locations outside of the capital. With the UK experiencing longer warmer summers it's meant there's been a demand for couples seeking British venues that guests haven't visited before which has led Chakra to work with a host of lavish and unique new venues such as Wilderness Reserve, Hinwick House, Hintlesham Hall, Euridge Manor and Capesthorne Hall.
Making destination weddings accessible
Chakra is one of the UK's leading experts in planning, organising and delivering weddings abroad. They've hosted many memorable celebrations thanks to the partnerships they have with luxury hotels in Vienna, Istanbul, Versailles, Italy, and Monte Carlo.
It's much easier and more affordable than you may think to marry abroad as Arjun explains: "Destination weddings are not as expensive as they may sound, in fact, they provide good value for money. Marrying in the off-peak seasons such as April to June or September to November in Europe means you'll get a great deal and wonderful weather so you can truly enjoy outdoor gardens and beachfront venues. And don't forget, typically the guestlist for destination weddings are smaller than for a UK function. Rather than feeding 1000 guests, you may not know at a reception in the UK, you could cut that into a quarter, invite your nearest and dearest and experience a much more exclusive affair. We're already booked for five weddings abroad in 2023, if you fancy joining the list, get in touch and our team will discuss all the logistics and costs with you."
Not only will Chakra Events spring into action executing your vision for the day; they'll also be able to offer ideas you may not have considered. Having an expert's opinion will expose you to a rich source of inspiration culminating in a celebration that exceeds your expectations and will forever be one of the happiest memories of your life.
Creative cuisine and catering
After hiring a venue, the food is your biggest expense so when you're working with a caterer it's essential that you know exactly what you're paying for with no hidden costs. As well as cooking up a feast Chakra takes care of the extras that many couples don't realise. Arjun explains: "At Chakra Events we have our own cutlery, crockery, glassware and linen and we can hire these out to our couples at a reduced price which will save on your overall costs ensuring you get the best value deal."
As for the food, Chakra's mouth-watering menus are developed by chefs that understand what makes a good celebration so food is at the centre. You can expect innovative menus, show-stopping canapés, Instagrammable plating and dessert tables to die for! Arjun explains: "Indian hospitality reveres food; it brings people together, heightens the pleasure of an experience and helps break the ice when you're in a group setting. Choosing your caterer is therefore the most important decision you make and you can only make up your mind when you've tried the food. Come and visit one of our restaurants to try our dishes for yourself, our wedding planners can then help you curate a wedding menu that captures the essence of your event and you can reminisce about it with the fondest of memories."
ABOUT CHAKRA EVENTS
An award-winning catering, restaurant and events company, serving elegant Indian and Pan-Asian cuisine, Chakra was launched in 2011 by Arjun Varma using his 15+ years of experience working across the restaurant and catering industry. Today they operate four fine-dining London restaurants and are the preferred caterer for some of the most luxurious wedding venues in the UK.
A Flavour

of Chakra

Chakra's chefs will cook up a feast to fit your needs. They offer a wide choice of couture catering alongside separate menus for canapés, drinks and desserts

Here are some of their most popular requests:

Veg Canapés: Beetroot tikki • Sweet potato chaat • Masala tofu fritters
Non-Veg Canapés: Masala fish and chips • Chicken satay skewers • Lamb seek kebabs
Gujarati Crispy okra • Paneer kofta • Tarka dal
Indo-Western • Arancini • Vegetable biryani • Jalandhar chicken
Mini desserts: chocolate pots, banoffee pies, kheer and ras malai
Dine at Chakra's restaurants
Fine food is at the essence of every event Chakra hosts.
You can also dine all year round at one of their restaurants.
Chakra Barnes: 1 The Broadway, SW13 0NY
Chakra Kensington: 33c Holland Street, Kensington, W8 4LX
Chakra Little Venice: 14 Formosa Street, W9 1EE
Chakra Kingston: 1 Riverside Walk, KT1 1QN