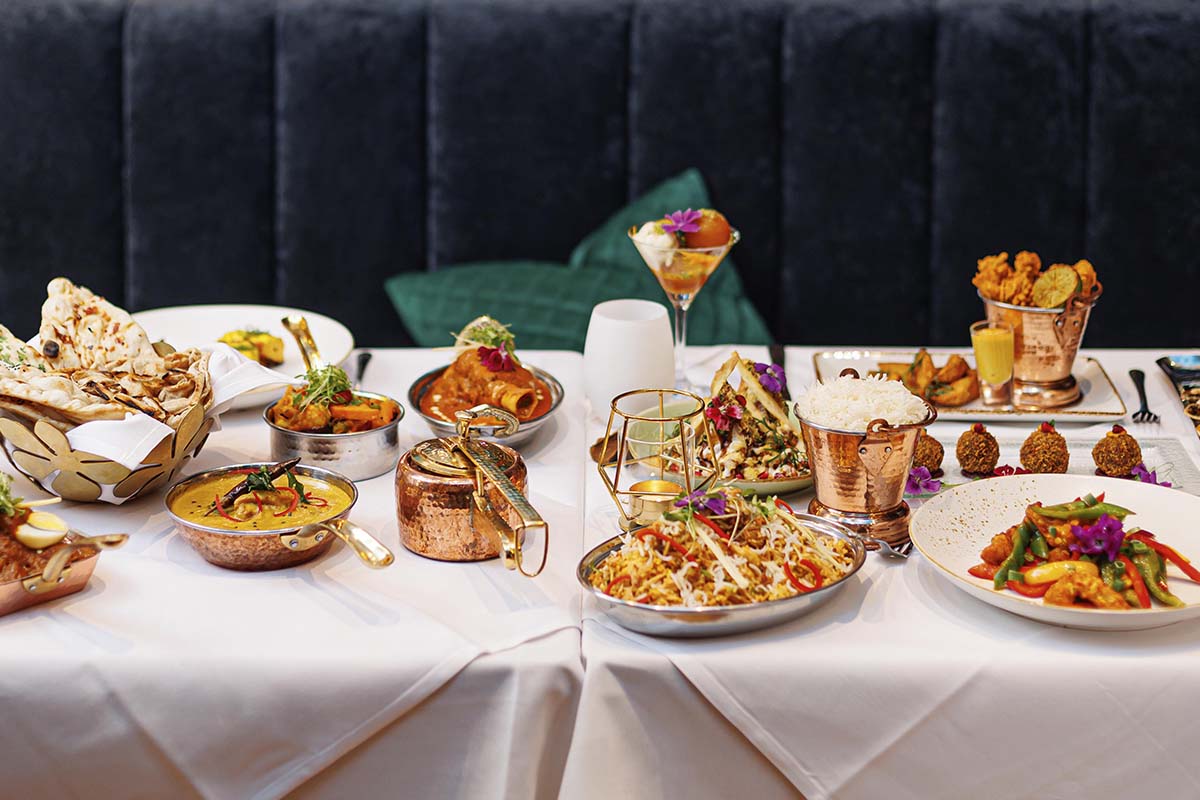 Take a step back and let the experts at Chakra Events manage the wedding day of your dreams
The Chakra Story
Passion, creativity, and elegance are the key ingredients behind Chakra Event's award-winning catering and events company. Serving elegant Indian and Pan-Asian cuisine they've established themselves as one of the leading wedding service providers in the UK. The team have been delivering dream wedding experiences since 2011 when Chakra was launched by Arjun Varma using his 15 years of experience working across the restaurant and catering industry giving the team the upper hand – for Chakra aren't only caterers, they provide a complete planning service.
Making plans
Most couples will have chosen their venue and catering company at the top of their list, but they often aren't aware of the smaller details. Wedding catering can be riddled with hidden costs such as paying extra for the hire of kitchen equipment or even for chairs and tables for your guests to dine on. Chakra Events have their own cutlery, crockery, glassware and linen that they hire out to their clients at a reduced price which will save on your overall costs ensuring you get the best value deal.
The team will also arrange for the look, feel and theme of your event. They can create elaborate mandaps, Bollywood theming, bespoke set designs, chill out zones and even pyrotechnics to complete the entertainment. They take care of lighting, AV and sound and can even recommend where to get your wedding stationery made.
Venue finder
Chakra Events have long-standing relationships with some of the most luxurious hotels in the UK. So if you need support in venue selection, then Chakra are at your service. Chakra Events are accredited in London venues including The Rosewood Hotel, The Mandarin Oriental Hotel, The MontCalm and Brown's Hotel as well as some beautiful locations outside of the capital including Froyle Park Country House in Hampshire and the impressive Cowdray House in Sussex.
Destination weddings
Chakra Events don't just serve the UK, they also specialise in organising and delivering events abroad and have hosted many memorable celebrations thanks to the partnerships they have with luxury hotels in Vienna, Istanbul, Versailles, Italy, and Monte Carlo. If you've ever wondered what a destination wedding would be like and if it's right for you, speak to the Chakra Events team who will be happy to answer your questions, and help you find the dream destination for your Big Day.
Reasons to book Chakra as your wedding planner
Instead of booking a caterer and venue then trying to organise the rest of your wedding while juggling a job, hand over the responsibility to an expert, they can offer so much more than you may think:
Contacts
Chakra Events have established relationships across the wedding industry which means it's easy for them to quickly source whatever you need including flowers, props and entertainment.
Budget
Rather than trying to cut costs by asking a service provider to spend less, let Chakra do the negotiating for you to get you the best deal and ensure you don't go over budget. Take the pressure off loved ones. Don't put the responsibility of planning your wedding on friends and family. Encourage them to celebrate and enjoy the festivities themselves and let Chakra Events take care of the logistics.
Fresh ideas
Not only will Chakra Events spring into action executing your vision for the day; they'll also be able to offer ideas you may not have considered. Having an expert's opinion will expose you to a rich source of inspiration culminating in a day that exceeds your expectations and will forever be one of the happiest memories of your life.
A Flavour

of Chakra

Chakra's chefs will cook up a feast to fit your needs. They offer a wide choice of couture catering alongside separate menus for canapés, drinks and desserts

Here are some of their most popular requests:

Veg Canapés: Beetroot tikki • Sweet potato chaat • Masala tofu fritters
Non-Veg Canapés: Masala fish and chips • Chicken satay skewers • Lamb seek kebabs
Gujarati Crispy okra • Paneer kofta • Tarka dal
Indo-Western • Arancini • Vegetable biryani • Jalandhar chicken
Mini desserts: chocolate pots, banoffee pies, kheer and ras malai
Dine at Chakra's restaurants
Fine food is at the essence of every event Chakra hosts.
You can also dine all year round at one of their restaurants.
Chakra Barnes: 1 The Broadway, SW13 0NY
Chakra Kensington: 33c Holland Street, Kensington, W8 4LX
Chakra Little Venice: 14 Formosa Street, W9 1EE
Chakra Kingston: 1 Riverside Walk, KT1 1QN