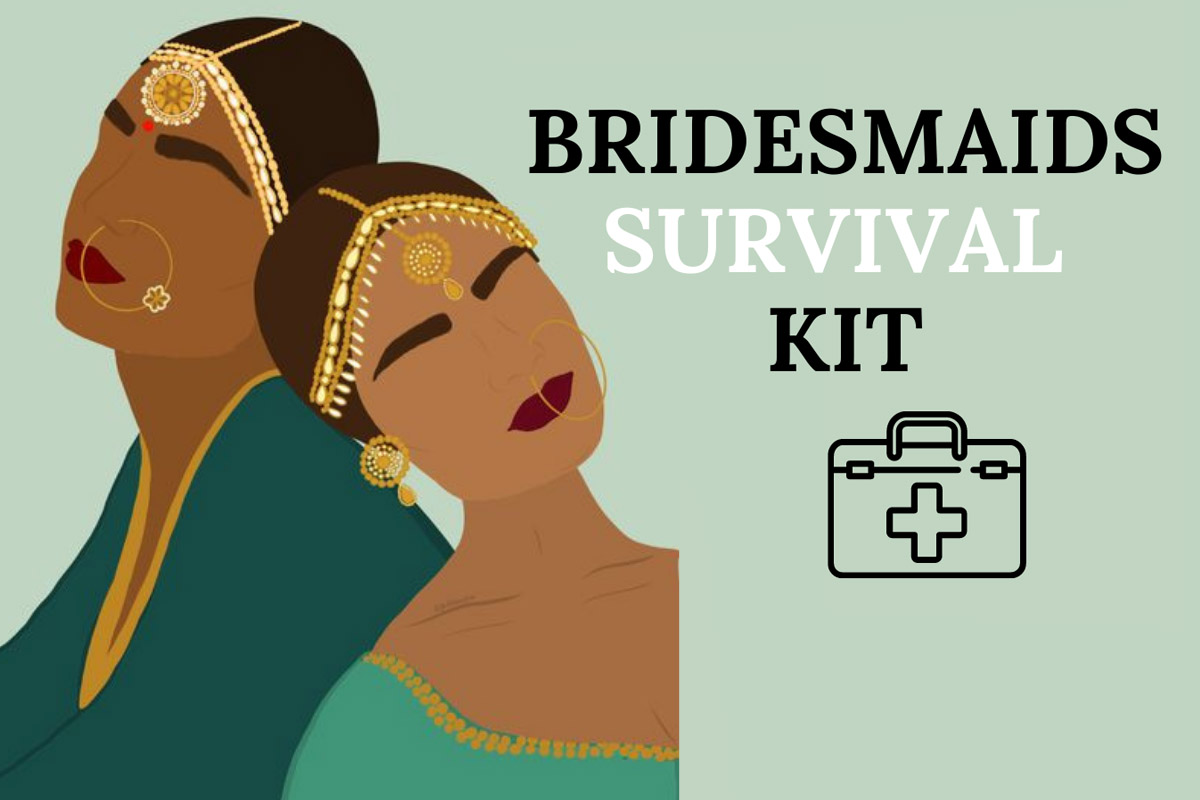 10 Must-Haves In Your Bridesmaid Emergency Kit
Emergency-no-more! Plan a stress-free day with these essentials in your Bridesmaid Emergency Kit!
The wedding day arrives, and everything goes well until something pops open, falls off or fades away!
As a bridesmaid, you must look after the bride and make sure everything goes as planned, whilst looking your best!
Use this starter checklist for a well-prepared bridesmaid emergency kit, perfect for a bride or bridesmaid!
1. Safety Pins and Bobby Pins
When it comes to the wedding day, everyone is looking at attire and hairstyle! A safety pin works wonders to keep different pieces of an outfit intact! Bobby pins are perfect for a troublesome veil, tiara, bun, flowers, and whatever else action you've got going on with your crowning glory.
2. Hair Spray
There's never enough spray to keep those strands together, especially if you've got a highly stylized do and outdoor elements to consider.
3. Blotting Paper
Oily skin? Sweaty face? Too much make-up? Blotting paper to the rescue! You cannot overlook the uses of something so trivial as some blotting paper to blot away those worries.
4. Pain Killers
We don't recommend medication for the grand day, but a little help with soothing a gradual headache experienced by anyone on the big day is always welcome!
5. Stain Removal Pen
Given all the moving parts involved, any number of factors, clumsiness included, could easily result in spillage, stains, clothes with spots in places where there were none. So, stain removal pen is the saviour!
6. Mints
Weddings do warrant a lot of eating, and there is no guarantee what you will be chomping down during the festivities. A handy box of mints can save the day so slip it into your purse and enjoy away!
7. Perfume
Pack your go-to perfume to save yourself from any bad odours on the day! Mist away and keep yourself smelling gorgeous!
8. A Pack of Tissues
There will be tears during this joyous moment. There will also be a messy face of make-up to address. A pack of tissues can go a long way, they say!
9. Compact Mirror
A little something to keep the bride, groom and the wedding entourage at ease at all times – a quick check on make-up, last-minute touches that don't require a full-length mirror to do the job. Finding out after the photoshoot that your tiara was on all wrong is never fun!
10. Emergency Bag
Putting all your emergency kit items in one bag marked way ahead of the wedding day will help calm those last-minute nerves and keep everyone aware of that one carry on that nobody is leaving without.
You can always add more to the essentials! Remember to have fun and enjoy the small moments on the special day!
For more bridesmaid content, check out Asiana TV!