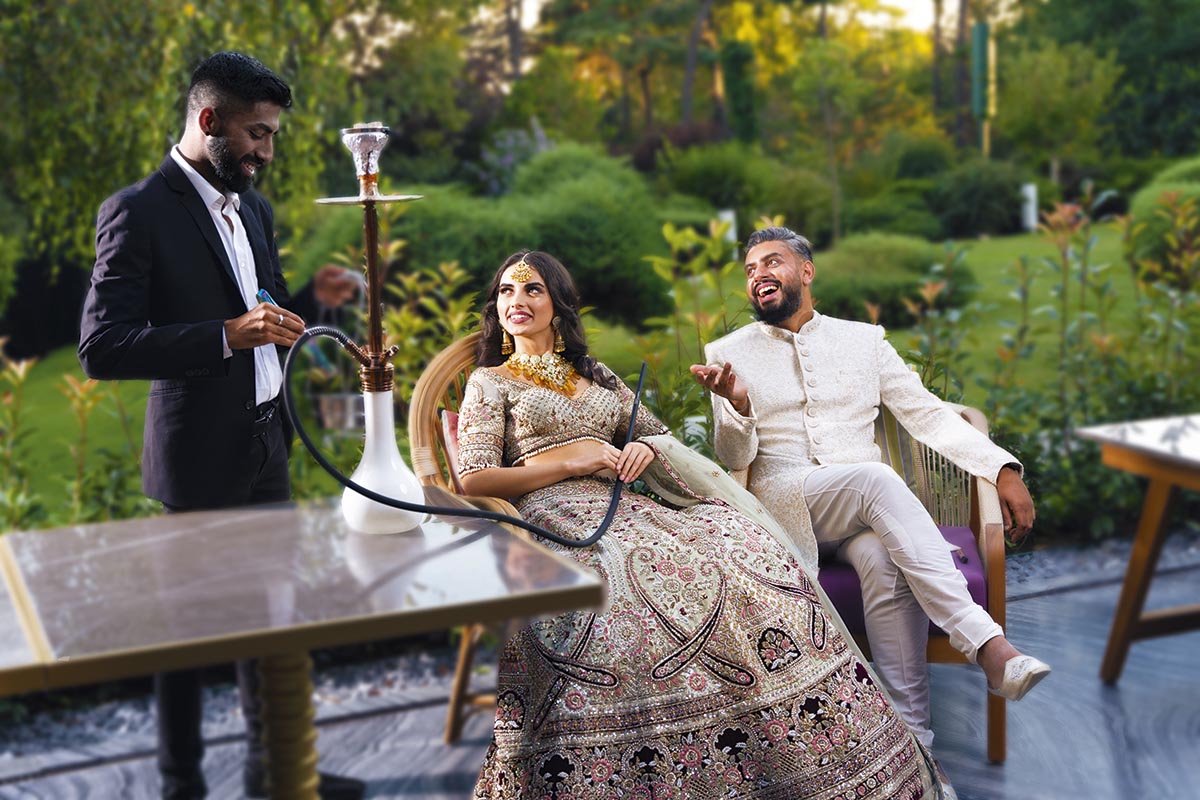 Take your event to the next level with a private shisha experience. Asiana spoke to Ebrahim Badat from Shisha Hire by Dubai Nights Lounge to discover more about the biggest new trend in wedding celebrations
There's a strong possibility that many of your guests will be shisha enthusiasts so why treat them to the pleasures at your party? After all, enjoying shisha is a centuries-old tradition so it's a chance to combine heritage with contemporary culture. Rooted in the Middle East and popular since the time of the Ottoman empire, shisha lounges and hookah bars have long been established in countries like the UAE, Egypt, Iran and Turkey and thankfully these establishments have been expanding across the UK. As the clientele gets more discerning, the experience is getting more luxurious and this is what you can expect when you book Shisha Hire by Dubai Nights Lounge for your wedding. They offer a luxury mobile shisha service; ideal for pre-wedding functions such as a mendhi party or to complement the evening reception on your Big Day.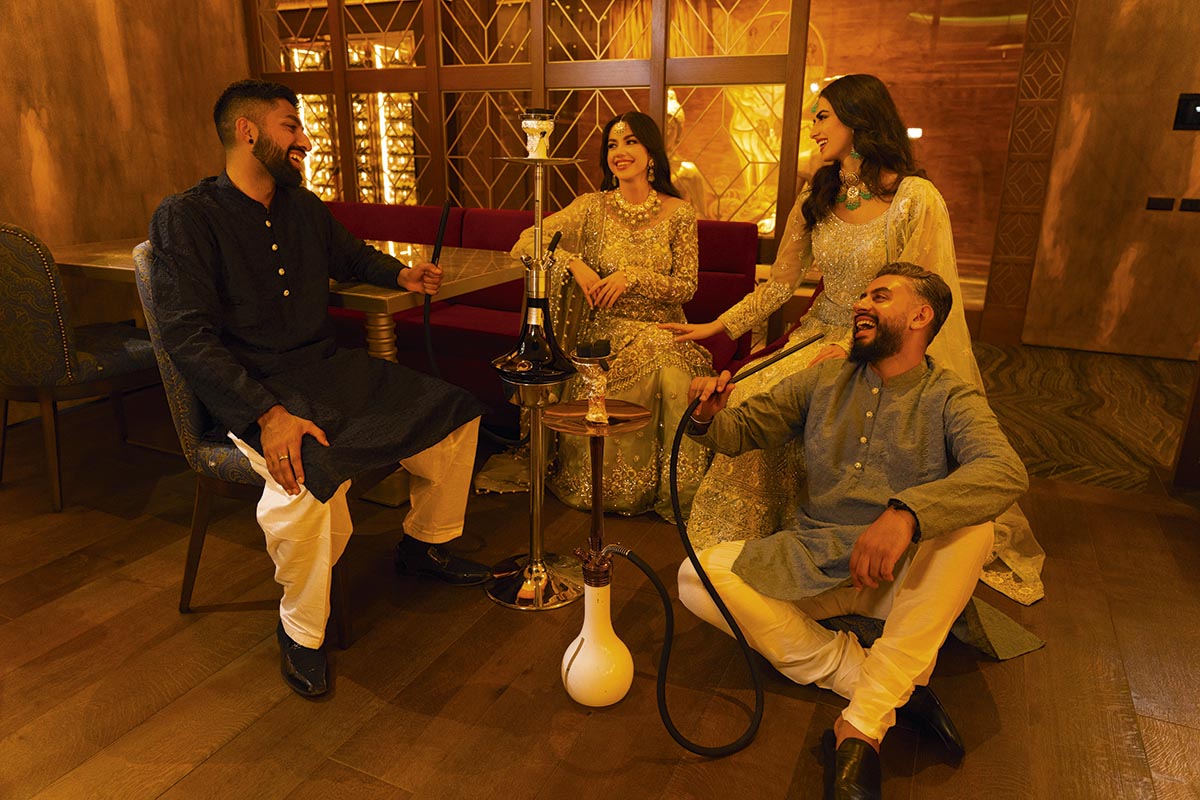 Make your wedding sizzle
The Shisha Hire by Dubai Nights Lounge service was devised by business development manager Ebrahim Badat who has over 15 years experience working in the shisha market. He and his team opened Dubai Nights Lounge in Leyton in May 2022 and it quickly established itself as the 'go to' shisha space in East London. Ebrahim is committed to using only the best tobacco as he explains: "I split my time between Dubai and Madrid as we have a tobacco factory in Spain. This gives us complete control over the supply chain meaning the shisha you smoke is of the highest quality."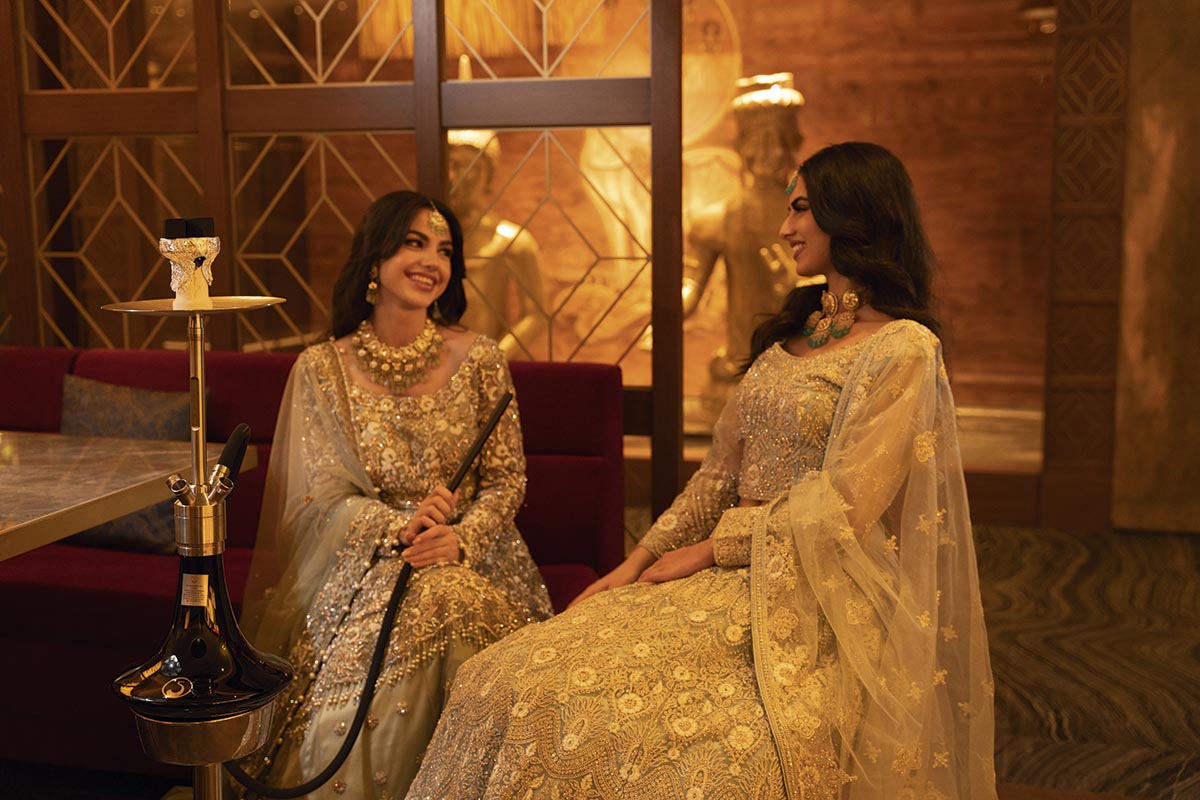 Shisha Hire For Your Wedding
"Nothing compares to the experience of sitting down with friends over shisha and those are the memorable moments your guests will appreciate when you surprise them with an element of a wedding they aren't expecting. All too often smokers can be excluded from weddings, made to smoke outside. A shisha experience makes smoking more accessible, acceptable and enjoyable," says Ebrahim.
So how does it work? There is a minimum booking of 10 people, though it can go as large as you want. All shisha equipment is provided including premium shisha pipes, bowls of pre-packed flavour, disposable hoses and mouth tips and charcoal and the services are unlimited so you can try as many flavours as you desire – expect glowing reviews from your guests. And don't worry about setting it all up, Ebrahim assures: "There will be a Shisha Master in attendance. This is a trained expert who will ensure all guests are looked after and receive what they need for the experience."
Smoking services – bespoke shisha lounge
For the ultimate experience, the team can arrange for a tent to be installed and create your very own private smoking lounge with all the elements you'd expect visiting your favourite hangout.
Ebrahim explains: "Since I've been living in Dubai I've experienced the luxurious settings that the Shisha lounges have created. They were on a level of chicness and comfort that the UK hadn't yet caught up with and it's that aesthetic that inspired me when we opened Dubai Nights Lounge in East London. We're now taking that same smouldering vibe and bringing it to your wedding. In order for us to create a bespoke tent we simply ask that your wedding venue has a garden or outdoor space so we can construct a tent. We will do full set-up and bring everything, whether it's an inflatable lounge, a classic marquee or an outdoor terrace. The décor, lights, soft furnishings, furniture and even music are all included."