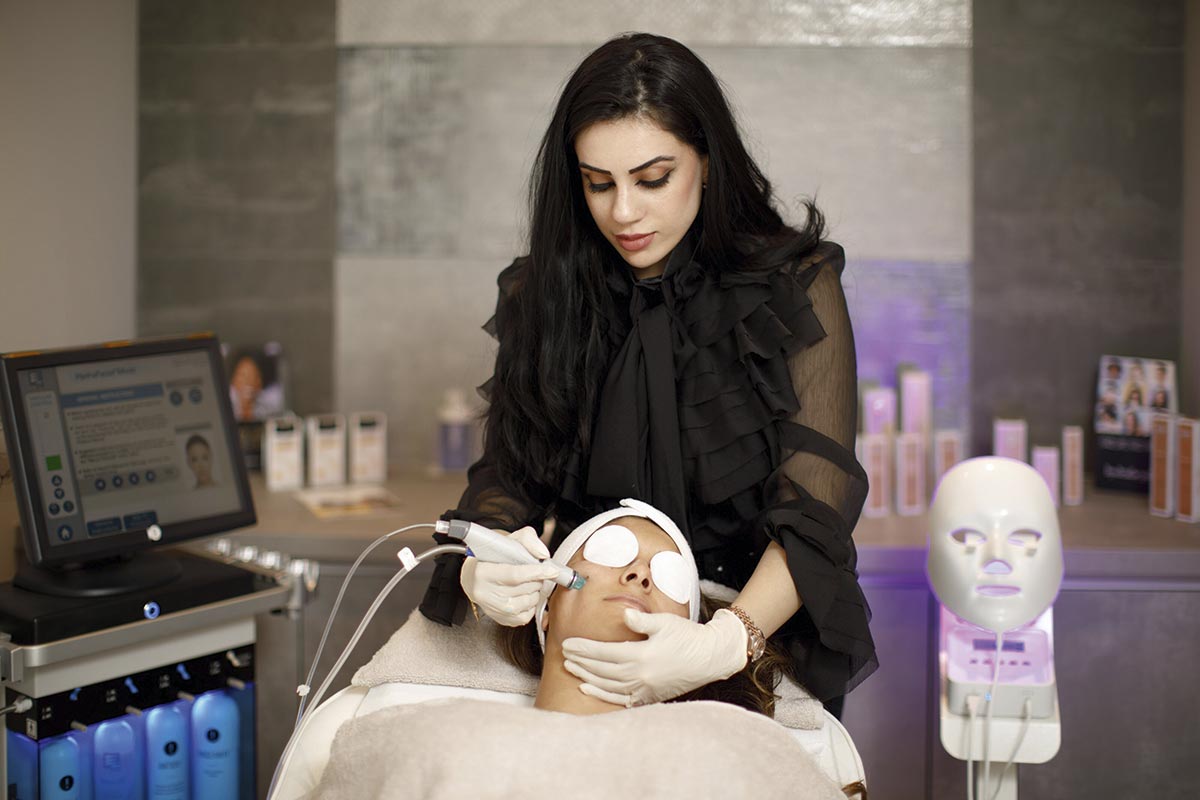 Keep the pressures and stresses of wedding planning at bay by booking in for a skin and nutrition MOT at Avicenna Wellbeing
We all know that good health is the only way to ensure you're truly living your best life but prioritising it isn't always the easiest thing to do. In fact, once you get knee deep in the demands of planning your Big Day, if you're not careful it can completely fall by the way side. That's why it needs to be added to your schedule because if you don't make time for yourself, by the time your wedding day arrives, you might be too burnt out to enjoy it.
The newly opened Avicenna Wellbeing clinic just off London's Baker Street is the sister clinic to laser specialists Binsina in Harrow which was established by renowned dermatologist Dr Fauzia Khan over 15 years ago.
Bringing that wealth of experience and knowledge into a more aesthetics focussed practise and supported by her daughter Nutrition Consultant Sana, Avicenna offers a range of services that focus on nutrition and skin health and has become a firm favourite with Beauty Editors from the likes of  Vogue, The Telegraph, Daily Mail, Grazia and Elle.
Nutritional Consultations
These consultations aim to investigate any causes that may be effecting your energy levels which can impact on your how much you're actually enjoying life. A one-hour consultation will help determine the root causes and give you suggestions for how you can manage a new lifestyle where these issues are no longer holding you back. You can also book in for a Nutrition Status test which is a pain-free non-invasive procedure which in  just a few minutes can determine exactly what's going inside your body.
IV-IM Drip Therapy
These are vitamin cocktails carefully selected to support your skin, hair and immune system and will give you energy and hydration. Your nutritionist will advise on what your body needs which could be Vitamin a B12 booster, Vitamin C or other nutrients and vitamins.
Skin Consultations
During these consultations the practitioner will identify any issues that your skin is experiencing and find treatments to rectify or support your skin health.
The Visia
This is a powerful tool that works like an X-ray by taking photos of the skin and then giving a breakdown of its quality such as sun damage or early signs of aging. It's the best way to begin a skin treatment so that the right remedy is applied.
Facials
Avicenna offers a number of specialist facials, all which will rejuvenate your skin, giving it a new lease of life.
• The HydraFacial – to hydrate, brighten, tighten, reduce fine lines and nourish
• The Laser Genesis – to reduce appearance of fine lines and wrinkle, minimise poor appearance and to stimulate collagen production.
• The Platinum – the science behind this radio frequency oxygenation facial is aimed at achieving a younger, fresher and naturally better-looking skin.
Treatments are also available for pigmentation, acne and rosacea.
Anti-Ageing injectable
A popular choice with men and women especially ahead of their wedding, non-invasive treatments are carried out by qualified aesthetic doctors who are experienced in delivering high quality anti-ageing treatments in the form of injectables. Treatments can be requested by patients but a full assessment is carried out by our doctors before any procedures can take place.
Laser hair removal
If you're thinking of getting laser treatment done ahead of your wedding day it's best to start this ASAP as it requires several weeks for the benefits to happen. Avicenna use a pain free laser machine that is suitable for darker hair and reduction is noticeable after just one treatment, though usually several will be recommended.
• Avicenna Wellbeing
30b Nottingham Place, Marylebone, London, W1U 5NP
020 7935 3057 • 07570 114 865
www.avicennawellbeing.com