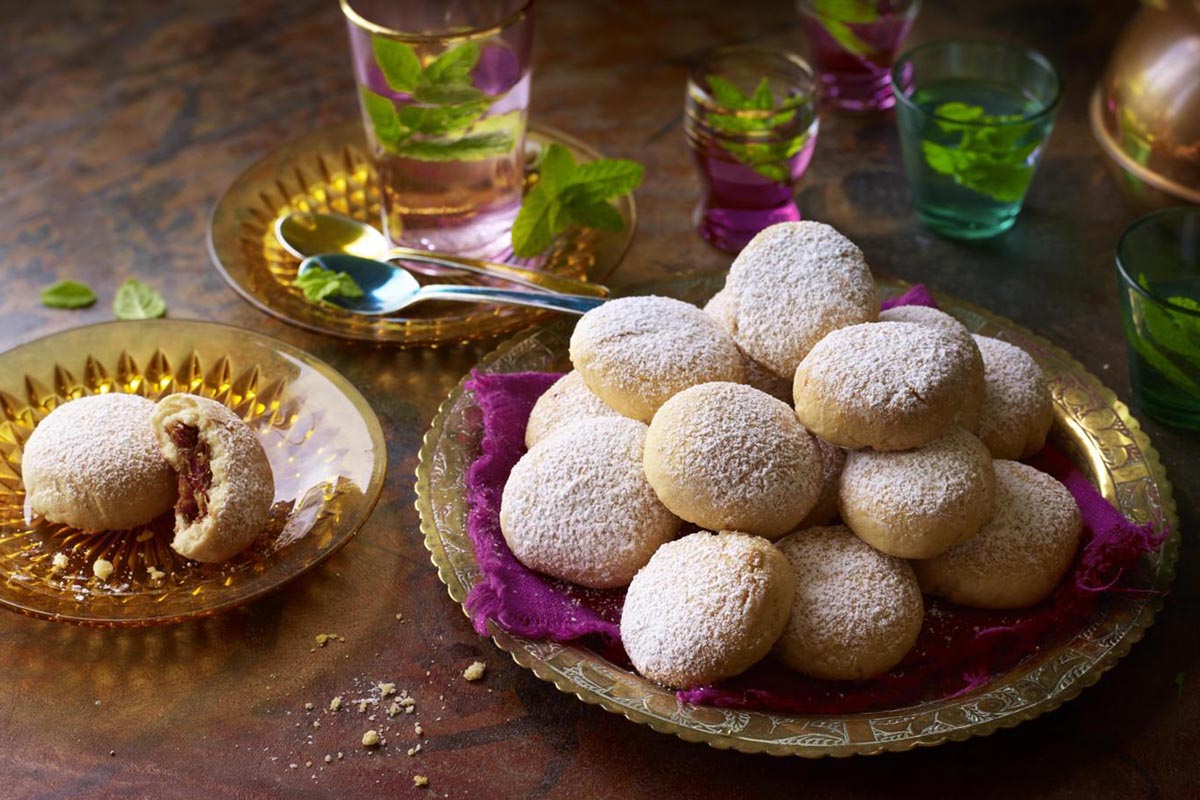 Looking for new trendy recipes this Eid!? We've hand-picked a mouth-watering selection of Eid recipes you can try at home!
Make this Eid-Ul-Adha extra special with a brand-new tasty palette. From sweet potato chaat to delicious chocolate and almond cookies, you'll be sure to find a recipe you love!
Ma'amoul
Ma'amoul are delicious spiced date-filled biscuits are often eaten to celebrate Eid at the end of Ramadan. You can make them in simple rounds or use a wooden mould to make intricate designs. These are made to share.
Ingredients
For the dough
100g/3½oz butter or ghee
350g/12oz fine semolina
100g/3½oz plain flour
½ tsp fast action dried yeast
2 tbsp caster sugar
pinch salt
2 tbsp orange blossom water
130ml/5oz milk
For the filling
200g/7oz dates, roughly chopped
25g/1oz butter
½ tsp ground cinnamon
½ tsp ground cardamom
2 tbsp icing sugar, to serve
Method
To make the dough, melt the butter and pour into a food processor with the semolina, flour, yeast, sugar, salt. Pulse until the mixture has the texture of fine sand.
Add the orange blossom water and milk and blend until the mixture comes together to form a stiff dough. Transfer to a clean bowl, cover with a clean tea towel and leave to rest at room temperature for 1 hour.
Meanwhile, to make the filling, place the dates, butter and spices in a saucepan with 50ml/2fl oz of water, and bring to the boil. Reduce the heat and stir for 4–5 minutes until a thick paste has formed. Remove from the heat and set aside to cool.
Preheat the oven to 180C/160C Fan/Gas 4 and line a baking tray with baking paper.
Break off walnut-sized balls of dough and flatten against a clean surface. Cup the flattened dough in your hand and stuff with a teaspoon of the date mixture. Fold the dough around the filling and seal.
If using a ma'amoul mould, press the filled dough into the cavity of the mould. Tap it sharply against a hard surface to release the shaped dough. If moulding free-hand, flatten the filled dough into a round and create an indentation in the centre with your thumb. If desired, use a sharp knife or cocktail stick to trace a pattern in the dough.
Continue to fill and shape the biscuits until all the dough and paste has been used. Place the rounds onto the tray and bake for 15 minutes until just cooked through. They should not colour and will harden as they cool.
Transfer to a wire rack to cool completely. Dust with a little icing sugar before serving.
As seen on Ma'amoul recipe – BBC Food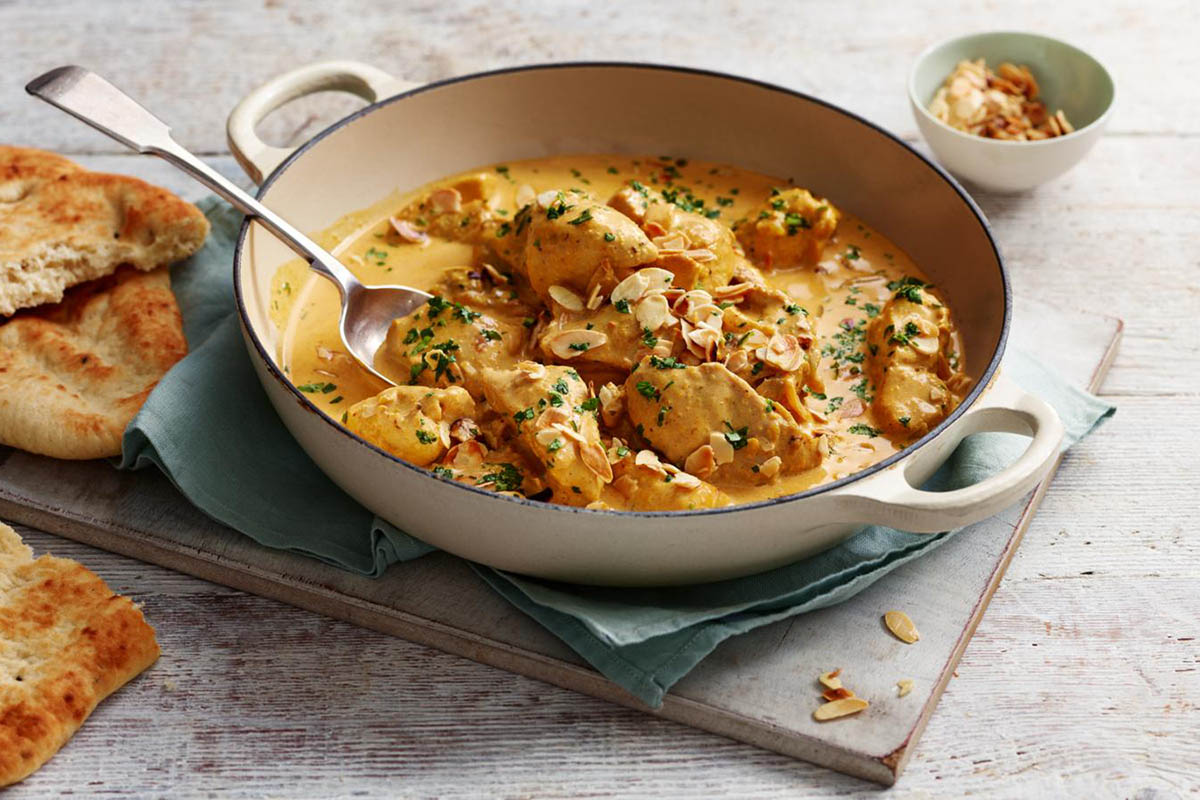 Creamy Chicken Korma
This easy chicken korma recipe is mild and rich with cream, but it's still really tasty. Serve with naan bread and/or rice.
Ingredients
2 tbsp vegetable oil
1 large brown onion, chopped
4 whole cloves
4 cardamom pods, crushed
4 skinless, boneless chicken breasts, cut into bite-size pieces
3 garlic cloves, crushed
4 cm/1½in piece of fresh ginger, peeled and grated
1 tsp ground coriander
¼ tsp ground allspice
1½ tsp ground cumin
½ tsp ground turmeric
1 tsp mild chilli powder
2 tsp tomato purée
75g/3oz ground almonds
250ml/8fl oz chicken stock
200ml/7fl oz whipping cream
salt and freshly ground black pepper
50g/2oz flaked almonds, toasted
chopped coriander, to garnish (optional)
Method
Heat the oil in a large saucepan or frying pan. Once hot, fry the onion, cloves and cardamom pods for a few minutes until the onion begins to soften.
Add the chicken, garlic and ginger and, after frying for 4 minutes, add all the remaining spices. Stir around in the pan, allowing them to release their flavour into the chicken.
Add the tomato purée, ground almonds, stock and cream and bring to a simmer. Cook for about 15 minutes until reduced to the consistency of thick cream. Taste and add seasoning if it needs it.
Scatter over the toasted almonds and chopped coriander, if using.
As found on Creamy chicken korma recipe – BBC Food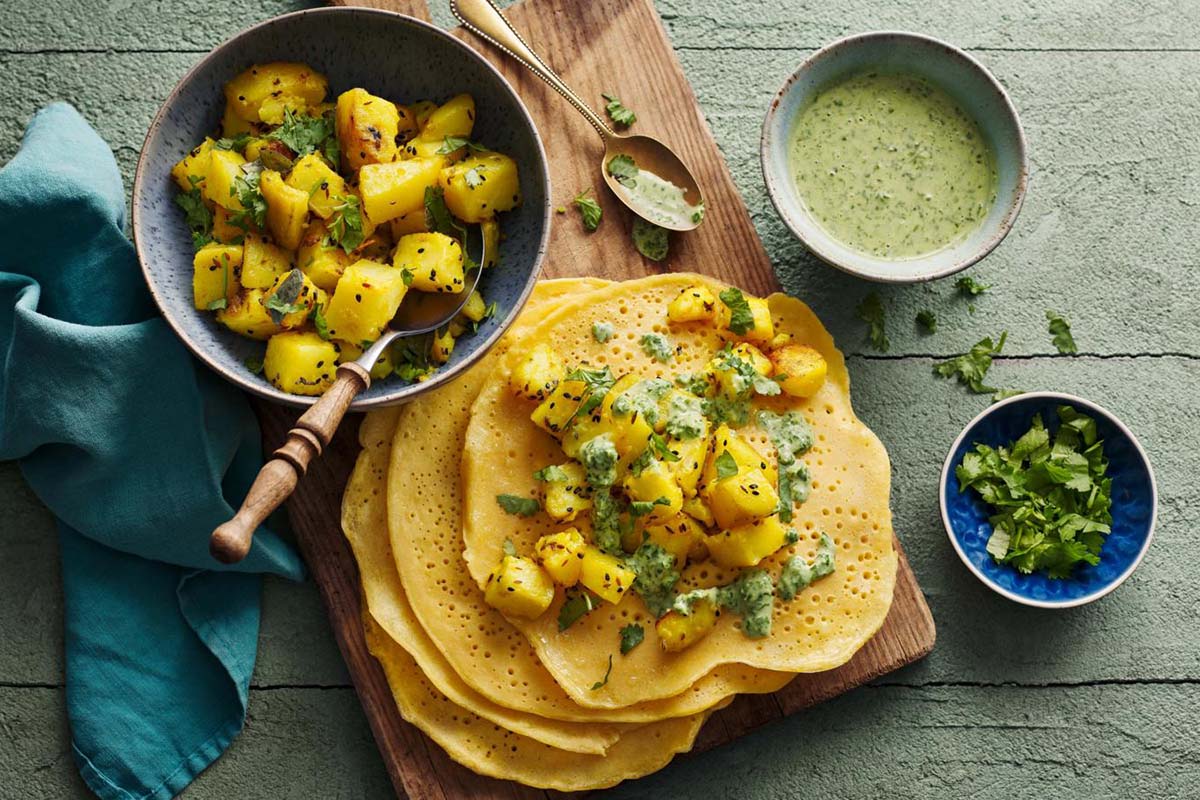 Quick dosas with spicy potato filling
Dosas are Indian pancakes often filled with spicy potatoes and served with fresh chutney or sambar. This recipe is quick, easy and vegan-friendly.
Ingredients

For the potato filling
500g/1lb 2oz potatoes, peeled and cut into 15mm/½in pieces
2 tbsp sunflower oil
1 tsp black mustard seeds
1 tsp chilli powder
2 tsp cumin seeds
2 tsp sesame seeds
8–10 fresh curry leaves (optional)
1 tsp ground cumin
1 tsp turmeric
½ lemon, juice only
large handful fresh coriander (leaves and stalks), chopped
salt
For the dosas
150g/5½oz gram flour (besan or chickpea flour)
75g/2¾oz plain flour
1 tsp baking powder
sunflower oil, for greasing
For the coriander and mint chutney
3 tbsp chopped fresh coriander leaves
3 tbsp chopped fresh mint leaves
1 tsp caster sugar
150g/5½oz coconut yoghurt
½ lime, juice only
freshly ground black pepper
Scatter over the toasted almonds and chopped coriander, if using.
Method
To make the filling, cook the potatoes in a large saucepan of lightly salted boiling water for 8–10 minutes or until tender. Drain and set aside.
Heat the oil in a large frying pan and add the spices. Stir-fry for 2 minutes, then add the potatoes. Season with salt and stir-fry for 4–5 minutes until well coated. Remove from the heat and add the lemon juice and chopped coriander. Set aside.
To make the dosas, whisk the flours and baking powder together with 300ml/10fl oz water in a large jug to make a runny batter (it should be thinner than a pancake batter so add more water if needed). It should be quite runny because you need to spread it fairly thinly.
Lightly grease a non-stick frying pan with the oil and wipe any excess with kitchen paper. Place over a medium–high heat, then add a ladleful of the batter and swirl to coat the base of the pain fairly thinly, like a crêpe. Cook for 3–4 minutes until the top is set and the bottom is very lightly golden. Remove from the pan and place on a plate. Spoon some of the filling down the centre and fold over. Repeat with the remaining batter and filling until there are eight filled dosas.
To make the chutney, blitz the coriander, mint, sugar and coconut yoghurt with some pepper in a food processor or blender until well blended. Add the lime juice just before serving. Serve the filled dosas with the chutney.
As found on Quick dosas with spicy potato filling recipe – BBC Food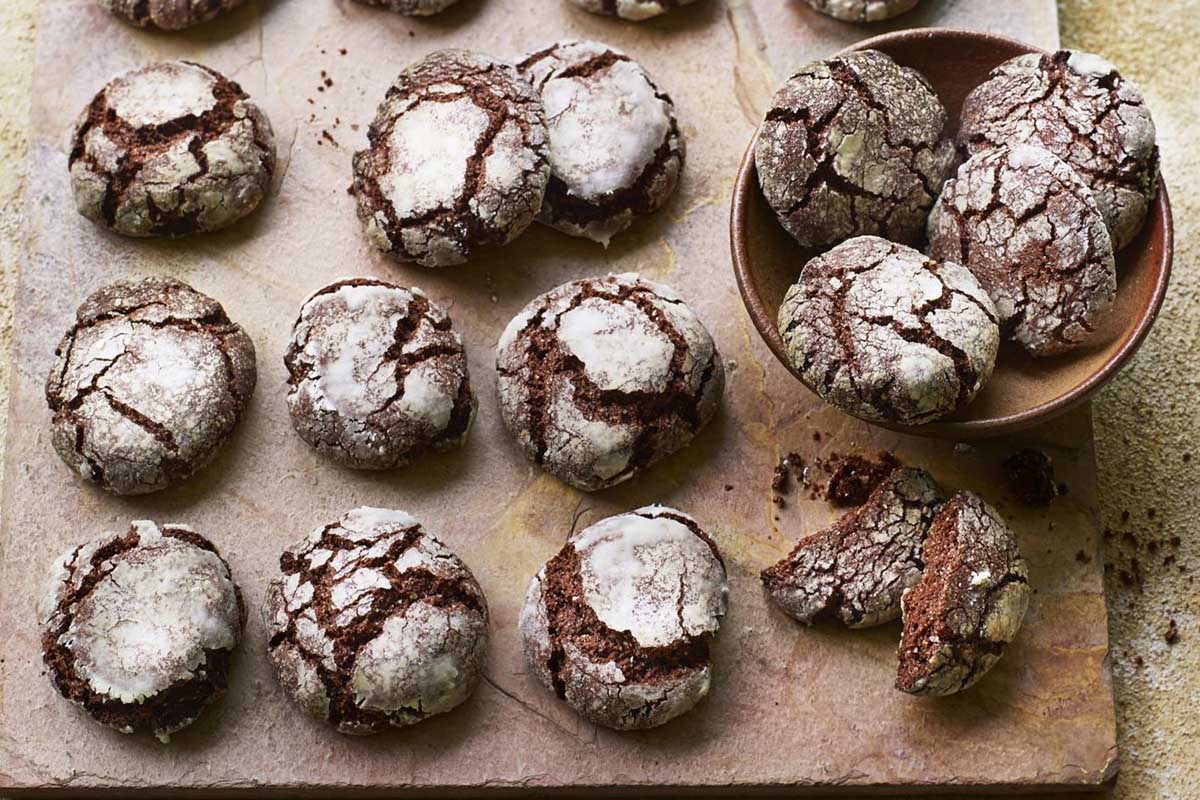 Chocolate and almond Ghriba
Ghribas are Moroccan cookies that come in various flavours, but this chocolate and almond version is one of our favourites. They have a cracked top and chewy centre, and are deliciously rich and fragrant.
Ingredients
200g/7oz dark chocolate (70% cocoa solids)
50g/1¾oz unsalted butter, softened
100g/3½oz caster sugar
2 free-range eggs
1 tsp vanilla extract
½ tsp almond extract
150g/5½oz ground almonds
100g/3½oz plain flour
1 heaped tsp baking powder
½ tsp salt
150g/5½oz icing sugar
Method

Put the chocolate and butter in a microwave-safe bowl and microwave for 15 second intervals, stirring between each one until just melted. Alternatively, melt the chocolate in a heatproof bowl set over a saucepan of gently simmering water, making sure the bottom of the bowl does not touch the water. Take care not to overheat the chocolate as it can seize.
Stir in the sugar, eggs and vanilla and almond extracts. Mix in the ground almonds, plain flour, baking powder and salt until well combined. Cover with cling film and refrigerate for 2 hours or overnight.
Preheat the oven to 200C/180C Fan/Gas 6 and line a baking tray with baking paper.
Shape tablespoons of the dough into balls and roll each one in the icing sugar. Place the balls on the baking tray and lightly press each cookie (do not flatten completely) leaving at least 5cm/2in between each. Bake for 10–13 minutes, or until the cookies are cracked and firm on the outside.
Cool for 15 minutes on the baking tray then transfer to a wire rack to cool completely.
As seen on Chocolate and almond ghriba (Moroccan cookies) recipe – BBC Food
Looking for last minute Eid gifts? Find more helpful Eid articles on Asiana TV!