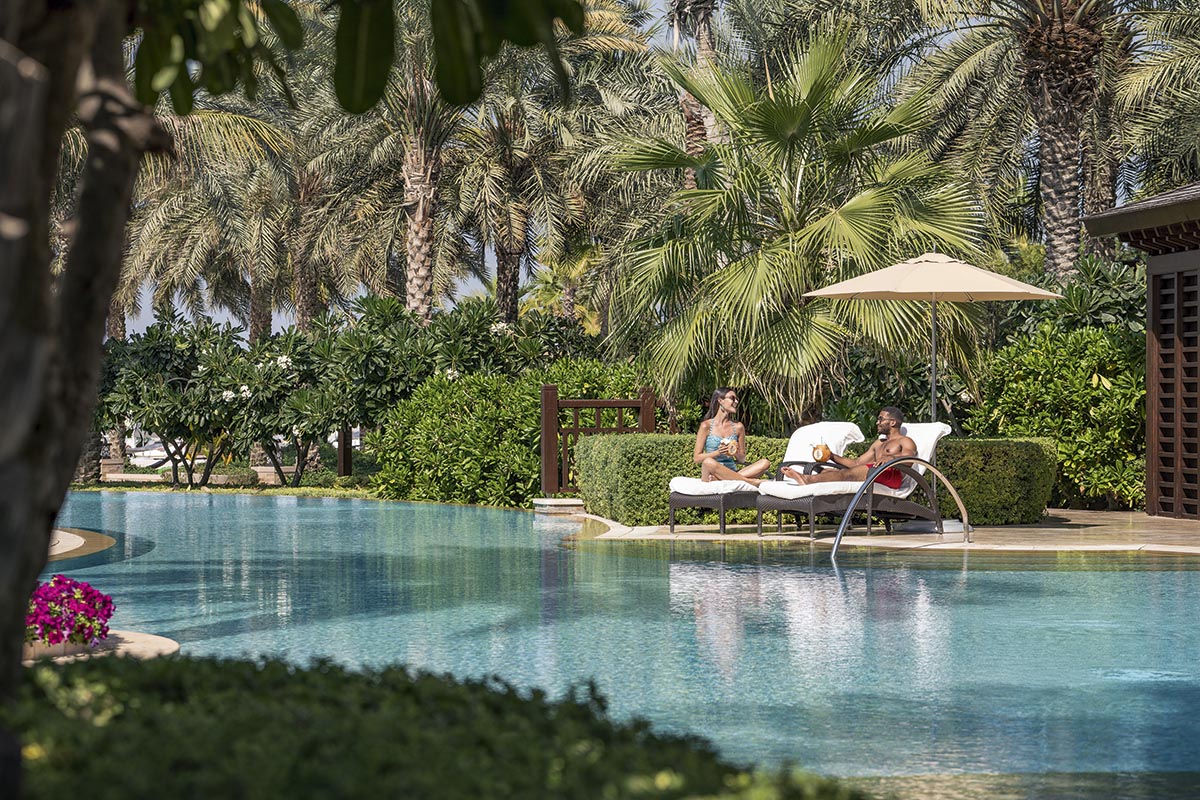 The Middle East remains the number one dream destination for couples seeking unrivalled luxury and hospitality. We sent Fariha Sabir-Bajwa to check out the latest must-stay hotels for honeymooners in the region's most desirable locations
UAE: Four Seasons Resort Jumeirah Beach, Dubai
Dubai has long established itself as a honeymoon haven and made its mark as the ultimate glitzy and glamorous playground of indulgence and hedonism. With this image in mind, it only makes sense to choose a hotel that will match such lustrous expectations. Cue Four Seasons Resort Dubai at Jumeirah Beach – which will not just meet expectations, but also go way beyond.
Ideally located near downtown Dubai on Jumeirah Beach Road, the hotel boasts awe-inspiring views of the illustrious Dubai skyline on one side and the sparkling waters of the Arabian Gulf on the other. This means that most things on your to-do list will most likely be conveniently close by such as Dubai Mall, Dubai Fountains, the tallest building in the world Burj Khalifa, Dubai Water Canal and so much more.
There is an array of rooms and suites to choose from, each with impressive views all around, featuring classic themes, with contemporary accents, hints of Arabian design and finished with sumptuous furnishings. The large cushy beds promise a slumber of a lifetime, the bathrobes are plush and your toes will sink into the thick bathmats. The attention to detail is divine and is what sets Four Seasons apart from the others, as well as the most attentive staff.
Dining at the Four Seasons is a treat to the senses, with a range of restaurants and bars such as Mercury Lounge, offering delectable cuisines that you can tuck into and sip a swanky cocktail, all whilst taking in alluring views of the city. Whether it's a Tomahawk steak cooked to perfection at dinner or chocolate madeleines with tea – both will be the finest edibles your tastebuds have ever savoured. Newlyweds can romance during a private beachfront dining evening, featuring their very own attendant catering a five-course extravaganza.
Not many hotels can boast a private beach along the Arabian Gulf coastline – ideal for a spot of basking in the sun and beachside tipple. For those looking for a sanctuary, The Pearl Spa is a lavish retreat featuring an array of treatments and therapies to rejuvenate the mind and body, including the use of luxury products such as Biologique Recherche, which will leave your skin feeling anew. The pearl-themed spa is reminiscent of Dubai's ancient pearl industry, where guests can be wowed by pearl-embedded feature walls, consisting of reflective pearl elements resembling a mermaid's tail.
Although Dubai showcases an extensive portfolio of decadent hotels and resorts, the Four Seasons is an iconic gem of sheer elegance and refinement in every aspect.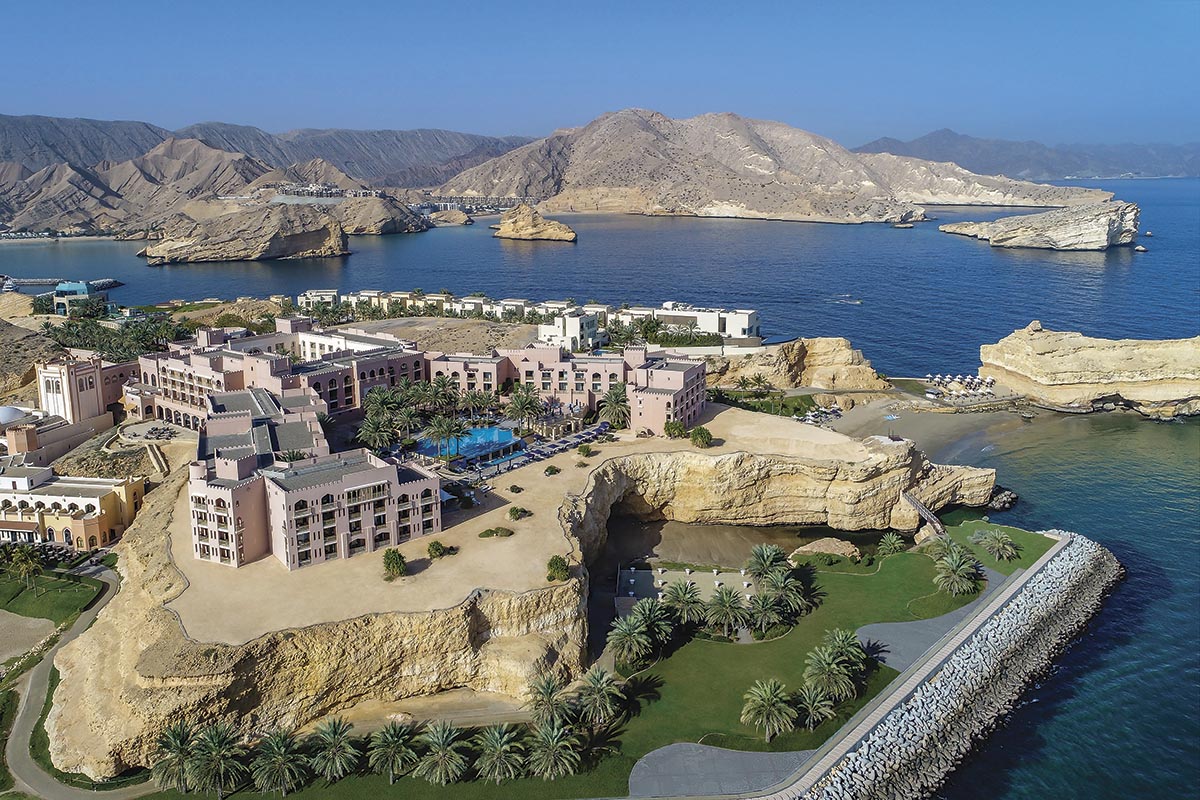 OMAN: Shangri-La Resorts, Muscat
Upon first impressions of Muscat, you will be pleasantly surprised and awe-inspired by the imposing landscape of gigantic, looming, rocky mountains. The journey to Shangri-La resort hotels is a unique one, where you will be left wondering how the roads were carved from these epic rocks. As the roads wind upwards and downwards, the resort is hidden away by the mountains, until it magically emerges on the horizon.
Shangri-La Barr Al Jissah resort connects two enormous luxurious hotel wings called Al Waha 'The Oasis' and Al Bandar 'The Town'. The hidden gem amidst this treasure, is Shangri-La Al Husn, an ultra swanky adult-only retreat, discreetly nestled atop a cliff, adding to the exclusive honeymoon vibes.
Set away from the rest of the resort hotels, Al Husn's ambience is of the utmost tranquillity. Staying true to Omani heritage and culture, sumptuous Arabian décor, facades and furnishings fit for royalty are themed throughout the resorts. Al-Husn boasts understated opulence with quintessentially Middle-Eastern shaped archways and golden embossed ceilings. As you walk out into the main courtyard, there is not a sound to be heard, except the gentle tinkering of the central fountains cascading, until your eyes and ears are drawn towards the most soothing melody and sight of the dazzling waters of the Gulf of Oman, creating an idyllic backdrop for the huge infinity pool.
Following the uninterrupted sandy coastline, there is no better relaxation spot than the serenity of the private beach cove. There are a variety of rooms and suites on offer, each impeccably designed and wonderfully spacious, including a special balcony or terrace from which to savour the surrounding natural scenes.   
As you enter the decadent Luban Spa, you will instantly be welcomed by the indulgent and mystical scents of Frankincense – a traditional oil embedded in the Omani culture since the beginning. Tantalising cuisine from traditional Omani dishes to Mediterranean delights can be enjoyed at any of the three restaurants and bars onsite. Omani food is delicious, where the meat in particular is cooked to the utmost tender perfection. Although you won't want to leave the serenity of Al-Husn, guests can also utilise all facilities and services at the adjacent hotels on the resort, including six swimming pools, nine restaurants, bars and cafes.
Although it is easy not to leave this seaside haven, there is of course plenty to experience in and around Muscat including local markets, beautiful mosques, shopping and a variety of watersports. But what will certainly leave its mark is the warm Omani hospitality.
Get married in Muscat
Muscat makes the ideal destination wedding spot with year-round sunshine, stunning natural beauty backdrops such as sandy beaches, turquoise sparkling waters and a mesmerizingly unique landscape of rugged mountains. The Shangri-La resorts can accommodate large-capacity celebrations and their in-house wedding planning team can cater to all your dream wedding requirements. They really know how to personalise each event too – they once changed the name of the resort to a groom's surname upon his request.