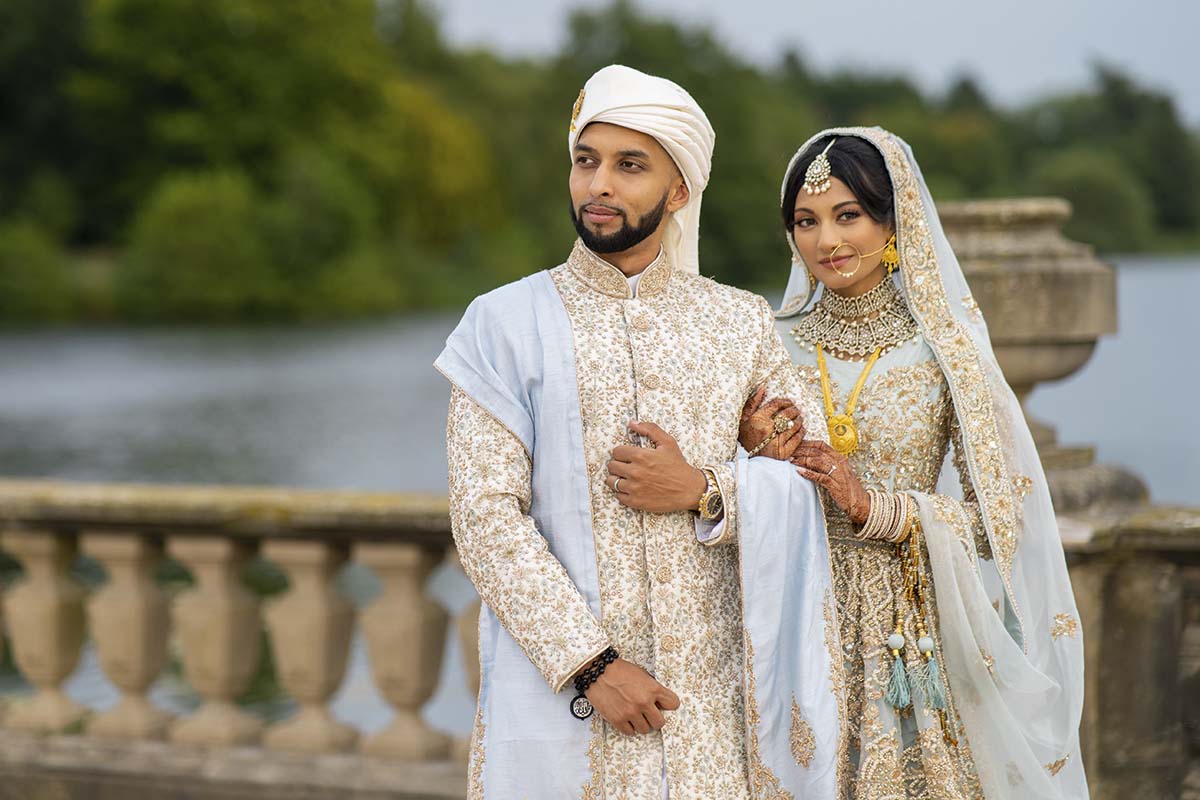 BBC Asian Network's Smash Bengali and his wife share their treasured memories of the happiest and most fun day of their life
WEDDING DETAILS
Bride:Nadia Begum
Groom: Hashu Mohammad (Smash Bengali)
Venue: Trentham Estate
You'll know him from the airwaves and his entertaining banter on his YouTube channel, the Social Media Influencer and comedian-turned BBC radio presenter Smash Bengali (aka Hashu) is the coolest British Bangladeshi of the moment – get ready for the wedding exclusive of the year! 
The Proposal
Hashu and Nadia's families observed the cinifan, a traditional Bangla proposal, before getting engaged at Nadia's home.
Here they share their story of their union…
Nadia: After a couple of months of our families getting to know each other over the phone, our engagement date seemed so far away. Little did we know that time would fly by to the Big Day. I can't describe how much my family and I stressed about matching cutlery and how our house looked – to the point where we had redecorated every room in the house in preparation. But when the day finally came, all the finer details seemed irrelevant, as we couldn't wait to meet his family.
Like every Bengali bride on their cinifan, I was so nervous yet so excited. I felt like a princess awaiting her prince. The day was filled with so much laughter and joy as none of us could believe that the first grandchild of the family was getting married – especially to someone who we have all known as the funniest representative of our community all these years!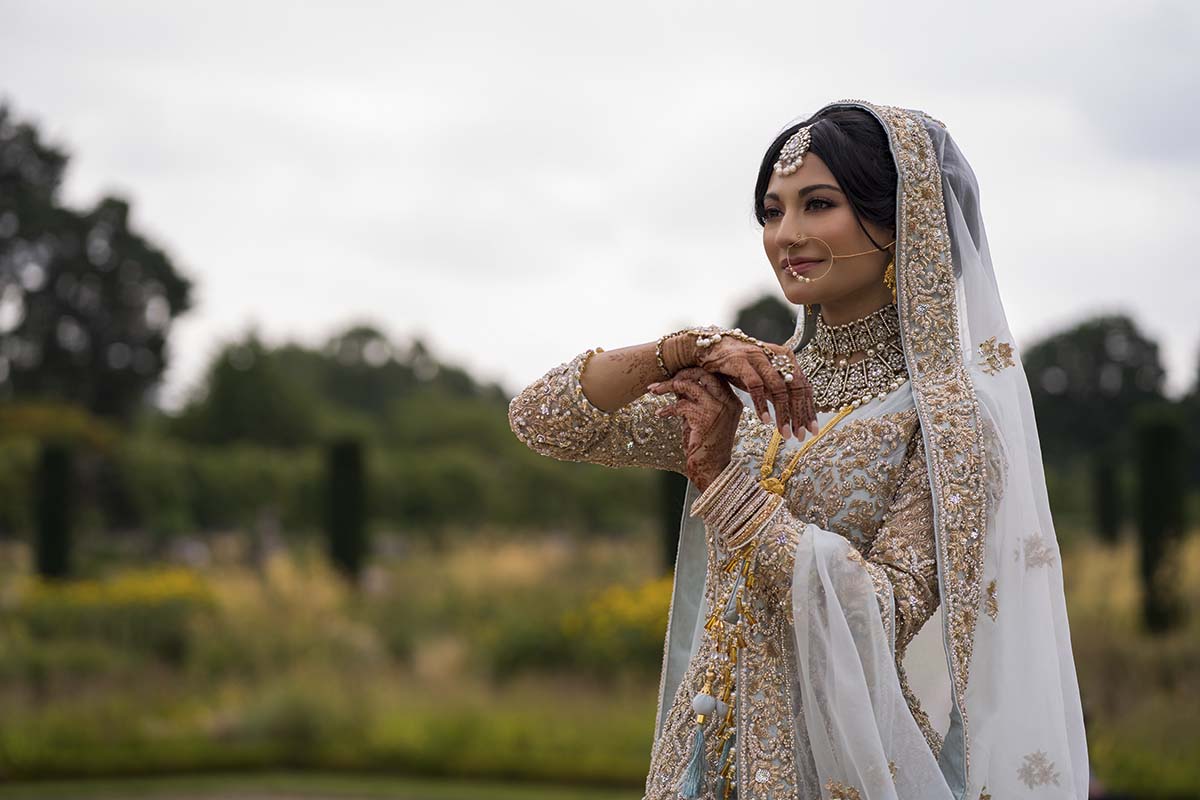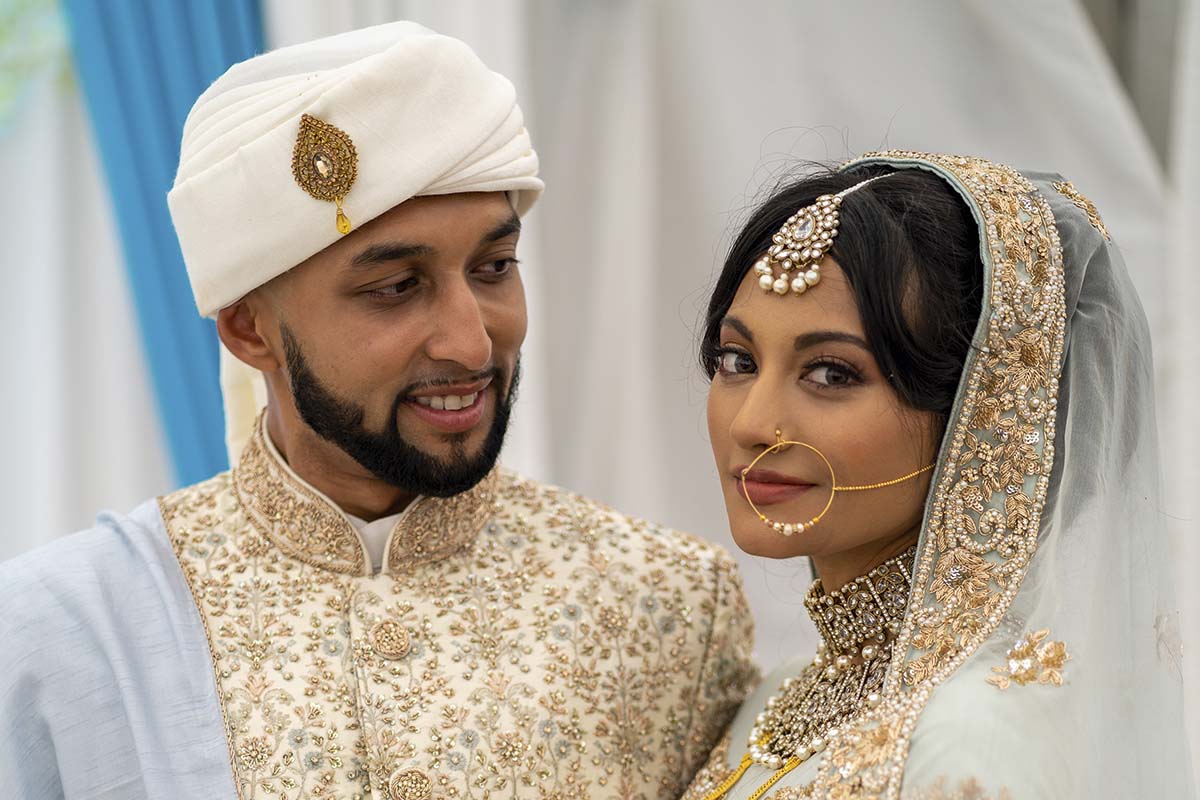 The Engagement
Hashu: It was surreal to have both our families come together for our engagement. We had prepared loads of taals and hampers for Nadia and her family with gifts for her immediate family.
However, if you know weddings well, you'll know sometimes things don't go to plan. On the day we set off in two cars. In one there was me, my sister, brother-in-law and niece. In another, my parents and two elder brothers. As fate would have it, my parents and brothers got delayed by an hour due to an accident on the motorway (it wasn't them don't worry!) This meant, we were the first to arrive and had to go against the tradition of entering with the elders…and instead enter by ourselves!
This made me feel super nervous. I've performed on stage in front of hundreds of people but never have my nerves been as high as having to enter for my engagement without my parents. To make matters worse…I entered Nadia's living room which had about 15 men ready to interrogate me!
I greeted her dad first giving salaam and immediately he embraced me. In Bangladeshi tradition, the groom's wits and banter are tested by the Nana – or the granddad of the community. I had a few laughs with him and to my surprise, I began to feel at ease a lot sooner than I thought. Being able to speak Bengali confidently really helped me gain the respect of the room and soon enough I was blessed with a long awkward silence. Ah! The bliss…the interrogation was over.
Soon after my parents and brothers arrived, everyone began to mingle. Nadia's dad gave me a tour of his greatest passion, his garden filled with so many different types of plants and veg. Oh and his pigeons! He has literally 100 pigeons. No kidding, but honestly it was so great to spend time with him and realise where she gets her simple and pure heart from. I was overwhelmed and felt so grateful that I was being able to bond with the people that meant so much to Nadia.
At the end of the evening while driving back home – I remember thinking one day I'll be making this same drive with Nadia as a married couple  – Insha'Allah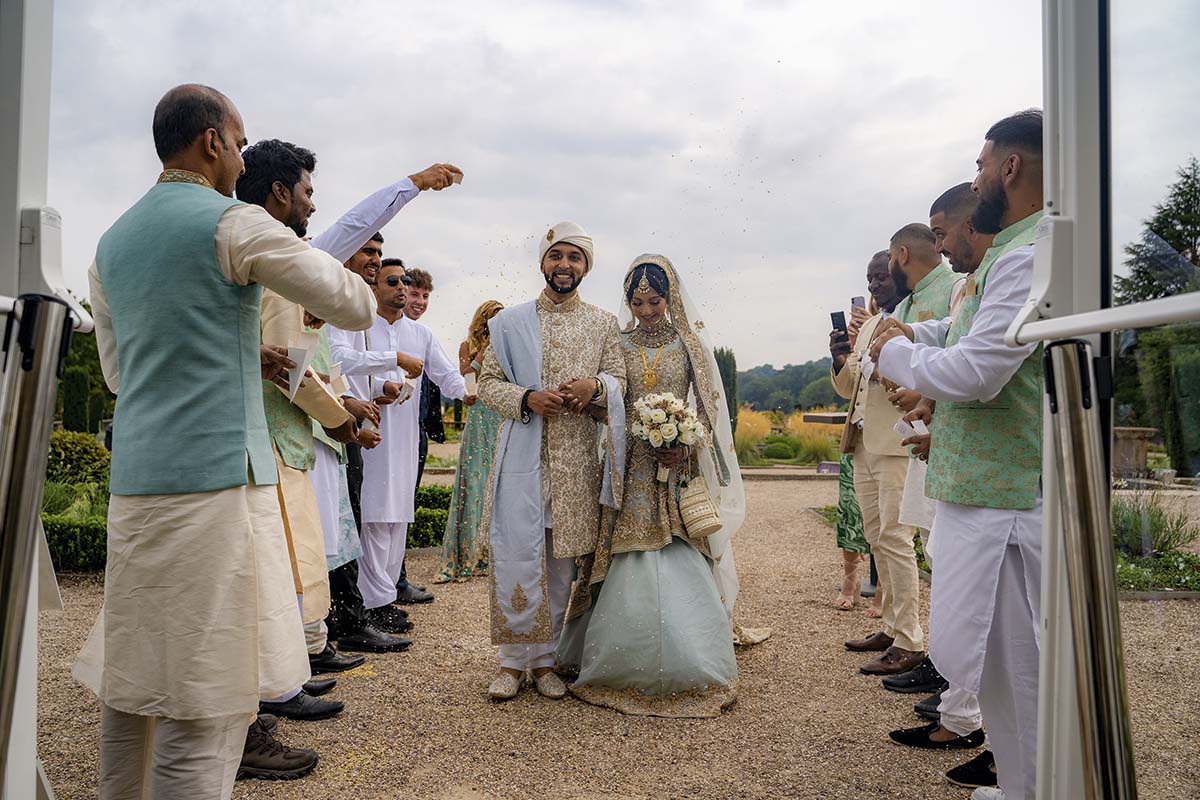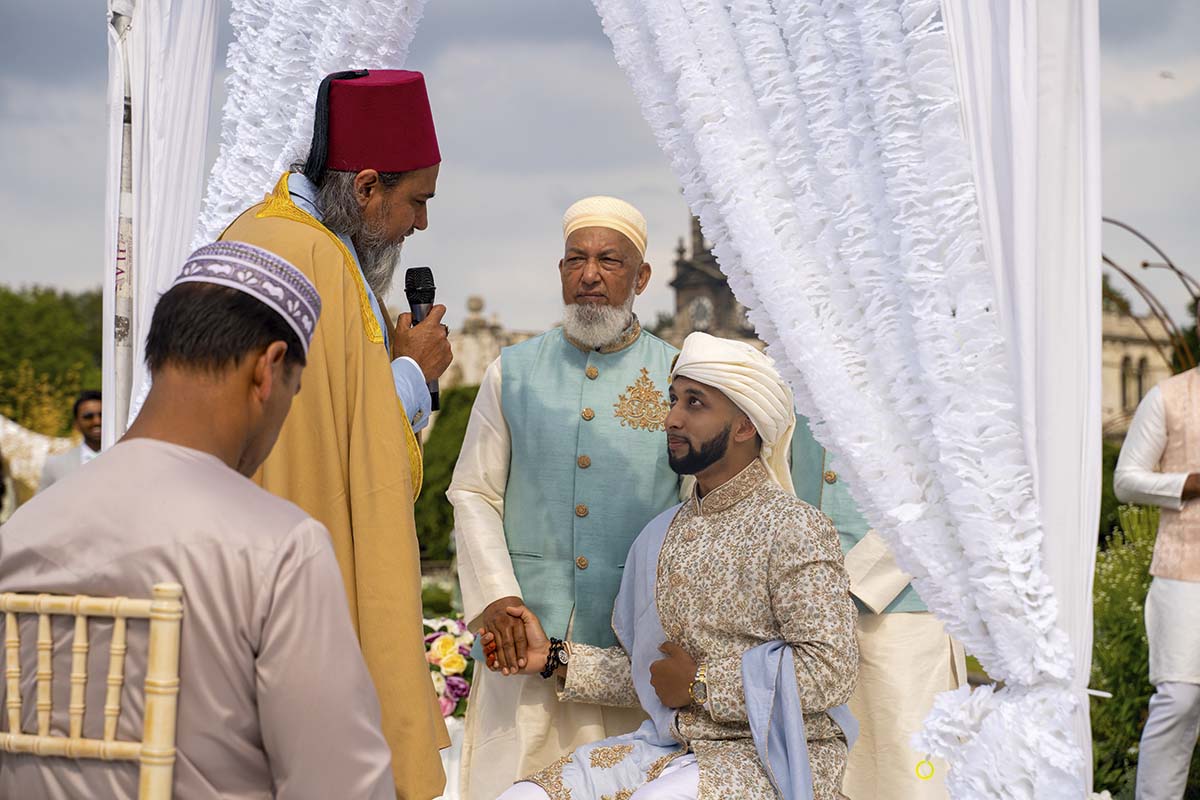 The Planning
The organising was a task for everyone in our family, as they say, when you get married you marry your partner's family too!
It's safe for everyone to say that the bride definitely stresses more about everything than the groom. However, Hashu did his fair share of haggling! There was so much to organise, it would have been impossible without our families and we can't thank Hashu's big sister, Bina enough for how much effort she put into organising the important stuff like caterers, decorators and transport.
Nadia: My cousins were angelic in helping me make Hashu's taals – which are the gift baskets we exchange. They took hours to shop for and even longer to put together. Every taal had a theme to it. I categorised them as religious, entertainment, clothes, toiletries, designer labels, aftershaves as well as hampers for his entire family. It was such a creative process learning how to fold and style clothes like they would be presented in a shop display. I also picked up a few new skills, like making floral gem ring plates and making flower bracelets for my bridesmaids!
Choosing a design for our wedding cake took weeks of back-and-forth suggestions between myself and my future sister-in-law, don't even get me started on finding the perfect dress! There weren't any modest, light blue ball gown dresses available on the internet and so Bina suggested that we go shopping to try some dresses. Thankfully, I fell in love with my dress at first sight.
I felt like an absolute princess in my wedding gown! Can you believe that it was 40kg? It took two people to carry it upstairs for me, in a body bag and all! The weight of the dress just made the outfit seem all the more majestic.
I got my bridal jewellery from Chohan's, on Ladypool Road – gifted by my wonderful husband in one of my taals of course! I also wore the gold necklace and earrings that my husband had given me as another wedding gift. I think the nose ring definitely added the most difference to the overall look. That and the incredible work that my make-up artist did for me."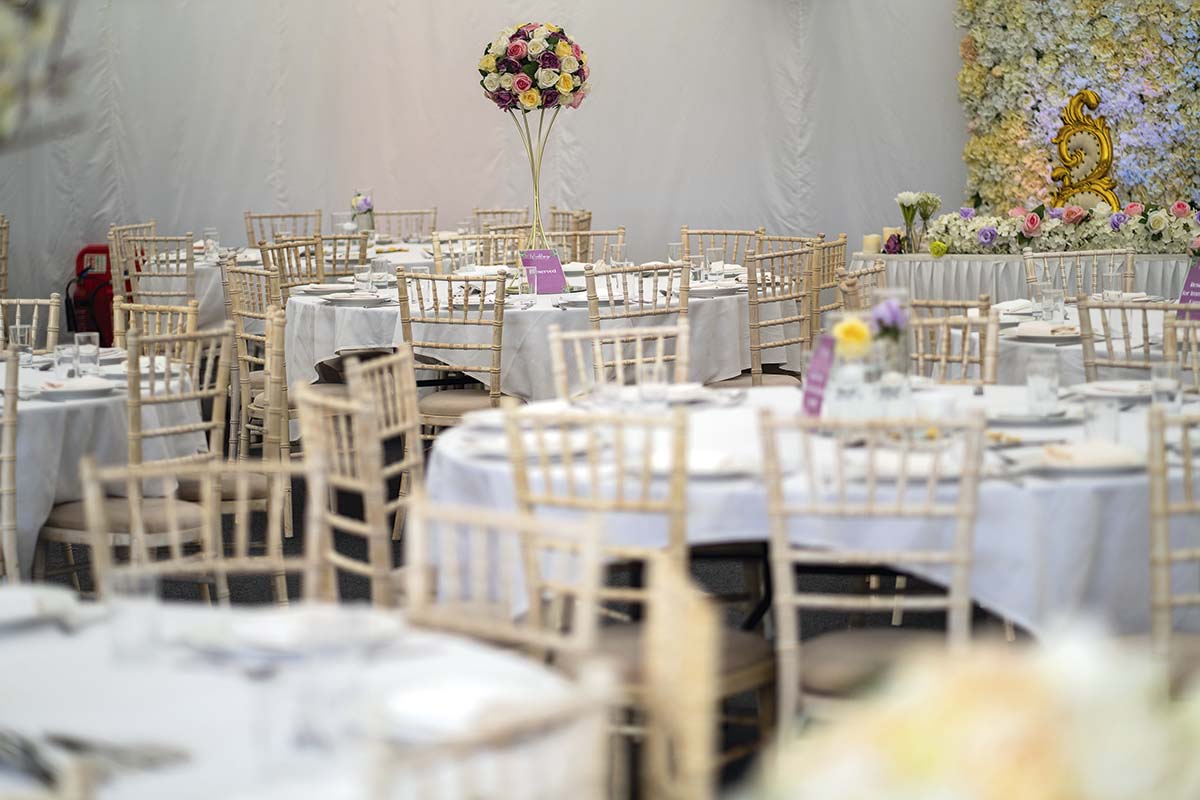 The Venue
Hashu's sister came across our wedding venue Trentham Estate. It was perfectly placed between Manchester and Birmingham. As soon as we saw it we fell in love and just knew this was the place that was always meant for us to unite in marriage.
There was so much for our guests to explore to break up a long day – an open park and even a monkey sanctuary next door. We went for an elegant floral theme with gold accents which shone in the beautiful weather.
The Catering
We went for the same caterer as Hashu's older sister had for her wedding. The food was so good at her wedding that they had to be hired again! We had a selection of canapés before our guests were seated, followed by starters consisting of kebabs, samosas and pakoras. We also had the most amazing mocktail bar.
And for dessert, after a long debate between Team Rassmalai (Hashu) VS Team Gulab Jamun (Nadia)… We had Gulab Jamun! (Settled by a game of darts between the bride and groom).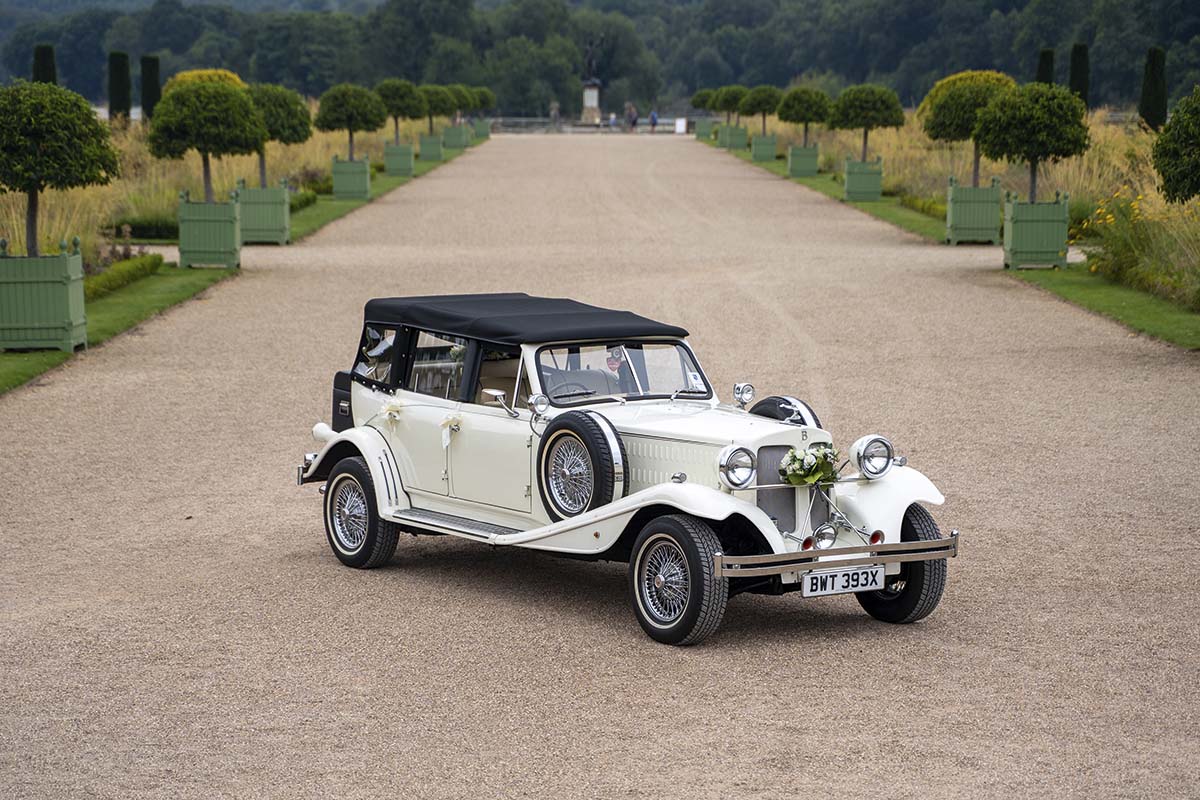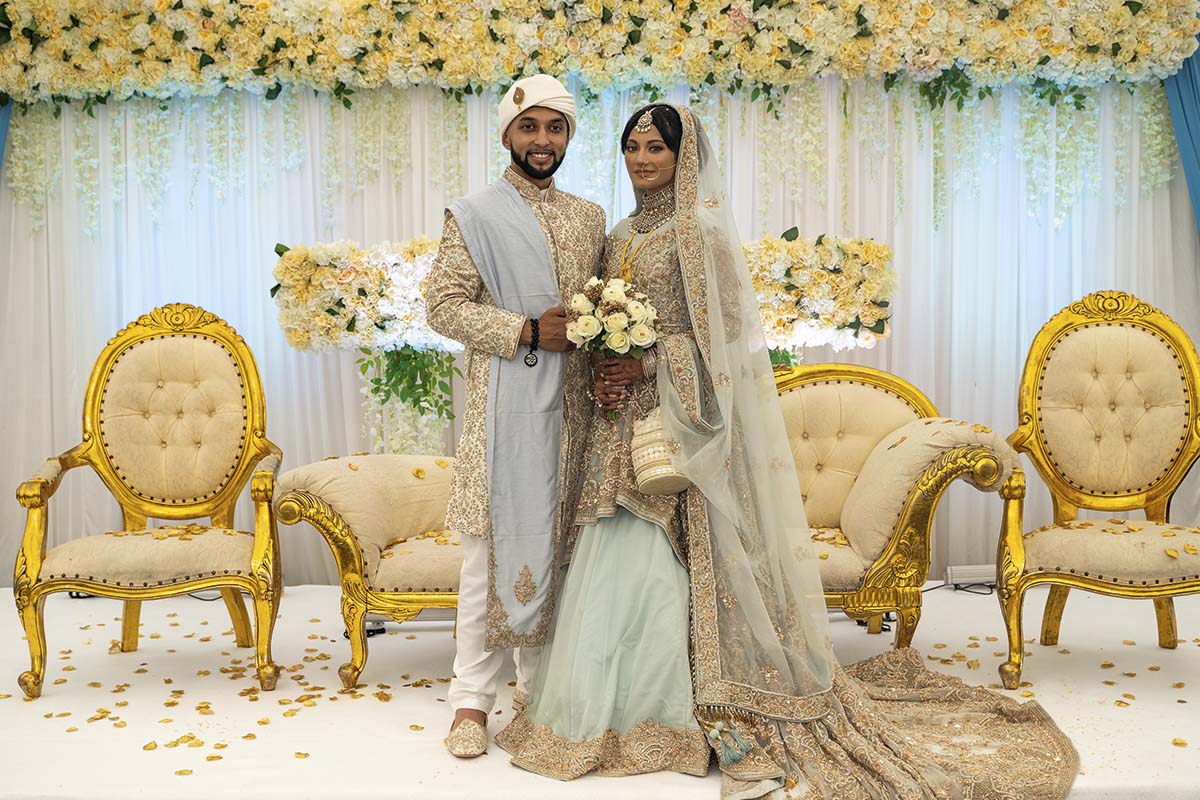 The Big Day
Nadia: The night before my wedding I begged my grandma to sleep next to me, just like I would when I was little. It was so emotional to think that this was my last night as an unmarried woman and my grandma being next to me as I fell asleep and woke up meant so much.
My day began at 4am. It was so surreal to sit up that morning and realise that this was the last time I'm going to wake up here on my own. It took about five hours to get ready that morning, I loved it though. The most memorable part was when my mum came into my room and saw me in my wedding dress and told me I looked perfect.
The Beauford Classic car arrived to take us to the Big Day. It wasn't long before I was blasting my favourite wedding songs and singing in the back but my bridesmaids and I also made a special trip on the way to the venue. We visited our late grandfather's grave and made dua for him. We were heartbroken that he couldn't make it to my wedding, he had only passed away six months earlier.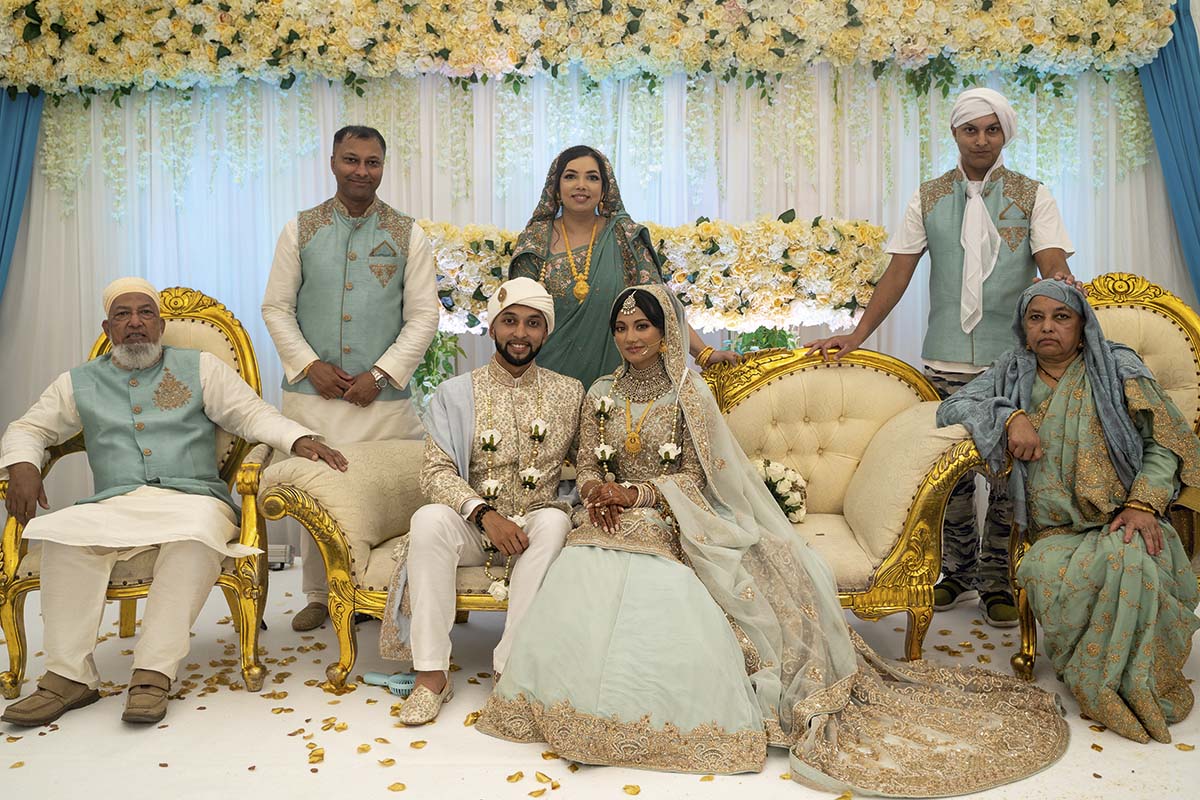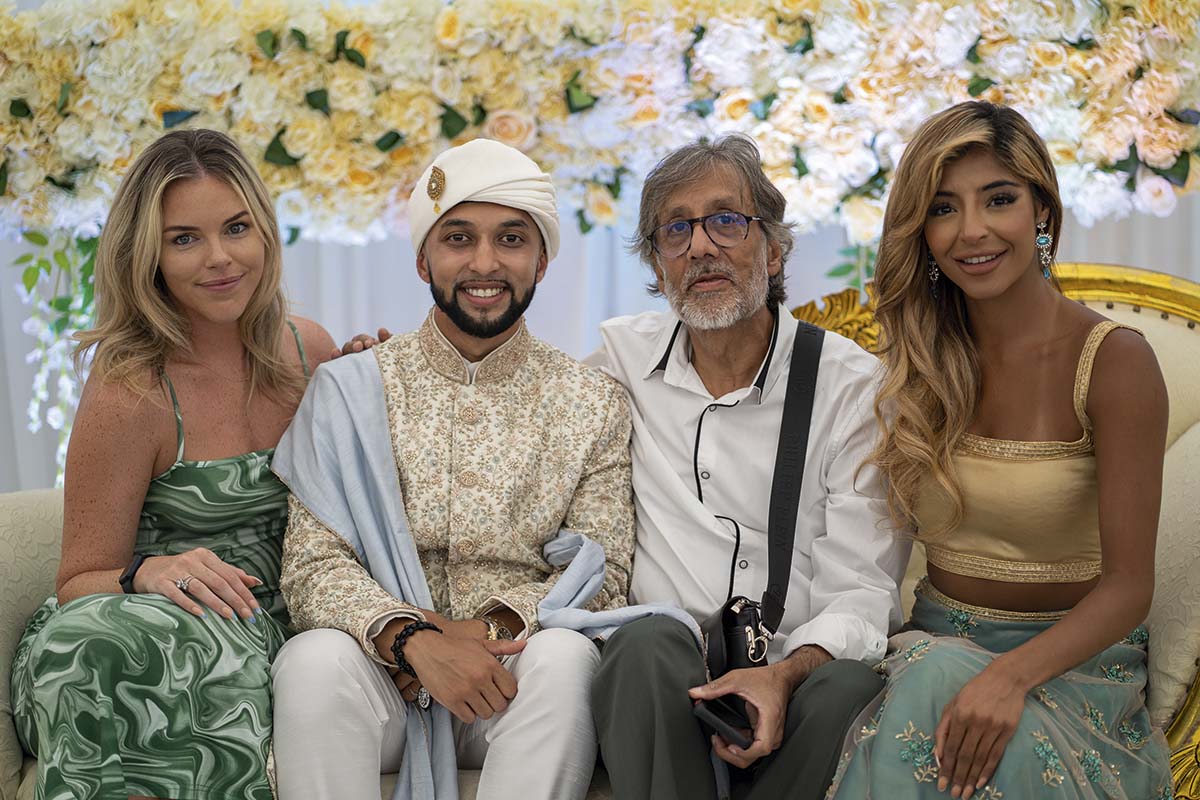 The Memories
Hashu: It was forecasted thunderstorms and lightning the closer we got to our wedding day. We were all praying that the predictions would change last minute. On the morning of our wedding, it looked like the forecast would be accurate however, upon arrival there was sunshine and beautiful warm weather.
However, the weather forecast wasn't wrong – as soon as our wedding was over the heavy rain and thunder began. In our culture, it is considered lucky that it rained on such a blessed day.
Every time we look at our wedding pictures together, we're just admiring each other really. It's still so surreal to think that our lives changed entirely and for the better from that day going forward and we wish that
we could relive it over again.
We definitely having post-wedding blues where we miss the rush of getting everything organised and having all of our immediate and extended family being there with us every day and we are so grateful and thankful to everyone that joined us to start our next precious chapter.