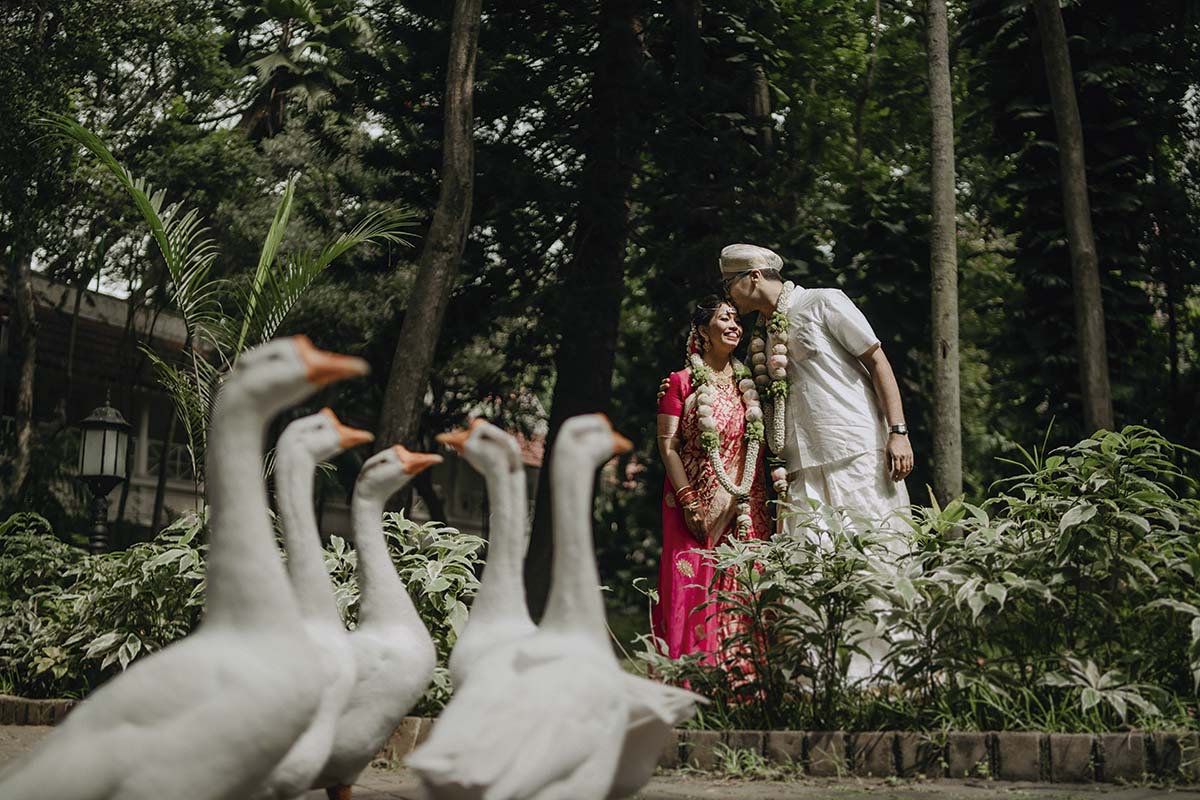 Destiny always unites true love as interfaith couple Priyanka and Ajay discovered
WEDDING DETAILS
Bride: Priyanka Nayak
Groom: Ajay Joseph Meyne
Date of Wedding: December 3rd & 4th 2021
Venues: Hindu wedding – Blue Ginger Lawns, Taj West End, Bangalore
Christian wedding – St. Francis Xavier's Cathedral Church and Fiestaa Resort, Bangalore
Photography: Merrygohearts
Our Love Story
Ajay is a Christian from south India and I am a Hindu from east India, but our different religions never got in the way of our relationship. We met through a close common friend at our go-to pub in Bangalore, Watsons. We hit it off that evening over our mutual love for food and drinks. What initially started as a few casual catch-ups and dinners soon developed into deeper feelings and a lifelong bond of friendship, love and joy.
We are honestly just two individuals who are delighted to have found our soul mates in each other. We had so much compatibility and synergy since day one and it was a bonus that our families also got along like a house on fire. Whenever we meet it's a big party with lots of food, music and bonhomie and we wanted our wedding days to be just the same as we had two – a Hindu ceremony and a Christian wedding.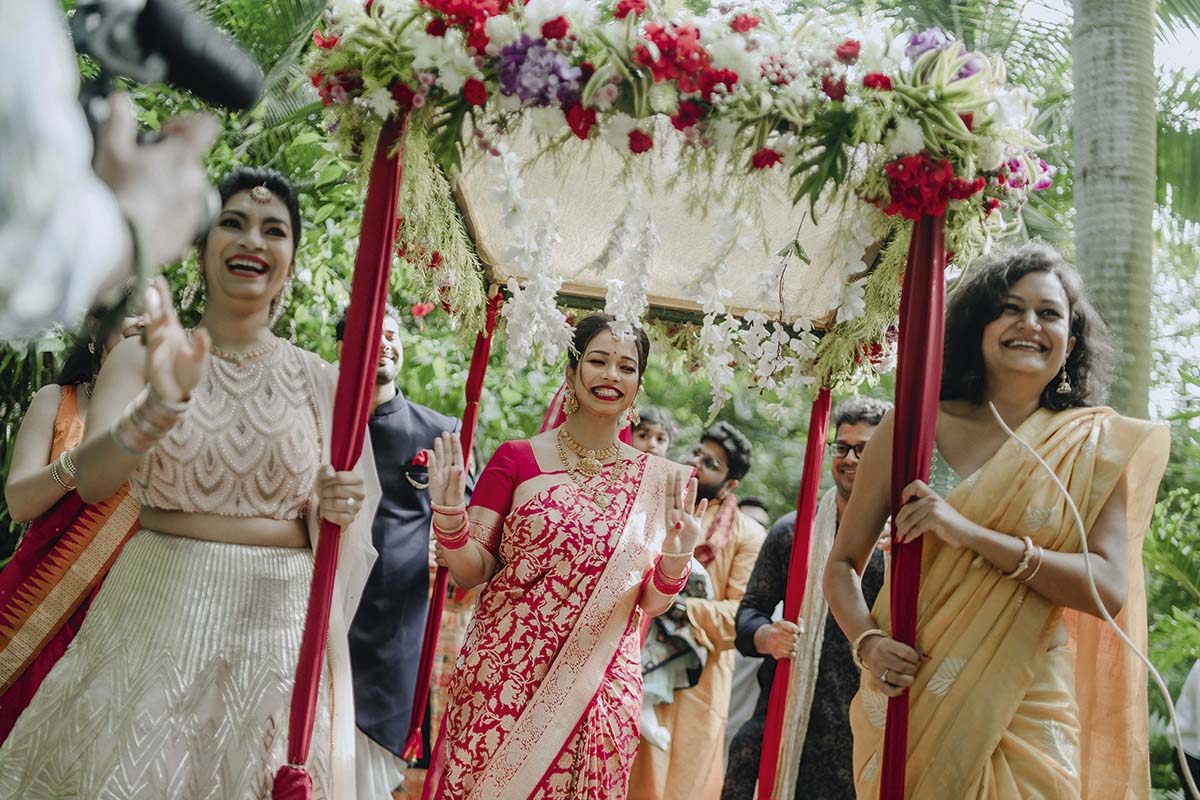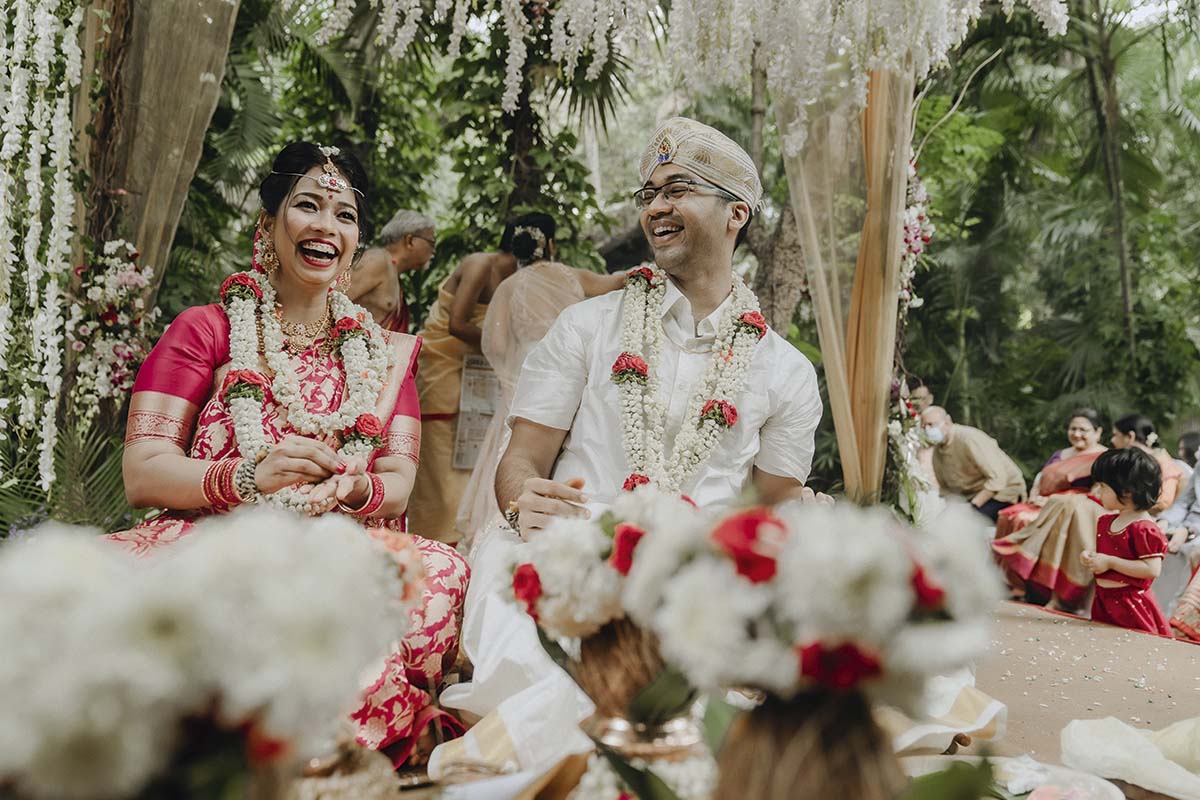 Traditional Touch – Our Hindu wedding
We wanted our wedding to be a chilled, happy event where our families could sit back and enjoy themselves so we opted for a two-day wedding. First, we had an early morning Hindu wedding and on the second day, we had the Christian wedding at a church in the afternoon followed by a reception, giving us plenty of time to rest and relax between both events.
Hindu wedding ceremonies are so gorgeous, colourful and full of rituals and customs from flowers, haldi and water to fun games. To highlight these beautiful traditions and colours we held the Hindu wedding in the morning to make the most of the natural light. I chose Blue Ginger Lawns because the venue is absolutely beautiful, you are transported to a magical world and feel like you're right in the middle of a forest amidst nature and water. It's a small and intimate venue and was perfect for our fairytale Hindu wedding. Live drums and flute artists added to the gorgeousness of the ceremony.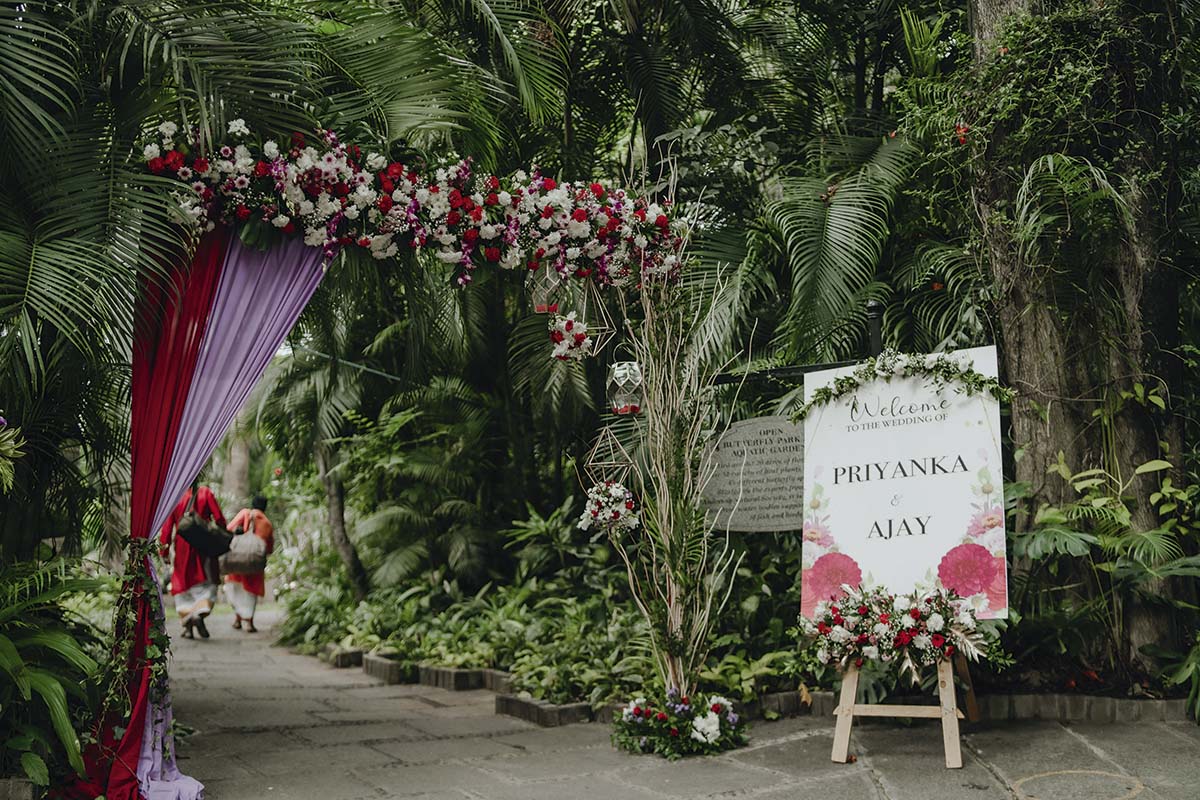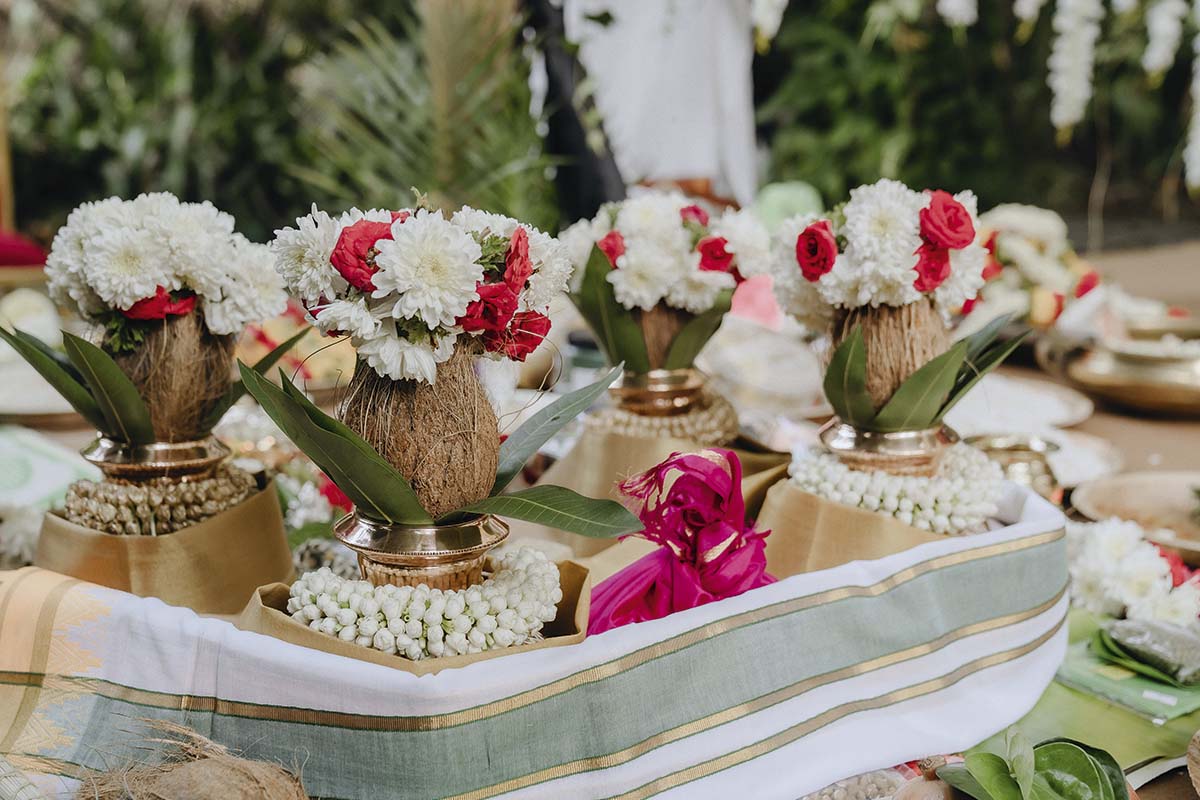 The Theme & Décor
The celebrations were outside and I was just praying for no rain! Given our natural green surroundings, the decorations were kept simple and minimalistic to blend in. The colour scheme was red, purple and white – we had lots of carnations and hanging garlands of jasmine and a beautiful open mandap.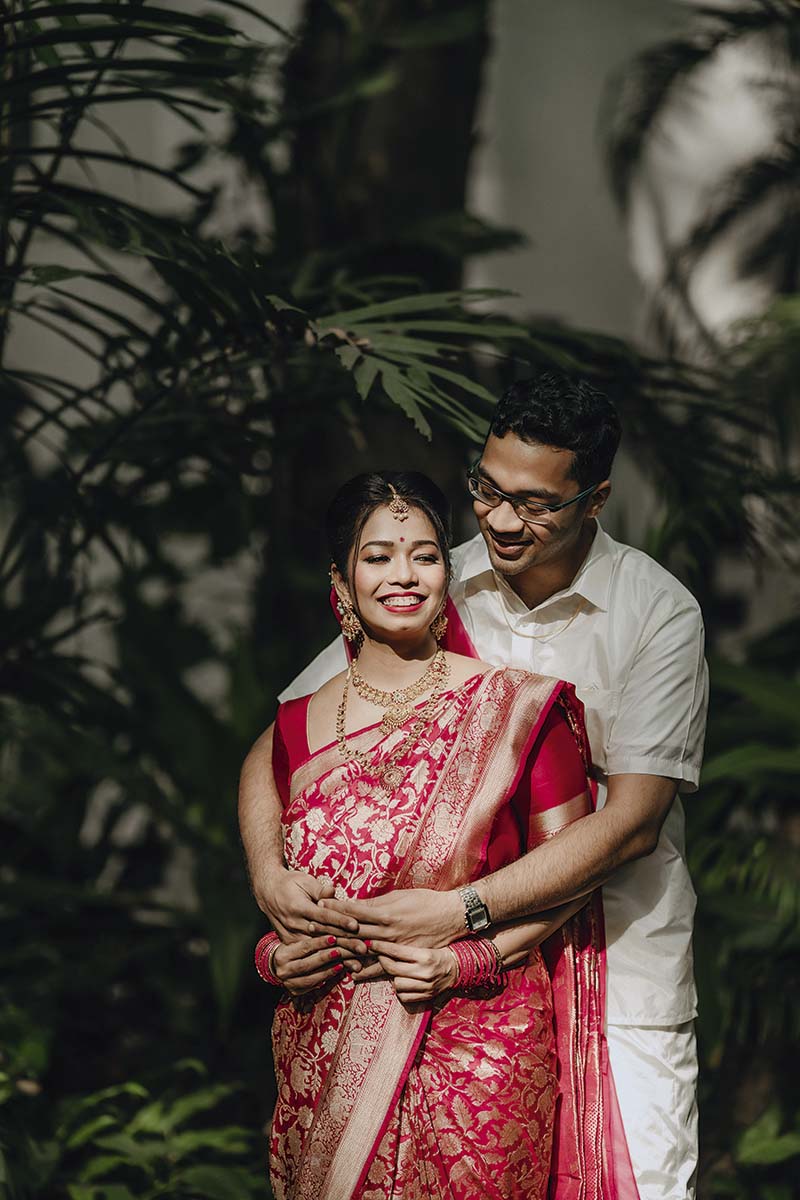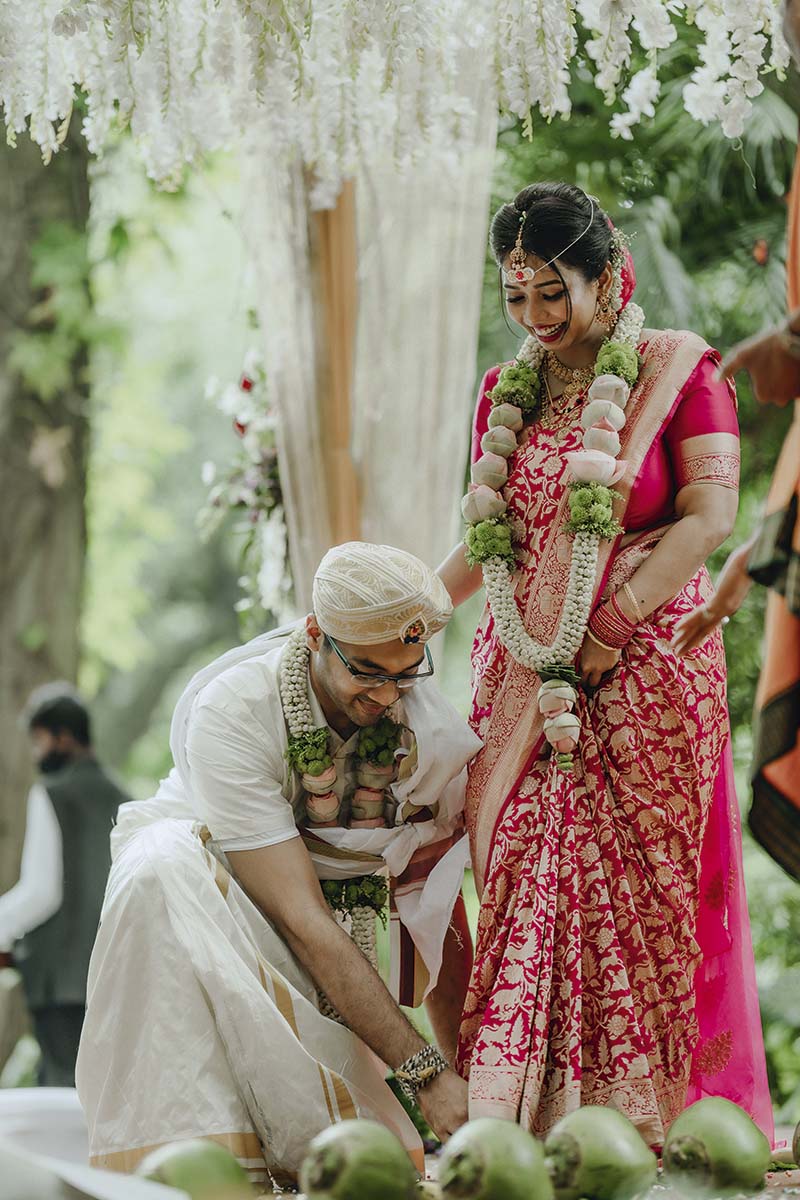 The Details
I found my dream red Banarasi sari from Angadi Silks –  it's the same place from where Deepika Padukone picked her engagement sari. I loved wearing it for the wedding and will cherish it for years to come.
We choose food that we love to eat. Starters consisted of cream cheese mushroom on toast, crumb fried fish, kebabs, tikkas and lots of chaats. For the main course, guests enjoyed rogan ghost, chettinad chicken, dal makhani, paneer butter masala, butter garlic naans with kulfi, shahi tukda and tiramisu for dessert – all our favourites which turned out to be crowd-pleasers too!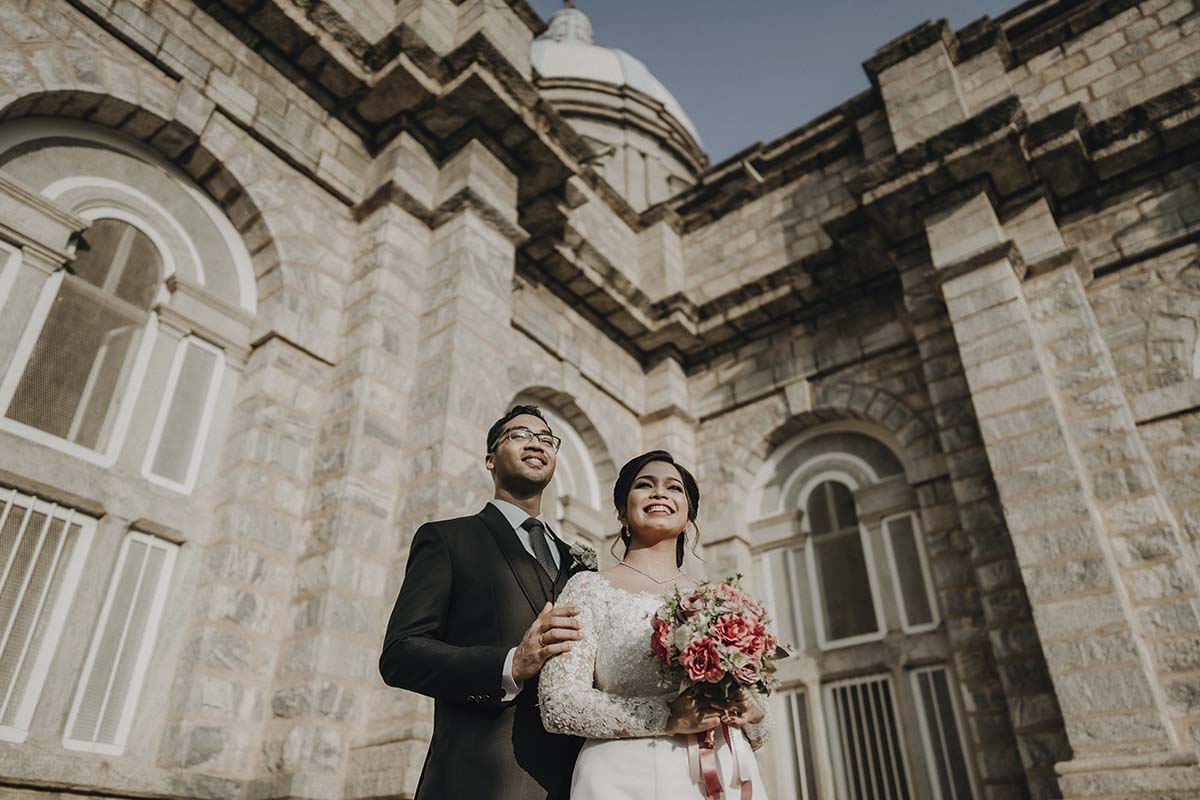 Sacred vows – Our Christian wedding
For the Christian wedding our goals were simple; have a short and meaningful ceremony in the Church then let our hair down and drink, dance and make merry at our reception.
The wedding rituals took place at St. Francis Xavier's Cathedral Church, an ancient, austere and super gorgeous roman catholic church. It warmed our hearts to see all our near and dear ones witness us profess our "I do's" to each other. Everything was pure, pristine and white with touches of light pink to enhance the romance.
I wore a simple full-sleeve satin gown with exquisite hand detailing. I knew I would get to wear the white wedding gown only once in my life and wanted to make the most out of it so I wore the same gown for the evening reception.
For the bridesmaids, I chose light pink bridesmaid dresses which were light and flowy – the bridesmaids looked beautiful like pink butterflies against the ancient church walls.
Fiestaa Resort in the outskirts of Bangalore was perfect for our reception, it's large with indoor and outdoor options. We decorated it with fairy lights, flowers and a huge stage where we all could dance the night away. The DJ played our favourite '90s music and the evening became a blur of happiness and partying.
One surprising thing about the reception was that we didn't plan anything special, we just wanted the night to take its natural course. My friends and family rose to the occasion and amidst the festivities, we had some funny and tearful speeches – a special mention to my sister's Maid of Honour speech which ensured there wasn't a dry eye in the audience, the tongue-in-cheek speech from the groom's best friend, a few impromptu dance performances and lastly a surprise performance from the groom itself. My husband Ajay (Bucci as we fondly call him) sang You look wonderful tonight and also played the guitar. It was a very touching moment which I will cherish for the rest of my life.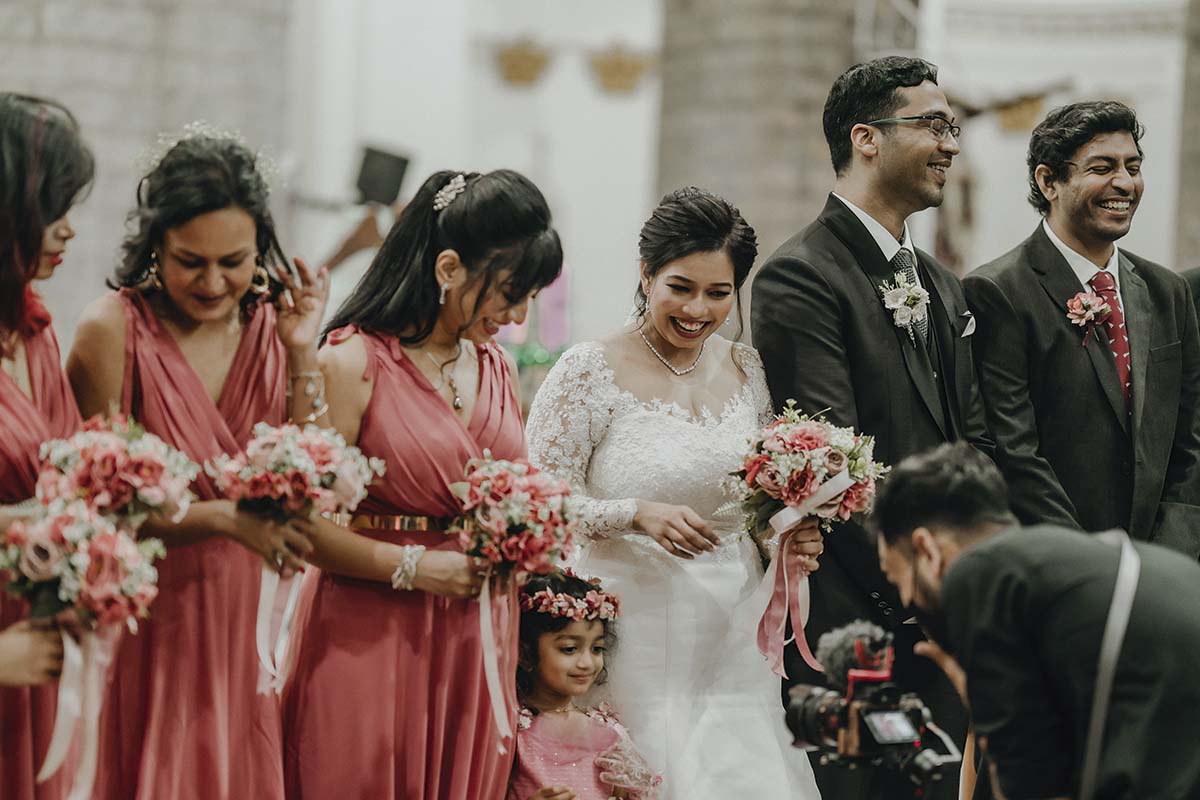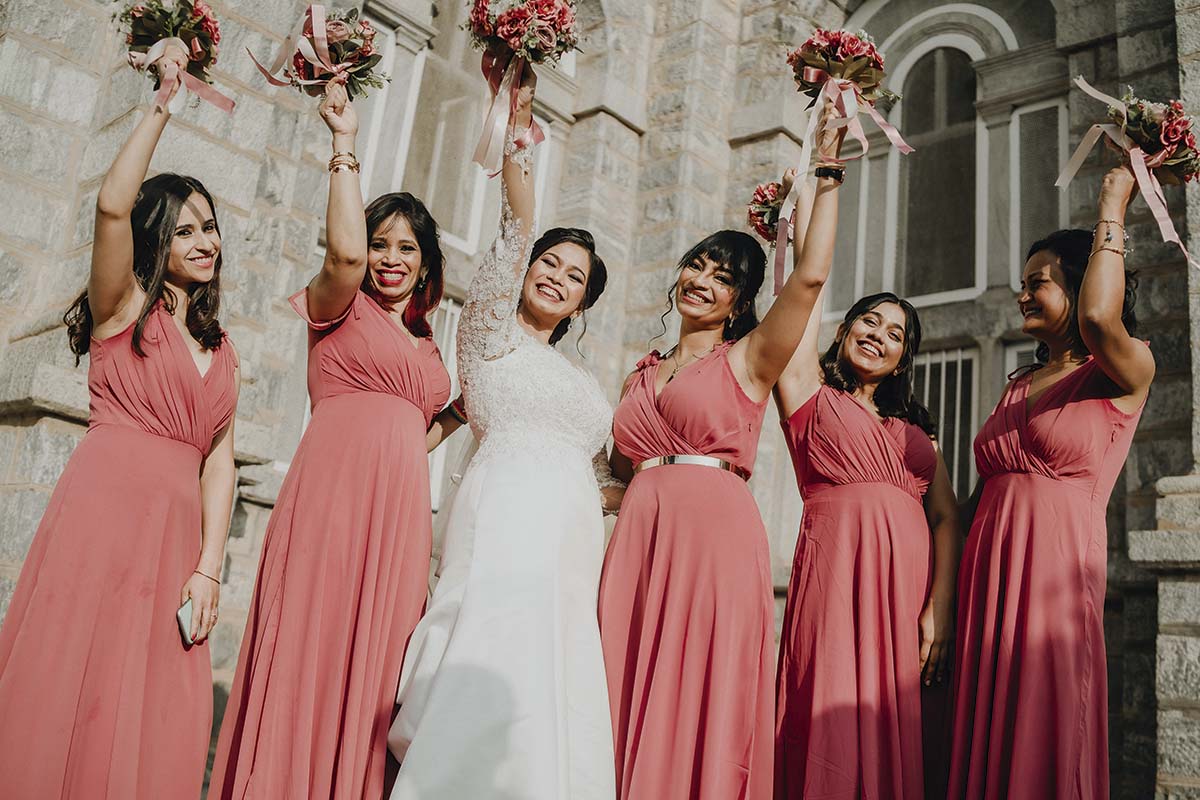 Real bride tip
Always smile! This is your wedding and it will be a once in a lifetime event. We ensured that we were part of all the fun activities and unlike most brides who do not get to eat or are too tired to eat their wedding food, I enjoyed each and every dish. Be true to yourself while planning the wedding. Each wedding is unique and if you plan the right one for yourself the result will be pure magic. And I cannot emphasise enough – it's completely possible to have a blast at your own wedding!