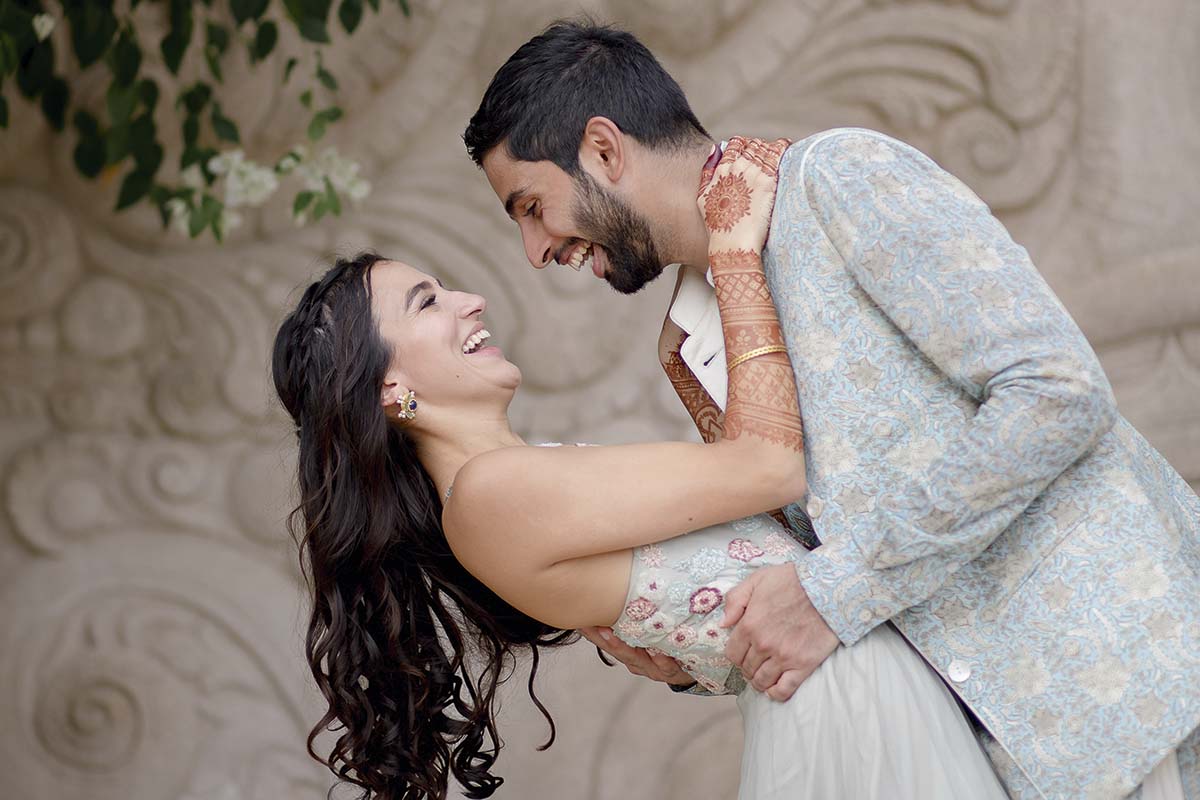 From the colour and culture of traditional Kathakali dancers to Kerala's biggest rock band performing on the beach, Sonia and Vishnu's wedding was a love letter to South India
WEDDING DETAILS
Bride: Sonia De Mello
Groom: Vishnu Mohan
Date of Wedding: 25-27th November 2022
Venues: Taj Bekal, Kerala, India
Photography: 1 Plus 1 Studio
There's nothing like a romantic love story to set the scene for the perfect wedding. Soulmates Sonia and Vishnu's tale starts with humble beginnings: school. The pair became best friends while at secondary school, a relationship that blossomed into young love – but that didn't stop them from living out their own dreams before they settled down.
The couple committed to a trans-Atlantic long-distance relationship before they cemented their lifelong union by getting married, which started with a surprise proposal. Sonia explains: "In May 2021, to celebrate our seven years together we took a trip through the Scottish Highlands. We ended a day of exploring the famous Scottish scenery by strolling through the grounds of the lovely old castle where we were staying. Vishnu found us a bench in the middle of the romantic landscaped gardens, and as I was distracted by the beautiful surroundings, he got down on one knee and popped the question. We were both over the moon to start this new chapter of our lives as husband and wife."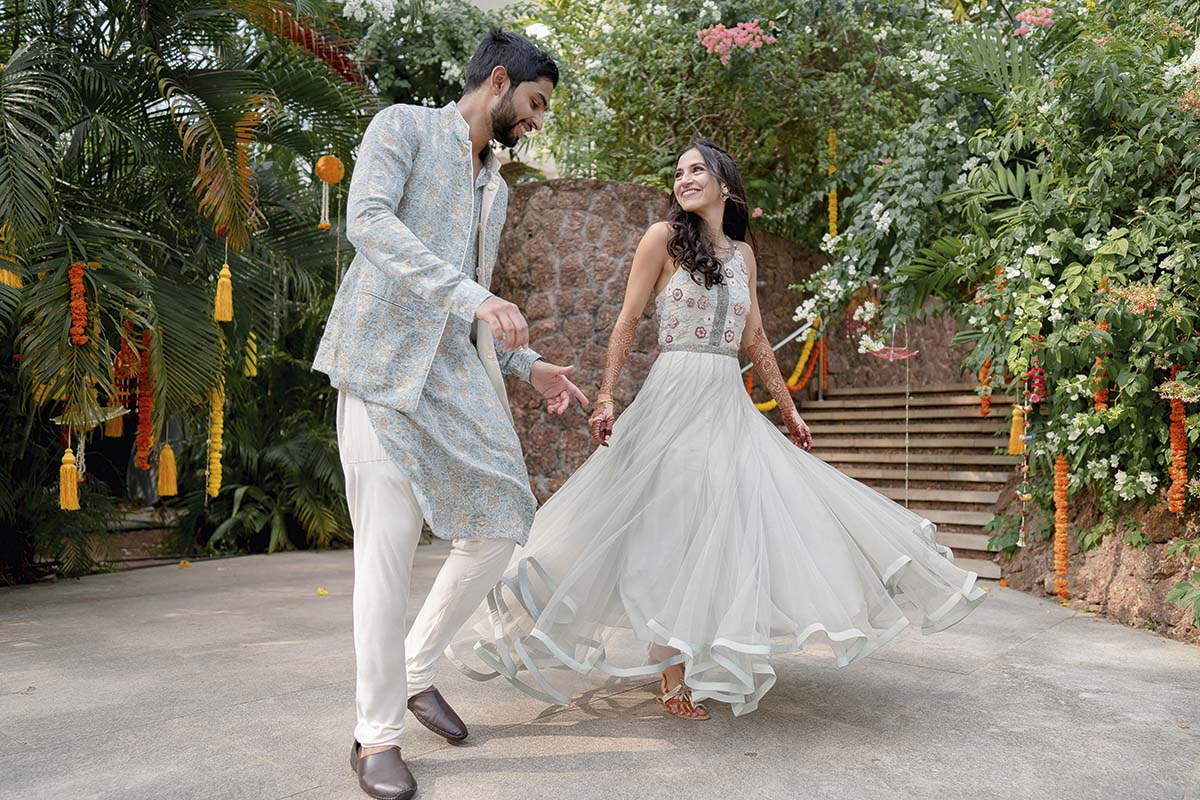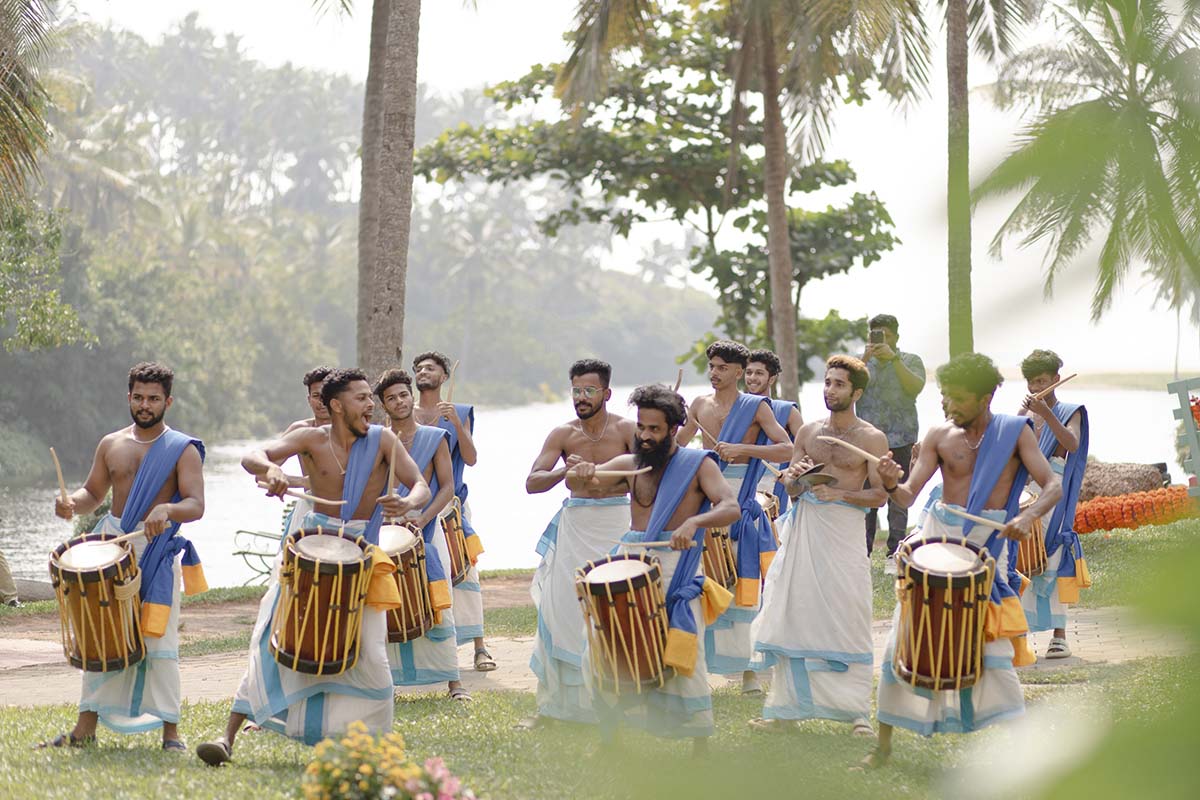 The Inspiration
Heritage and culture are important to the couple and inspired by Vishnu's Tamil and Keralan roots, and Sonia's half-Indian heritage, they wanted their wedding to reflect the beauty and diversity of South India – not just as a theme, but in the location. They chose a stunning spot set in the tranquil Kerala Backwaters and infused the day with local traditions. Sonia enthuses: "Our theme was simply to embellish the natural environment that evokes the charm and beauty of Kerala and celebrate local customs. From using native flowers and decorations, having traditional Keralan dancers and musicians, to showcasing the vast array of local foods, we hoped to emphasise South India's romance and vibrancy."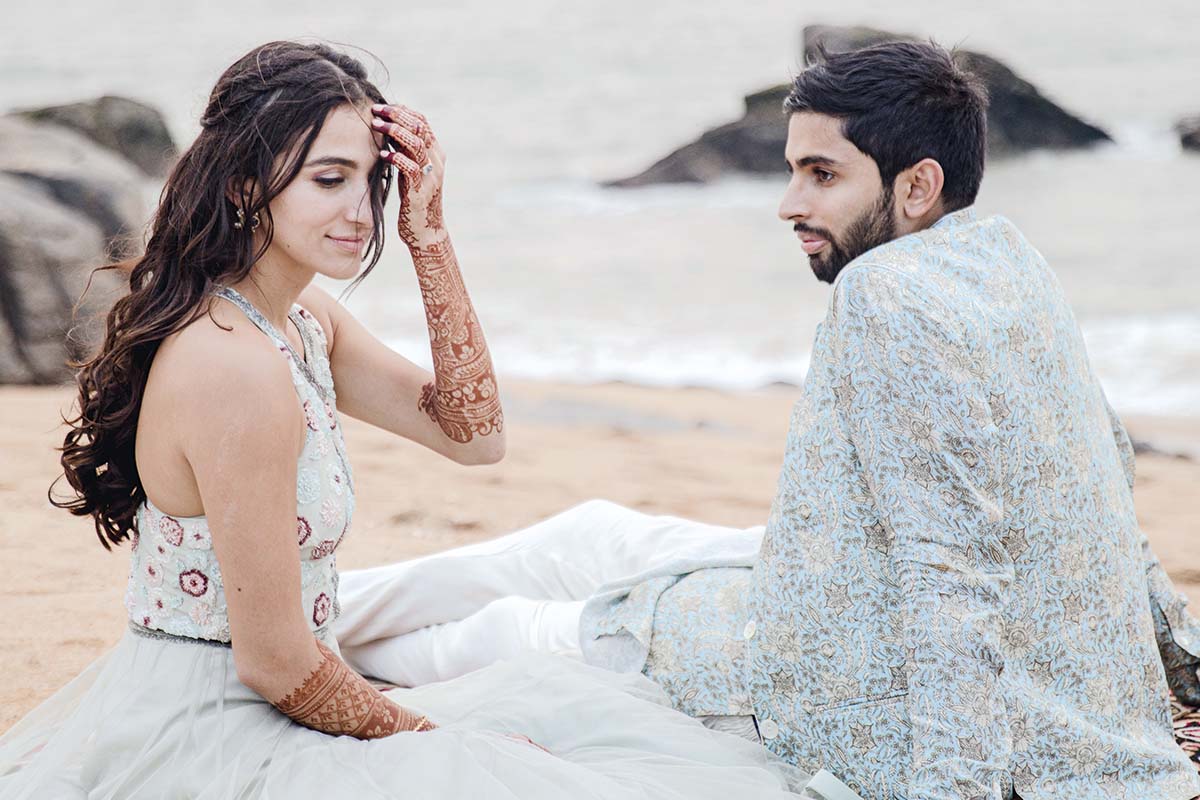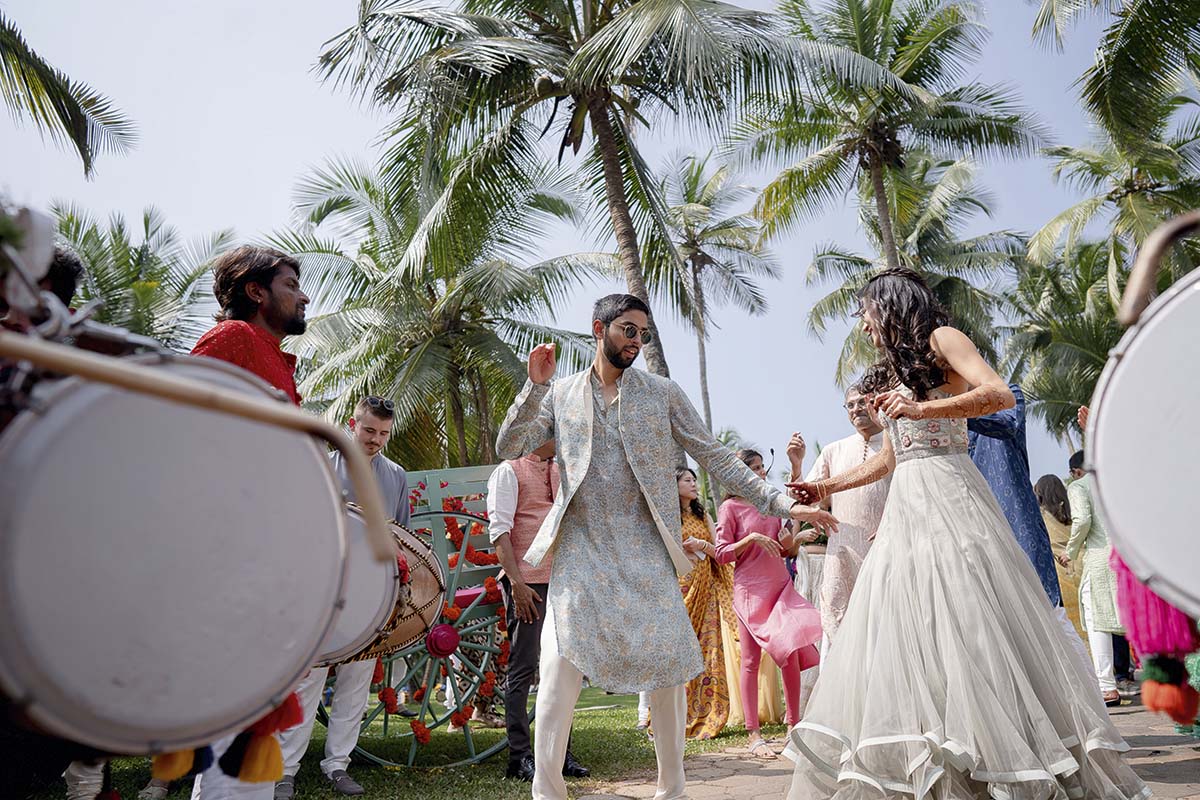 The Celebrations: Mehendi & Cocktail Party
The couple began their main celebrations with a vibrant and joyful mehendi which felt like a private and intimate music festival, filled with their favourite people and favourite sounds.
The colour palette for the day was inspired by the bold displays of marigold flowers which flowed throughout the event space, enhancing the charm of the natural setting.
Guests were welcomed by the sounds of uplifting dhol drummers and there were plenty of Mehendi artists on hand for guests to get their hands decorated. Delicious Indian street food with flavours from all over India was served.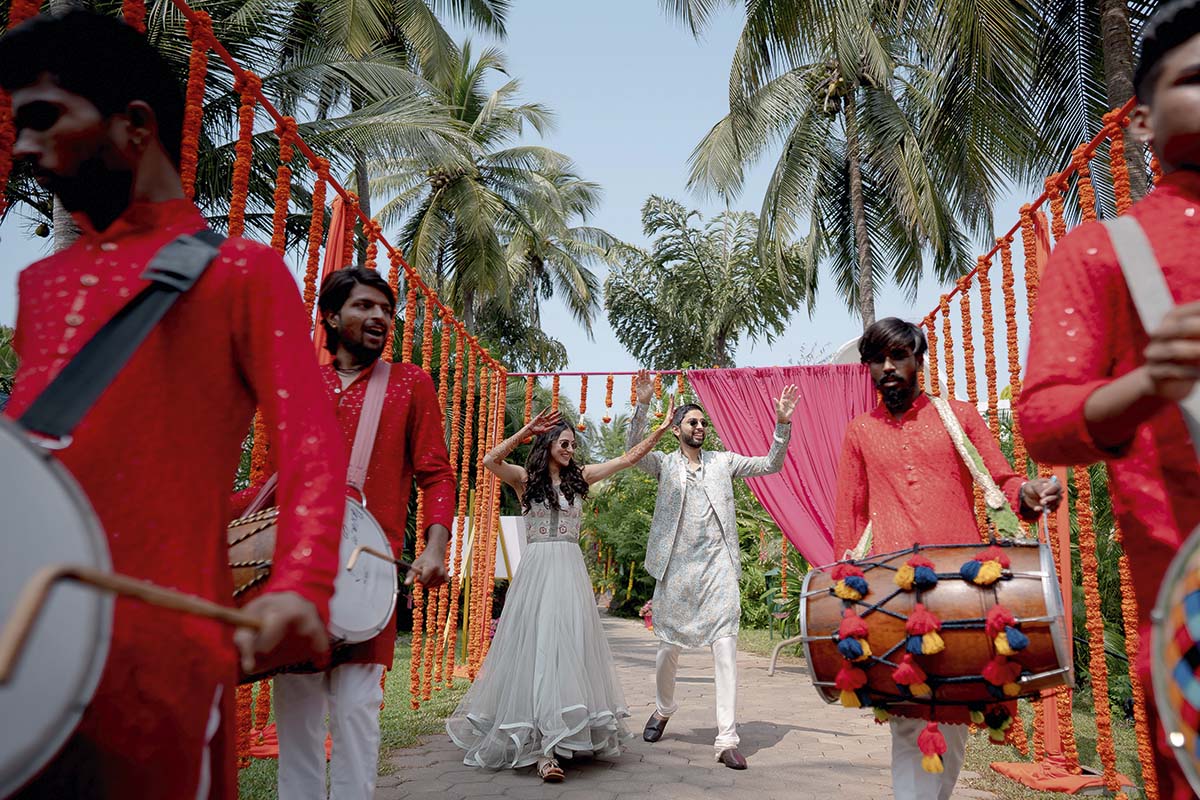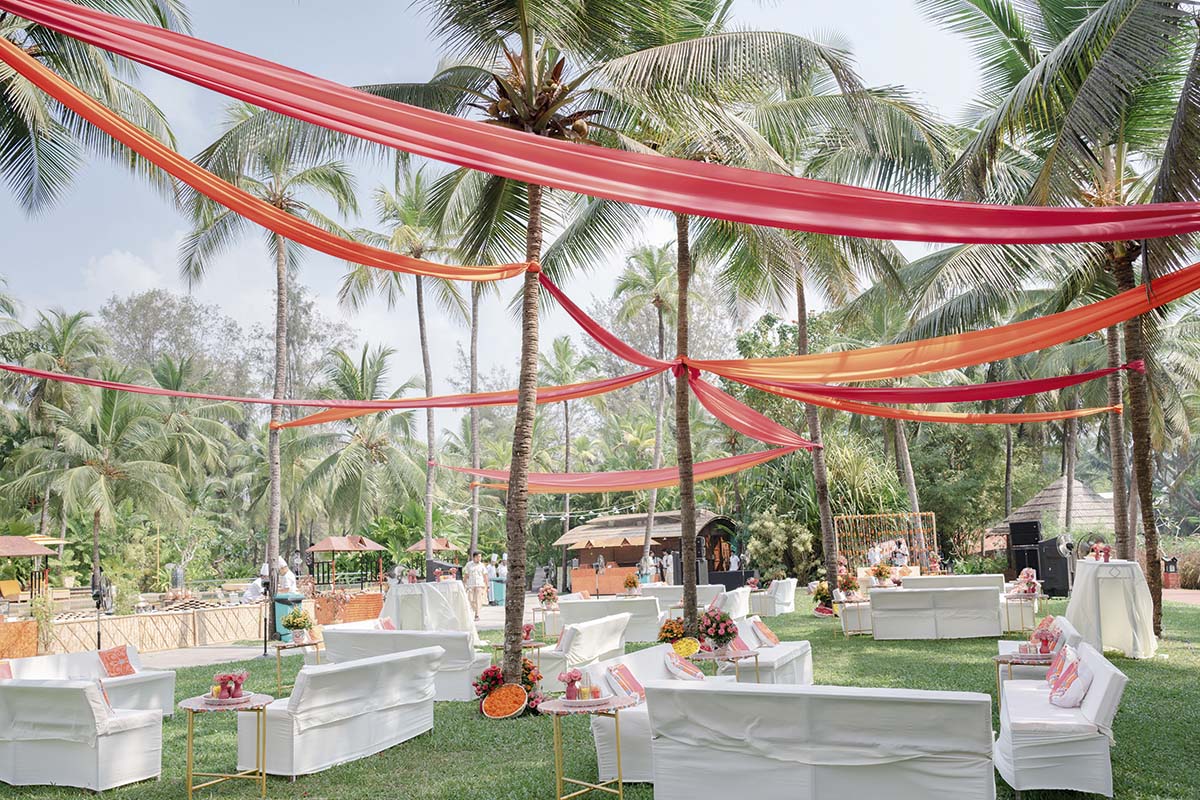 No trip to South India would be complete without witnessing the phenomenal sight of traditional Kathakali dancers – for many guests, this was their first trip to India and for others, it was their first visit to the South so it proved to be a wonderful addition to the day followed by a chilled-out DJ set allowing guests to gather, soak up the surroundings and chat to the bride and groom-to-be.
But it didn't end there. As the evening drew in, the revelries moved to the beach with an outdoor cocktail party where Kerala's most popular band Thaikkudam Bridge performed live. It was such as electric set that Vishnu felt inspired to get up on stage himself and do a surprise performance of his favourite love song – Wishlist by Pearl Jam. The band also performed some of his favourite Metallica covers – it certainly wasn't a common sight at an Indian wedding seeing the crowds head-banging and crowd surfing, but it was the party of dreams for Vishnu and Sonia.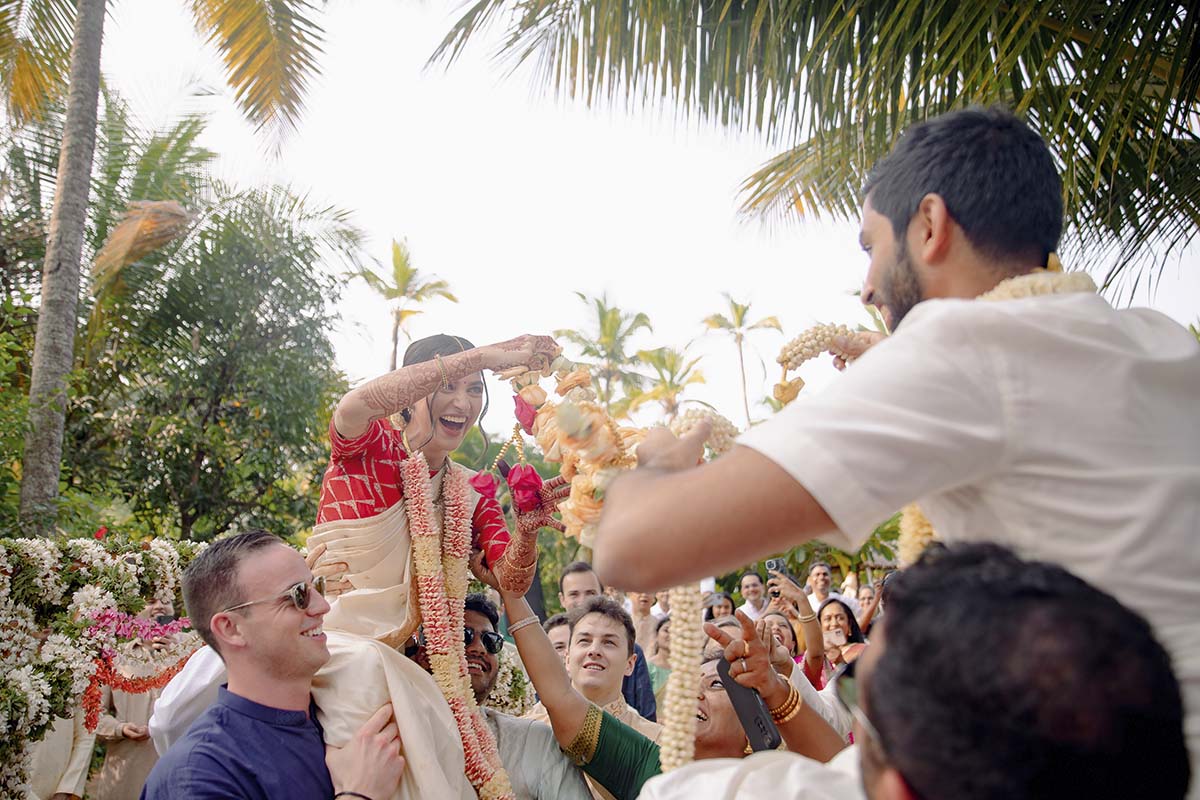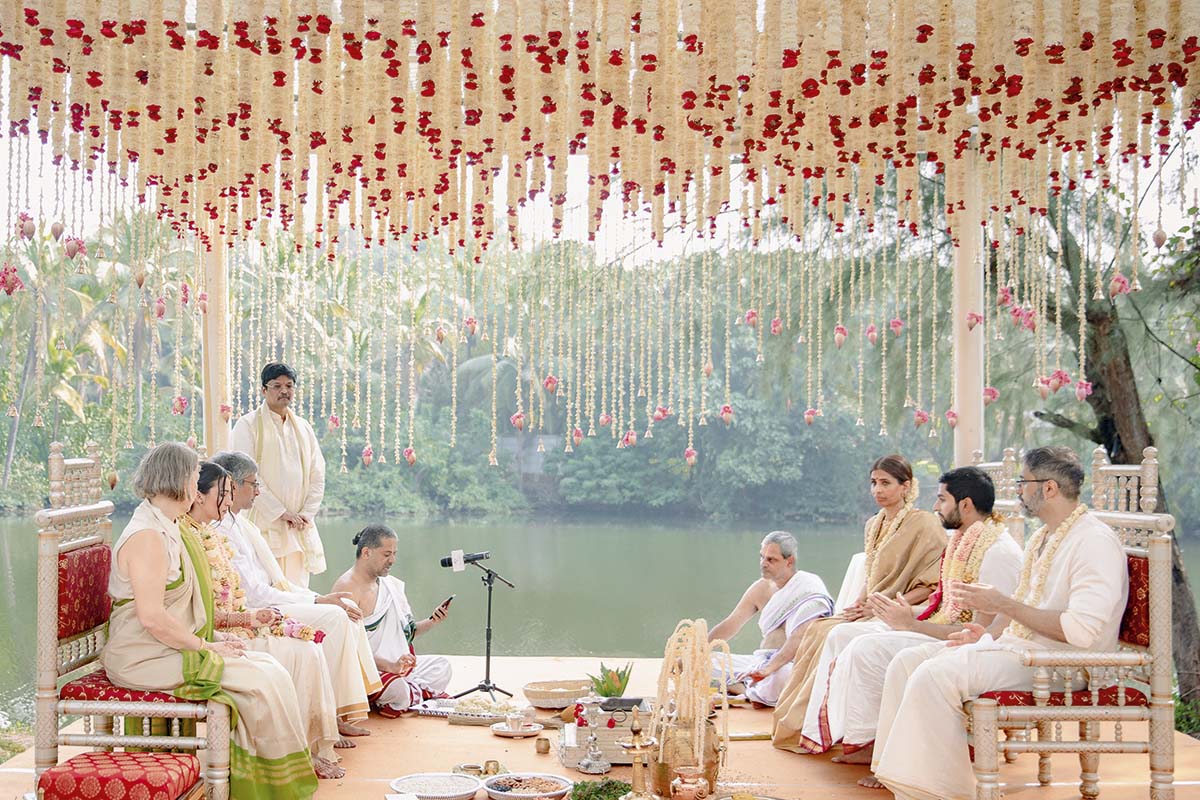 The Celebrations: Ceremony
The wedding got underway at 8am and while Sonia started getting her hair and make-up ready at 5.30am, Vishnu didn't make it to bed until 5am. But thankfully he only needed a half an hour's nap before getting ready for the pre-wedding rituals with his family at 7:30am!
For the wedding, Sonia proudly adorned her grandmother's wedding sari matched with a new blouse before changing into a hand-woven wedding sari gifted by her in-laws from Lakshmi, Chennai.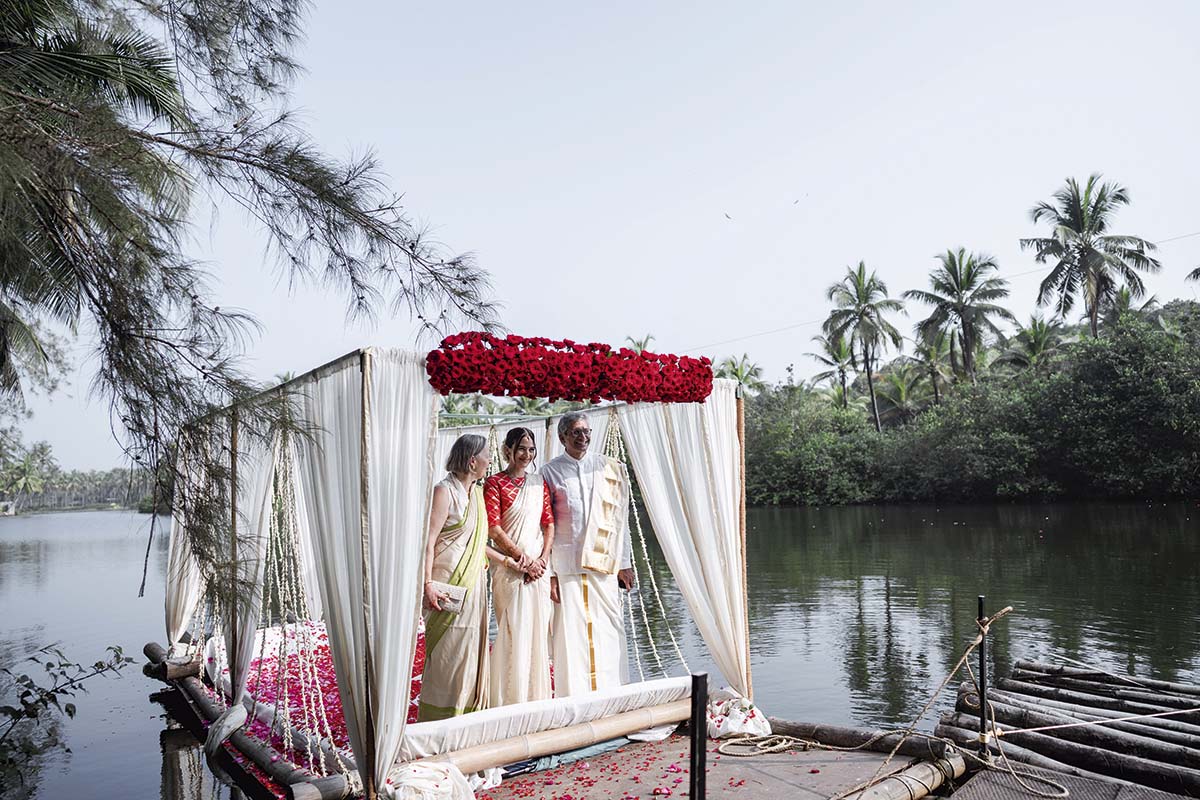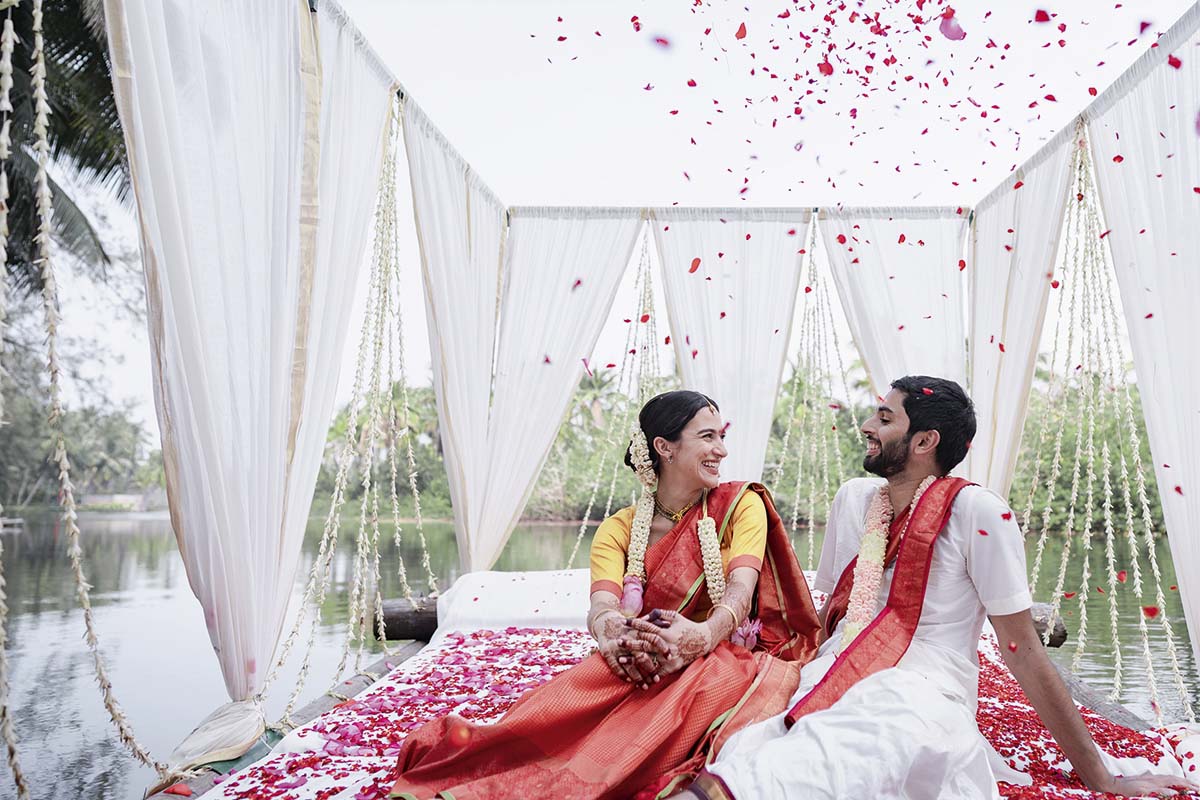 Set against the backdrop of the hotel's charming backwaters, Sonia made a dreamy entrance on a riverboat with her parents whilst being showered with rose petals from a zip liner. She recalls: "This moment of stillness on the water felt completely surreal." Upon arriving, Sonia was then accompanied by traditional Mohiniyattam dancers as she was led to the main stage.
The wedding officially began with garland swapping, rituals on a flower-filled bench, followed by the ceremony on a lotus and tuberoses-filled mandap.
Afterwards, guests tucked into the legendary Sadhya feast and it lived up to all expectations.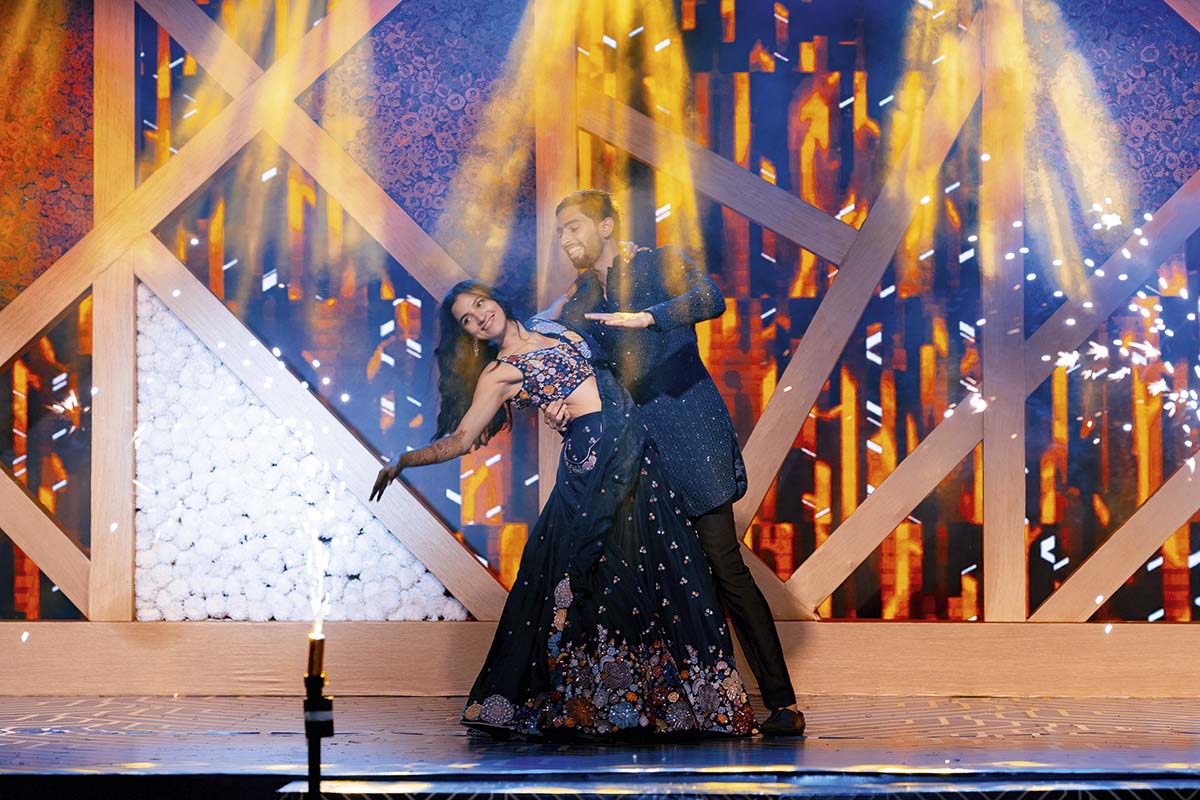 The Celebrations: Sangeet
A dazzling evening of music and dance entertained guests on the final night as the couple held their Sangeet on the beach. Here they unveiled their biggest surprise a choreographed dance extravaganza where they unleashed their high-energy moves performing to songs in Hindi, Tamil, Malayalam music and of course, the best of Bollywood!
Looking back on their dream wedding the couple is proud they created a celebration that truly captured their spirit and their love for South India: "Going through the photos, seeing each moment captured in our photos with the magic of the emotions and the ethereal backdrop bring these surreal memories to life as it's hard to believe that they actually happened!"