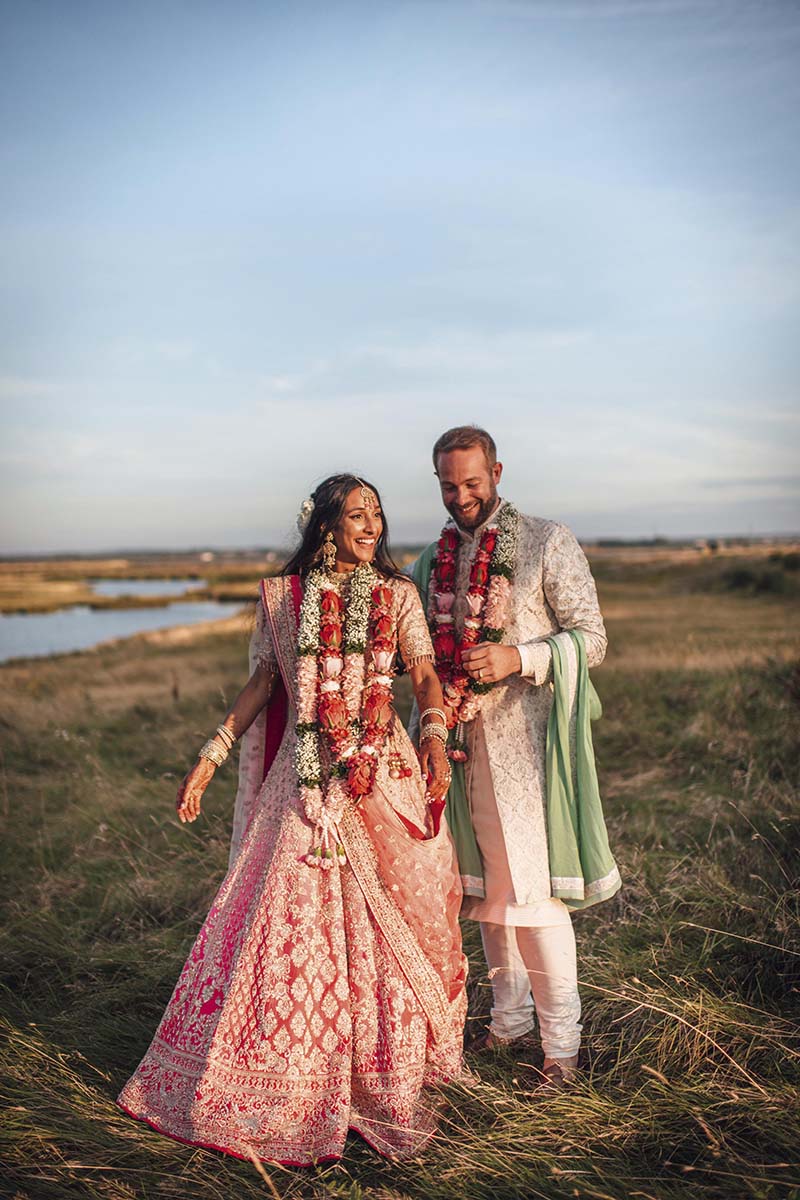 Inspired by their passion for nature, TV Presenter Zeena Shah and Artist Zack Mclaughlin chose the great outdoors for the wedding of their dreams
WEDDING DETAILS
Bride: Zeena Shah
Groom: Zack Mclaughlin
Date of wedding: 11 August 2021
Venue: Elmley Nature Reserve
Photography: The Shannons Photography
The Proposal
We were on holiday in Mexico, it was already the trip of a lifetime, but little did I know Zack was going to propose. He had planned our trip to perfection with just the right amount of diversion tactics so I had no idea he would pull out a ring whilst strolling on the beach around midnight after a romantic and delicious dinner in Holbox, a little island we spent a magical few days in. It was a full moon and all I could see was the most incredible sparkly ring, I was blown away and said yes immediately. It still feels like a dream.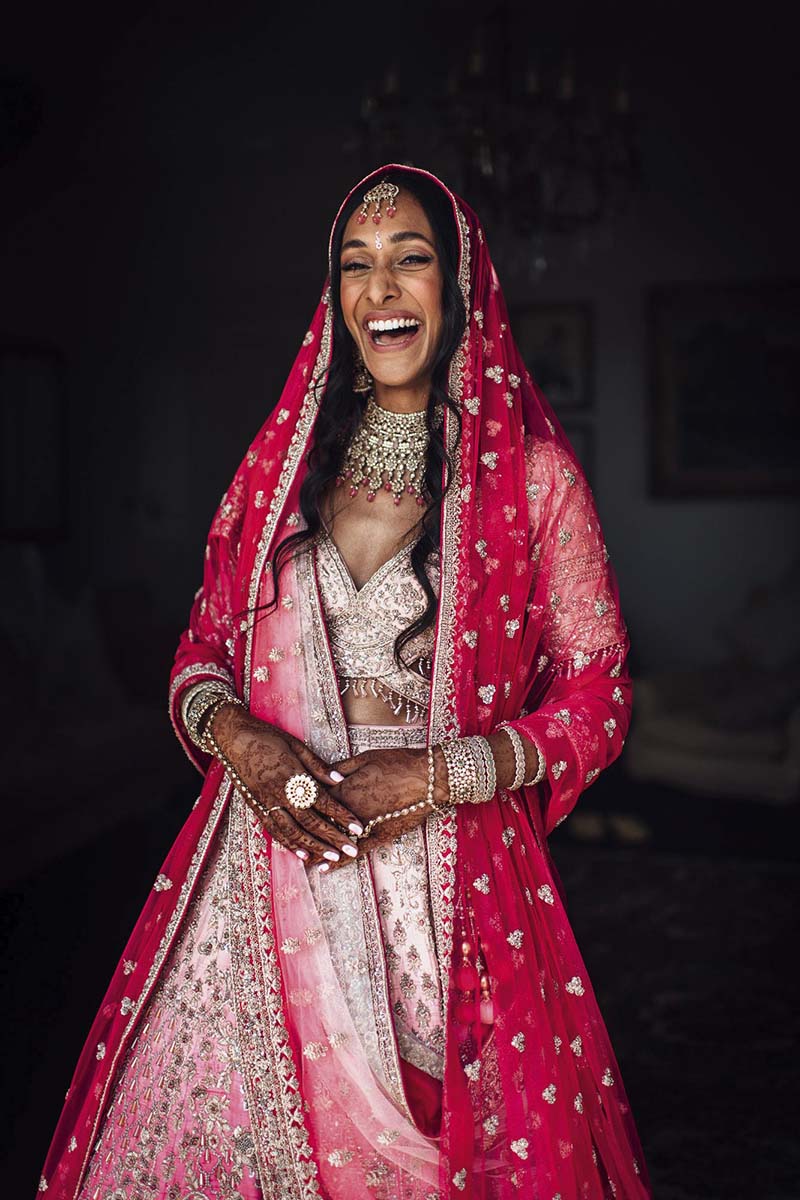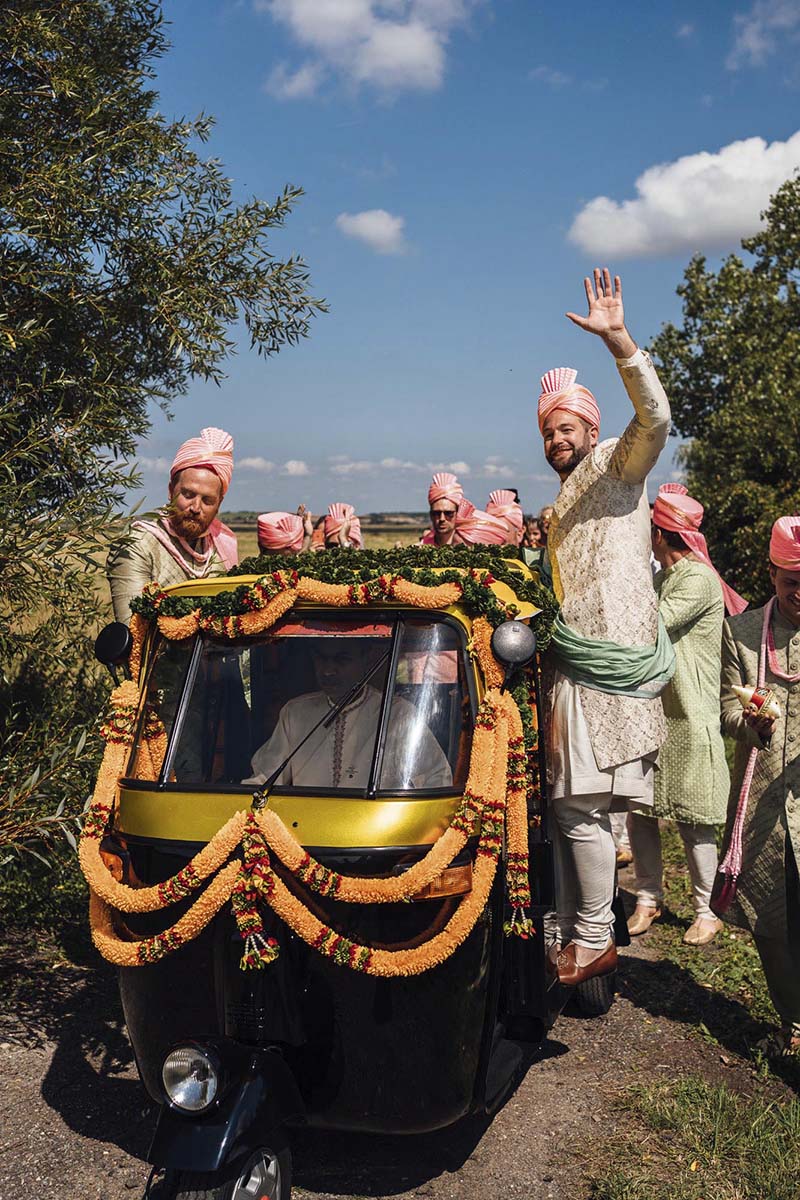 The Inspiration
We wanted our wedding to be about us and our love. Weddings are one of the few moments you're surrounded by everyone you love in one place and time so we wanted to make sure we thought about our guests and their experiences too. I'm a firm believer that pink and green should always be seen so we started with colour. I have always loved pink and Zack green, and as colour and nature lovers it was a great way to set the style of our wedding. Bringing our heritages together our wedding was an Indian fusion with a humanist Indian ceremony and a more Western reception.
The Planning
We divided and conquered. I digitised all of our to do's using Trello and Google sheets though Zack preferred a notebook. We both run our own businesses and are well versed in juggling various projects so it became another 'project' that we were working on together. I took on more of the aesthetics and styling whilst Zack has a knack for finding just the right suppliers.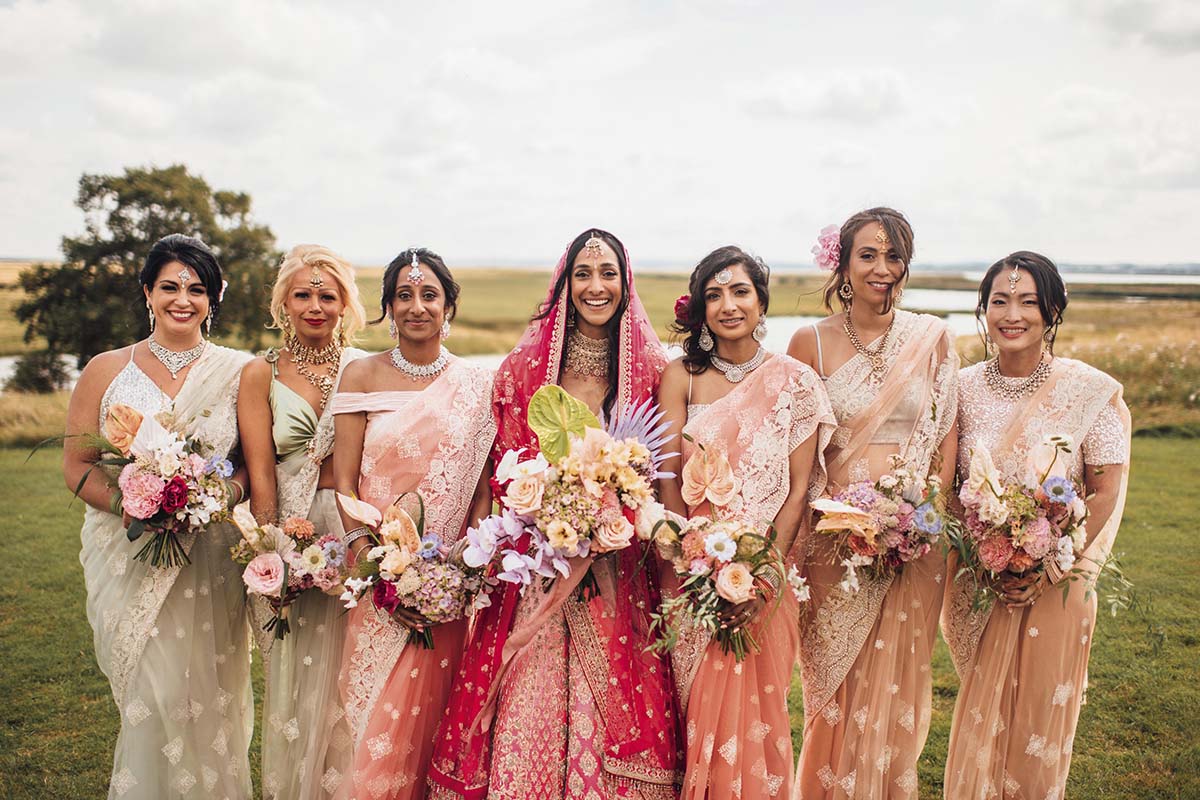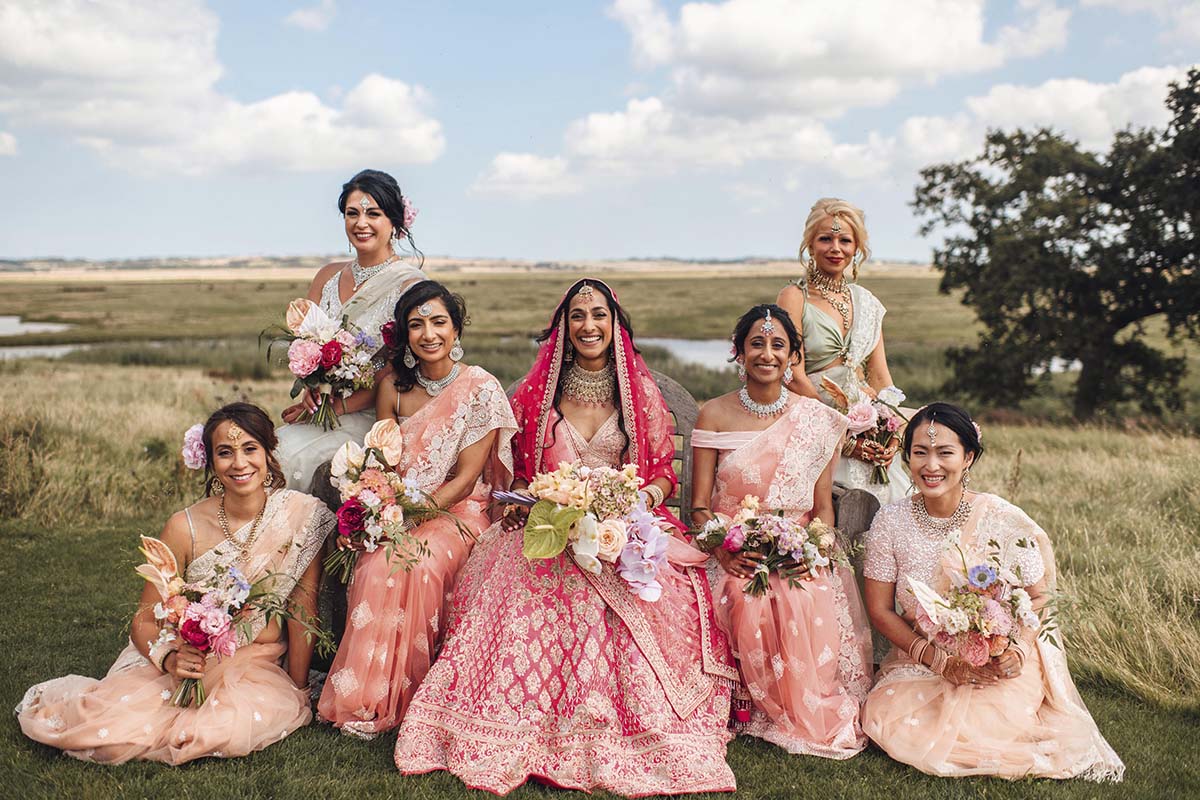 The Venue
We got married at Elmley Nature reserve in Kent which is such a magical and special place. We first visited years before for a weekend getaway for Zack's birthday. He loves nature and birds and the nature reserve a haven for both, was the perfect find. I booked us the most beautiful shepherd's hut and we escaped our busy and rather non-stop city lives swapping sirens for the sounds of birds chirping and incredible sunset vistas. We've been back on more than one occasion and so it was meant to be that they were also a wedding venue.
The Outfits
More is more, as I always like to say. I had four dresses, one for the pre-wedding mendhi party, and three for the wedding day. The first a sparkling sequin floor- length dress by a Danish designer I am a huge fan of called Stine Goya. Yellow was our colour theme for the pre-wedding party which is representative of the turmeric that is rubbed over the bride and groom during the Pithi ceremony which followed. Zack wore a yellow sherwani for the occasion.
Our wedding day started in Indian dress, I wore an embellished hand embroidered lengha made in India by Frontier Raas. It was stunning. Zack wore an embroidered sherwani by Anjali Bridal. We then switched things up for our reception and I wore a bespoke dress by London designer and stylist Charlie Brear whose clever designs meant I had three dresses in one with layers of heart print tulle, sequins and feathers: it was me in a dress. We felt like royalty.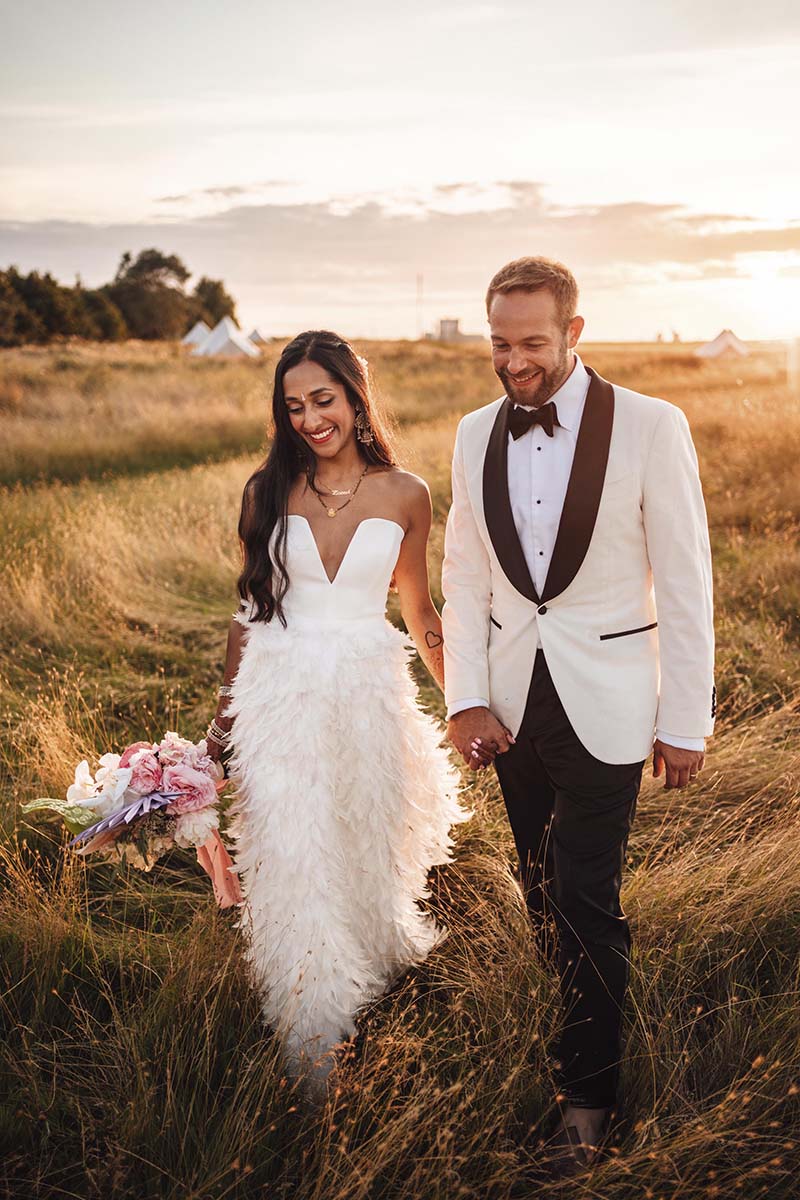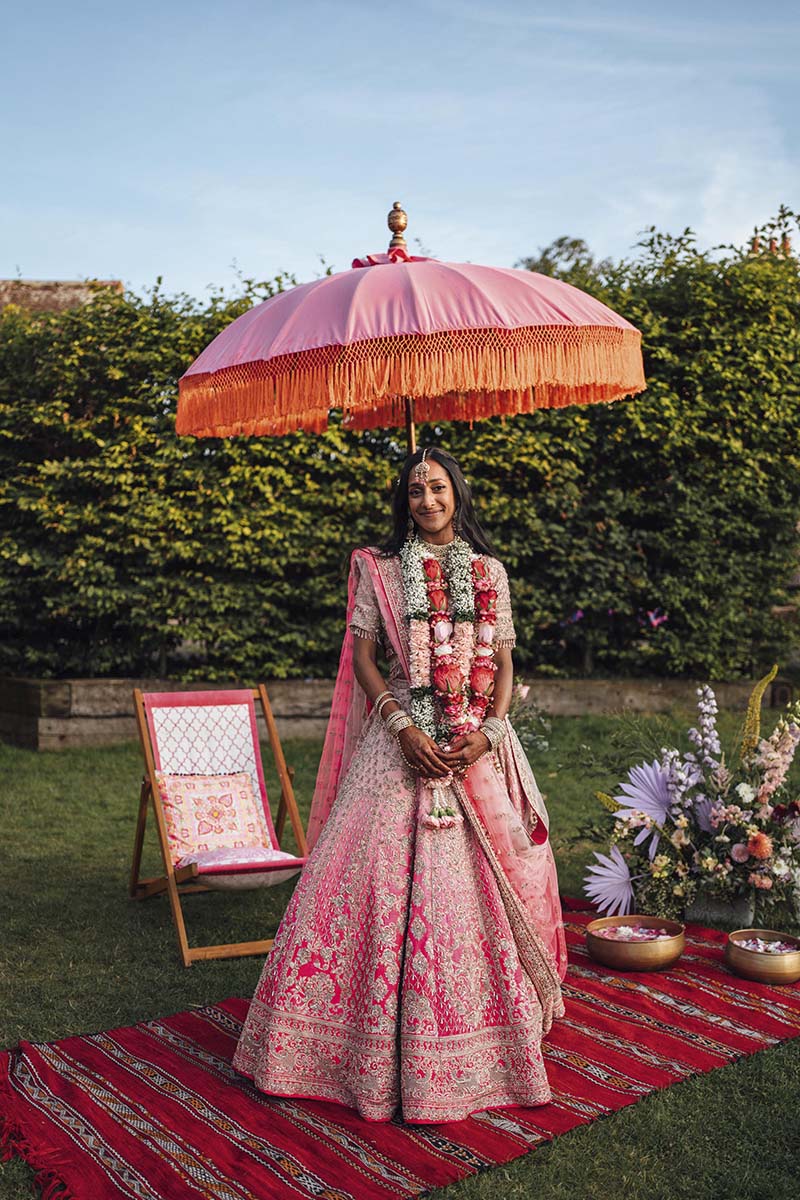 The Big Day
I was up at the crack of dawn mostly because I was so excited. My bridesmaids started getting ready at 7am. We had avocado toast and some fizz and enjoyed being together in our pyjamas that were all matching that I'd gifted them the night before along with heart necklaces.
The ceremony started at noon so we had plenty of time to get ready and take some photos outside. The weather was incredible and after weeks of rain the sun shone down on us.
We had 120 guests who were welcomed by and joined in with the Jaan, the first part of the ceremony where the bride's family welcomes the groom and his family. Then the guests took their seats in front of the mandap. The ceremony was followed by canapés, champagne and lawn games in the garden.
Then it was time for some quick photos and back for the wedding breakfast, speeches, some golden hour photos and then a quick change before we cut the cake and danced the night away. There was no curfew at Elmley which was really important to us as we love weddings and loved having everyone together. We all sat around the fire pit, with tacos, margaritas, and marshmallows made by my sister until the early hours. Zack and I went to bed at 5am!
Looking back at the photos I feel so full of joy. What a truly magical and special few days, I can feel the love and happiness from every single image.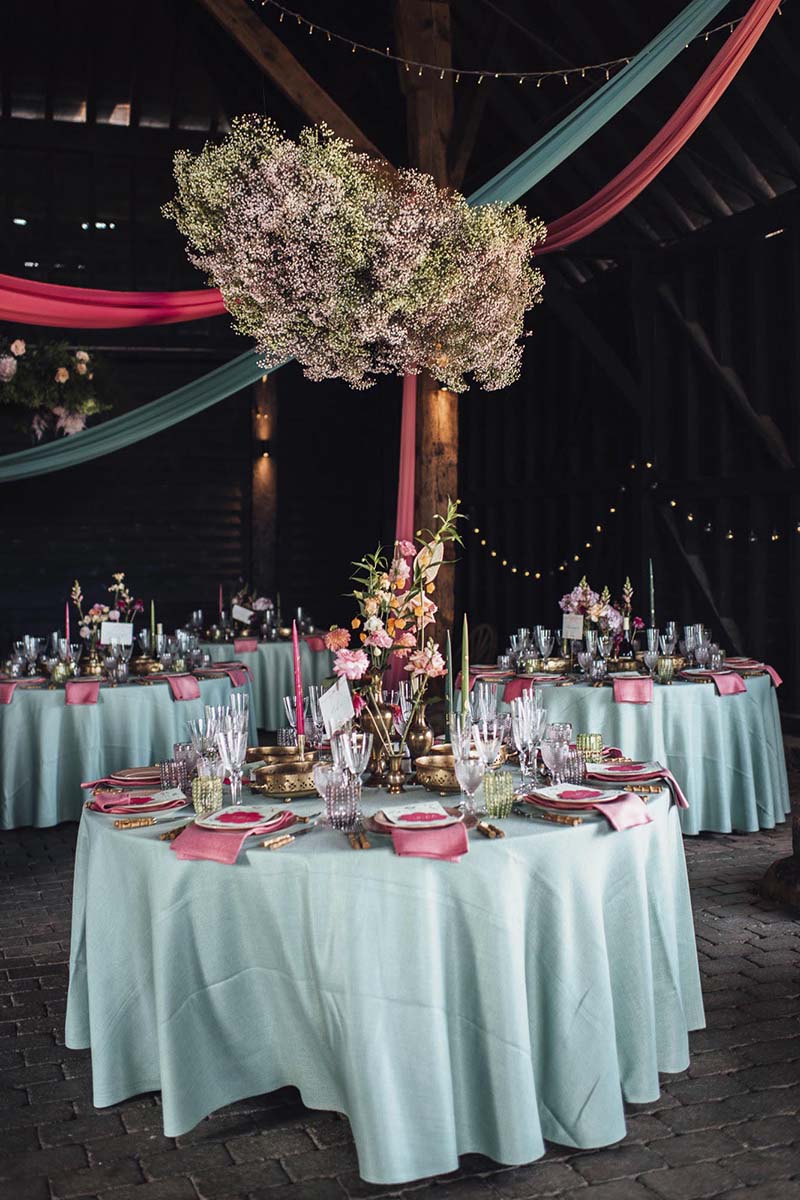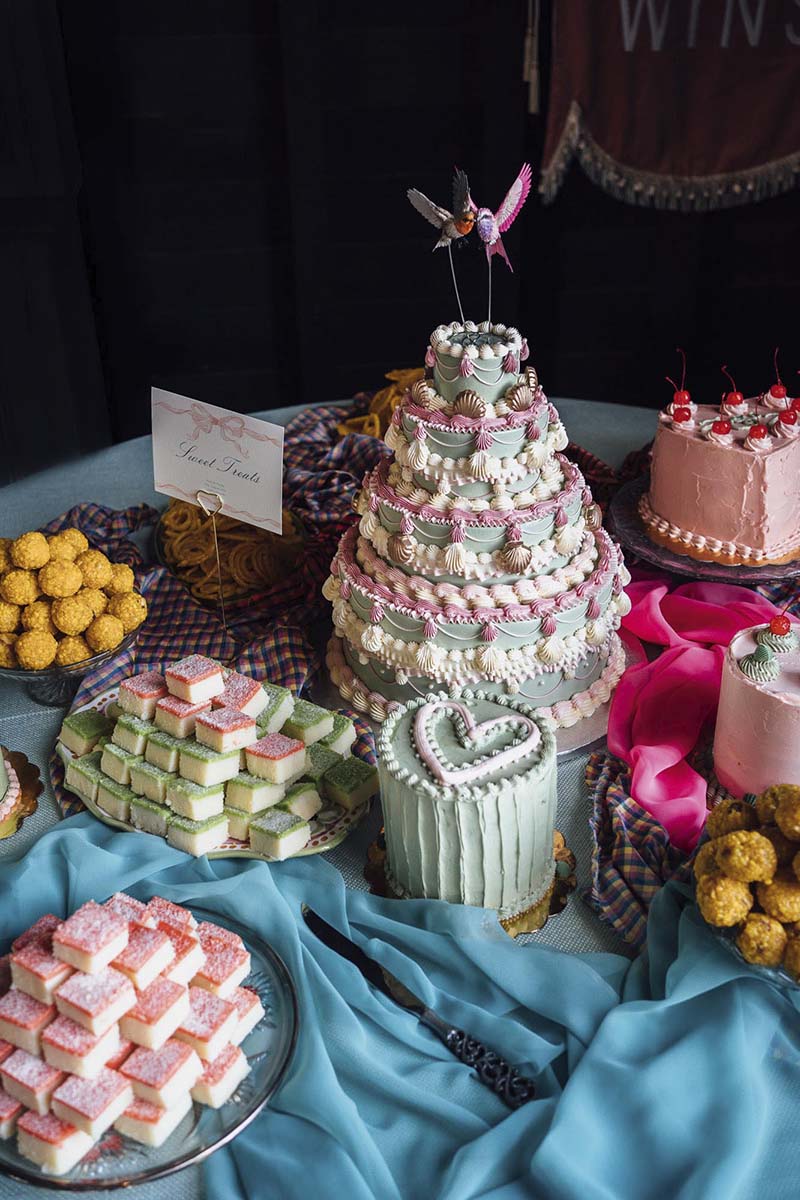 The Details
We went all out with big bold dried and fresh flower clouds, colourful drapes and matching tableware. The cakes were created by Isobel Bakes and local and fabulous baker Lily Vanilli. We often pop into her café at the weekend. We gave her the colour palette and voilà!