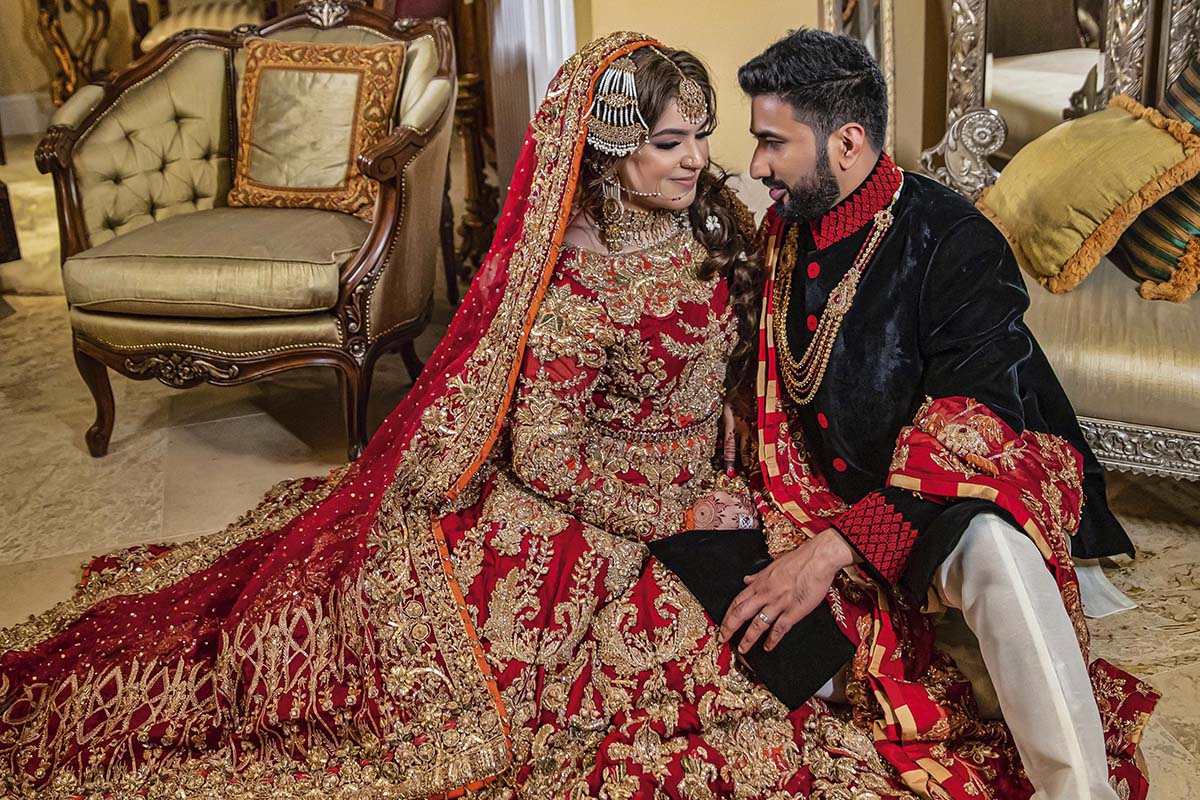 Home Is Where The Heart Is
Family traditions inspired Israa and Rehan's grand garden gathering
WEDDING DETAILS
Bride: Israa Ahmad
Groom: Rehan Ahmed
Date of wedding: Nikkah (27 August 2021) Reception (28 August 2021)
Venue: Marquee in the garden of Israa's parent's house
Photography: Abu Bakar Sarfraz
The Love Story
Our union had an unexpected beginning. I graduated as a Dentist in 2020. Though I'm from Essex I only managed to find a job in Birmingham where I was hired to replace Rehan. And as fate would have it, Rehan was moving to Essex for his new job. I had to shadow him in Birmingham for a couple of weeks before I took over his patients and that's how we met.
We kept in touch and after a few months, he helped me find a job closer to home. It was nice to be back around my family and it gave us a chance to get to know each other. We got our families involved and had a traditional marriage proposal where his family came to my house, it was perfect.
The Inspiration
My wish was to have an intimate wedding in our family garden to make it feel special and sentimental. When my sister got married 10 years ago, she had a few of her functions at home and I remember distinctly how the guests felt at home and stayed until the early hours of the morning enjoying themselves. Everybody had a good time and I was intent on recreating that feeling for my wedding guests too.
It was a dream come true to hold our Nikkah and reception in my parent's garden inside the most beautiful marquee. We hired an incredible design team and I spent the weeks leading up to the Big Day speaking to them regularly, sharing ideas to create a magical, fairytale wonderland with beautiful foliage and lighting; it was the ideal setting for a romantic summer wedding.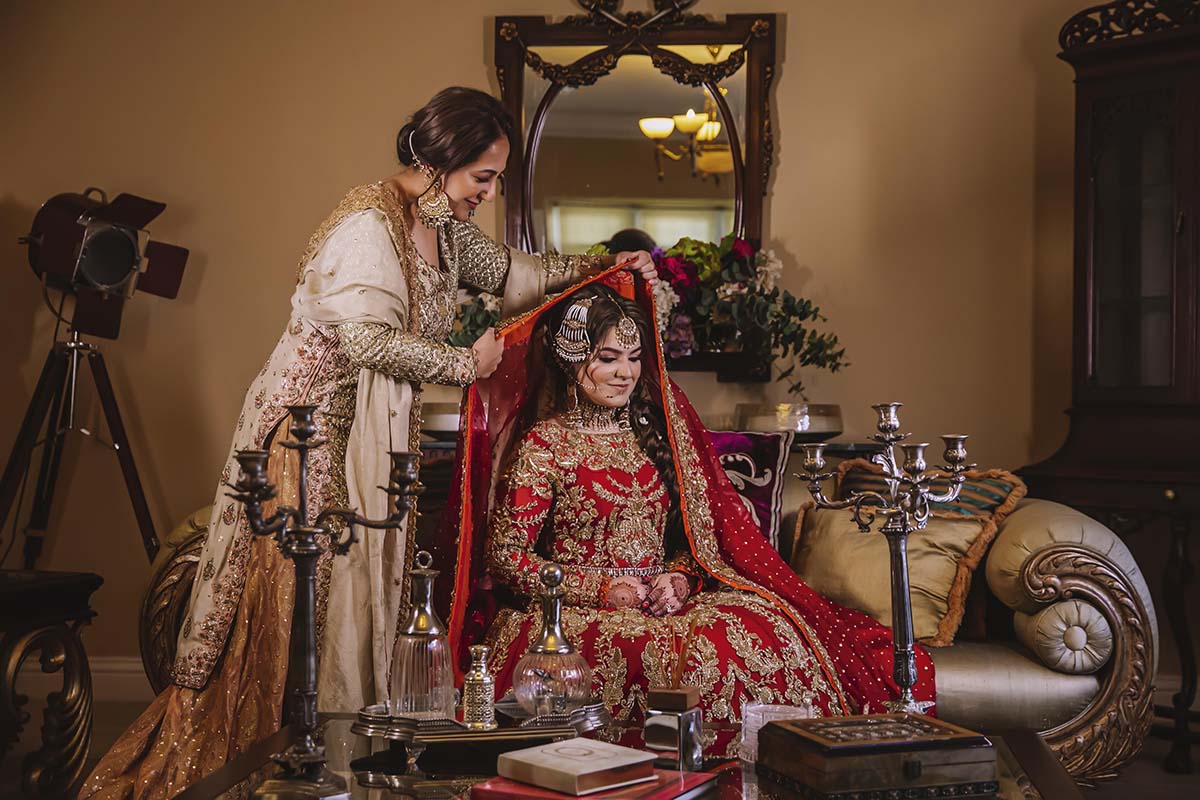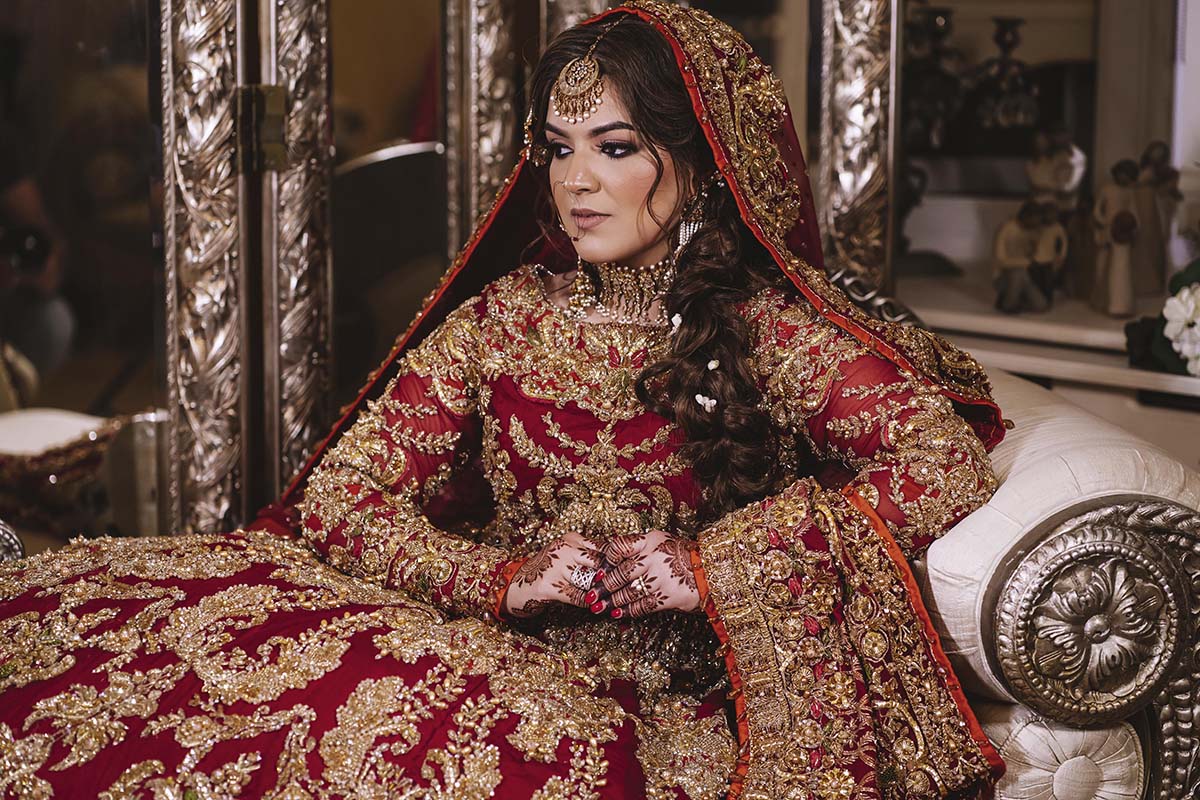 The Outfits
I was very fortunate to have all of my bridalwear designed and created for me by my mother Amty, who owns Tehxeeb London. She took me to her flagship store on Ilford Lane for the ultimate bridal appointment experience that every bride dreams of. Having worked with her in her stores over the years, I was familiar with the process of ordering a wedding dress but I had only ever been the one helping a bride find her dream dress. My mum has an incredible understanding of bridalwear styling and knowing this, I went in with an open mind and let her guide me in what she thought would suit me. Her understanding of fabrics and silhouettes meant I ended up only trying on three dresses, all of which I chose to wear for each of my three functions, the Nikkah, Reception and Walima.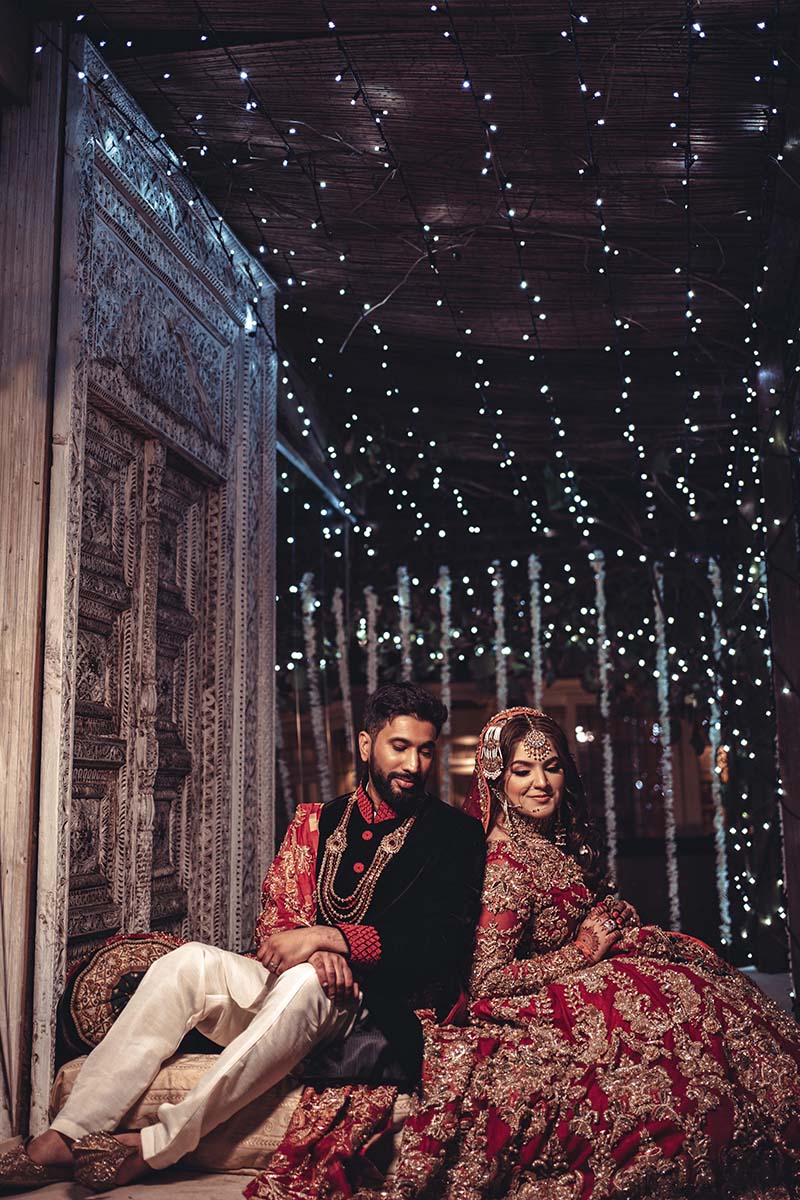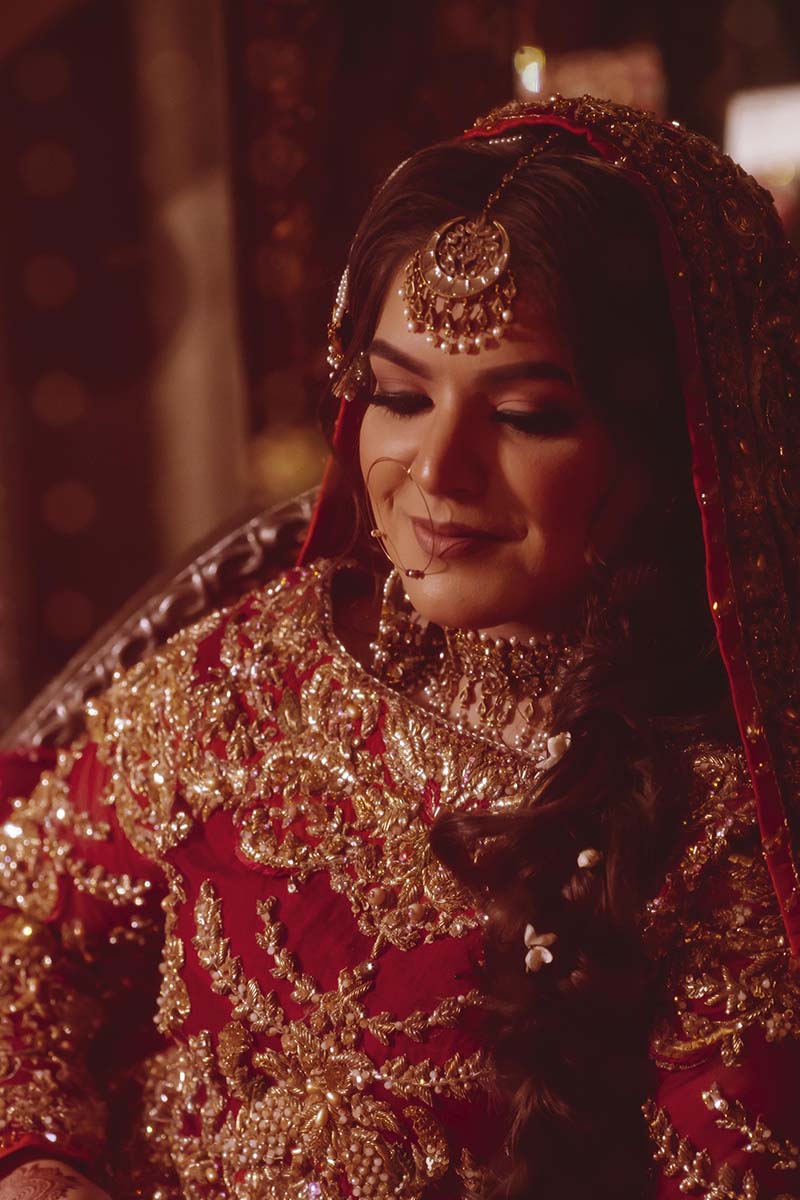 The Nikkah
For our Nikkah ceremony, we chose a Jodha Akhbar theme and it was so picture-perfect I felt like I was in the movies. On the day the whole house was chaos with nearly a hundred people running around but my hairstylist and MUA kept me calm throughout. Before the guests arrived I took the opportunity to take some bridal portrait photos around the house and in the marquee.
I wore a red dress which was finished with orange beadwork and edging and a hidden underskirt to add volume. My mum customised it to remove some of the detailing on the arms to make it more flattering and it was beyond my wildest expectations, perfectly fitting the theme. Rehan also had the chance to visit Tehxeeb London to design his outfit for the Nikkah ceremony. He chose a black velvet sherwani with red accents and a red shawl that had detailing to match my dress.
One of my favourite moments of the day was the ceremony. I sat veiled, in front of a traditional Pakistani door across from my husband who sat on a takhat posh which is a traditional Pakistani day bed, with a curtain of fresh jasmine flowers flown in that morning, hanging between us. It felt like a wonderful blessing to have that connection to our heritage.
I also felt privileged that traditional singer Sohail Salamat who is the nephew of Ustad Nusrat Fateh Ali Khan provided live qawwali music throughout the day. Then, after a delicious dinner, we had our rukhsati which was an emotional moment as I left my family to join my husband.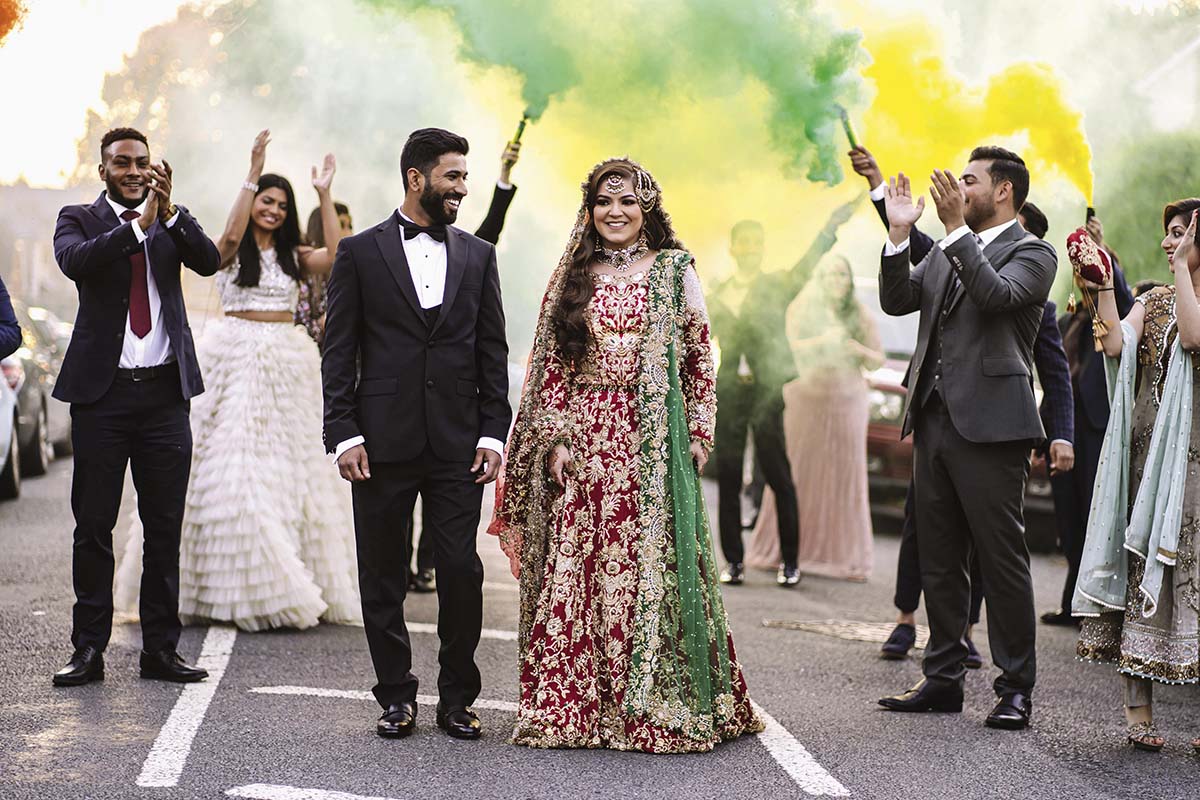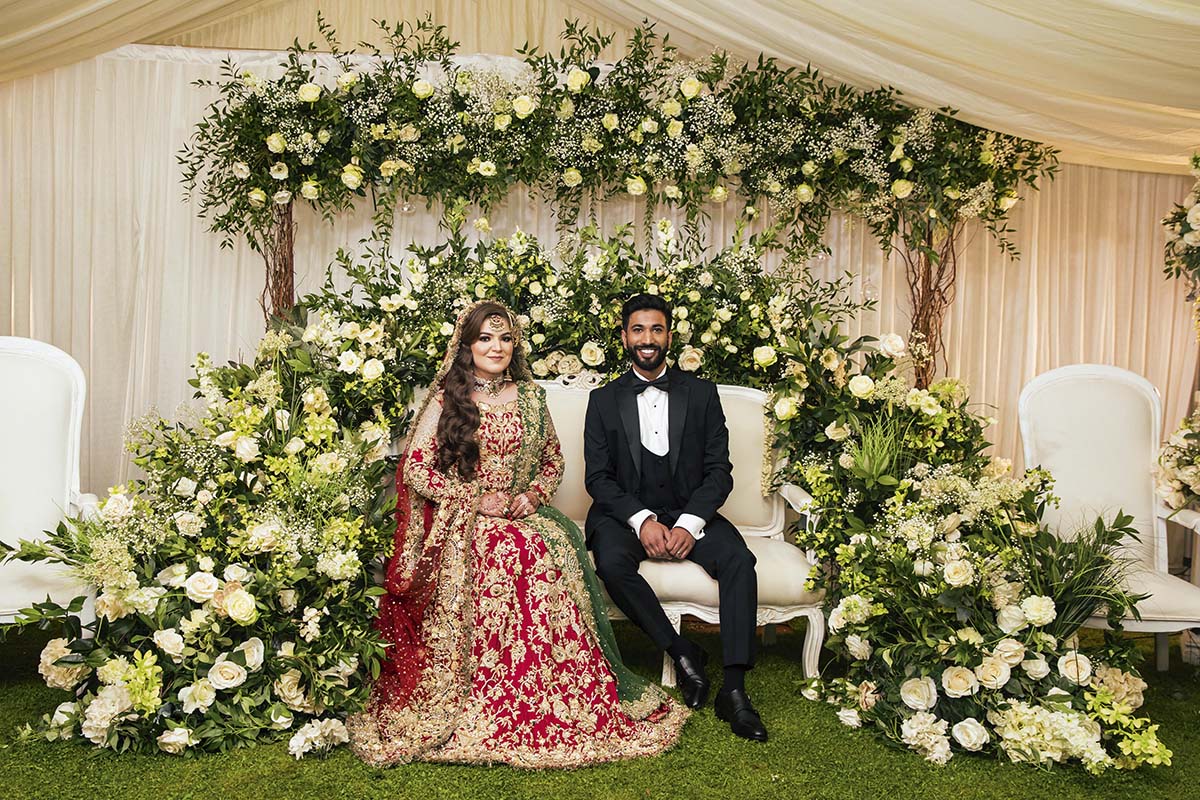 The Reception
Rehan and I arrived back at my parent's house at midday to get ready for the reception. Rehan's best friends had flown in from Ireland so while he had a chance to catch up with them, I got my hair and make-up done. I wore a red and green lengha choli with the traditional kiran fringe edging while Rehan wore a tuxedo. We made our grand entrance accompanied by all of our close friends with smoke bombs and a live dhol player, it was so much fun.
We then spent some taking photos with everyone. For the reception, I wanted my guests to feel like they were in a garden paradise and the botanical theme ran throughout the décor and details. I hand-picked gold detailed crockery, glassware, and cutlery along with pink linen napkins to contrast the green of the garden.
Instead of a classic tiered cake, I custom made individual Marie Antoinette cakes from Ladurée. I ordered a mix of both the rose and pistachio flavours and gave these as wedding favours for my guests to enjoy. They came in beautiful pastel green Ladurée boxes that went perfectly with my décor.
We opted for live food stations and our caterers made jalebis, gol guppa, and papdi chaat for guests on their arrival. Heartfelt speeches were given by my father, brother, and two best friends followed by Rehan's best friend and then Rehan himself whose speech made everyone teary -eyed.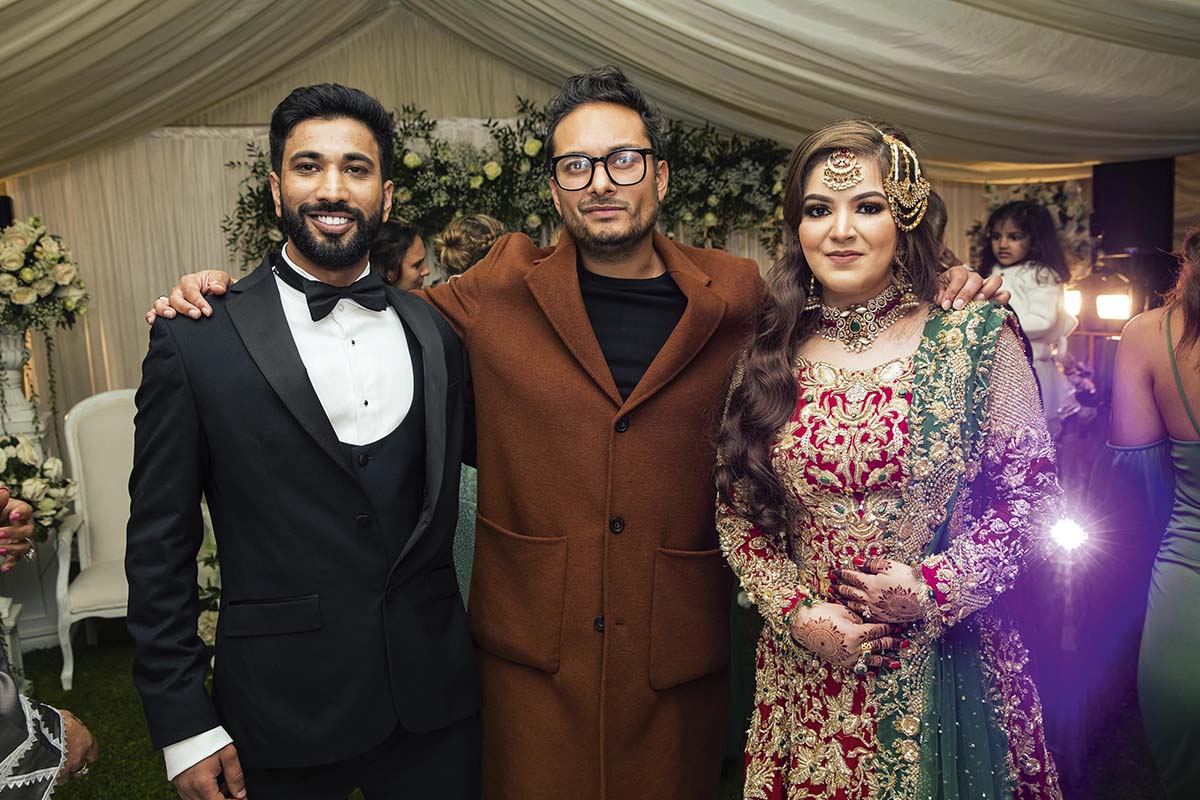 Canadian superstar Raghav flew in and performed live for Israa and Rehan
The Surprise
For our First Dance, we had chosen a song called Sufi by Raghav. Our DJ started playing the song but then about 10 seconds in, the music stopped and it seemed like he had messed up. However, the next thing I knew, Raghav was really there in my garden and walked into the marquee singing the song live. I couldn't believe it!
I had talked about wanting Raghav at my wedding for a long time and my brother said he had tried to arrange it but couldn't due to pandemic travel restrictions. He even went as far as having Raghav's manager send a voice note explaining why Raghav couldn't make it so it really was the last thing I expected but it was one of the highlights of the day.
Raghav then went on to perform a number of his hit songs followed by a performance by RDB for the rest of the night which all of the guests loved.
Looking back now at our wedding day I feel so happy that we had so much fun and I know my guests enjoyed themselves too. When I see all the pictures I just want to go back in time.