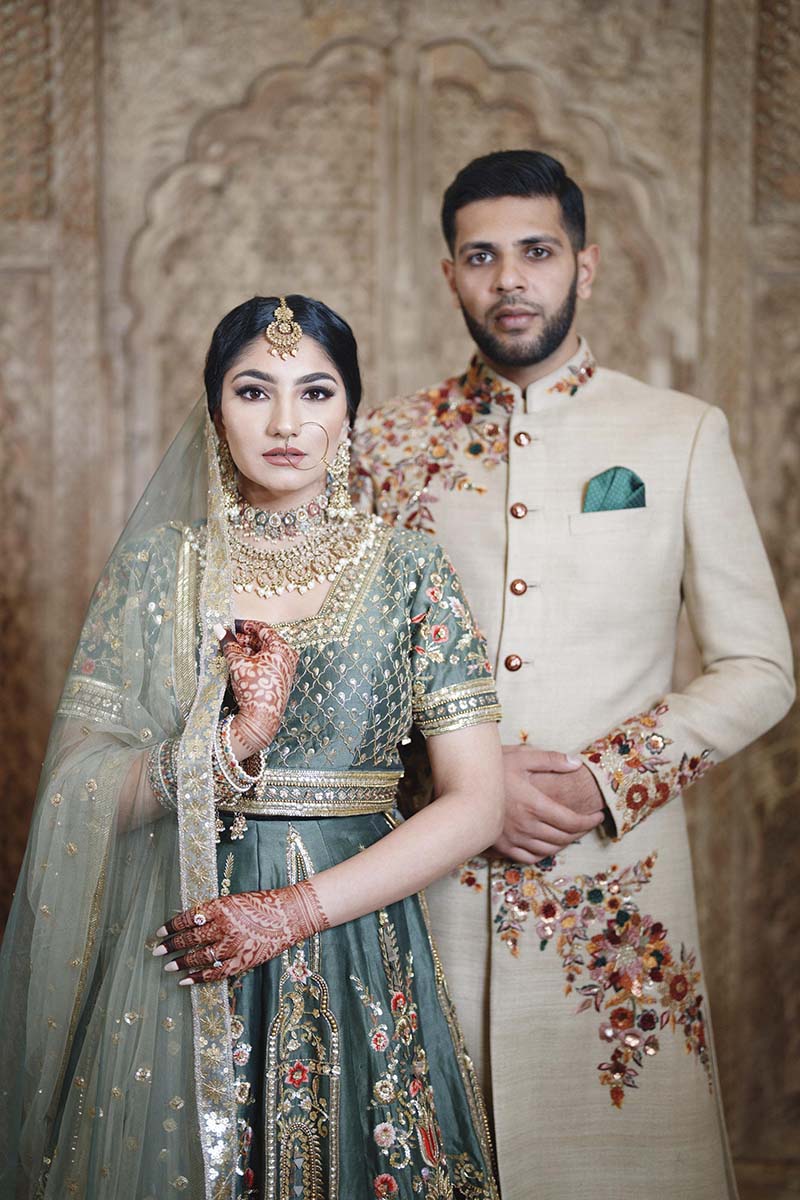 How the romance and nostalgia of Hindi movies inspired Mahria's magical day
WEDDING DETAILS
Bride: Mahria Fayyaz Hussain
Groom: Aasif Hussain
Date of wedding: 02 October 2021
Venue: Mahria's family home
Photography: Mohsin Ali Photography
The Proposal
My sister convinced me to go away to Dubai with her and my brother-in-law for a few days. I remember everyone was acting very weird leading up to the trip, I almost didn't go but my family convinced me to do it. My mum and sister were even demanding I took nice dresses on my trip and they never get involved in my suitcase!
The day of the proposal my husband was at the 'dentist' so wasn't picking up my calls. My sister also couldn't keep her story straight of where we were going for lunch. So something was definitely up. We got in a car and arrived at the Marina where my sister led me to a row of yachts. I then saw Aasif emerge from the last one. It was 100% the most romantic thing in my life to date.
I already knew it was going to happen but it was a very funny moment for both of us when a message popped up from my dad on the family group chat saying 'so did she say yes?'
Aasif proposed in the middle of the water at the front of the yacht at sunset. The day was really special but wouldn't have been possible without my parents and siblings for agreeing to it and helping make it happen.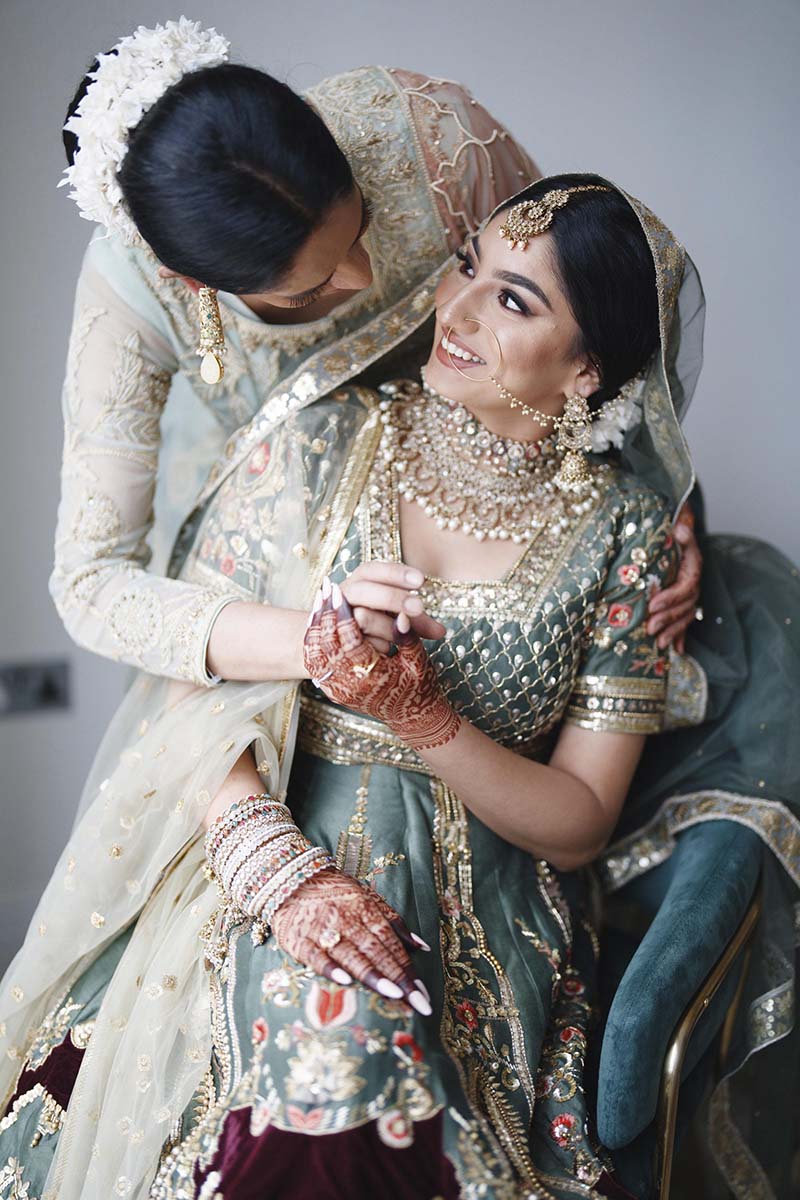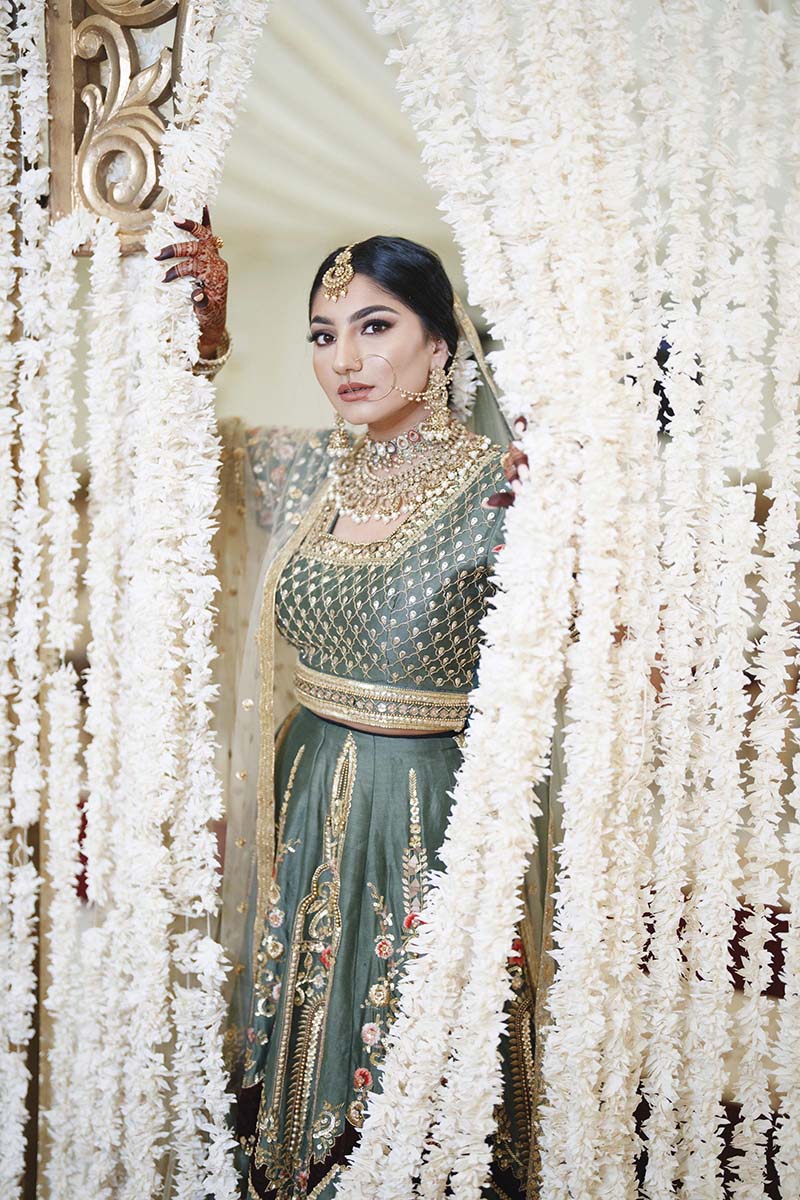 The Planning
My husband was fairly easygoing and put his trust in me for most of the decisions. I narrowed down our options for things and we picked one together to make sure we were both happy with the result. We both had different priorities. Mine was media and décor and his was food. I always wanted to have my Nikkah at home. It's somewhere that's personal and intimate, filled with happy memories and surrounded by love so I was pleased we were able to do this.
The Outfits
I was lucky to turn to my mum to help me create my dream bridal outfit. She owns the fashion brand Seasons Designer Wear, is a Fashion Designer in her own right and works with the best Indian designers and labels. She is a bridalwear expert and ensured my look was perfect. It also complemented the outfit my husband chose from Bibi London which is run by my mum's friend Marni.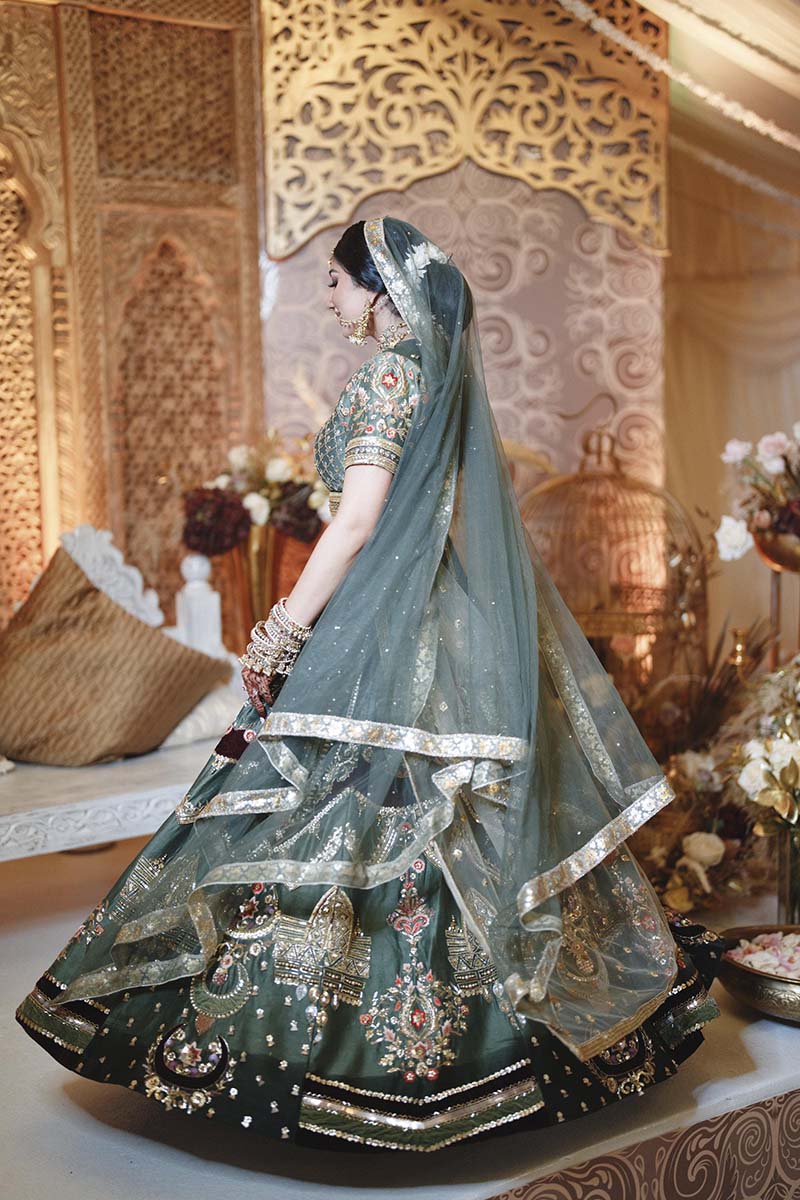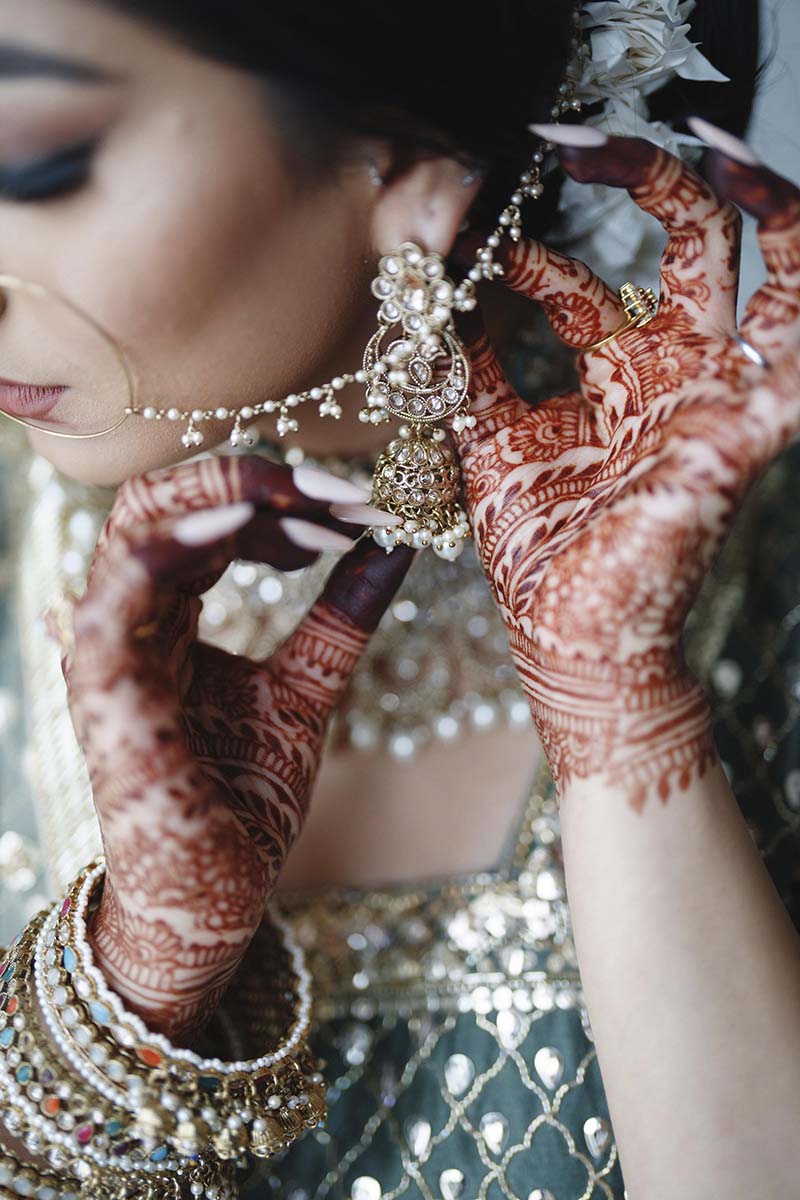 The Big Day
After an early start getting my make-up done and then our portrait shots taken guests arrived and enjoyed delicious canapés. Then it was time for the ceremony. My sisters walked me in to a song I chose which fitted the aesthetic, Jashn-E-Bahara. My dad hugged us all after we walked in through the marquee and then walked me to my seat for the ceremony. This is a moment I will treasure always.
The Nikkah ceremony itself was beautiful. A friend of my sister's delivered our Nikkah and his recital was perfect. After the Nikkah, it felt like a really special moment when both of the families merged and welcomed one another.
The rest of the day was pretty much a blur. I still had last minute things to do like gift all of my family and friends flowers, take family and friend shots and stop for the reception meal but it was almost impossible to eat anything with my nose ring so I gave up!
We had 90 guests in total which is the ideal amount; just our nearest and dearest which was very important to me.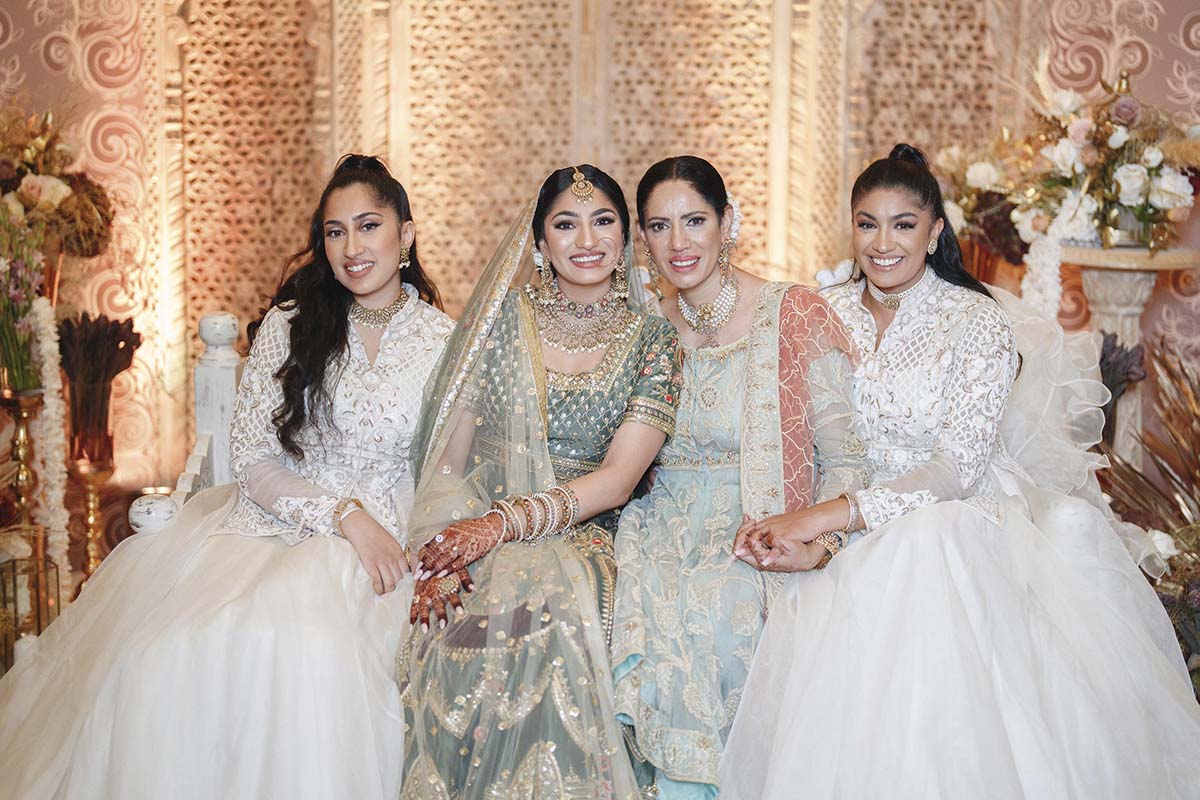 The Memories
I feel very emotional when I look at our photos. My photographer did such an incredible job with the images. I was also so happy with our portraits and there are certain images I will always hold close to my heart.
One memory I won't forget is the weather. It was raining so much that the carpet to the marquee was soaked and so was my dress. During the ceremony itself, there was a moment during the dua that all you could hear was our Imam and the heavy rain, it reminded me of the saying 'when the heavens open'. I looked up and there wasn't a dry eye in the marquee. It was such an emotionally powerful moment that will always stay with me, that there were so many feelings in one room.
A funnier moment has to be when I couldn't get my shoes on so each of my sisters had to go under my skirt together and put them on for me. Saying goodbye to everyone was 100% harder than I thought it was going to be, I didn't think I'd feel as overwhelmed and never in a million years did I think I'd be the bride that cried, but I was.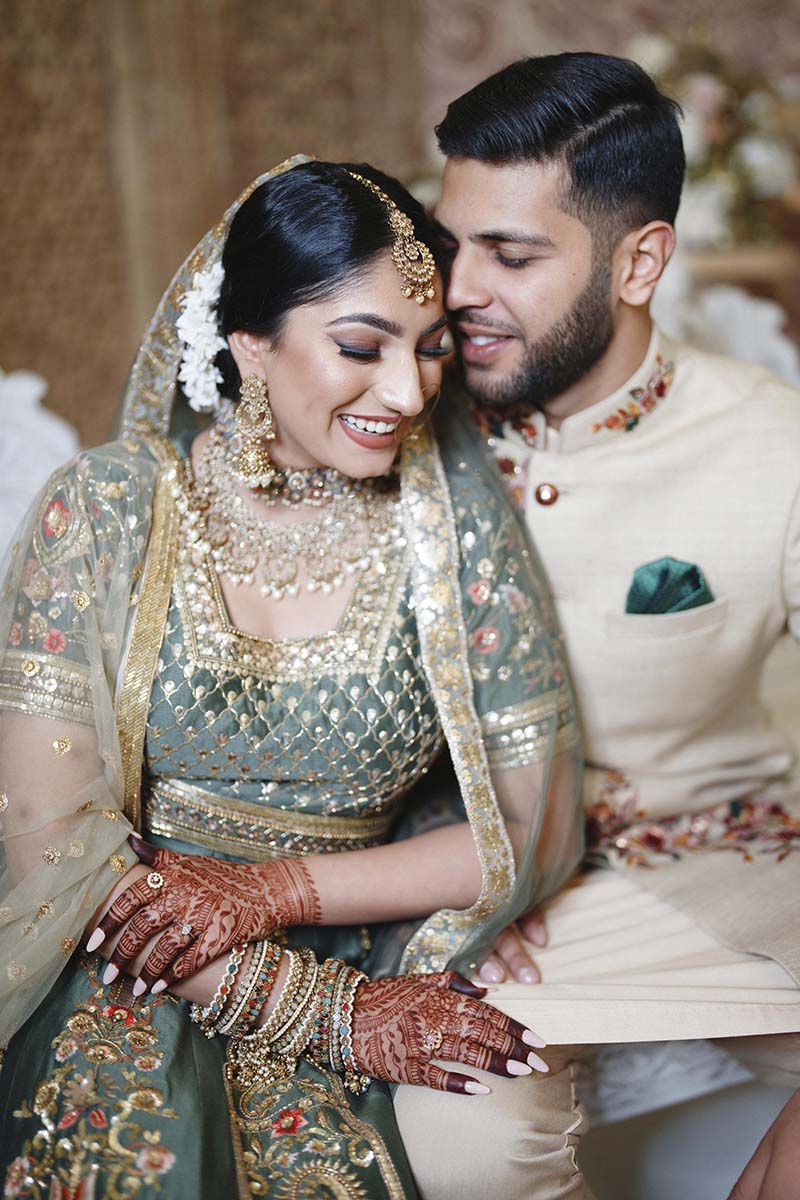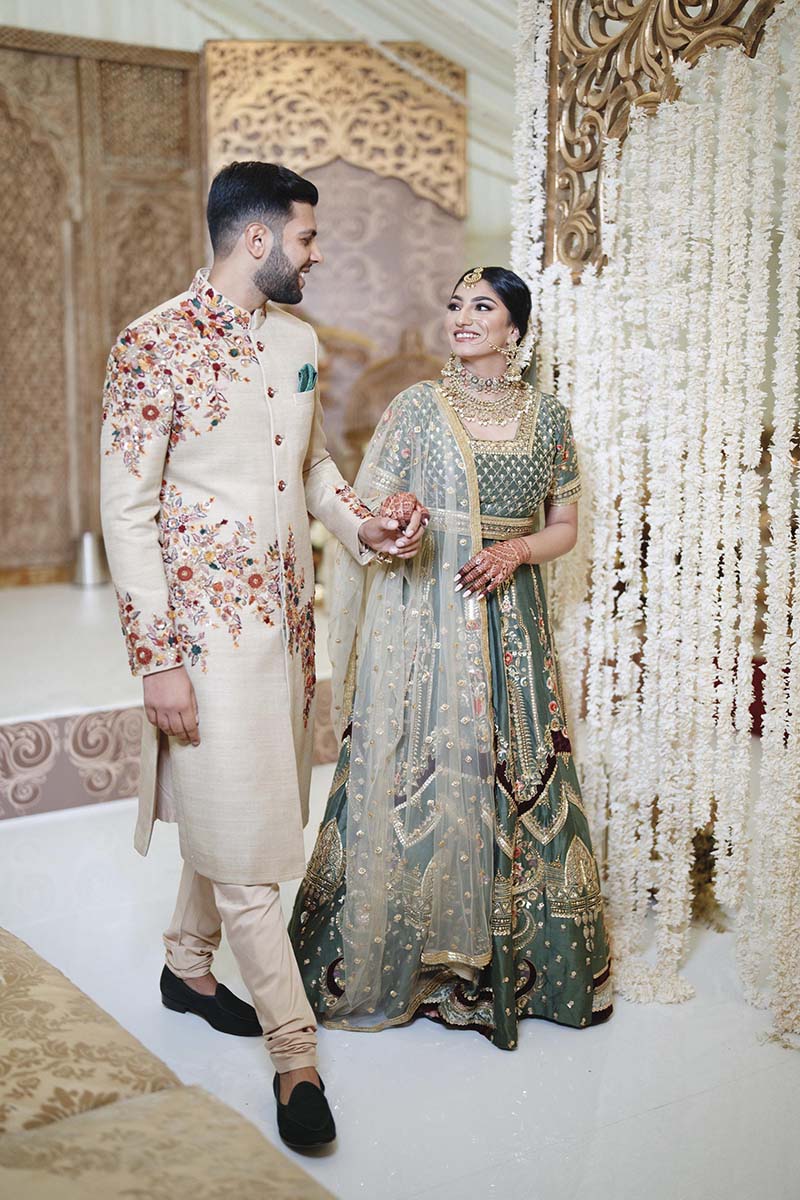 The Inspiration & Décor
I've always loved Bollywood films, especially the old ones and the modern historic epics like Jodha Akbar, Umrao Jaan and Bajirao Mastani. I like the settings, the actors and seeing how the love story unfolds, so when it came to my own love story, it was an opportunity to create my own movie moment.   
My sisters, mum and Timmy and Sohail from 1SW Events our décor company helped execute my dream wedding exactly as I envisaged. I began by making a mood board of images, colours and inspiration that went with our outfits. The overall feel was Rajasthani with subtle tones thanks to details like dried neutral pampas grass brought together with dark elements to elevate it and tie it all together.