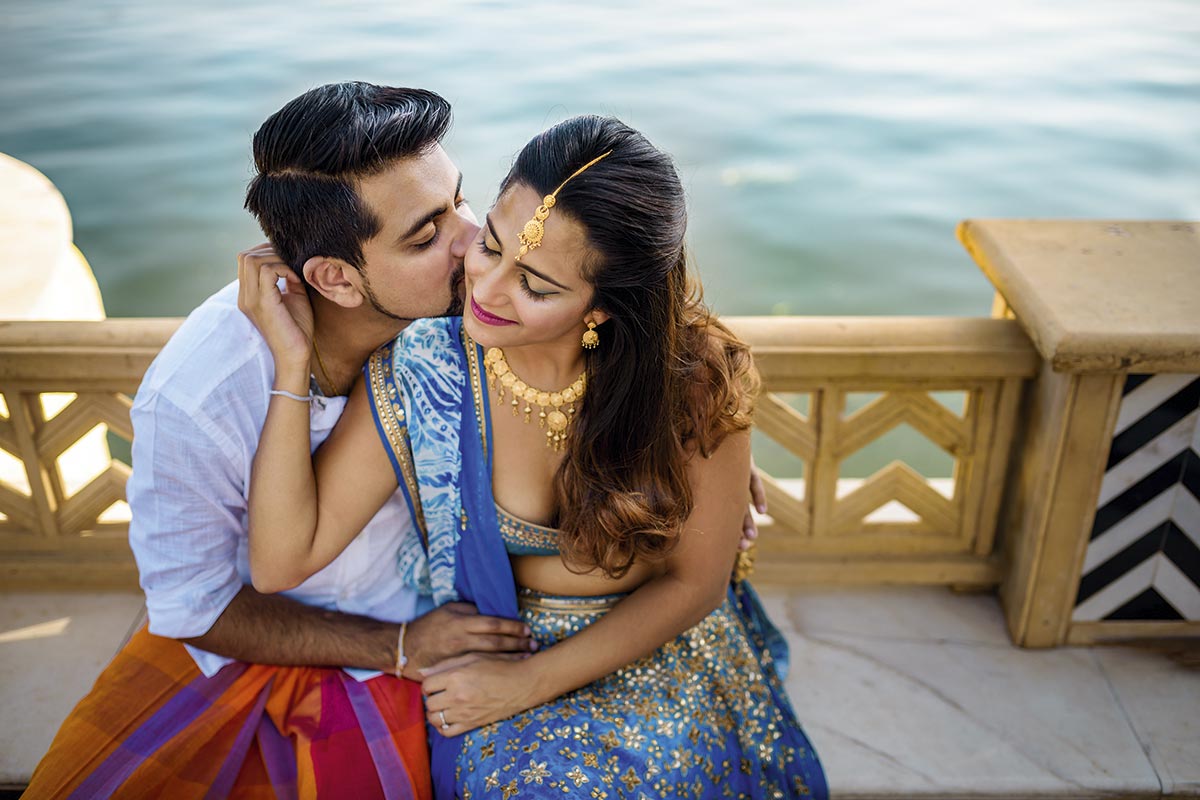 After 10 years together, this couple tied the knot with a bright, bubbly do in India
How it all began
Jayan and I met at sixth form, so we've known eachother since we were 17, and ten years later we finally got married. Jay was going to propose in Borneo, but changed plan when my mum got nosy, so he proposed on his own birthday after I cooked him dinner.
The outfits
I wanted to wear white to suit Jay's side, and ended up settling on a white English dress that I just fell in love with. I kept it a secret from everyone though, including Jay who wanted to wear white himself, but I managed to get him to wear a textured midnight blue sherwani instead for the wedding day.
The venue
We chose an absolutely gorgeous 5 star hotel – it was an amazing setting and we fell in love with it straight away. My brother-in-law saw it and suggested it when he visited it on a trip years ago. Also Leela and Leela, it must have been fate!
The theme
The hotel was beautiful in itself, but throughout the wedding we had lotus flowers, as well as jasmine and marigolds to symbolise the blending of our Indian and Sri Lankan heritage.
For the Mehndi the garden was transformed into a festival atmosphere, with antique backdrops (kindly provided by Rahul Vohra) and rangooli, charpoys, gift bags and fairy lights – its was such a lovely opportunity to greet our guests and for everyone to get to know each other.
For our intimate one hour ceremony we blended a traditional Sri Lankan Poruwa with a Humanist approach. We took the time to acknowledge the importance of  and receive blessings from the amazing people and close knit communities that raised us, making us who we are today.
The décor was a suspended poruwa made from white cloth and flowers, in an already stunning mosaic courtyard. The black and white podium in the middle is actually a fountain.
For the reception we kept it simple with not much more than lots of fairy lights and stunning fresh flower displays for the tables. The favours were the wedding cake, made in Sri Lanka with a design that matched the invitations.
Standout moments
The reception dance that we did to surprise our guests. We started with a waltz and moved into a choreographed indian routine.
Another funny moment was during the shoe ransom (Joota Chupai ) my brother threw one of Jay's groomsmen into the pool in his full outfit! Luckily, the hotel did a great job of getting it cleaned and dried in time for the reception.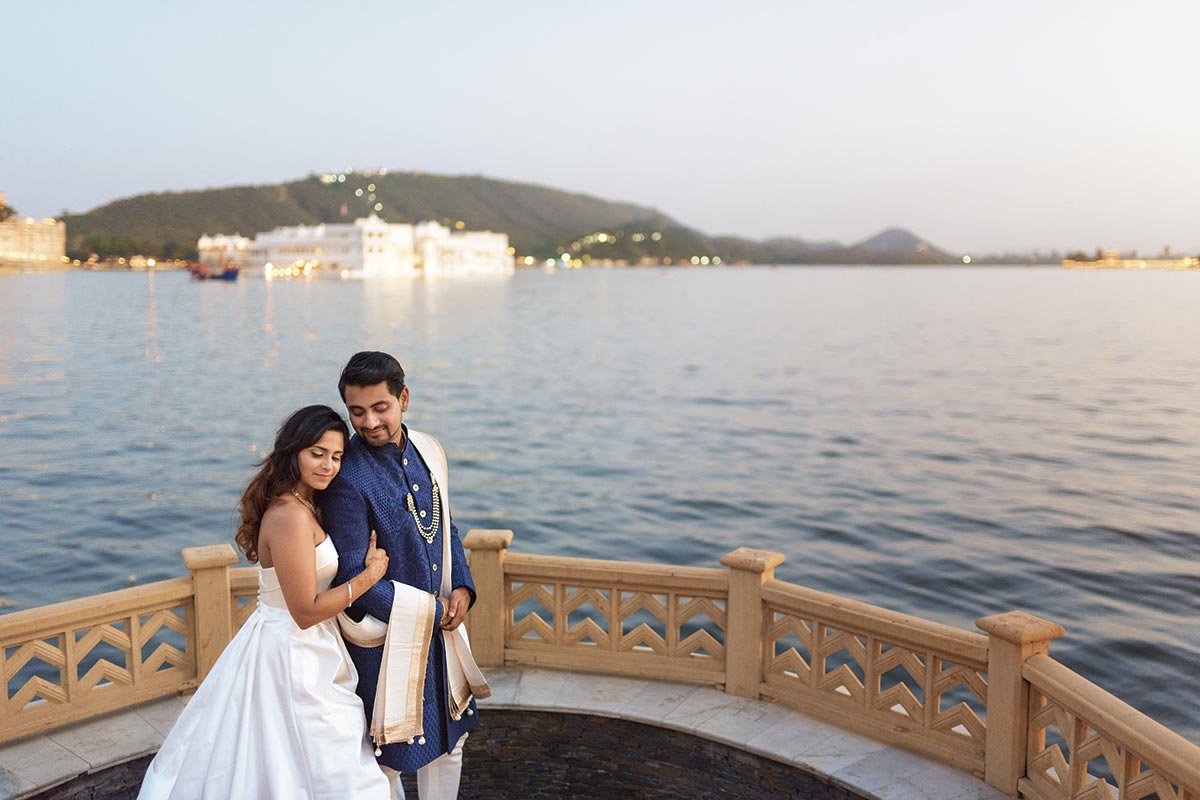 WEDDING DETAILS
Bride & Groom: Leela Paul and Jayan Perera
Date of wedding: 26th October 2017
Venue: Leela Palace, Udaipur
Photographer: Ed Pereira and Carmo Braz
Videography: House On The Clouds
Bride's outfit: Mehndi
Leela – Blue Satya Paul Lengha
Jayan – Sri Lankan Sarong from Barefoot with shirt from Fab India
Wedding
Leela – Ivory and white silk wedding dress from Ellie Sanderson
Custom made kundan hair jewellery from Mara+Elle
Jayan – Blue sherwani and jewellery from Heritage South Extension 2 Delhi
Reception
Leela – Variety Silk House
Jayan – Charles Tyrwhritt, Midnight blue tuxedo
Hair & Make-Up and Catering: Provided by the venue, Leela Palace