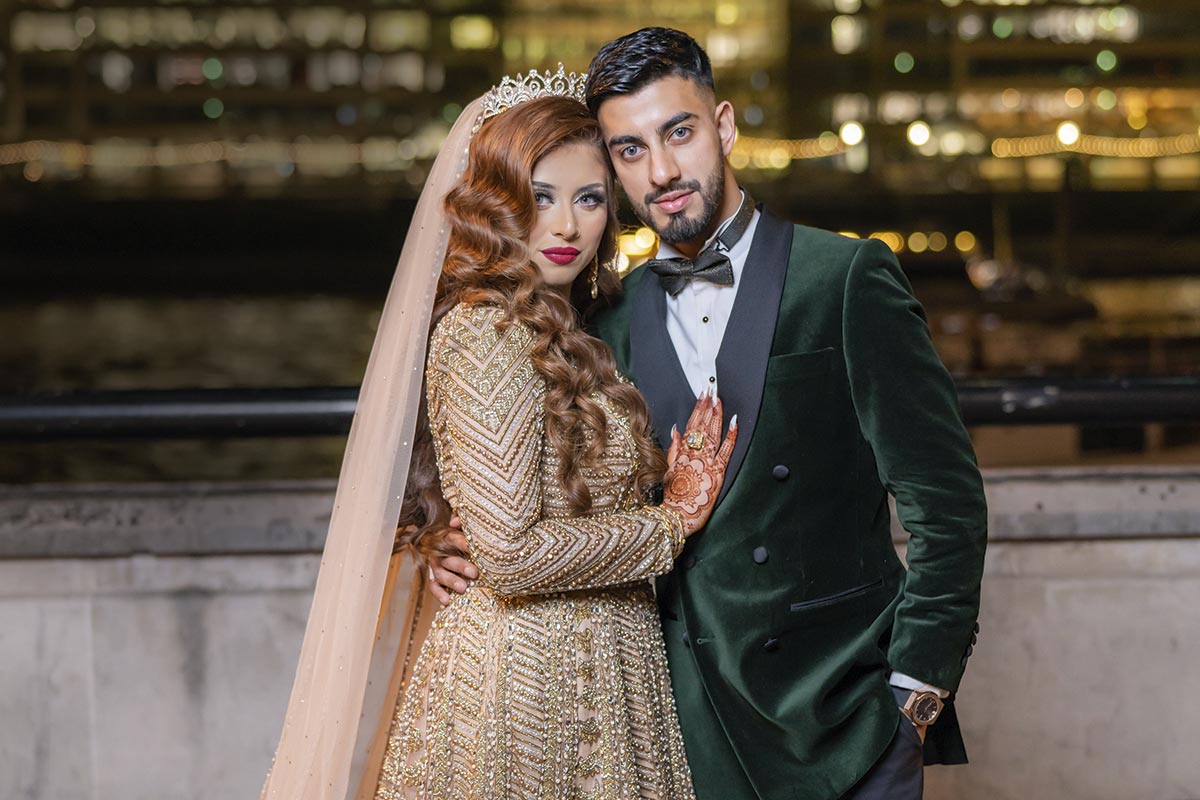 When Laiba and Muadssar embarked on their nuptials their dream celebrations lasted for nearly a year…
With the average British Asian wedding lasting for five days, there's plenty of opportunities for couples to decide on different themes, outfits and menus while your guests have plenty of chances to enjoy the merriment…but what if you want to do something completely out of the box? That's exactly how Laiba and Muadssar felt when they chose to tie the knot but they weren't interested in reducing the number of festivities: their vision was to extend the romance, so they embarked on the wedding adventure of a lifetime with a celebration that lasted 10 months.
Global gathering
Photography: Garrison Studios (Pakistan)
Photography: TwobyTwo (London)
Taking in three cities (London, Lahore and Karachi) and six functions (engagement, civil ceremony, two menhdis, a baraat and a walima) this was a wedding that surpassed the splendour of an A'list celebrity celebration lasting from July 2018 to April 2019. Laiba and Muadssar treated their families to the holiday of a lifetime flying them over from the UK to spend two weeks in Pakistan, booking them into the luxury Bath Island quarter of Karachi where they experienced Pakistani hospitality and of course the finest local cuisine and customs. Then it was time to return home for their final function; a walima at Old Billingsgate in London.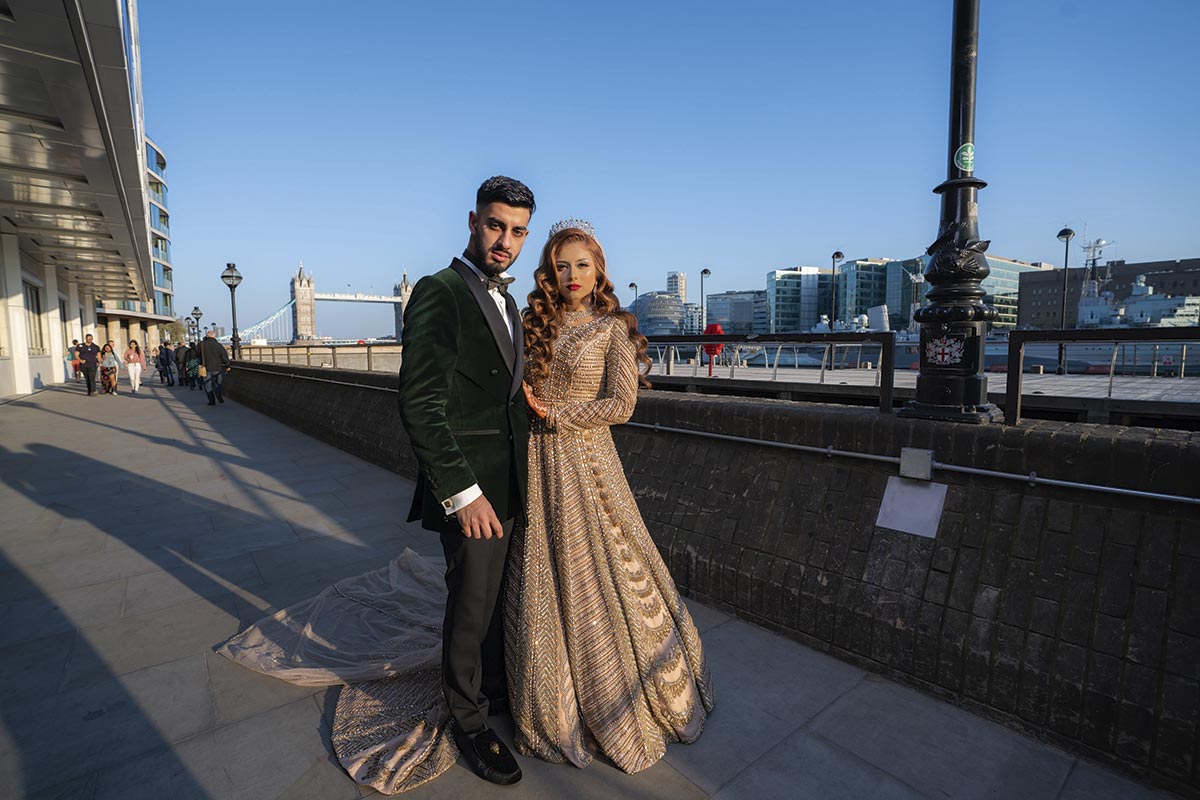 HOME IS WHERE THE HEART IS
After their romantic soirées in Pakistan the couple's wedding came to a close in their hometown. Muadssar reminisces on the day…
Our Pakistani wedding was so special that we decided to bring some of that magic back to the UK for our extended friends and family to experience so we themed our event Pakistani Fairytale, which was very fitting considering that's exactly what we'd had. For our walima décor we opted for a colour scheme of cream, white, lilac and pink which complimented our marble dance-floor perfectly.
It was an evening function from 6pm – 2am which meant the meal was the most important aspect. We were keen to wow guests with an unforgettable dining experience so our caterer was the most important decision we had to make. We chose Blackstone Caterers who curated an incredible menu featuring Pakistani and Indian fusion dishes. On arrival guests tucked into a choice of 16 canapés, washed down with  some really delicious mocktails served from our own mocktail bar, while live violinists provided the soundtrack.
Aqeel Ahmed, Director of Blackstone Caterers and his team surpassed our expectations. Our brief was that we didn't want cuisine that was traditional or boring and they delivered above and beyond. Aqeel made some great suggestions and was on hand throughout, ensuring the evening went smoothly. The tender lamb shanks were the biggest hit but it was the dessert bar with 30 yummy treats along with fresh fruit displays that guests really appreciated. During dinner we also had a live harpist.
Laiba and I both have an eye for style and I opted for a tailored dinner jacket suit in a regal green velvet while Laiba dazzled like a fairytale queen wearing an outfit by Monga's.
The funniest moment of the wedding was my grand entrance. Guest were expecting me to arrive by boat after they were shown a pre-recorded video of me travelling up the River Thames so they headed outside the venue to welcome me not realising it wasn't happening live and then I magically appeared inside and no one knew how I got there!
I'll never forget our First Dance either. We chose a mash-up of Enna Sona by Arijit Singh and Can't Help Falling in Love with You by Elvis Presley. We had dance classes booked but due to my work schedule we weren't able to do them so in the end we had to improvise and I spent most of the dance trying not to trip over Laiba's dress! But nevertheless it was a wonderful tear provoking moment, especially as the songs were both special to us. Enna Sona happened to be the first song that randomly played in the car when me and Laiba met for the first time alone so you could say it caused a spark while the timeless Elvis classic is a favourite of ours.
After that it was full into party mode. I arranged for singer Imran Khan to perform a special one-hour set which guests were amazed by, it was great to gift them such an exclusive private performance.
Looking back at the wedding photos now brings back many warm and happy memories, although the wedding was nine months ago, sometimes it feels like a blur but the photos make it seem as if it was only yesterday.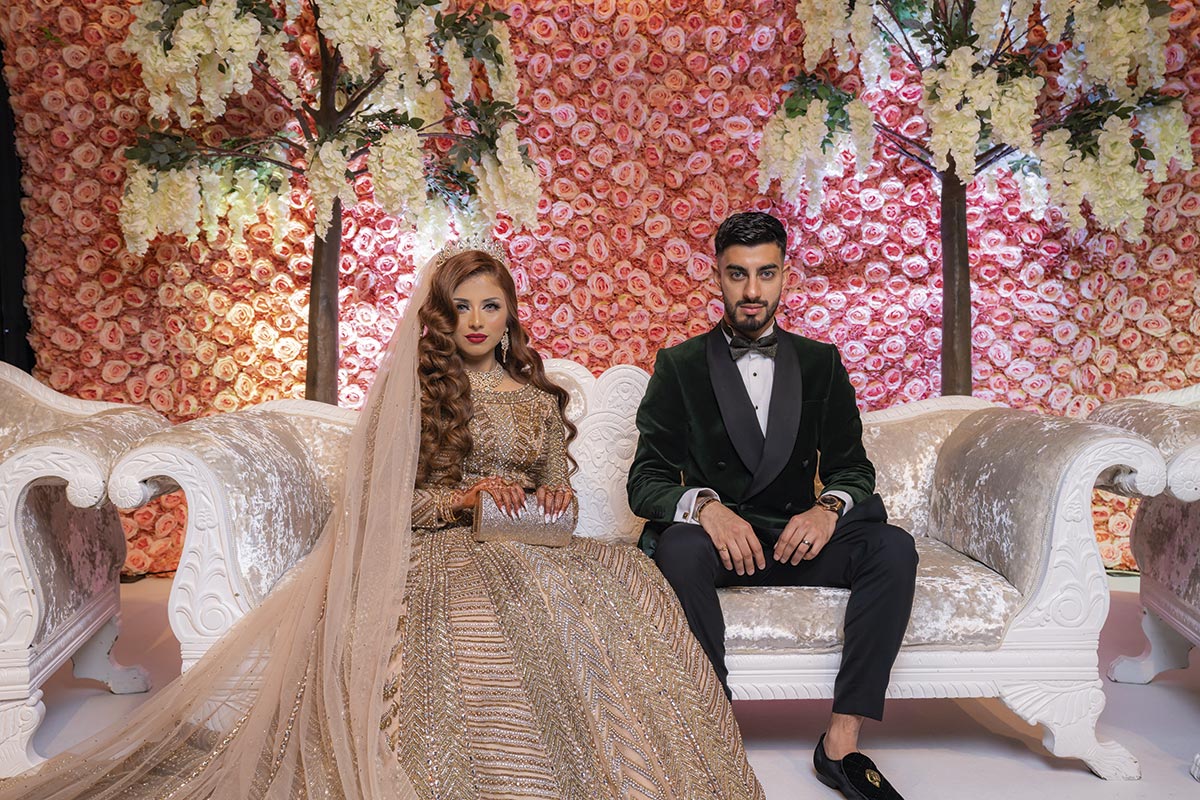 WEDDING DETAILS
Bride: Laiba Baig
Groom: Muadssar Ahmed
Date: 20 April 2019
Venue: Old Billingsgate London
Catering: Blackstone Caterers – London
Photography: Twobytwo Photography