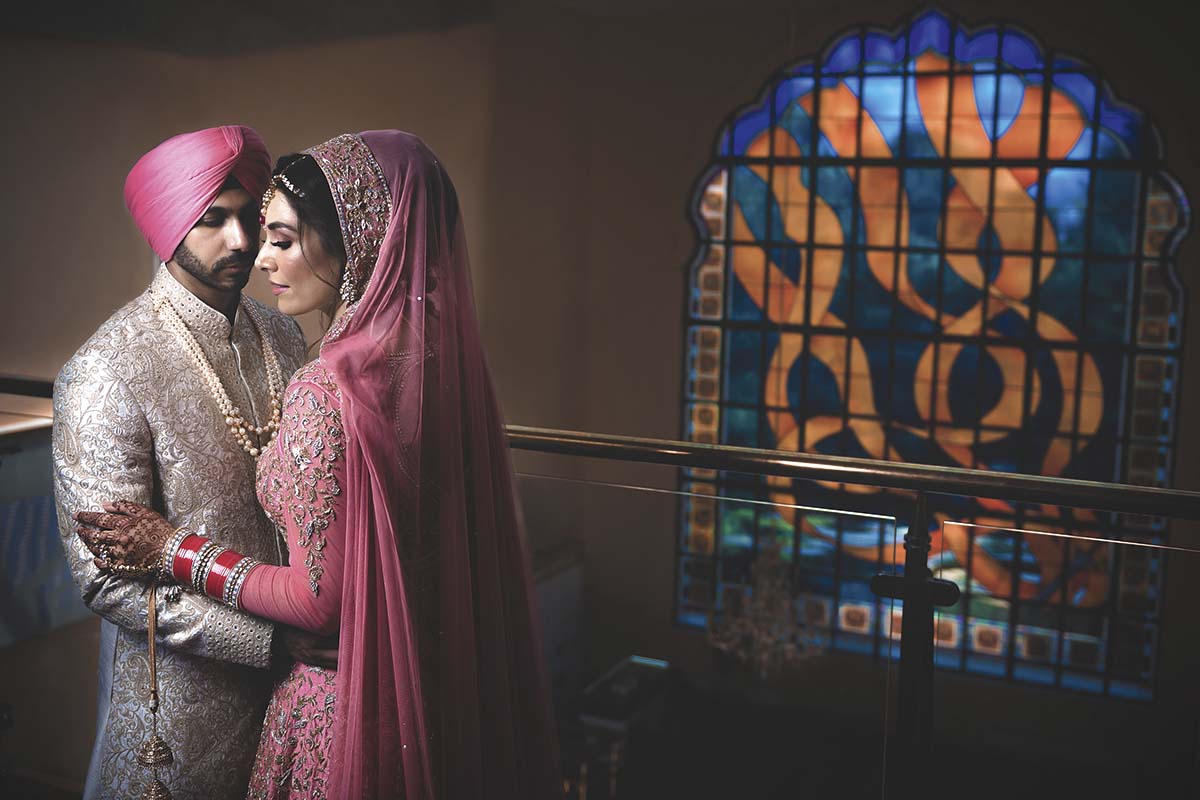 Modern day princess vibes were the theme of this delightful union
How it all began
Nakesh and I met by luck. We both worked at the same company, became friends and the rest is history. We got engaged on 9th August 2017 in Italy, when he surprised me with a day trip to Venice, and proposed over a private dinner, having hired out a restaurant he'd filled with my favourite flowers, lights and music on the grand canal – it was a truly magical moment!
The outfits
My overall look was definitely a reflection of my personality. I had a tall order in that I wanted a modern feel that wasn't too far from a traditional bridal theme as well as have the 'wow' and be comfortable. For our Sikh ceremony, I opted for a sugar pink jacket style anarkali with slim cut trousers, while for our evening reception, I went for a dramatic red gown with a sequinned and beaded bodice accompanied by layers and layers of organza.
Nakesh's outfits were also based on a modern look with traditional elements. For the Sikh ceremony, he opted for a cream sherwani with mirror work and embroidery, to complement my outfit. He wanted to wear something slightly different to a tuxe or suit for the reception, and opted for a blue asymmetrical jacket with gold embellishments and suit jacket trousers – he added a ruby red handkerchief to complement me.
The venue
We chose the Intercontinental Hotel Park Lane for the interest factor, as neither of us had been to a wedding there before. It was also practical as we wanted to ensure our guests had a memorable and fun experience at our reception. The venue's layout and room design fit perfectly with what we wanted to do.
The theme
We wanted to keep our décor romantic and elegant, and focussed on creating a relaxed, party atmosphere. We did this by keeping the colour palette mainly neutral throughout, using ghost style centrepieces with flowers and candles. Lighting played a big role in creating the mood – partly through the candles in parts of the décor and the various lighting set ups, which meant we were able to set and change the tone and mood throughout the night.
The food
Ragasaan did a great job serving up the perfect feast. We wanted to make sure our guests were well fed but not too full so they could still party and the menu we chose definitely reflected this.
Stand out moments
The moment that stands out most to me was entering the main hall for our Sikh ceremony. I'll never forget that intense feeling of excitement, anticipation and nerves while walking towards Nakesh and the Guru Granth Sahib for our ceremony. It's a moment I've often wondered about but when it finally happened it was the best feeling ever.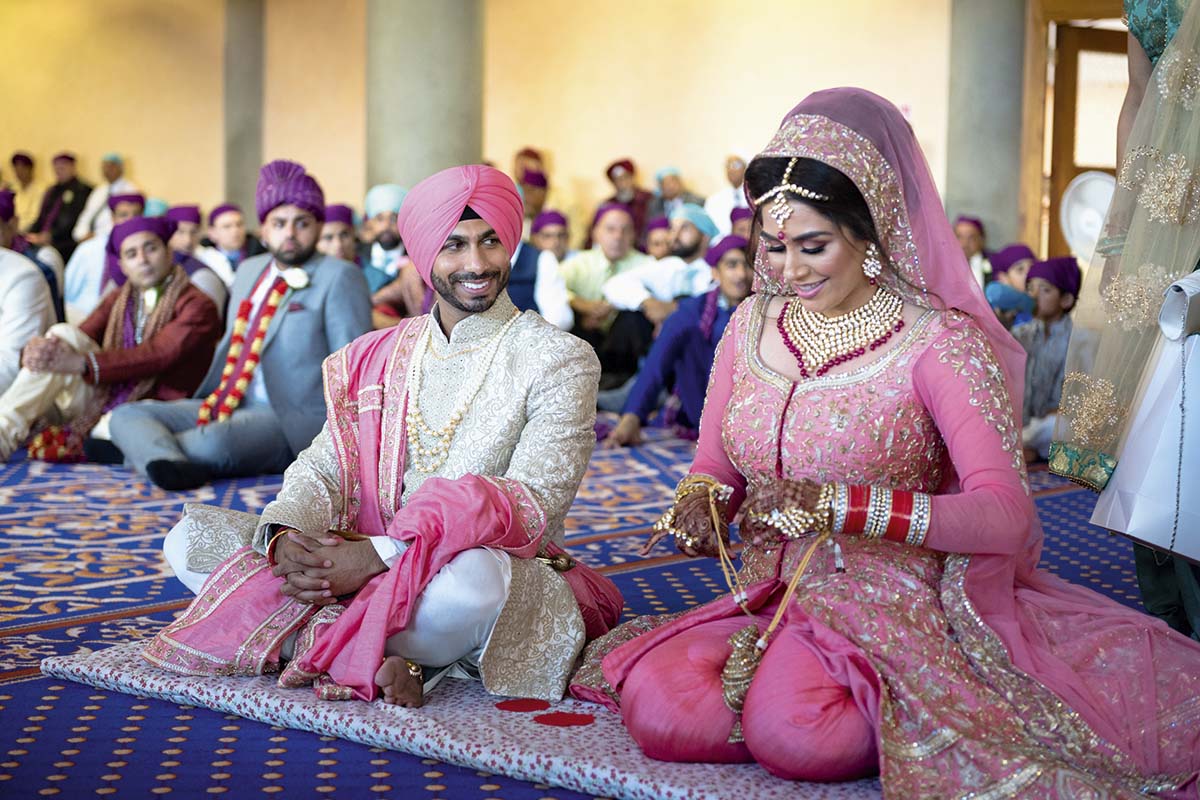 Top tips for other brides-to-be
There are so many tips to give! However, I'd say two things:
• Make sure you remember why you're doing this. It's so easy to get caught up in everything and trying to make it perfect and wonderful. This is the start of a marriage and lifelong partnership and the wedding is just the start.
• Second – use the people around you. Delegate, assign jobs and inform others you trust about the suppliers, plans and logistics for the day. This will ease the pressure of last-minute decisions and hiccups so will help you to enjoy what is ultimately you and your partner's special day.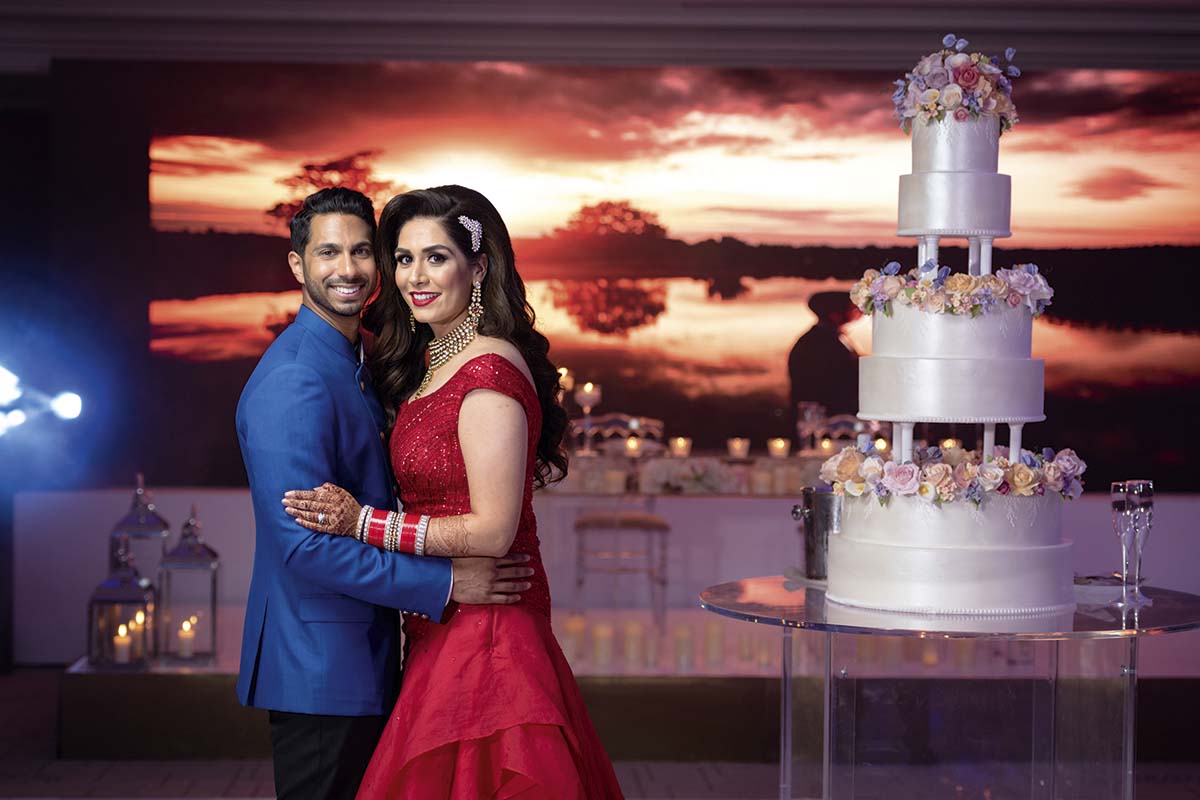 WEDDING DETAILS
Bride & Groom: Nakesh and Ikbal Singh
Date of wedding: 3 August 2018, reception: 5 August 2018
Venue: Gurdwara Singh Sabha Southall, reception: Intercontinental Hotel Park Lane
Photographer: Ed Pereira Photography
Bride's outfit: Sikh ceremony and reception outfits: Ami Bridal Couture
Groom's outfit: Sikh Ceremony outfit: Diwan Saheb, Reception outfit: Rohit Gandhi + Rahul Khanna
Hair: Elena Hair Artist
Makeup: Patti Panue
Catering: Ragasaan
Décor: Essential Couture Film and Videography: Ranveer Media
Music and entertainment: DJ: Ritzy, Pianist: Ivory Keys, Violin: Oktam Violin, Dhol: Drumline
Bar: Azure Bar Events
Crèche: Pop Up Party and Play
Photobooth: Photobooth Star
Cake: Crème De La Cakes
Groom's Turban: Bespoke Turbans